Let the jokes and digs and one-liners begin in earnest.
No, not over who Vanderbilt hired as their head coach.  Rather, how the school went about announcing it.
In a posting on their Facebook wall — again, in a posting on their Facebook wall — Vanderbilt has announced that, as expected, Maryland offensive coordinator James Franklin has been hired as the school's new head football coach.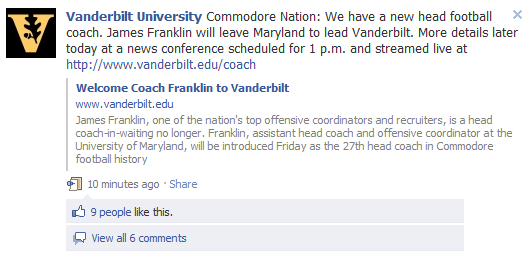 We're assuming that Franklin will announce his offensive and defensive coordinators via Twitter, while he'll name the remainder of his coaching staff during a private CoverItLive chat.
As noted in the posting on Vandy's Facebook wall — again, on their Facebook wall — a press conference will be held this afternoon to officially introduce Franklin.
The announcement ends a week's worth of speculation regarding which direction the Commodores' search for a new coach would take.  It appeared Franklin was the leading contender for the job until Auburn's Gus Malzahn emerged as the most desirable candidate.  Once he decided to remain as the Tigers' offensive coordinator, the speculation once again focused on Franklin.
We had been told Tuesday that Franklin, barring an unexpected setback, would be named the new head coach by the end of the week.  Mercifully, and after many false starts, that is indeed the case.