(Please hold your laughter until the ride has come to a full and complete stop.  Thank you in advance.)
We'll state this straight off the top: there's as much chance of this rumor/"report" being true as there is me not finishing the beer sitting next to my laptop.
Still, it's blasting its way through the vast expanses of the Internet at lightning speed, so we'll address it even as we almost summarily dismiss its validity.
According to something called ChicagoNow.com, Jim Tressel will no longer be the head football coach at Ohio State University after the Sugar Bowl against Arkansas.  Two sources, the website writes, indicated that Buckeye recruits have been informed that Tressel will not be back as coach, and have been allowed to look for other options.
For what it's worth, we spoke to one potential recruit and he's heard nothing of what's being reported, either Tressel stepping down or recruits being told that they are "allowed" to look for other options.  Of course, until a Letter of Intent is signed, football players are allowed to look around regardless, so this is yet another data point that makes this "report" smell of something you pull out of a pond.
The "report" also mentions numerous violations committed during Tressel's time in Columbus — including the most recent one in which Terrelle Pryor and four other players were suspended for the first five games of 2011 for impermissible benefits — intimating that was the impetus for his alleged decision to part ways with the school.
A source close to the football program we spoke to a couple of minutes ago called word of Tressel stepping down "complete (really bad word) (bad word)", however.  An email sent to Ohio State seeking comment/official debunking of the rumor has yet to receive a response, although it's Christmas and we'd expect nothing less.
Again, we are highly, highly, highly suspicious of this "report", but it does make for good fodder on an otherwise slow holiday.
UPDATED 7:48 p.m ET: Ohio State athletic director Gene Smith has debunked the Tressel "report" via Twitter.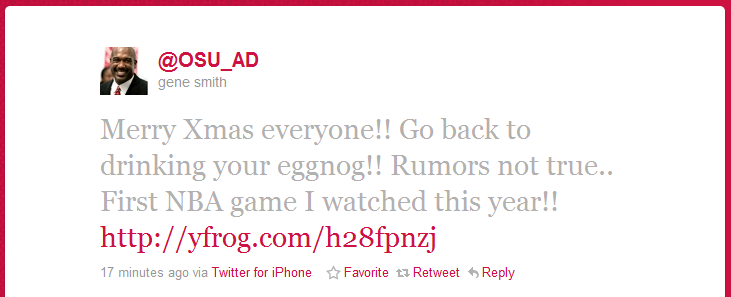 UPDATED 9:11 p.m ET: OSU director of athletic communications Shelly Poe told CFT in an email that the rumor is "[t]otally the work of some prankster."