What's happened to the ACC?
I mean, really.
In 2004 and '05, when they expanded from 9 to 12 teams, wasn't the ACC supposed to be the next big "superconference" with Miami, Virginia Tech and Florida State? You know, competing for national championships every other year, or something like that?
It was the beginning of conference realignment as we know it; the chance to add strength and strength to get the ultimate powerhouse.
Instead, we got a conference who's 1-4 in the BCS and a conference championship game that looks like this: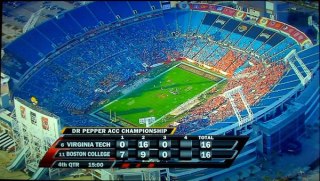 It's ridiculous.
Georgia Tech, who captured the ACC title last season, didn't do their "prestigious" conference any favors tonight with a 14-7 loss to Air Force, either. The Falcons might be a good team, but if you're the ACC, you have to beat a non-AQ program. Forget injuries and forget academic suspensions. Part of a team's job during bowl season is to represent their conference positively, and Georgia Tech simply didn't do that.
Granted, the ACC is only one game into their bowl schedule, so a turnaround is more than possible. But in their remaining 8 games, ACC teams are only favored in a few.
Take the Big East for example. They've been awful this year. You know it. I know it. But expectations for the BCS's red-headed stepson have been low since the ACC raided arguably their 3 best teams. So, when the Big East under performs, like they did this year, it comes as no great shock to anyone. After all, the Big East's BCS automatic bid has always been questioned. The ACC, on the other hand, was supposed to get better.
They didn't. In fact, no single conference has fallen so massively short of expectations quite like the ACC has.
Yet, they still get a pass.
If people want to rag on the Big East, that's fine. If they want to scream and shout for their automatic bid to be taken away, I say go for it.
Go on, shout it from the rooftops!
[youtube=http://www.youtube.com/watch?v=R6a5lqDlpMI&w=490]
Just make sure the ACC is included.