On the same day Brandon Weeden announced he would be returning to Oklahoma State for another season, the quarterback also announced that he was going to attempt to become a two-sport athlete at the school.
Provided you consider walking around immaculately manicured grass whacking a little white ball with an overpriced metal stick a sport*, of course.
Shortly after both he and wide receiver Justin Blackmon confirmed they would be Cowboys in 2011, Weeden tweeted that he will become a walk-on to the Cowboys' golf team.  Based on the number exclamation points utilized in the tweet, Weeden is very excited about his foray into the world of collegiate golf.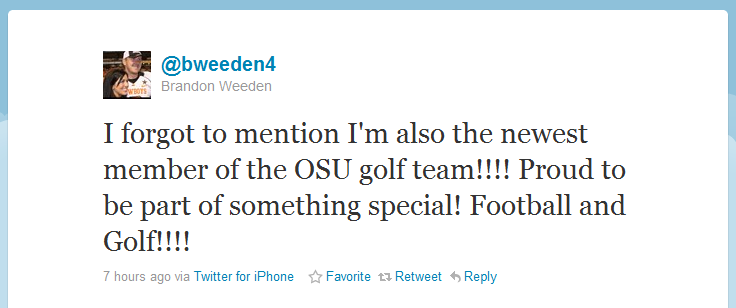 OSU's golf coach, Mike McGraw, confirmed Weeden's two-sport revelation, saying that everything was cleared through head coach Mike Gundy.  Weeden will compete with the golf team beginning Jan. 29 at a tournament in Hawaii, but will leave the squad when the Cowboys begin spring football practice in late March/early April.
Weeden has played with a couple of current members of the golf team and, based on their scouting reports, McGraw doesn't expect the quarterback to carry the team to a title.
"They like his game," McGraw said. "Now am I saying he's going to lead us to a national championship? Probably not."
In addition to football and golf, Weeden was also a minor league baseball player prior to coming to Stillwater.  Oh, and he's also married.
Hell, no wonder he wants an excuse to get out of the house and play golf in the offseason**.
(*I do indeed consider golf a sport, so lighten up duffers.)
(**I do indeed consider marriage a sport, so lighten up women.)