Personally, I don't care if the horse is dead. Baseball season is approaching and I've got my Louisville Slugger ready to go. Besides, there's nothing else going on.
That was not the case last night, when NCAA president Mark Emmert met with Associated Press sports editors on the campus of IUPUI to discuss topics related to NCAA rulings.
Guess which topic was brought up.
"We try hard to get it right every time," Emmert said regarding the ongoing investigation of the eligibility of Auburn quarterback Cam Newton. "Getting it right is often in the eye of the beholder. The cases we saw this fall were highly controversial and highly debatable. I understand that, and some of them were even enormously frustrating to me.
"I said very loud and clear that I think it's absolutely a fundamentally wrong for a father to try to sell the services of his son or daughter to the highest bidder, to a university. We ought never to allow that to happen, but yet, having not anticipated that, we didn't have any rule or structure that said it was a violation of any of our rules. I found that grossly inappropriate that didn't have a structure in which we could say, 'No, you can't do that.'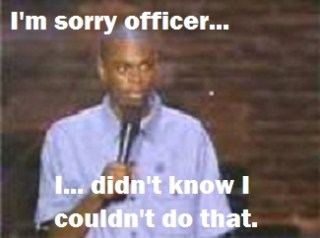 NCAA Bylaw 12.3.3 indicates that "Any individual, agency or organization that represents a prospective student-athlete for compensation in placing the prospective student-athlete in a collegiate institution as a recipient of institutional financial aid shall be considered an agent or organization marketing the individual's athletics ability or reputation."
The keyword there is "recipient". As far as we know, no money changed hands between a third party and Cecil Newton and there's no money trail to prove otherwise.
That's been the case for months now.
But, that rule has also largely been up to interpretation. Case in point, "Cam didn't know". (See picture above)
That loophole  presents the bigger issue — another topic Emmert addressed to the media: finding some sense of continuity among these rules and relaying that more clearly and accurately. Given the last two months, that would be a check mark in the "fail" column.
"Right now, we're kind of stuck in the middle here, and we need to provide you all [the media] with a lot more information and be as forthright as we can about it. We're working on it. It's going to take us a while."
It's like instant replay: The NCAA can take as long as they need. Getting it right in the eyes of the rulebook, not the eyes of the beholder, is what's important.