While Ole Miss' battle for the starting quarterback job consisted of three players by the end of spring practice, it was uncertain whether one of the contenders would even be eligible to play in 2011.
Today, that uncertainty has dissipated in a very positive way for both the player and the football program.
In a message posted to his personal Twitter account, Barry Brunetti, a transfer from West Virginia, announced that he has received a waiver from the NCAA and will be permitted to play this coming season instead of sitting out until 2012.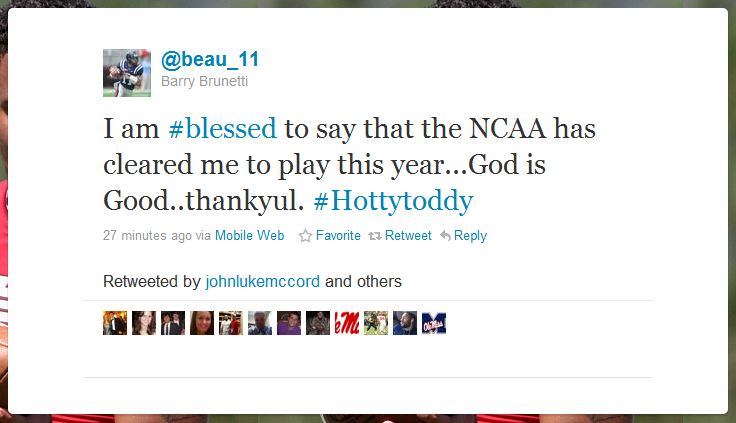 Kyle Veazey of the Jackson Clarion-Ledger subsequently received confirmation from the school that Brunetti will not be forced to sit out the 2011 season to satisfy NCAA transfer rules.
Brunetti announced — via Twitter — in early December that he would be transferring from the Mountaineers following WVU's bowl game.  In January, Brunetti announced — via Twitter — that he would be attending Ole Miss.  At the time, Brunetti, a Memphis native, said he would seek a waiver from the NCAA in order to play immediately due to the health of his mother, who was injured in a car wreck several years ago and whose health has declined of late.  Obviously, that waiver was approved.
Along with perceived front-runner Randall Mackey as well as JUCO transfer Zack Stoudt, Brunetti will enter summer camp as one of three players with a legitimate shot at claiming the Rebels' starting job.