Twice in the past month, media types with national profiles have trolled about speculated on what they perceive as the intertwined futures of Jim Tressel and Urban Meyer.  Specifically, the Orlando Sentinel's Mike Bianchi and ESPN's Beano Cook have called their shots and proclaimed that Meyer will replace Tressel as Ohio State's head coach in 2012.
Apparently, one member of Meyer's family has seen, heard and read enough about the speculation.
On her Twitter feed Tuesday, Nicki Meyer, a volleyball player at Georgia Tech and daughter of the current ESPN analyst, attempted to slap down the rumors swirling around her father while also chiding "the haters that… talk trash about" her father.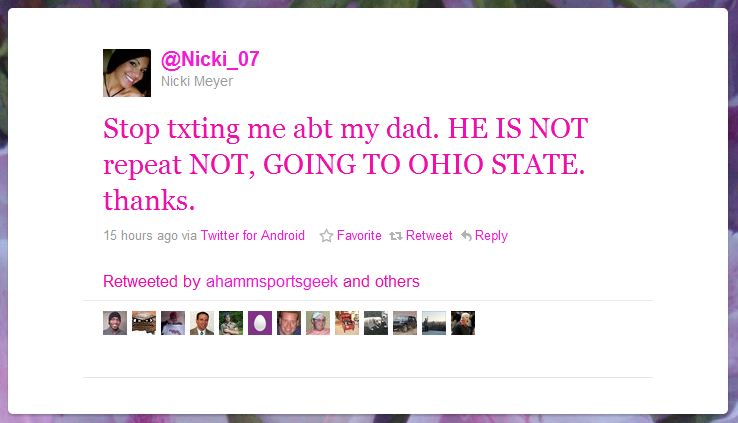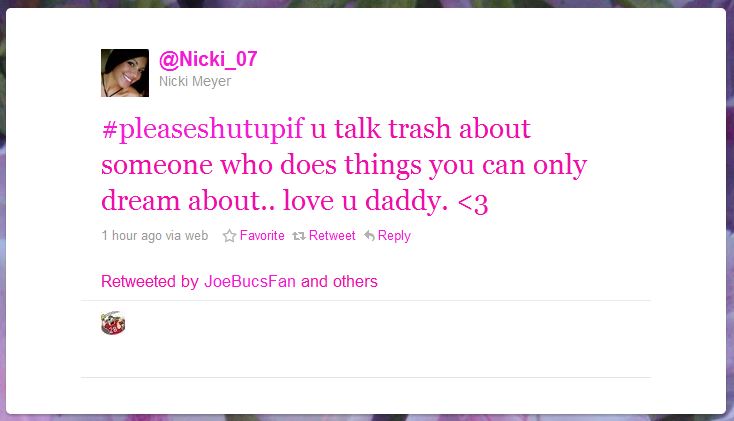 Of course, Nicki Meyer also, as relayed by her father, famously said "I got my daddy back" after Meyer informed his family in December of 2009 that he was stepping down as the head coach of the Florida Gators.  Less than 24 hours later, he had stepped back up as the head coach of the Florida Gators.
The point?  Literally no one knows with any degree of certainty what's going to happen or how situations could change over the course of the next several months.  Bianchi, Cook or anyone else floating this speculation are probably wrong, but I wouldn't put any significant amount of money it.
(Tip O' the Cap: SportsByBrooks)