Although the official announcement will not take place until Tuesday evening, some of the names of the 16 individuals — 14 players, two coaches — who will make up the 2011 class of the College Football Hall of Fame are beginning to trickle in.
At a charity event over the weekend, it was revealed that former Michigan head coach Lloyd Carr will be inducted into the Hall.
This afternoon on ESPN's College Football Live show, it was revealed that former Ohio State running back Eddie George will — finally — be honored with his induction into the Hall of Fame.  As a member of the Buckeyes from 1992 through 1995, George rushed for 3,768 yards and 44 touchdowns.  During his Heisman-winning season in '95, he rushed for 1,927 yards — averaging 5.9 yards a carry — and 24 touchdowns, while also adding 44 receptions and another touchdown.
During that season, he also took home a plethora of awards, including the Doak Walker, Walter Camp, Jim Brown and Maxwell trophies, as well as earning consensus All-American honors.
George went on to a stellar nine-year NFL career, mostly with the Houston Oilers/Tennessee Titans.
In addition to George, Miami head coach Al Golden tweeted this afternoon that a former Hurricanes great may be getting the Hall call as well.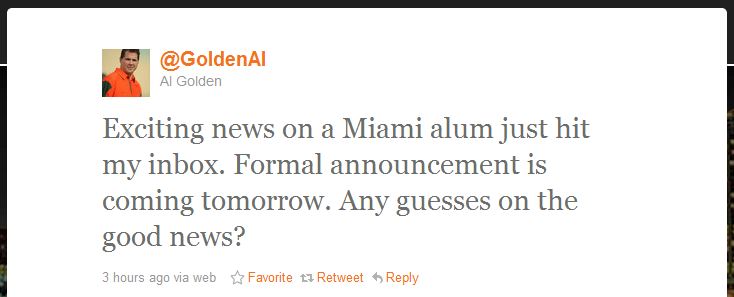 There are two ex-Hurricanes on this year's ballot: Russell Maryland (defensive tackle, 1986-90) and Jimmy Johnson (head coach, 1984-88).  Our guess is that, based on the use of the word "alum", Golden's referring to Maryland, although the fact that there will be two coaches who make up the '11 class leads us to believe that — no offense Fisher DeBerry, R.C. Slocum — Johnson will be announced as well.
Again, the class will be announced live in New York City during a Tuesday press conference and inducted at The National Football Foundation's Annual Awards Dinner on December 6, 2011.