Late last week, the Pac-12 announced on its official website that fans would be given the opportunity to select the logo for the conference's inaugural championship game logo.  The website stated at the time that "[t]he logo with the most votes by Monday, May 30 at 5:00 p.m. PT will be the official logo."
Well, it's that time as the votes are in and have been tabulated by the conference.  So without further ado, and with 33.7 percent of the vote, the winner of the Pac-12 logo contest is…
The above logo just barely beat out the second-place finisher (31.89 percent)…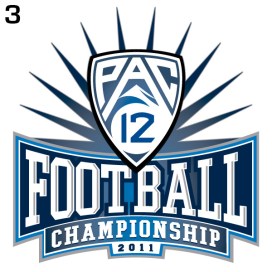 … while the third (22.08) and fourth-place (12.26) logos appear in order below: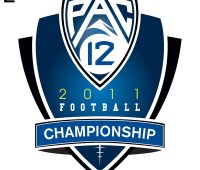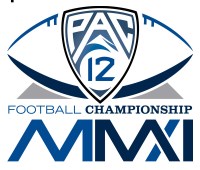 Of course, the logo receiving the least amount of votes was my personal favorite, but to each his own I guess.
Anyway, the first-ever Pac-12 title game will take place on Dec. 2 at the home of the top team in the conference standings.  In other words, feel free to book your early-December travel plans for Eugene now.