Early last month, an enterprising Michigan fan — or fans — paid for a billboard on I-94 between Ann Arbor mocking the situation Jim Tressel had found himself in, with a message that read "Liar, Liar, Vest on Fire!" emblazoned on a bright scarlet background.
As The Tressel Era has officially come to an end amidst a burgeoning cloud of controversy, another group of individuals has stepped to the plate and continued the mocking of The Vest.  And will likely make quite a few bucks in the process — especially in the 734 area code.
Sportscrack.com, the same esteemed group that brought you such classic t-shirts as "O-H-I-Cheat", "Puke" and "Gaytors", has added to their collection an on-fabric homage to the end of Tressel's 10-year run in Columbus.  And, as if to add the ultimate insult to the injury hand Buckeye fans have been dealt of late, the shirts are maize & blue in color: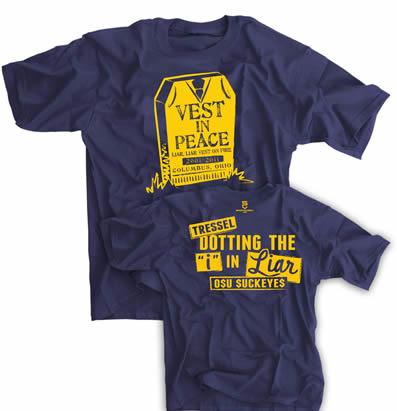 Ouch.  That'll leave a mark.  Not a 1-9 mark, mind you, but a mark nonetheless.
(Tip O' the Cap: Wiz of Odds)