When last we heard from/about Latwan Anderson, the talented two-sport athlete was on his way out of Miami because he was unhappy with the football situation at the school.
Now, self-reportedly, the former five-star recruit is on his way in to a Big East football program.
On his Twitter account very early Tuesday morning, Anderson announced that he is headed to Cincinnati to presumably play football in 2012 as he gives shout-outs to current Bearcats in the tweet.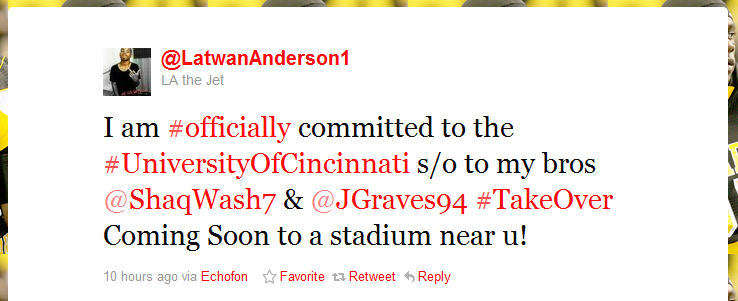 The university has yet to confirm Anderson is indeed headed to the Bearcats, and there's no word on whether he will run track as well if he does land at the school.
Further up in his Twitter timeline, Anderson revealed that he will not be at UC until December as he will be attending an undisclosed prep school, presumably to get his academic house in order.  As he was on a track scholarship at Miami and a walk-on to the football team, Anderson would've been eligible to play for the Bearcats in 2011, although it doesn't appear that's the route he's going to take.
Anderson was a five-star recruit and the No. 15 player in the 2010 recruiting class according to Rivals.com.  He had originally given a verbal commitment to the Mountaineers before backing away on Signing Day this past February, ultimately signing with the Hurricanes in March.  The Glenville, Ohio, product had also been heavily recruited by the likes of Ohio State and USC.