Yup, we've picked up all the picks and happily moved over to these new digs within the wild and woolly world of CollegeFootballTalk.
Along the way, we also grabbed a new format. We'll rank and write-up what we feel are the top 10 games of the week (and "two more you shouldn't ignore").
What hasn't changed is that we'll deliver them to you earlier than anybody. As we like to say here at P101: "We're not always right, but we are always first."
Here we go!
TOP 10 GAMES (Fri., Sept. 2 thru Mon., Sept. 5)
1) No. 3 Oregon vs. No. 4 LSU (at Arlington, Texas)
Sat., Sept. 3 — 8 p.m. ET, ABC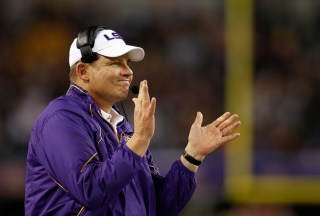 Rightfully so, there's a lot of concern over not having Jordan Jefferson under center due to his current suspension. The Tiger offense, which ranked at the bottom of the SEC last year, will need all the help it can get for LSU to win its 18th consecutive game in September at the expense of the Ducks. But let's be honest here. Wasn't Jefferson a part of the problem?
We're not saying Jarrett Lee is the answer. If he was, he would have kept the starting gig, but he does have tons of experience and can get the job done, as he did last season in the heart-stopping victory at Florida. Perhaps not having wideout Russell Shepard (another suspension) is a bigger issue as the Tigers try to match up with Oregon's vast array of speedy offensive weaponry.
In any case, Les Miles is the kind of coach that can handle this situation. He's consistently demonstrated a keen ability to get his teams focused by embracing the moment and welcoming challenges.
The offseason hasn't been kind to Oregon either (the infamous Willie Lyles has left his mark on both these teams). But the Ducks have their starting quarterback, Darron Thomas, firmly in the fold, along side Heisman Trophy candidate running back LaMichael James. They expertly provide the flash and dash, but there's a lot of gaps that need filling in other parts of the two-deep, particularly on defense.
The Ducks will certainly look great in their all-black unis, but team chemistry could be an issue early in the season. And more importantly, it remains to be seen if Oregon can play with the physicality required to deal with a squad like LSU.
Duck head coach Chip Kelly likes to treat each game the same. "Every game to us is the Super Bowl," he says. "So there's no difference."
But there is a difference, Chip. This game is similar to the one you played last January against another set of Tigers from the SEC. It's also like the time you spent New Year's Day with Ohio State in Pasadena.
Opening point spread: Oregon by 2 1/2
The pick: LSU 24-23
Final: LSU 40-27

2) No. 5 Boise State at No. 19 Georgia (at Atlanta)
Sat., Sept. 3  — 8 p.m. ET, ESPN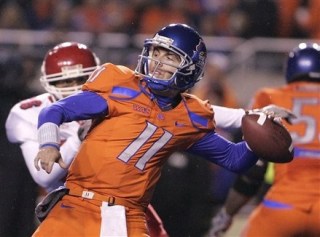 The Broncos are used to these high-pressure openers that can end their national title hopes before September begins. Two years ago, Boise State opened with a victory over Oregon, which will be forever remembered not for the domination exhibited by the Broncos in a 19-8 win, but for LeGarrette Blount's post-game meltdown.  Last year, Boise outlasted Virginia Tech, 33-30, in another showcase showdown opener.
These two teams opened the 2005 season against each other in Athens. The Bulldogs crushed the Broncos, 48-13, in that one. Since then, Boise State has been on a big-game rampage winning all but one of their seven games against BCS competition.
The Broncos have gone 26-1 in the previous two seasons, while the Bulldogs went just 14-12, including last year's 6-7 campaign (their first losing mark since 1996).
It remains to be seen if Georgia's true freshman running back Isaiah Crowell is ready for prime time, right out of the box.  It's likely that all that promise won't rise to the surface just yet.  When it does in September, Bulldog quarterback Aaron Murray will get his opportunity to prove that he's the best quarterback in the SEC.
Georgia has a decided advantage in the special teams department over Boise State.  If the Dawgs are able to come up with a couple game-changing plays in the kicking game, we might be in for a classic.
The deciding factor will be the mismatch between Georgia's inexperienced offensive line (just two returning starters) and Boise State's rugged front seven (national-best 48 sacks last season).
Bronco quarterback Kellen Moore deserves all the hype, but without wideouts Austin Pettis and Titus Young (and offensive coordinator Bryan Harsin), it'll take a few games for the Bronco attack to really kick into high gear. Until then, the defense will lead the way to victory, even in SEC territory.
Opening point spread: Boise State by 3 1/2
The pick: Boise State 26-20
Final: Boise State 35-21
3) Miami (Fla.) at Maryland
Mon., Sept. 5 — 8 p.m. ET, ESPN
We're gonna make this pick with considerable hesitation and subsequently declare it ineligible. Then, it'll be up to the NCAA to rule on reinstatement.
All we're at liberty to say at this point is that despite the ominous storm clouds currently hanging over the Hurricane program, we've got faith in Al Golden's ability to rally the troops, whomever they might be.
Opening point spread: Miami by 5 1/2
The pick: Miami 27-24
Final: Maryland 32-24
(Update: Pick was made before NCAA ruled eight Hurricanes ineligible for the game)

4) South Florida at No. 16 Notre Dame
Sat., Sept. 3  — 3:30 p.m. ET, NBC
We can't wait to hear lispy Lou Holtz break this one down. Is he still working?
Lou's son, Skip, will be hoping that his inexperienced USF offensive line, which features only two returning starters and a redshirt freshman at right tackle, holds up against Notre Dame's wicked front seven.
Lou would pick his beloved Fighting Irish over the 1985 Chicago Bears, but for this one, maybe he'll say it'll be so close that overtime will be required.
We'd agree with that.
The Bulls will give the Irish all they can handle, however, Notre Dame will continue the momentum it built at the end of last season, closing with impressive victories over Utah, Army, USC and Miami (Fla.).
Opening point spread: Notre Dame by 10 1/2
The pick: Notre Dame 30-23
Final: South Florida 23-20

5) Brigham Young at Ole Miss
Sat., Sept. 3  — 4:45 p.m. ET, ESPN
Gaining your independence works out sometimes.  Other times, it doesn't.  For BYU's sake, let's hope the Cougars are more successful with it than my oldest nephew.
The first step along that sometimes lonely path won't be an easy one for the Cougars in Oxford, but they should pass the test.
With only four starters back on defense, the Rebels will have a helluva time dealing with Cougar quarterback Jack Heaps, who should fit nicely into new offensive coordinator Brandon Doman's pro-style attack.
Let's not forget that there was a big ol' miss last year for the Rebels in their opener … a shocking 49-48 double-overtime loss to Jacksonville State.
Opening point spread: BYU by 2 1/2
The pick: BYU 28-21
Final: BYU 14-13

6) Appalachian State at No. 13 Virginia Tech
Sat., Sept. 3  — 12:30 p.m. ET
In all likelihood this isn't a game you're gonna stick with all the way through. It's more of a "just in case" deal.
Everybody remembers the shocking 2007 opener when Appy State toppled mighty Michigan. And most everyone has some recollection of James Madison's incomprehensible victory over Virginia Tech last season.
Aside from checking to see if something similar might be cooking, it'll be worth a look to see how quarterback Logan Thomas starts off the post-Tyrod Taylor era in Blacksburg.
Opening point spread: N/A
The pick: Virginia Tech 38-6
Final: Virginia Tech 66-13

7) Southern Methodist at No. 8 Texas A&M
Sun., Sept. 4 — 7:30 p.m. ET, FSN
Things were so much simpler when both these schools were prospering in the good ol' Southwest Conference.  Since those days and rivals, the Mustangs "died," moved to the WAC and are currently a member of Conference USA.  The Aggies?  Well … they're still in the Big 12, for now. But, when they depart, SMU would like to replace them.
Beating A&M at Kyle Field would assist greatly in that process. However, that's too tall a task with the Aggies welcoming nearly everybody back this season, including quarterback Ryan Tannehill and wideout Jeff Fuller.
Opening point spread: Texas A&M by 15 1/2
The pick: Texas A&M 34-17
Final: Texas A&M 46-14

8)Tulsa at No. 1 Oklahoma
Sat., Sept. 3  — 8 p.m. ET, FX
What a way for Bill Blankenship to begin his collegiate head coaching career … on the road against the top-ranked Sooners.  Yikes.  At least he's got 18 returning starters.  Oops, make that 17.
The distance between Tulsa and Norman is only 125 miles, but in terms of football it'll look like they're a world apart.
This game makes the P101 list mostly because we want to see how well the Sooners wear the meaningless preseason No. 1 crown.
Opening point spread: Oklahoma by 20
The pick: Oklahoma 48-16
Final: Oklahoma 47-14

9) No. 14 TCU at Baylor
Fri., Sept. 2  — 8 p.m. ET, ESPN
Only five starters on the defensive side return for a Baylor team that ranked 104th in total defense last year. The Horned Frogs were a mere 103 spots higher up on that same list.
We've got tons of respect for the Bear quarterback Robert Griffin III, but don't envision him being able to pull this one off in Waco.
Opening point spread: TCU by 6 1/2
The pick: TCU 27-26
Final: Baylor 50-48

10) Akron at No. 18 Ohio State
Sat., Sept. 3  — Noon ET, ESPN
With most of the nation either renting a victim or being a victim, the pickings were slim this week. This particular game makes the cut because you gotta tune in to see what's left within this current state of the Buckeye program … and to see what Luke Fickell dons instead of a sweater vest.
Not many of you remember this, but Akron did beat Ohio State in '94.
Huh?
Oh yeah, that was 1894.
Opening point spread: Ohio State by 31 1/2
The pick: Ohio State 45-10
Final: Ohio State 42-0

TWO MORE YOU SHOULDN'T IGNORE
Minnesota at No. 25 USC
Sat., Sept. 3  — 3:30 p.m. ET, ABC or ESPN2
The Golden Gophers gave the Trojans all they could handle for just about three quarters last year in Minneapolis, before dropping a 32-21 decision.
The very next week, armed with the tape of that game, Jerry Kill coached Northern Illinois to a 34-23 upset of Minnesota. Kill's now the head man in charge of the Gophers.
Surely it didn't take him long to determine that the Trojans have a habit of not defending well against mobile quarterbacks, even before Monte Kiffin arrived from the formulaic NFL to run the defense.
Versatile Gopher quarterback MarQueis Gray could pose some problems for the Coliseum dwellers.
Opening point spread: USC by 20
The pick: USC 31-20
Final: USC 19-17

Northwestern at Boston College
Sat., Sept. 3  — Noon ET, ESPNU
In the U.S. News & World Report's "National University Rankings," Northwestern comes in at No. 12, well ahead of Boston College at No. 31 … and for $295 less per year!
We're not quite sure what that means for the all student-athletes on the respective football teams, but Wildcat quarterback Dan Persa (or Kain Colter) should be able to take advantage of an inexperienced Eagle secondary that went further into the tank, losing a pair of safeties last week.
We'll be back in mid-November with something similar for No. 1 Harvard at No. 3 Yale.
Opening point spread: Boston College by 2 1/2
The pick: Northwestern 23-20
Final: Northwestern 24-17
Week 1 record: 9-3