Finally, thankfully, welcome to a brand new season of college football — ya know, that sport played on a (sometimes) green field? — giving us a much-needed respite from an offseason rife with off-field scandals, arrests and, of late, more conference turbulence.
While the title's been tweaked a bit, the review of the weekend's action below is still the same ol' one-stop slice of Les Miles-approved college football turf it was last year.  And, just as it was last year, and as will be the case every week from here on out, any omission below is not on purpose, it's merely intentional.
WINNERS
"OR-ih-guhn"? Try "Or-ih-DONE"
Their starting quarterback is facing a felony charge and is indefinitely suspended.  One of their leading returning receivers was ruled ineligible for at least the opener.  Their most experienced offensive lineman could be lost for the entire 2011 season.  And then there's the whole Willie Lyles imbroglio looming in the background.  So, with all of that off-field mess going on, what does No. 4 LSU do?  Go out and beat the No. 3 and reigning BcS runners-up Oregon 40-27, that's what they did.  It was far from pretty, with the Tigers the beneficiaries of four UO turnovers and 12 penalties while producing a meager 273 yards of offense.  And Jordan Jefferson's replacement under center, Jarrett Lee, was, well, Jarrett Lee, minus the backbreaking pick-sixes featured prominently on his QB calling card.  While Lee kept up the LSU tradition of throwing for less than 100 yards in four full quarters of football, he did avoid any type of turnover while also adding a touchdown pass as an unexpected bonus.  And that vaunted Ducks rushing attack?  Stonewalled, averaging just 3.4 yards on their 28 carries.  Add it all up, and it turned into a somewhat improbable win for The Mad Hatter, and set the Bayou Bengals on a course that could still end with a January trip to New Orleans.  Stay out of the bars, though.  Just sayin' is all.
This spud's for you
We can hear the critics now. "But PAAAWWWLLL, it wasn't (insert Alabama, LSU, the 2006/2008 Florida Gators or the 1977/1979 Pittsburgh Steelers here)!"  You know what?  It doesn't matter; No. 5 Boise State went into the heart of SEC country and is headed back to Idaho with a win over a ranked member of the preeminent conference in college football.  And it wasn't even the margin of victory that was most impressive; rather, it was how the Broncos completely stomped all over No. 19 Georgia's manhood in every single facet of the game.  Say what you want about their blue turf and their soft conference slate and whatever else, but the Broncos have shown in nearly every "national stage" moment of the past few years that that's exactly where they belong.  One of these days, they'll get the nationwide respect they deserve.  Because it was "just" UGA, however, that likely won't be the case.  Again.
Just a bro bein' a bro
Steve Spurrier shocked nearly every interested observer by announcing earlier this week that sophomore Connor Shaw would start the opener at quarterback against East Carolina instead of two-year-plus starter Stephen Garcia.  Fortunately for Spurrier and his Gamecocks, Garcia's chill like that and doesn't allow such slights to affect him in the least.  Trailing 17-0 to Conference USA's East Carolina with Shaw in charge of the offense, Garcia was inserted into the lineup.  Two touchdown passes and one rushing touchdown later, the No. 12 Gamecocks were well on their way 56-37 season-opening win.  Regardless of whether it was just mind games or Spurrier truly believed Shaw was the best option, the Ol' Ball Coach has no choice but to start Garcia in the SEC opener next weekend.
Scoreboard, Mother Nature
For the first time in the school's long and storied history, a Michigan football game was called due to weather, with the Wolverines coming away with a 34-10 win over Western Michigan in a game that consisted of less than three quarters of play.  The Notre Dame-USF game in South Bend was suspended twice as well due to lightning in the area — the game ultimately took 5:59 to complete — prompting the stadium to be evacuated for the first time ever that anyone could recall.  Additionally, the Iowa-Tennessee Tech game was delayed for well over an hour due to a storm that blew through the area.  And that's not all; the McNeese State-Kansas and Montana-Tennessee games were also delayed because of weather, as well as the Eastern Michigan-Howard game being postponed until Sunday.  We said it before and we'll say it again: Craig James was the color man on the UM game; all this weather was The Big fan Upstairs' way of saying #firecraigjames before somebody gets hurt.
Don't tread on us — if you don't mind
Long the butt of jokes, most of which were well deserved, the Big East decided to whip some ass on the opening weekend of the 2011 season.  Following West Virginia's victory over Marshall on Sunday, the beleaguered football conference sports a spotless 8-0 mark after Week One.   Sure, four of the wins came against schools outside of Div. 1-A, and just one came against a school in a BcS conference (Syracuse over Wake Forest), but it's the Big East and a non-basketball sport we're talking about.  Baby steps, y'all.  Baby steps.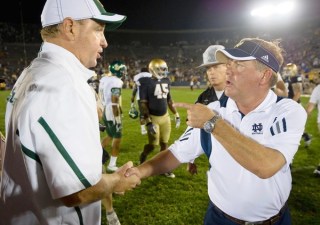 The prodigal son returns
Skip Holtz graduated from Notre Dame.  His father, Lou Holtz, won a national championship as head coach of the Irish and has a statue outside the stadium dedicated in his honor.  It was certainly an emotional return for the younger Holtz to South Bend as head coach of USF, made even more so by the Bulls "stunning", rain-delayed "upset" over the No. 16 Irish.  After the game, Holtz brushed aside any notion of his past adding more weight to the present. "This game wasn't about me – that would be selfish," Holtz said following the 23-20 win. "This is a big win for our program. Our players weren't even born when I was here. I wasn't going to make it about me."  Regardless of whether the Irish were overrated — again — it was a huge win for the USF football program.  And, even as he may not admit it publicly, it was huge for Holtz as well.
Neither Wile E. Coyote nor ACME were anywhere in sight
Saturday morning I busted the chops of the fledgling University of Texas at San Antonio just a wee bit.  Now, I come to praise them.  And their fans.  In UTSA's first game ever, the Div. 1-AA (FCS) school ran over, through and around Div. II Northeastern State by the score of 31-3.  Not only was it the Roadrunners' first-ever win, it was the first win for head coach Larry Coker — of the Miami Hurricane Cokers — since December of 2006.  Arguably even more stunning than UTSA breezing to the first win was the attendance; a whopping 56,743 were at the Alamodome to witness the momentous occasion.  So, not only do the Roadrunner players and coaches deserve a hearty "atta boy", the program's fans deserve a healthy round of applause for the phenomenal support they displayed.
Now go clean that pig sty of a room, young man…
The fact Nick Isham started Louisiana Tech's opener against Southern Miss is not really all that remarkable in and of itself; after all, he came to the Bulldogs as a three-star recruit out of high school.  What makes Isham's start remarkable, though, is the fact that he's not even old enough to vote.  That's right, Isham is a mere 17 years old, and won't turn 18 until next month.  And the youngster actually acquitted himself well in a 19-17 loss to Southern Miss, completing 20-of-36 passes for 176 yards.  While he didn't throw  a touchdown, he didn't throw an interception either. And, oddly enough, Tech's opponent also has some experience with young players at the position; Brett Favre was the same age as Isham when he made his debut for the Golden Eagles a couple of decades ago.
LOSERS
A win is a win is a loss
I get the fact that, including the best offensive player in the country as well as arguably the best one on the defensive side of the ball, Auburn suffered a tremendous amount of attrition this offseason and should not be expected to play at the level they reached last year this early in the season.  What also should not be expected — or accepted — is needing a last-minute touchdown at home against a WAC opponent that hasn't had a winning season since Bill Clinton was in office.  The good news for the Tigers is they get Florida Atlantic at the end of this month.  The bad news?  They get Mississippi State and Clemson before then, and South Carolina, Arkansas, Florida and LSU in consecutive weeks after.  Attrition or not, Gene Chizik can't allow another performance like that if he hopes to sniff five wins let alone a minor bowl berth.
Off the Mark, back on the hot seat
I really, really like and respect Mark Richt.  There are probably just a handful of coaches in big-time college football who I'd prefer coach one of my sons over Richt.  The reality is, however, the natives are beginning to get restless — again — and, after back-to-back disappointing seasons, the howling will likely be more vocal than at any point the past couple of years.  The thing is, after what UGA did in the Georgia Dome Saturday night, it's not exactly unwarranted. Simply put, that was embarrassing, a veritable home game that turned into a romp for the supposedly inferior Boise State Broncos.  Coming off a 6-7 season, a beatdown at the hands of a "mid-major" was the last thing Richt's warm backside needed.  Hey, speaking of hot seats…
Hornets, don't you think you were a little hard on the Beavers?
If Mike Riley's seat was hot before the start of the season, that thing's a veritable fireball after the opener.  Unbelievably, Riley's Oregon State team dropped a game, in Corvallis no less, to Div. 1-AA (FCS) Sacramento State, a game in which they actually came back from a 21-6 fourth-quarter deficit.  And we can't figure out what's worse, the fact that OSU had to mount a two-score comeback at all, or the fact that they… ahhh, screw it.  It's all equally bad for Riley & Company, especially when they look at the schedule and see No. 11 Wisconsin coming to town next weekend.
It's, like, just the first weekend, man
Based on the first weekend, the Pac-12 probably can't wait for Texas and Oklahoma to head west.  While the conference went 8-4, the losses — and even a couple of the wins — were not befitting a conference looking to improve their national image.  Of course, there was Oregon's beatdown at the hands of LSU as well as the above-mentioned loss to a 1-AA school by OSU.  And UCLA's 38-34 loss to Houston of Conference USA.  And Colorado's loss to Hawaii in their first game as a member of the conference.  Throw in USC's two-point win over Big Ten doormat Minnesota and Washington's three-point win over 1-AA Eastern Washington, and it was a weekend that commissioner Larry Scott would likely rather forget.  Unless he adds UT and OU next week, of course.
Ya know what? Go ahead and grab that clipboard for a bit
Nick Saban came into the game against his alma mater Kent State with an open mind and a clear agenda as it pertains to the quarterback position: get both AJ McCarron and Phillip Sims equal reps and let the signal-calling chips fall where they may.  While both players tossed two interceptions during the 48-7 win, McCarron was the better of the two statistically — 226 passing yards and the lone touchdown pass for McCarron to 73 yards on just nine fewer attempts for Sims — and appeared more comfortable and poised for most of the game than did his counterpart.  After Saturday's game, expect Sims to see more of the sideline next week at Penn State than he did this weekend.  And for McCarron to get a second consecutive start, with this one not including as much time off the field.
What the…
Leading BYU 13-7 with just over five minutes to play, and facing a third-and-27 from their own 21, the prudent call for Ole Miss would be to run the ball and, if you don't convert, punt the ball to the Cougars and play defense, right?  Wrong.  Inexplicably, first-year Rebels offensive coordinator David Lee called for a pass play out of the shotgun.  Needless to say, things didn't go according to Lee's plan as quarterback Zach Stoudt was blindsided by BYU defender Kyle Van Noy, causing a fumble that was recovered in the end zone by, who else, Van Noy.  That proved to be the winning score for the Cougars, with what led to that score proving to be a WTF moment for any Ole Miss fan who witnessed it.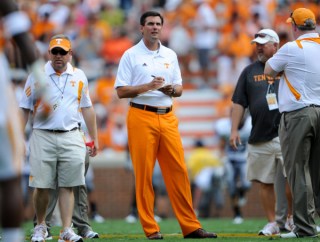 First-degree fashion felony
That's PGA touring pro John Daly Tennessee head coach Derek Dooley's choice of game-day attire there on the right.  Nothing else needs to be written.  Or, more to the point, nothing else can be written as I'm temporarily blind.
First-degree aggravated fashion felony
Call me old, call me stuck in the past, call me whatever you want, just don't try to convince me those uniform abominations Georgia and Boise State wore Saturday night were anything but uniform abominations.  My goodness, I flipped the channel from Oregon-LSU on ABC over to ESPN and my first thought was, "why the hell are they showing an Arena League game? I thought BSU-UGA was supposed to be on?"  Those things were called Nike Combat Uniforms at their unveiling; the only thing I was combating was vertigo and the urge to vomit.  Penn State and Alabama and the like may not be cool or hip or whatever, but I'll take those over that any day of the week and twice on Saturdays.  Now, you kids, go and get off my lawn…
ODDS & ENDS
— Tom Wort was chosen by his teammates as the first defensive player who would wear the No. 12 jersey of Austin Box, the Oklahoma linebacker who tragically passed away this offseason.  Following the Sooners' 47-14 win over Tulsa, Wort was awarded the game ball by his team.
— Everett Withers, named North Carolina's interim head coach following the firing of Butch Davis, picked up his first career win Saturday, an easy 42-10 romp over James Madison.  In a move that simply oozes class, Withers announced that he would be giving the game ball for the win to Davis.  Withers, you're a good man regardless of what happens in your coaching future.
— On Aug. 24, Richmond head coach Latrell Scott was forced to resign following a drunk-driving arrest.  10 days later, interim head coach/offensive coordinator Wayne Lineburg took the Spiders on the road to Duke — and came away with a 23-21 win.  While the circumstances certainly made this win all the more satisfying, it certainly doesn't come as a shock; the Spiders have beaten the Blue Devils the last three times the schools have squared off (2006, 2009).
— Injuries are an unfortunate part of football that carry no rhyme or reason to their occurrence. Unfortunately for several programs, injuries took a harsh toll on their roster in week one. Mizzou lost two defensive playmakers in defensive end Jacquies Smith dislocated his elbow and linebacker Will Ebner suffered a high ankle sprain that could sideline him for several weeks. Additionally, a pair of starters returning from season-ending injuries got off to a bad start in 2011. UCLA quarterback Kevin Prince got hurt — again — against Houston and Michigan cornerback Troy Woolfolk was carted off the field with an ankle injury. Even one of the new guys — Iowa freshman running back Mika'il McCall — broke his ankle against Tennessee Tech and will miss the rest of the season.
— Seven true freshmen were among the 69 Alabama players who saw action during the Tide's 48-7 rout of Kent State.  I don't know whether those numbers are high, low or about normal, but it sure seems like a helluva lot.
— As expected, Joe Paterno coached Penn State's season opener from the press box as the living legend continues to recover from injuries suffered in a collision during summer camp.  Fortunately, an elaborate system involving the telegraph and toga-clad couriers made for a seamless transition and allowed JoePa to stay in constant communication with the sidelines.
— JoePa wasn't the only "experienced" coach to view his team's first game from above.  After being forced off the bus on the way to Gainesville Friday due to severe hip discomfort, Howard Schnellenberger took in Florida Atlantic's loss to Florida from the coaches box.  Schnellenberger had undergone hip replacement surgery last month, which led to the discomfort and the very brief hospital stay.
FOR STATISTICAL PURPOSES ONLY
— In his first start at the collegiate level, North Carolina's Bryn Renner set an ACC record by completing 22-of-23 passes (95.7 percent) in the Tar Heels' 42-10 win over James Madison.  In fact, none of Renner's pass attempts actually hit the ground; his lone incompletion was a second-quarter interception.  Renner completion percentage was just shy of former Tennessee QB Tee Martin's 95.8 percent back in 1998.
— After throwing for 310 yards in his first game back since suffering a torn ACL last year, Houston's Case Keenum is now just 3,144 yards away from becoming the NCAA's all-time leader in passing yardage.
— Following USC's too-close for-comfort win over Minnesota, head coach Lane Kiffin said that his squad currently has "two good players".  One of those players Kiffin was obviously referring to was wide receiver Robert Woods, who caught a school-record 17 passes in the 19-17 win.  The sophomore also caught three touchdown passes from quarterback Matt Barkley, who we assume is the second good player Kiffin referred to.
— Speaking of Barkley, the junior put his own notch in the USC record book, setting a school record with 34 completions.
— Landry Jones did nothing to hurt his status as a preseason Heisman favorite, throwing for 375 yards and a touchdown.
— Florida's Chris Rainey became the third player since 1996 to have a rushing, receiving and return (blocked punt) touchdown in the same game.
— Tajh Boyd was 20-for-30 for 264 yards and three TDs in his debut as Clemson's starter.
— Arkansas wide receiver Joey Adams' two punt returns for touchdowns (61, 78) tied an SEC record for most in a single game.
— Chandler Harnish accounted for six touchdowns — five passing, one rushing — to give Northern Illinois coach Dave Doeren his first career win.
— Questionable all week due to an injury, Washington's Chris Polk rushed for 125 yards in the Huskies win — barely — over Eastern Washington.
— Cincinnati dropped 72 points on poor Austin Peay, the third-most the Bearcats have scored in the school's history.
— UCF scored a school-record eight rushing touchdowns in a 62-0 pasting of Charleston Southern.
— This is a leftover from Friday night, but it's still worth a mention: Baylor had 263 total yards in 45-10 loss to TCU last season. At halftime of their eventual 50-48 win over the Horned Frogs, the Bears had 367 yards.
— Ohio State tight end Jake Stoneburner was on the receiving end of three Joe Bauserman touchdown passes in the Buckeyes' season-opening 42-0 cruise over Akron.  Entering the game, Stoneburner had two receiving TDs in his entire career.
— With Luke Fickell's win in his first game as Ohio State's head coach, Jack Ryder remains the last coach to lose his debut at the school.  That was back in 1892, incidentally.  And the winning coach that day?  None other than Joe Paterno.