As is the case every week, any omission below is not on purpose, it's merely intentional.
(Writer's note: thanks to the Tolstoy-esque expansion piece posted late last night, this will be a truncated version of The Fifth Quarter.  My apologies in advance for any consternation this may cause.  And many, many thanks to Ben for pitching in and helping immensely with this edition.  For his participation, I also apologize in advance.)
WINNERS
Fire up the Wilson-for-Heisman campaign already, please
To be perfectly honest, I didn't think Russell Wilson would be a serious or viable contender for the 2011 Heisman Trophy after his "free-agent" signing with Wisconsin this offseason, if for nothing more than the fact that the Badgers possess arguably the top one-two running back punch in the country.  Three games in?  He very would could be the leading contender at the quarter-pole of the season.  In three games this seasons — all easy wins for the Badgers — Wilson has completed 76 percent of his pass attempts for 791 yards, with just one interception to go along with eight touchdown passes.  Yes, the competition has consisted of UNLV, Oregon State and Northern Illinois — which fell to UW 49-7 Saturday — but there's no denying Wilson has taken a team that would've been a Top-20 squad without him and turned it into a legitimate contender for not only a Big Ten title, but for a national title as well.  It's amazing what one talented player at the most important position in football can do for a team, right Auburn?
Yabba-Dabo-doo!*
During his first three years at Clemson, Dabo Swinney had compiled a fair-to-middlin' mark of 21-15.  Fair-to-middlin' in Death Valley will not suffice, however, so Swinney entered 2011 with his backside perilously close to the hot seat.  Three games and three wins later?  All hail Dabo!  The most recent of those wins this season also served as Swinney's biggest in three-plus years with the Tigers, with Clemson snapping the nation's longest winning streak at 17 and downing No. 21 Auburn 38-24.  Swinney's offense pounded AU's beleaguered defense into submission, piling up 624 yards of total offense in the win.  After opening with games against Troy (chuckle) and Wofford (giggle), this was Clemson's first real test of the season.  Suffice to say, they passed with flying colors, even if the 2011 edition of the Auburn Tigers are nowhere the 2010 BcS title edition.
(*don't be concerned; I cringed for you)
"BOOM!"er Sooner!
The Oklahoma-Florida State game got scary for several minutes when Seminoles receiver Kenny Shaw suffered what appeared to be a head injury after getting sandwiched between two Sooner defenders. But the fact of the matter is that Oklahoma's defense brought the wood all night against the 'Noles. And, as dangerous as it, there's something about watching a player get lit up that makes us get a little excited. Whatever it was, the Sooners were playing with a purpose, not to mention some serious anger, on defense tonight. And we like it.
It wasn't pretty but…
In the first two games of the 2011 season, Notre Dame produced over 500 yards of total offense in each contest — and lost both.  In their game Saturday against No. 15 Michigan State, the Irish produced 275 yards of total offense — and won.  Yep, this game makes perfect sense.  Regardless, it was a huge win for the Irish, preventing Brian Kelly's charges from falling into a 0-3 hole even after falling into a 28-10 third-quarter hole against the Spartans.  The turnovers are still an issue — three in this one, 13 overall on the season — but this was a game the Domers had to have.  And they got it, warts and all.
Lulling 'em to sleep
Down 24-3 to Pittsburgh deep into the third quarter, Iowa looked listless and well on its way to its second straight loss.  Then, James Vandenberg happened.  In a span of 16:16, the junior quarterback accounted for four touchdowns — three passing and one rushing — as the Hawkeyes roared back to take a 31-27 lead with just under three minutes left in the game.  Appropriately enough, a Tino Sunseri interception, his second of the game, sealed the win for the Hawkeyes — the biggest comeback in school history — on the drive following the go-ahead touchdown. " I'm hurting for them, I'm hurting for those seniors," first-year Pitt coach Todd Graham said. "I'm kind of shocked right now, because it all happened so fast."  We believe that also covers nation's thoughts on Pitt's impending move to the ACC, actually.
It's Doege Ball, y'all!
Texas Tech has produced its fair share of great college quarterbacks who could sling it around in their sleep. Against New Mexico — yes, we know — Red Raiders quarterback Seth Doege had a truly lights-out performance against the Lobos that will go down in the history books. Doege's first 15 completed passes tied a school record for consecutive completions. Doedge finished 40-of-44 (a 90.9-percent completion rate for you nerds at home), which broke a national record for completion percentage with at least 40 pass attempts. He also threw for five touchdowns in the process. Now, if only we could have seen the game on a channel besides ESPN 8, the "Ocho".
State of Georgia's just peachy offensively, thanks for asking
As expected, Georgia and Georgia Tech had little problem in easily dispatching of Coastal Carolina and Kansas, respectively.  How they did it offensively, however, was truly impressive, particularly on Tech's part.  The in-state rivals combined to score 125 points (66-24 for Tech, 59-0 for UGA) and roll up 1,238 yards of total offense.  The staggering aspect is that Tech contributed well over half that total — with nearly half the total of the two schools coming on the ground.  Of their 768 yards of offense against the woebegone Jayhawks, 604 came on the ground for the Yellow Jackets.  To repeat: Tech churned out over 600 yards on the ground against a a school from a BcS conference.  Unbelievably, that may not even have been the worst part for KU; Tech "only" ran the ball 50 times, meaning they averaged over 12 yards per carry every time they handed the ball off.  Incidentally, the total yards, rushing yards and yards per carry were all single-game school records.
LOSERS
Um, hello, McFly!?
Does anybody know how in the world Big East commissioner John Marinatto entered the press box of Maryland's Byrd Stadium today without the slightest clue that two prominent members — Syracuse and Pittsburgh — were reportedly planning on leaving for the ACC? You know, that conference that raided the Big East, like, six or seven years ago? Big East officials told us this morning that the news of an alleged move came as a shock to them; that, to us, explains everything. This was, after all, a conference who spent the last year farting around with Villanova without even a timetable as to when they would make a move. Meanwhile, other conferences have postured themselves for long-term security. It looks like the 'Cuse and Pitt saw through the curtain and decided their future needed to be somewhere else. And who could blame them?  The ACC did exactly what any conference should have been doing during this conference realignment v2.0, which is bolster internal security while being proactive. The Big East? They're mad they had to miss their noon tee time.
South Beach Diet
Ohio State traveled to Miami with the hopes of slimming down — on offense, that is. And, boy, did they ever. The Buckeyes had just 35 yards passing between quarterbacks Joe Bauserman and Braxton Miller during an offensive performance that would even make Jim Tressel tweet "#smh." Ohio State's run game was slightly better as Jordan Hall and Carlos Hyde managed to put together some respectable rushing stats. But Buckeyes coach Luke Fickell is going to have to find an answer at quarterback and soon. Bauserman didn't come close to performing like he needed to and Miller clearly has a long way to go.
Yeah, JoePa, 'bout this coaching thing…
You will never, ever hear me call for Joe Paterno to step down; the man has done too much for the game of college football in general and Penn State's program in particular for him to be treated with anything but the utmost respect.  There should be no repeat  of what happened to Bobby Bowden at Florida State in Happy Valley.  That said, it's time for Paterno to seriously consider doing what's best for the program he built — even if that means stepping down.  Simply put, the Nittany Lions are a bad team, one of the worst 2-1 teams you'll ever witness.  Looking haphazard, inept and uninterested through most of the game with Temple — a team they haven't lost to since 1941 — the Nittany Lions need a touchdown with just under three minutes remaining to put the Owls away.  The win doesn't mask reality, however — Penn State is a bad football team that didn't deserve to be ranked entering the season, and it's time for JoePa to sit down after the season and seriously consider handing over the reins to his program to someone else.  I don't want a coaching legend gone from the game as its better off with him in it, but his beloved football program may be better off with him out of it.  It's going to happen sometime.  Perhaps that sometime should be sooner rather than later.  Again, though, that should be JoePa's call.  And I think, deep down inside, he knows what the right call is.
Slick Rick on a Slippery Slope?
As far as national exposure and meaning goes, UCLA hosting Texas was a little bit faint on the radar. Still, the Bruins needed a quality win to take a little bit of the heat of of Rick Neuheisel's seat, which has been getting much, much warmer as of late. That win never came, as Texas ran through UCLA 49-20. Neuheisel still hasn't found any significant production out of quarterbacks Richard Brehaut and Kevin Prince, which only adds salt to the wound knowing that just across the field, the Longhorns were beginning to establish an offensive identity. There's still some time left for Neuheisel to regain the grip on his job security, but it's loosening by the day.
Houston, we have a problem
Oh boy, where to begin when it comes to the state of Ole Miss football?  You could start with today's game, a 30-7 drubbing at the hands of Vanderbilt — Vanderbilt!!! — that featured five interceptions from Zach Stoudt that helped drop the Rebels to 1-2 on the season.  Or, you could start with the fact that the Rebels have lost seven straight SEC games overall, and their last SEC road win was Oct. of 2009 — against Vandy.  Regardless of where you start, it all ends with this: Houston Nutt's seat may be the hottest in the conference; yes, hotter than that of Mark Richt's.  Losing to the likes of Alabama and LSU and Florida is one thing; losing the way they did to — no offense, 'Dores — Vandy?  Unacceptable.  And could be the beginning of the end of the Nutt Era in Oxford.
John Taylor, and not the Duran Duran bassist
In my preseason Top 25, I placed Florida State at No. 2 based solely on the notion that they would find a way to get past Oklahoma in Week 3 of the season.  Week 3 came and went, and the 'Noles didn't get past the Sooners, falling 23-13 to the No. 1 team in the country.  Thus, I'm a loser.  And am even more convinced than ever that preseason polls are the biggest waste of time this side of willingly viewing an episode of Jersey Shore.
ODDS & ENDS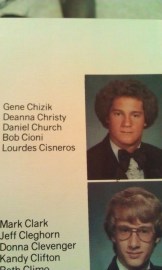 — I like to think that I'm pretty well-versed on the game of college football, but, to be perfectly honest with you, I had no clue until earlier this past week that Seth Rogan was the head coach at Auburn University.  For visual proof of that little-known fact, soak in the epic Sweathogs-like glory that is the photo immediately to the right of this little note.  Or, click on it to bask in its enlarged glory.  Either way, we're all winners today for having that little slice of Internet heaven in our lives.
— Arguably the most significant injury of the weekend occurred in The Swamp, with Tennessee's Justin Hunter going down with a knee injury early in the first quarter of the Vols' 33-23 loss to the Gators.  It's believed UT's leading receiver suffered an ACL tear and could be lost for the season.
— With the 38-17 win over Louisiana-Monroe, No. 23 TCU's Gary Patterson has reached the 100-win plateau as a head coach, just the seventh current Div. 1-A (FBS) coach to climb to that mark.  He needs 10 more wins to surpass Dutch Meyers and become the all-time winningest coach in the program's history.
— In the past 364 days, Nebraska and Washington have faced each other on three occasions (two regular season, one bowl game; the Cornhuskers are 2-1).   In the 120 years prior to that first meeting in September of 2010, the two schools had met on a football field a total of six times.  Today was far more productive for the Cornhuskers than their last meeting with the Huskies, though, as NU was able to come out on top of a 51-38 shootout.
— Exactly a week after suffering an in-game seizure, Jerry Kill was back on Minnesota's sidelines coaching the Gophers.  Joe Paterno, well over a month after being injured during a freak summer camp accident, was not; the legendary Penn State coach took in the Nittany Lions' "win" from the coaches' box high above the field.
— Actual headline from the Hartford Courant: "Iowa State Mascot Suffers Broken Arm At UConn Game Friday; Police Find No Foul Play"
FOR STATISTICAL PURPOSES ONLY
— Of No. 2 Alabama's 347 yards rushing in their 41-0 stroll over North Texas, an astounding 274 of them came on just five carries.
— In addition to Georgia Tech, two other teams from BcS conferences topped 700 yards of total offense: Missouri with 744 yards in a 69-0 win over Western Illinois, and USF with 745 yards in a 70-17 win over Florida A&M.
— Speaking of the Bulls, Colorado transfer Darnell Scott rushed for 146 yards — on just 12 carries — and three touchdowns in his first career start for the school.
— Geno Smith's career-high 388 passing yards accounted for just over 80 percent of West Virginia's total offense as the Mountaineers were able to hold off Maryland 37-31.
— In Utah's 54-10 "Holy War" waxing of BYU, Utes running back John White IV rushed for 165 yards — in the second half.  That represented quite a turnaround for White-to-the-fourth power as he was held to just nine yards in the first half.
— Marcus Lattimore rushed for a career-high 247 yards as South Carolina narrowly escaped getting torpedoed by Navy (see what I did there) in a 24-21 win.
— LaMichael James' 90-yard touchdown run in Oregon's 56-7 win over Missouri State was the school's longest run since 1938 and the longest ever at Autzen Stadium.
— During Auburn's 17-game winning streak, 10 of their wins — a staggering 59 percent — had come by eight points or less.  That streak was tied for the second-longest in school history.
— Starting in 1999, San Diego State had lost 22 consecutive games against schools from the six BcS conferences.  Thanks to a resounding 42-24 win over Washington State, that streak has come to a merciful end.  And, yes, it counts even though it was just Wazzu.
— In UConn's 24-20 loss to Iowa State Friday night, Huskies kicker Dave Teggart was a perfect 2-2 on field goals longer than 50 yards.  On field goals shorter than 50 yards?  An imperfect 0-2.  The misses, incidentally, came from 41 and 43 yards.