As is always the case every week, any omission below is not on purpose, it's merely intentional.
WINNERS
Red River Rout
Speaking for myself and myself only, the one question I had ahead of the annual Oklahoma-Texas rivalry game wasn't who would win but rather by how much would the No. 3 Sooners keep their unbeaten season rolling along.  Question answered, in resounding fashion.  OU's 55-17 rout of UT proved two things I think we already knew coming in.  One, the Sooners are one of the top teams in college football and did nothing to dissuade anyone from arguing that they could very well be one of the two teams booking tickets for a January date in New Orleans.  And, secondly, the No. 11 (for now) Longhorns still have a long, long, long way to go to get back to the level it takes to compete for berths in title games.  The good news for UT is that they have a lot of talent up and down their roster, although most is of the young, inexperienced variety.  The bad news?  So do the Sooners, with the added bonus of possessing a plethora of experienced talent in the here and now.  As UT can attest, their Red River rivals are real and they are spectacular.
All they do is Geaux out and win
They're not "stylish" like Oklahoma or Stanford or Oklahoma State.  They don't have a legitimate Heisman contender like Wisconsin or Boise State (although they would if voters weren't Helen Keller when it comes to defensive players).  Much like their SEC West rival Alabama, all No. 1 LSU does is win.  And dominate on a weekly basis with a stifling defense and a relatively mistake-free offense that can throw a haymaker or two when needed.  What else can be said about the Bayou Bengals that hasn't already?  Another weekend, another ho-hum throttling, with No. 17 Florida becoming their sixth straight victim in a 41-11 cruise of a win in Death Valley.  Their week-in, week-out domination is becoming redundant… and positively hypnotic.  To me, the 2011 LSU Tigers are one of the most fascinating teams of the past decade and, for the life of me, I couldn't begin to tell you why.  What I do know for an absolute certainty is that I can't wait, provided both schools take care of their business between now and then, for the Nov. 5 showdown of the two SEC behemoths in Tuscaloosa.  Get chills just thinking about it.
Spurrier's new best bro Connor
At least for one game, Connor Shaw made the Ol' Ball Coach look like a quarterbacking savant once again.  Playing in place of Stephen Garcia, who was officially benched by Steve Spurrier earlier in the week, Shaw passed for 311 yards and four touchdowns in No. 18 South Carolina's 54-3 evisceration of Kentucky.  Perhaps what warmed the cockles of Spurrier's QB heart the most was the fact that the sophomore threw no interceptions; Garcia had tossed six in the previous two games. "We could have picked up 70 or 80 points today. But 50 was enough," Spurrier said after the lopsided win.  Have I ever mentioned that I (heart) the OBC?
Wake up the echos
All those that had Wake Forest tied for the ACC Atlantic lead at this point in the season put your hands up… now put 'em back down 'cause y'all are straight lying.  Unbelievably, though, that's where we stand at the moment, with the Demon Deacons overwhelming preseason favorite and No. 23 Florida State (more on them a little further down) 35-24, putting themselves at 4-1 overall and a spotless 3-0 in conference play.  With Clemson's romp over Boston College, the two are tied atop the Atlantic standings, setting the stage for a Nov. 12 clash that could have all sorts of ACC title game ramifications.  And the good news for Wake if they are to continue their early-season success is they have one of the best quarterbacks in the country hardly anybody's heard of.  In the win over FSU, Tanner Price completed 22-of-36 passes for 264 yards and three touchdowns — and no picks.  For the season, the sophomore has thrown 10 touchdowns against just two interceptions in 163 attempts.  Price is a big reason why Wake is off to a 4-1 start; he'll also be the reason why the second half of the season will really matter, conference-wise, at the school for the first time in half a decade.  And, speaking of midseason surprises…
K-State is what?!?
As we near the midway point of the 2011 season, and with Texas' loss, there are three undefeated teams in the Big 12: Oklahoma, Oklahoma State and… Kansas State?  That's right, No. 20 K-State is an unblemished 5-0 overall and 2-0 in the conference thanks to their 24-17 win over Missouri.  Sure, four of their five wins have come by a combined 15 points, but one of those came on the road against Miami and another was against a Baylor team ranked No. 15 at the time.  All that matters is what's there in black and white, and the standings very plainly state that Kansas State is five to the good, zero to the bad in the W/L ledger.  How long that stays the case remains to be seen; after games against Texas Tech and Kansas the next two weeks, the Wildcats have a four-game gauntlet of No. 3 Oklahoma, No. 6 Oklahoma State, No. 24 Texas A&M and Texas in Austin.  So, yeah, those in Little Manhattan might want to soak this start in and enjoy it as it's going to get a helluva lot harder to keep it going in the very near future.
Roses blooming in Ann Arbor?
I don't know how accurate the following stat is, but since it comes from the Big Ten Network we'll run with it: every year Michigan has started a season 6-0, they've gone on to play in the Rose Bowl.  In other words, pack your bags, Wolverine fans; you're going to Pasadena in a couple of months!  OK, it's still way early but, if precedent is indeed an indicator of future bowling destinations, things are looking positively rosy in Ann Arbor as the No. 12 Wolverines are now unbeaten through six games thanks to their 42-24 win over Northwestern.  The game was a tale of two halves for Big Blue, which saw itself down 24-14 heading into halftime before scoring 28 unanswered second-half points to secure their second Big Ten win of the season.  Granted it's only the midpoint of their season, but the Wolverines are in first place in the Legends (chuckle) division and are one of only two teams in the division — Michigan State being the other — with a win in conference play.  After the past few years under Rich Rodriguez, that storied program deserves a little bit of optimism, even if it may be a tad bit premature.
LOSERS
"Mr. Meyer, there's a Gene Smith on Line 1…"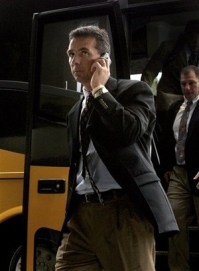 The wheels came off Ohio State's season during a 24-6 loss to Miami Sept. 17.  They lost their transmission and at least one axle last weekend in a loss to Michigan State.  After Saturday?  There's nothing left but a smoldering heap of scrap metal.  Leading No. 14 Nebraska 27-6 midway through the third quarter in Lincoln, the Buckeyes watched helplessly as the Cornhuskers peeled off 28 straight points the rest of the way in a 34-27 loss.  Point fingers in whichever direction you'd like and you'd probably hit somebody who's culpable as this football program is a mess both on and off the field.  There's no program in the country in more dire need of the services of a certain former Florida head coach.  If he's not the first, second and third calls the athletic director makes, the Buckeyes are in more trouble than anyone realizes.
Growing pains really, really hurt
In the past two games, No. 17 Florida has lost by a combined score of 79-21 to Alabama and LSU.  They've given up 819 yards of total offense while only being able to muster 435 yards of their own in the two losses.  After starting off the season at 4-0 in their first year under Will Muschamp, the Gators have come down to earth with a thud, with games against Auburn and Georgia looming on the not-too-distant horizon.  Humbling back-to-back losses to arguably the two best teams in the country will tend do that.  Patience is a virtue, and will become a necessity for the whole of Gator Nation as Muschamp attempts to get UF back to the rarefied air of the national stage to which they've become accustomed.  Much like with Texas, UF has a long way to go, but there is talent to work and build with.  Patience, though.  Patience.
Stay classy, Lubbock
We'll allow a tweet from Texas A&M Bill Byrne to set the scene: "Someone vandalized our buses in Lubbock. Excrement inside and outside of buses plus spray painted vulgarities on outside. Classy."  Excellent work, Texas Tech fans.  Way to show your ass to the Aggies — and the rest of the country — as they're on their way out the door to the preeminent football conference in the country.  Jealous much?
Rock bottom, meet the 2011 Arizona Wildcats
After opening with a win over Northern Arizona, Arizona proceeded to rip off four straight losses by an average of over 20 points per game.  Then things got really, really bad for Mike Stoops & Company.  How bad?  Their fifth straight loss Saturday came to an Oregon State team that hadn't won a game all season.  The 37-27 loss to the Beavers leaves the Wildcats reeling at 1-5 and places significant doubt on Stoops' future at the school.  I don't know if Stoops' seat is the hottest in the country, but it certainly wouldn't take long for a roll call.
Karma's on vacation, right?
That can be the only explanation for the fact that Adam James, son of serial douche Craig James and whose entitled personality was the flash point for the eventual firing of Mike Leach, scored a touchdown for Texas Tech during the Red Raiders loss to No. 24 A&M.  For those out to prove there is no God, there's Exhibit A, B and C.
Oh Danny boy… smdh
Last year under Ralph Friedgen, Danny O'Brien was a Freshman All-American at the quarterback position.  This year under Randy Edsall?  Yeah, not so much.  Following a 1-for-6, 17-yard start to the game against No. 13 Georgia Tech, O'Brien was yanked in favor of C.J. Brown, who proceeded to go 4-for 17 for 36 yards — he did rush for 124 yards — as the Terrapins fell 21-16 to the Yellow Jackets and dropped to 2-3 on the season.  But, hey, at least they have all of those really cool uniform combinations, right?  As long as you look good in the eyes of high school kids, doesn't matter what kind of craptastic product you put out on the field.  Remains unbelievable that they fired Friedgen.. and passed on a chance to hire Mike Leach… for this.
Is there a Plan C?
With an offense that was 105th in the country at 18.7 points per game, Louisville reportedly opted to part ways, at least temporarily, with offensive coordinator Mike Sanford ahead of their non-conference tilt with North Carolina.  Seven points and a third loss in five games has second-year head coach Charlie Strong still grasping for ways to correct his utterly inept and impotent offense.  Godspeed trying to figure this quagmire out, Charlie.  Godspeed.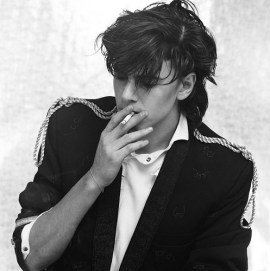 John Taylor
In CFT's preseason Top 25, I had Florida State sitting firmly at No. 2 in the country, right behind top-ranked Alabama.  Five games into the season, the Seminoles are 2-3; have lost three straight games; and are 0-2 in ACC play thanks to the 35-24 loss to Wake Forest.  I've said it before and I'll say it again: at the bare minimum, polls should not be released until at least four weeks of the season have been played.  That doesn't, though, change the fact that I was dead wrong about FSU.  Shocking development, eh?
ODDS & ENDS
— While No. 8 Clemson kept its surprising unbeaten season intact, they almost saw it come crashing to a halt despite the win.  Star quarterback Tajh Boyd suffered a hip injury during the 36-14 win over Boston College and did not return to the game.  Fortunately for the Tigers, the injury does not appear to be serious; in a release issued after the game, Clemson revealed that X-rays and MRI taken at a local hospital were negative.  His status for next Saturday's game against Maryland would be termed questionable at this point, the release stated, and his status will be updated later this week.
— Another quarterback injury that bears watching: Tennessee's Tyler Bray suffered an injury to his right (throwing) hand late in the 20-12 loss to Georgia.  The early speculation is that it could be a broken thumb, although head coach Derek Dooley would only say after the game that X-rays would be taken to determine the nature and extent of the injury.
— The past two games, Alabama's defense has sidelined the opposition's starting quarterback with a lower-leg injury — Florida's John Brantley last week, Vanderbilt's Larry Smith this week.  Don't know what exactly that means, just thought it was worth mentioning.
— This was not a good weekend for our men in uniform when it came to the gridiron.  The three service academies lost by a combined score of 157-96 — Southern Miss 63, Navy 35; Notre Dame 59, Air Force 33; and Miami (OH) 35, Army 28.  That said, God bless those young men and what they will be doing for our country when their playing days are over.
— LSU's Brad Wing became the first victim of the NCAA's new premature celebration rule, losing a touchdown after it was ruled that he taunted Florida defenders roughly ten yards before he crossed the goal line.  It somehow seems very appropriate and feels oh so right that it was an Australian punter on a Les Miles-coached team to be the first dinged by the asinine and arbitrary rule.
– In 2000 and 2003, Oklahoma took Texas to the Red River Rivalry woodshed 63-14 and 65-13, respectively.  Both times, the Sooners went on to play for the BcS title.  In the 2011 edition of the Triple R, OU went all woodshed on UT in a dominating 55-17 win.  Feel free to make as big of a leap with those two factoids as you'd like.
— From the UGA media relations department: With a 20-12 win over Tennessee, Georgia head coach Mark Richt improved to 100-36 in this his 11th season. He becomes just the third coach in UGA history to reach 100 wins, joining Wally Butts (140) and Vince Dooley (201). Butts and Dooley reached that milestone in their 14th season.
— Mississippi State was down 3-0 at halftime against UAB.  For those keeping score at home, that would be the winless UAB Blazers of Conference USA with the halftime lead.  Sure, the Bulldogs came back to grab a 21-3 win, but combine the fact that they had to come back against that level of competition with their 0-3 mark in SEC play, and you have a very worrisome situation developing in Starkville.
— With their win over Arizona, Oregon State became the last member of a BcS conference to earn their first win of the 2011 season.  So, um, congratulations Beavers?
— Roughly 45 minutes before the start of the Michigan-Northwestern game, a member of the chain gang was taken away by ambulance after reportedly going into cardiac arrest.  There's been no update that we're aware of as to the unnamed man's condition, who is reportedly 83 years old and has been working the chains for Northwestern games for 47 straight seasons.  If I knew for sure the man was OK, I'd say there's a joke in there somewhere about Big Ten speed.  Since I don't know, I won't go there.
FOR STATISTICAL PURPOSES ONLY
— Oklahoma State quarterback Brandon Weeden threw for 288 yards and five touchdowns in the No. 6 Cowboys' 70-28 win over Kansas.  All of those numbers came in the first half as he did not see the field the last two quarters.
— Speaking of the Cowboys, they tied school records for points in a quarter (35), points in a half (56) and points in a game (70).  Were it not for the band and the mothers of the players taking a majority of the fourth-quarter snaps, they likely would've broken the latter record.
— Stanford's Andrew Luck threw for 370 yards and three touchdown in the Cardinal's 48-7 win over Colorado.  For the season, the quarterback has thrown 14 touchdowns and two interceptions — one of which came this weekend — while completing more than 73 percent of his passes.
— Alabama came into their game with Vanderbilt leading the country in scoring defense, allowing just 8.4 points per game.  Thanks to a 34-0 whitewashing of the Commodores, they actually lowered that nation-leading mark to an even seven points per game.
— LSU has won each of their first six games by at least 10 points, the first time in the school's history they've started a season with that many double-digit victories.
— No. 18 South Carolina's 54-3 win over Kentucky was their largest margin of victory ever in SEC play, surpassing the 52-14 beatdown of Vanderbilt back in 1995.  The 51-point win prompted Spurrier to praise one aspect of his otherwise downtrodden opponent. "Kentucky has a heck of a punter, I know that," the OBC said.  At this point we're back to the whole (heart) Spurrier thing.
— Texas A&M's Ryan Tannehill became the first player in Div. 1-A history to record 3,000+ passing yards and 1,500+ receiving yards in a career.
— Denard Robinson had 451 yards of total offense and four touchdowns in No. 12 Michigan's come-from-behind win over Northwestern.
– Oklahoma's Tony Jefferson has four interceptions the past two games — three last week, and one this week that led to a Sooners touchdown and what would prove to be an insurmountable 20-6 deficit for Texas.
— Staying at the Texas State Fair, the final score of the game within a game was OU's defense 21, UT's offense 10.  The Sooners set a school record with the three defensive scores, two of which came on fumble returns and one on an interception.  The Longhorns' other score came on a 100-yard kickoff return by Fozzy Whittaker in the first half.
— In a 38-35 loss to No. 21 Virginia Tech, Miami's Lamar Miller averaged 9.2 yards on his 18 carries, scoring a touchdown and receiving in the process.
— In the same game touched on above, Hokies quarterback Logan Thomas accounted for five touchdowns — three passing, two receiving.
— In his first start at quarterback for Utah, Jon Hays tossed three interceptions in the Utes' 35-14 loss to No. 24 Arizona State.
— Temple's Bernard Pierce scored three rushing touchdowns in the Owls' 42-0 win over Ball State, giving him 41 for his career.  That breaks the school's all-time record of 39 set by Paul Palmer in the mid-eighties.
— This one's for Ben: North Texas returned two interceptions for touchdowns in a span of 10 seconds in the third quarter on their way to a 31-17 win over Florida Atlantic.
IN CLOSING…
While many had felt he had become a caricature of himself over the past decade, there's little denying that Al Davis was one of a handful of great men who helped shaped the game of professional football and transformed it into the preeminent sport in the country.  The owner of the Oakland Raiders died Saturday morning at the age of 82 and, with his passing, the NFL has lost a living legend and a true pioneer of the sport.  Love him, hate him, whatever, there's no doubt that the NFL would not be the same were it not for the myriad contributions — good and bad — Davis made during his half a century in professional football.  For all he gave to the game of professional football, it was at the collegiate level where Davis got his start; in the mid-fifties, he was the offensive line coach at The Citadel before moving on to the same position at USC in the late fifties.  His true mark, though, was left at the professional level, with Super Bowls and a merry band of renegade cast of characters masquerading as football players and a "Just Win, Baby" mantra leaving an indelible legacy that will likely never, ever be matched.  RIP Mr. Davis.  Your contributions to the game, and your commitment to excellence by doing things your way, cannot be overstated.