As is always the case each and every week, any omission below is not on purpose, it's merely intentional.
WINNERS
Broyles stands atop the receiving mountain
This wasn't the most important storyline of Week 7,  but it involves one of the classiest players in college football so it merits a place in this week's leadoff spot.  Ryan Broyles needed four receptions entering Oklahoma's game with Kansas to break the career receptions mark of 316 set by Purdue's Taylor Stubblefield (no relation) from 2001-2004.  A 57-yard touchdown reception midway through the second quarter broke the record as Broyles went on to finish with 13 catches, giving him 325 for his career.  Broyles set the record in 45 games; it took Stubblefield 46 games to set his mark seven years ago. "I can't say enough about the way he's grown over the past couple of years," quarterback Landry Jones said. "It's not just his stats. He's a great wide receiver." With 4,242 career receiving yards and seven games remaining, Broyles still has a shot at breaking Nevada's Trevor Insley's record of 5,005 career receiving yards.  With "just" 44 touchdown receptions, however, Rice's Jarrett Dillard's record of 60 career scores is likely out of reach.  Regardless of how many additional records he sets, though, kudos to Broyles, who's as good of a person off the field as he is a player on it.
Game of the week/year/century/millennium still a go
No. 1 LSU held serve with a 38-7 win over Tennessee.  No. 2 Alabama did the same courtesy of a 52-7 victory over Ole Miss.  The Tigers take care of business next weekend against Auburn, and the Tide does the same against the Vols?  Nov. 5 in Tuscaloosa becomes the center of the football universe and girds itself for gridiron Armageddon.  And for that, we'll all be winners.
Next game of the week/year/century/millennium still a go, too
It won't garner near the attention or the hype as LSU-Alabama, but the early-December Bedlam rivalry game is still on track to be rife with national title implications.  After a slow start… and a plodding middle two quarters… and knockout blows in the fourth quarter, No. 3 Oklahoma did the expected in unexpected fashion by outlasting an overmatched but game Kansas squad 47-17.  No. 6 Oklahoma State was held nearly two touchdowns below their nation-leading average of 51.4 points per game, but still had enough offense to get  past No. 22 Texas 38-26.  Getting from here to Bedlam unbeaten could prove difficult for both teams, however, as the Sooners have three games against opponents currently ranked — at No. 17 Kansas State and No. 20 Baylor and a home game against No. 21 Texas A&M — while the Cowboys have two — Baylor and Kansas State in Stillwater — plus a tough road trip to Texas Tech in the middle of next month.  Make it through unscathed, however, it'll be a Bedlam for the ages.
No gAggies this time around
In Texas A&M's two losses this season, the Aggies had given away double-digit halftime leads — 35-17 vs. Arkansas, 20-3 vs. Oklahoma State.  With a 24-14 lead after two quarters against Baylor, the stage was set for TAMU to gag 'em yet again; this time, though, the Aggies kept their foot on the opponent's throats and didn't let up.  Three of Ryan Tannehill's six touchdown passes came in the second half as the Aggies scored 31 points to win going away 55-28.  The resounding win doesn't erase the two crushing blown leads, but it does steady A&M's ship as they enter the second half of their final season in the Big 12.  The win also keeps them, at least mathematically, in the race for the Big 12 title, with games against a pair of unbeatens — Oklahoma and Kansas State — looming on the early November horizon.
Defense rests, verdict validates Spartans
The talk ahead of the annual in-state showdown between No. 22 Michigan State and No. 11 Michigan was how the Spartans had one of the top defenses statistically, but that they'd wilt in the face of a high-caliber offense (see: Dame, Notre). As it turns out, the Spartans really are that good on defense.  The Wolverines came into the game averaging nearly 38 points per game and hadn't scored less than 28 all year; they were held to nearly a third of that average in the 28-14 loss.  UM was also held to just 250 yards of offense, nearly half of their seasonal average (491) heading into the game.  Denard Robinson was eighth in the country in total offense at 341 yards per game; the quarterback was limited to just 165 yards, including 42 on the ground.  It was a statement performance by the Spartans' defense, handing MSU control of the Big Ten's Legends (chuckle) division as the only unbeaten team in that division.  And knocking off a division rival that had previously been unbeaten in conference play.
So young, so… wow

Yes, No. 8 Clemson climbed out of a 35-17 third-quarter hole to remain unbeaten with a 56-45 win over Maryland, but this winning nod falls (almost) squarely in the lap of Sammy Watkins.  All the true freshman wide receiver did was total 345 all-purpose yards in the come-from-behind win, breaking a school record set by C.J. Spiller (312 in 2009), and score three touchdowns — two receiving and one on a kick return.   Watkins had 105 yards receiving; 33 yards rushing; and 207 yards on five kickoff returns, including an 89-yard touchdown in the fourth quarter that proved to be the winning score.  In fairness, it wasn't all Watkins for Clemson; running back Andre Ellington rushed for 213 yards and two touchdowns on 24 carries, and Tajh Boyd, after a miserable first half, threw for 270 yards and four touchdowns.  Still, it was one of the youngest players on the roster who provided the spark when the Tigers needed it most, and saved what could potentially be a very magical season for Dabo's boys.
London calls, answers upset bell
One of the truly good guys in the coaching business, Mike London struggled through a four-win season in his first year as Virginia's head coach.  A year later, London has the Cavaliers off to a four-win start halfway through, the latest being the biggest of his young UVA career: a 24-21 upset over No. 12 Georgia Tech, knocking the Yellow Jackets from the ranks of the unbeaten.  With road games left against Miami and Florida State, and a home date against Virginia Tech to close out the season, it's unlikely the Cavaliers will be much of a factor in the chase for the ACC Coastal crown, but the win is a sign that London has the Hoos headed in the right direction.  And, honestly, it couldn't be happening to a better guy if that's indeed the case.
Somewhere, Woody and The Vest are smiling
Ohio State didn't complete their first pass until nearly 13 minutes were left… in the fourth quarter.  They had just 17 yards passing in the game on four attempts.  They had lost three of their last four games and were on the road against the No. 16 team in the country.  So of course, and despite all of that, they come out of Champaign and head back to Columbus with a 17-7 win over previously unbeaten Illinois.  What the Buckeyes lacked in aerial expertise they more than made up for in the running game and on defense; OSU ran for 211 yards — including 114 from Boom Herron in his first game back from what turned out to be a six-game suspension — while the defense forced three critical turnovers and allowed just 285 yards, well below the Illini's average of 448 entering the game.  It wasn't the prettiest display of football you'll ever see, but it was something Luke Fickell's charges desperately needed after a month's worth of on-field misery — and a year's worth of off-field distractions.
Inside the McNumbers
Many astute observers have offered up the theory that, in order for Alabama to get back to both the SEC and BcS title games this season, "all" the Tide needs is for AJ McCarron to play the role of Greg McElroy circa 2009.  With that stifling defense and that punishing running game, all that's required, the theory goes, is a  game manager at the quarterback position.  So, how is McCarron stacking up in his first year as a starter compared to McElroy's first — and only — season as the starter?  Here are their stats through seven games of their respective seasons:
McCarron: 117-174; 67.2%; 1,380 yards; 9 touchdowns; 2 interceptions
McElroy: 103-173; 59.5%; 1,325 yards; 9 touchdowns; 3 interceptions
Don't know about you, but it appears McCarron may do a better McElroy than McElroy.
Trent Richardson, real-life video game
There's not much you can say about the mesmerizing touchdown run by the Alabama running back, other than I pulled a muscle just watching it live.  That and it was one of those Heisman moments every stiff-armed trophy winner burns into the minds of voters.
LOSERS
Oregon might be Ducked
No. 9 Oregon came away with a hard-fought 41-27 win over Pac-12 foe Arizona State, but may have suffered their biggest loss of the season in the process.  In the third quarter of the win, starting quarterback Darron Thomas went down with a knee injury and did not return.  While Bryan Bennett performed reasonably well in place of Thomas, losing the two-year starter for any period of time — especially if that period of time includes the Nov. 12 showdown with Stanford — would be a significant blow to a Ducks team already missing star running back LaMichael James, who did not play against the No. 18 Sun Devils due to an elbow injury and whose return date is unknown.  It should be noted that, as of this posting, it's unclear how severe the injury is and how much if any time Thomas may miss, so this could be much ado about nothing.  Suffice to say, the whole of Ducks Nation is hoping that's precisely the case.
Lattimore less of late
In the first three games of this season Marcus Lattimore rushed for a total of 534 yards.  The last four games?  Just 284 yards, including 39 in No. 15 South Carolina's close win over Mississippi State.  Certainly the super sophomore didn't lose his talent during the offseason; rather, given the uneven play from the Gamecocks' quarterbacks, opposing defenses are loading the box in an effort to shut Lattimore down and force South Carolina's inconsistent passing game to beat them.  Until Steve Spurrier can somehow, some way get better play from that position, Lattimore will continue to face defenses charged with just one task: shutting him down and making him irrelevant.  Of course, that's provided Lattimore's healthy enough to see the field; the sophomore suffered a leg injury in the fourth quarter of the win and walked with the aid of crutches back to the locker room.
The inexplicable Nittany Lions
Of the 27 teams that average less than Penn State's 21 points per game, 21 of them had won between zero and two games entering this weekend.  Just four of them were above .500.  And yet here the Nittany Lions and their  No. 93 scoring offense were at 5-1 prior to their game against Purdue.  And 6-1 after their game with Purdue and yet another ho-hum offensive performance in the 23-18 win.  So, how have they done it with an offense that would embarrass some high schools?  Their schedule certainly plays a role as they've beaten a 1-AA school, two members of the MAC and three members of the Big Ten that aren't exactly the crème de la crème of the conference this season.  The defense is stout, ranking fifth in scoring defense and fourth in total defense, although again you could point to the marshmallow-soft slate they've played.  So, what was the point of this exercise?  Much like the 6-1 start, I have no clue how either of us got where we are at this very moment.  So, much like JoePa's squad, I'll now punt and just play defense…
What's happening in StarkVegas reeks in StarkVegas
Prior to the start of the 2011 season, Mississippi State was the trendy "dark horse" pick to contend in the rough and tumble SEC West.  On many levels it made sense; the Bulldogs were returning 16 starters from a team that went 9-4 last year.  The only sense for the Bulldogs in 2011, however, is what's gotten knocked out of them thus far.  When arguably your proudest moments are coming back from a halftime deficit and beating a winless UAB team, and needing overtime to beat a 2-4 Louisiana Tech team — at home no less — you know it's bad.  When you're 0-4 in SEC following the loss to South Carolina?  You think you've hit rock bottom, before realizing you're staring at a schedule that still includes Alabama and No. 10 Arkansas.  Nearly three full years into his tenure, it's hard to say Dan Mullen's on the coaching hot seat.  It's fair to say, though, that the thing isn't exactly cool to the touch.
Just Zook being Zook
Last week it was Ron Zook admitting he didn't know the score before attempting a two-point conversion.  This week it was the Illinois head coach embarrassingly butchering the end of a loss to Ohio State.  To set the scene: Illini trailing 17-7 with around 1:20 left in the fourth and facing a fourth and two from the OSU 17.  Common sense says that, down by two scores, you kick the field goal and attempt an onside kick.  Common sense and Zook, however, don't often appear in the same game-day library let alone the same sentence of the same book as, inexplicably, Zook went for the first down.  An incompletion later, the Illini wrapped up their first loss of the season.  I'm dumbfounded as to how a Div. 1-A head coach with as much experience as Zook could be that ignorant when it comes to game management.  Zook should be ashamed and embarrassed for that display, and he owes his players, the football program and the program's fans an apology for his latest display of blissful ignorance.
Have a seat, Mr. Gholston
During the span of roughly a quarter, Michigan State's William Gholston was called for two personal fouls — one for a late hit that was actually the defensive lineman twisting the face mask and thus the head and neck of Denard Robinson and the other for throwing a punch at a Michigan offensive lineman.  If the Big Ten has any testicles whatsoever, Gholston will be serving a one-game suspension when the Spartans take the field against Wisconsin next Saturday.  I'm all for aggressiveness, but the sophomore defensive end flagrantly crossed the line — twice — and deserves to sit the next one out.
Plenty of good seats still available
Based on multiple reports that have surfaced the past couple of days, UCF and SMU will likely be on the receiving end of an invitation to the Big East early this coming week.  To show how excited and absolutely jacked they are over the potential for a new conference home, here's a shot of Mustang fans packing Gerald J. Ford Stadium for this afternoon's game against the Knights: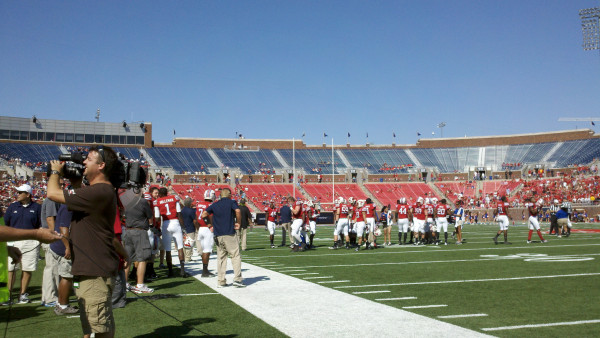 ODDS & ENDS
— In a much-publicized tweet yesterday, LSU cornerback Tyrann Mathieu boldly predicted that "#21 catches nothing tomorrow!!", referring to Tennessee wide receiver Da'Rick Rogers.  Three Rogers receptions and 63 yards later, Mathieu was slightly off on his public Nostradamus moment.  Mathieu and the Tigers' defense did, though, keep Rogers and almost every other Vol out of the end zone in the 38-7 beatdown.
— Not to be outdone by fellow Heisman frontrunner Andrew Luck, Russell Wilson was on the receiving end of the first catch of his collegiate career, a 25-yard touchdown pass from Montee Ball in the second quarter of the No. 4 Badgers' easy romp over Indiana.  Style points, however, go to the Stanford quarterback despite the fact that his reception didn't result in a score.
— A total of seven players took snaps at the quarterback position during the Florida-Auburn game.  If y'all watched the Tigers' 17-6 win, you'll understand why I say that's about the only thing from that game that merits mentioning.
— The Illini's A.J. Jenkins came into the game with Ohio State having caught 450 yards worth of receptions for five touchdowns the past two weeks, the best two-game stretch in Big Ten history.  The Buckeyes' defense then proceeded to hold the nation's No. 5 player in receiving yards per game to just 80 and, more importantly, kept the talented senior out of the end zone.
— Duke was looking for its first four-game winning streak since 1994 and its first win ever against Florida State Saturday afternoon… and got neither.  The Seminoles' 41-16 win means the Blue Devils are now 0-17 all-time against FSU.
— USC's true freshman George Farmer is widely regarded as one of the fastest players in college football.  How fast?  Head coach Lane Kiffin attempted to quantify the blazing speed the running back/wide receiver possesses following the Trojans' win over Cal Thursday night.  From the Orange County Register: ""Kiffin said [Farmer] ran 40 yards on kickoff coverage in 3.96 seconds, the fastest time the staff ever has recorded."  Obviously Farmer was the beneficiary of a running start, but, even if USC's stopwatch was off a couple of tenths of a second, that is absolutely flying.
— Florida Atlantic debuted its new $70 million stadium in much the same fashion they have every other game this season — with a loss.  One of the nation's worst offenses lived up to its advanced billing, dropping a 20-0 decision to Western Kentucky.  It was the second time this season the Owls have been shut out, and the third time they've failed to reach double digits in points.  Good luck with that rebuilding job Mr. Shannon, Mr. Leach.
— A blown transformer in the first half of the Georgia-Vanderbilt left a portion of the field in semi-darkness and took on the look of a high school football game as one beat writer in attendance wrote on Twitter.  I'm certain there's a metaphor for somebody's season in there somewhere.
— Mark Dantonio had his Michigan State players wear their helmets as they entered the stadium prior to the game with Michigan.  I have no idea why this transpired, or why it fascinates me enough to mention it.
FOR STATISTICAL PURPOSES ONLY
— Alabama running back Trent Richardson rushed for a career-high 183 yards and four touchdowns, further cementing the junior's status as one of a handful of Heisman frontrunners.
— Staying on the Tide front, AJ McCarron moved into third place on the school's all-time list for consecutive pass attempts without an interception with 151, behind Brodie Croyle (190) and Jay Barker (155).  The player he passed to move into the third spot?  Greg McElroy and his 149 straight attempts in 2009.
— Speaking of cementing one's status as a Heisman front-runner, Stanford's Andrew Luck, after a rather pedestrian start, finished a 44-14 win over Washington State with 336 yards passing and four touchdowns on 23-of-36 passing.  Luck did toss his third pick of the season in the win.
— The No. 7 Cardinal has won 14 straight games, the longest current winning streak in the country.
— With today's loss to Oklahoma State, Texas has still not won at home in Big 12 play since beating Kansas 51-20 on Nov. 21, 2009.
— In the past 120 minutes of football "contested" between Wisconsin and Indiana, the Badgers have outscored the Hoosiers 142-27.  Included in that total is Saturday's 59-7 waxing in Madison, a clear indication that at some point the entire state of Indiana kicked Bret Bielema's dog.
— Robert Griffin III's interception in the fourth quarter was the first turnover Texas A&M had forced since the Sept. 24 loss to Oklahoma State.  All told, the Aggies' defense has forced just four turnovers in six games.
— Speaking of Griffin, the Baylor quarterback completed 28-of-40 passes for a school-record 430 yards and a touchdown.  The fourth-quarter pick was just his second of the season in 182 attempts.
— Waaay up above I mentioned that Ryan Tannehill tossed a career-high six touchdowns in A&M's win over Baylor.  Obviously someone had to catch those scoring tosses, and that someone was mainly Ryan Swope, who set his own career high with four TD receptions.
— Northern Illinois quarterback Chandler Harnish became just the 10th player in Div. 1-A history to rush for at least 200 yards and pass for at least 200 yards in the same game. Harnish totaled 229 yards rushing and 203 yards passing, becoming the first player since Denard Robinson in 2010 to accomplish that feat.  Other players who have hit that mark include West Virginia's Pat White (2006), Texas' Vince Young (2005) and Washington's Marques Tuiasosopo (1999).  Robinson, incidentally, accomplished that feat twice during the '10 season, the only player to ever do it more than once.
— Missouri quarterback James Franklin accounted for 373 yards and five touchdowns — three passing, two rushing — in Mizzou's 52-17 win over Iowa State.
— Michigan State came into Saturday's game third in the country in rushing defense, giving up just 64 yards per game; Michigan rushed for 65 on their first drive.  Alas, it wasn't nearly enough as the Spartans dropped the Wolverines for the fourth straight time.
— Ohio State's John Simon recorded two sacks and four tackles for loss in the win over the Illini.
— In San Jose State's 28-27 win over Hawaii Friday night, the two teams combined to turn the ball over a whopping 12 times.  Each team lost three fumbles and threw three interceptions.
HE SAID IT
"Nothing serious, it's just that I'm getting to be a sissy in my old age. I can't handle it and I'm fighting a cold." — legendary Penn State head coach Joe Paterno, after being forced to watch his Nittany Lions' 23-18 win over Purdue from the press box.
"Will you shut up!" — Oregon head coach Chip Kelly, to a fan following the Ducks' win over Arizona State and as he was being interviewed by ESPN's Erin Andrews.