As is the case each and every week, any omission below is not on purpose, it's merely intentional.
WINNERS
The room got really dusty for some reason…
Don't care what transpired between the opening kickoff and the final whistle in any game played this weekend; nothing topped what happened in Piscataway Saturday.  Just over a year to the day of suffering a career-ending and life-altering neck injury, Eric LeGrand led his former Rutgers teammates out of the tunnel and onto the field ahead of the Scarlet Knights' game with No. 25 West Virginia.  The paralyzed LeGrand, who has launched what's taken on the look of a promising broadcasting career, maneuvered his motorized wheelchair through the snow and out to the 50-yard line to the chants of "Fif-Tee-Two!" from the Rutgers faithful.  It was a powerful, emotional moment for a young man whose fight over the past 54 weeks to walk again has been an inspiration to millions.  Hopefully, one of these days in the not-too-distant future, Legrand will be able to lead his former school onto the field yet again, only this time sans the wheels that keep him mobile these days.
"It felt great leading the team out on to the field today," LeGrand said afterward. "That's the team I played with throughout my career here. Leading them out on the field was a great opportunity and it really was a great time. It was a very special moment. I can't even explain it – it was a very emotional moment."
This note — hell, the entire post — would be utterly incomplete, though, without video of LeGrand leading his team onto the field.  Word of warning: keep a Kleenex or two handy.  Ya know, just in case the room abruptly gets awful dusty:
[youtube=http://www.youtube.com/watch?v=t4y1pKOXEJg]
God bless Eric and his ongoing recovery…
The streak is dead, but THE streak is alive and well
No. 4 Stanford came into their game with No. 20 USC having beaten their last 10 opponents by at least 25 points.  While that streak came to an end, a much more important one continues unabated — barely — as the Cardinal won their nation's-best 16th straight on the strength of a wild 56-48 triple-overtime victory over the Trojans.  This was the Cardinal's first real test of the 2011 season, and they passed it by the slimmest of margins, but it was an effort that could very well drop them in the eyes of some voters (It shouldn't; USC is a helluva football team).  Based on how unbeatens have dropped like flies the past two weekends, Stanford should consider itself lucky, so to speak, regardless of what it may have looked like to those charged with picking the shape of the polls.  All that said… what a helluva football game.  As a fan of neither team, that was a joy to witness.
Rebounding Sooner rather than later
Well, that certainly didn't take long.  After getting stunned in Norman last weekend in their first loss of the season, No. 11 Oklahoma faced another stiff challenge in the form of No. 10 and undefeated Kansas State on the road.  Well, on paper it was a stiff challenge.  After allowing the Wildcats to hang around for a half, the Sooners escalated things very quickly in the second half, outscoring KSU 35-0 the final two quarters to win going away 58-17.  Perhaps most encouraging for Bob Stoops & Company is how quickly the Sooners pushed the stunning upset out of their minds and focused on the business at hand, which was the smaller picture of beating K-State and the larger picture of still hanging around the periphery of BcS title game contention.  If the Sooners can win their remaining games… if they can get some additional help like they did Saturday from other teams falling from the ranks of the unbeaten… if that were to transpire, they'd find their one-loss selves right back in the crystal mix.  Of course, there's that little Bedlam matter that could still carry a significant amount of weight on the national stage.  Speaking of Bedlam…
Cowboys prove Twain's borrowed thesis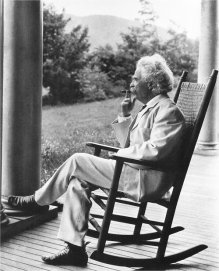 "Lies, damned lies and statistics."  That well-known colloquialism generally attributed to the famous American author was never more in play than it was during the Oklahoma State-Baylor game Saturday.  The Bears outgained the No. 3 Cowboys in total offense, 622 to 601… in first downs, 36 to 23… in time of possession, 38:54 to 21:06… and still got rolled 59-24.  Of course, when you lose the turnover battle 5-1, and the opposition scores 21 points off those turnovers, it has a tendency to negate any of the positive statistics accrued.  The only statistic that matters, however, is the final score, one that keeps the Cowboys on an early-January trajectory for New Orleans.  Along with LSU and Alabama — one of which won't after next Saturday — OSU is one of three teams in the country that currently controls its own destiny in the race to fill the two BcS title game slots.  Win out, and the Cowboys will play for the championship.  With games against Kansas State, Texas Tech and Oklahoma, that's easier said than done.
The Smurf Turf'd Ones
If No. 5 Boise State is to ever make it to a BcS title game, they are going to need a tremendous amount of help.  And, boy, have the Broncos gotten just that the past two weeks.  Last Saturday, it was Oklahoma and Wisconsin falling from the ranks of the unbeaten.  This Saturday, Kansas State and Clemson did the same — while BSU was on their bye weekend.  The Broncos still have to hope Stanford and Oklahoma State drop at least one — and hope that a one-loss team like Oklahoma or the loser of LSU-Auburn doesn't leapfrog them — but the Broncos are potentially in the best position they've ever been in to get where not many think they belong: right in the thick of the BcS title discussion.
Vandy wasn't built in a day
But it's getting there.  Despite the heartbreaking loss to No. 8 Arkansas — a 27-yard field goal to tie the game?  Really, Mr. Kicking Non-Football Player Guy? — first-year head coach James Franklin is on the verge of turning the Vanderbilt football program from perennial SEC laughingstock to, dare we say, respectable?  It sure looks that way.  While they were on the short-end of a 31-28 score against supposedly one of the best teams the SEC has to offer, and while they're currently just 1-4 in conference play, a signature win is coming for this program.  And, it's coming sooner rather than later.
Buckeyes might find themselves in a bit of a Fickle
(See what I did there?)
I along with most sane individuals feel that Ohio State will put the full-court press on Urban Meyer at some point in the future — if they haven't already begun the process — and attempt to persuade the former Florida head coach to become the full-time replacement for Jim Tressel.  If they can't land Meyer, who is far and away the most optimum option, what if their long-term answer is already on the sidelines?  Once again, Luke Fickell stated his case to become Tressel's permanent successor with a stunning, last-minute 33-29 upset over No. 12 Wisconsin.  It wasn't pretty but it was a win, continuing a trend that began following a humbling loss to Miami: marked improvement in each and every phase in each game since.  The Buckeyes are just 5-3, but two of those losses have come by a combined 10 points to Michigan State at home and Nebraska on the road.  Again, OSU must try to land Meyer.  If they don't, and as I've stated multiple times in the past, I hope they give Fickell a fair shot at continuing his dream job beyond the 2011 season.  Through all of the off-the-field BS that's cost him on the field, he's earned that much from his alma mater.
Win one — or two — for the Gopher
A season for Jerry Kill that began with his Minnesota Golden Gophers losing six of their first seven games — more than half of which came in blowout fashion — and sideline seizures is beginning to turn a corner.  And it couldn't happen to a nicer man.  Tuesday, Kill signed a seven-year contract that showed the university's commitment to him despite the health issues.  Four days later, the first-year coach notched the biggest win of his brief Gopher career, stunningly dropping Iowa 22-21 and preventing the Hawkeyes from climbing into a four-way tie in the Big Ten's Legends (chuckle) division.  Kill and his program still have a long way to go to dig themselves out of the mess left by Tim Brewster, but this win was a huge shot in the arm for a Gophers team that desperately needed some positive on-field news.
Don't look now, but somebody's let the Bulldogs out
It goes without saying that SEC East this year, compared to their West counterparts, is down again this season — that's being kind — and that development plays right into the hands of the Georgia Bulldogs.  A good-but-not-great team, UGA has quietly won six games in a row, with five of those victories coming in conference play.  A 24-20 win over Florida helps the No. 22 Bulldogs keep pace with No. 14 South Carolina in the East division race at 5-1, although the Gamecocks hold the tiebreaker by virtue of their Week 2 win over UGA.  Still, the Bulldogs have set themselves up for, if the Gamecocks stumble once and they continue their winning ways, a blowout loss in the SEC championship game.  In addition to keeping them in the divisional race, the win over UF also likely keeps the wolves still howling around Mark Richt's door at bay.  Richt had lost eight of his previous 10 games against the hated rival, and simply couldn't afford to fall to 2-9; just ask John Cooper how a similar record against an archrival ultimately turns out.
Nah, we're just kiddin'…
I don't know how many of you have younger brothers, but today's Michigan-Purdue took on the look of one of those sibling basketball games.  The No. 17 Wolverines — playing the role of older brother — spotted their younger brother — a role played in Academy Award-worthy fashion by the Boilermakers — seven points… and then proceeded to block every shot, steal every dribble, and generally rub Purdue's faces in their utter superiority.  After allowing a Boilermakers touchdown less than a minute and a half into it, the Wolverines ripped off 36 unanswered points until a meaningless TD with 15 seconds left ended the streak.  The 36-14 win pushes Michigan to 7-1 overall in Brady Hoke's first year and into a three-way tie for first-place in the Big Ten's Legends (chuckle) division.
LOSERS
Just Clemson bein' Clemson y'all
All season long, Ben — along with most of the free world — has been (impatiently) waiting for Clemson to have a prototypical Clemson game — i.e. losing a game they had no business not winning.  That long wait is officially over.  As is CU's undefeated season and shot at a BcS title.  Against a Georgia Tech team that had come into the game the losers of two straight, the No. 6 Tigers fell behind 24-3 after two quarters and could never get any closer than the final of 31-17.  After pulling to within 14 on the first play of the fourth quarter, Clemson had three offensive series, two of which ended in Tajh Boyd interceptions.  The Tigers have been a high-wire act all season long, but had been able to avoid a misstep in winning their first eight games.  The ninth game, they took the biggest tumble of all.  With New Orleans now (likely) out of the realm of possibility, the Tigers must shift their focus to the race for the ACC Atlantic crown.  Following a bye this upcoming weekend, Clemson will take on Wake Forest; despite a loss to North Carolina Saturday, the Demon Deacons are at 4-2, a game behind the Tigers.  A BcS bowl, or at least a berth in the ACC title game, is still well within the Tigers' grasp, provided they rebound quickly from what's no doubt a demoralizing defeat.
Bucky gets kicked south of the border… again
Down by 14 in the fourth quarter against Michigan State last Saturday, Wisconsin came back to tie the game, only to lose on a last-second Hail Mary.  Down again by 12 in the fourth quarter against Ohio State this Saturday, the Badgers came back to take the lead… only to lose on a last-minute, 40-yard Hail Mary off the right arm of the Buckeyes' true freshman Braxton Miller.  Un-freaking-believable.  Two weeks, two gut-wrenching losses that all but takes the Badgers out of contention for the Big Ten Leaders (chuckle) crown.  UW is now 2-2 in conference play, behind Penn State and their improbable 5-0 start.  The good news for the Badgers?  The Nittany Lions have three games remaining: against Nebraska and on the road against Ohio State and, yes, UW.  The bad news?  It's going to be very, very tough for the Badgers to come back from two extremely deflating and devastating losses.
The return of the gAggies
After shelving a very well-deserved nickname by hanging on in a win over Baylor two weeks ago, "gag 'em" is back in vogue in College Station.  For the third time this season, No. 16 Texas A&M coughed up a double-digit halftime lead in their stunning 38-31 overtime loss to Missouri.  How can A&M choke?  Let us count the ways: a 20-3 halftime lead over Oklahoma State?  Vanished in less than a quarter; a 35-17 halftime lead over Arkansas?  Outscored 25-3 in the second half; a 28-17 halftime lead over Mizzou?  Washed away as the Aggies were outscored 21-3 the rest of the way.  Once is unacceptable and twice in a season is cause for serious concern.  Three times in the span of six games, two of which came at home?  That's a damning indictment of Mike Sherman and his entire coaching staff, getting thoroughly outcoached while the two teams were sitting in their respective locker rooms on three different occasions.  Good luck in the SEC, Aggies, a conference that sports some of the top coaches in the country.
Boston College 28, Maryland 17
When you run off a quality coach and an even better man like you did Ralph Friedgen, Kevin Anderson, karma can turn into a nasty, nasty wench.  With the laughable loss to a BC team that had won just one game this year, the nattily-clad Terps now stand at 2-6 overall and 1-4 in ACC play; they were 9-4 in Friedgen's final season in College Park.  First-year head coach Randy Edsall, who didn't have the testicles to tell his UConn players face-to-face that he was leaving for Maryland, has turned freshman All-American quarterback Danny O'Brien into a backup.  The announced attendance for the latest loss was under 30,000 in a stadium that has an official capacity of 54,000; one of the reasons given for Friedgen's dismissal was a diminishing and disinterested fan base.  You are reaping what you've sown with the start to the Edsall Era, Mr. Anderson.  Including this…
[youtube=http://www.youtube.com/watch?v=rm81LSKJC2k]
Hail Mary Hangover Leads to Legends Logjam
(Writer's note: my apologies to anyone suffering from the crippling effects of alliterationaphobia.)
No. 9 Michigan State was on the final leg of a brutal four-game stretch that included games in Columbus and against Michigan and Wisconsin, with the latter featuring a last-second Hail Mary for the win.  Regardless of whether it was a letdown from that thrilling win or simply the cumulative effects of playing quality conference opponents, the Spartans were very un-Sparty in their 24-3 loss at No. 13 Nebraska Saturday and, while it capped a very solid 3-1 stretch, it also created a crowd at the top of the Big Ten's Legends (chuckle) division.  Thanks to MSU's loss and wins by NU and Michigan, those three teams are now tied atop the division at 3-1 — it would've been four teams but for Iowa's embarrassing loss to Minnesota.  The Cornhuskers' win today leaves them in the driver's seat with games against the Wolverines and Hawkeyes still remaining, and the only team truly in control of its own fate in the Legends (chuckle) division; both Michigan schools could need some help depending on if they win out and what the other teams do the rest of the way.  That said, there's a still a lot of distance between now and the first-ever Big Ten title game in Indianapolis in early December, and, as the Hawkeyes proved against the Gophers, a whole helluva lot can happen in the next month or so.
Gill's as good as gone
It's hard to imagine a team that's lost four of its past five games by an average of 38 points could get any lower, but Kansas has officially reached  down and found rock bottom.  Again.  In their 43-0 woodshedding at the hands of Texas, the Jayhawks were held to 46 yards of offense.  Total.  For the entire game.  The defense was no better, allowing the Longhorns, which came into the game ranked No. 72 in total offense per game, to pile up 590 yards, including 434 on the ground.  Following last week's 38-point loss to in-state rival Kansas State, KU's athletic director was noncommittal on Turner Gill's future as head coach.  After this latest embarrassment, we're guessing the athletic department is going to become very committed very soon — to finding a new head football coach.
Winter Blunderland
No. 21 Penn State and Illinois would look unimpressive if the weather conditions were ideal.  Toss in a wintry mix of snow and more snow?  Yeah, you know what's coming.  The carnage: Penn State fumbled six times, losing two of them; the two teams combined for seven turnovers; in the passing game, the two teams were a combined 22-of-52 for 192 yards and three interceptions; and the Illini's Derek Dimke doinked a 42-yard field goal attempt off the right upright as time expired that would've tied the game.  Add it all up, though, and the Nittany Lions came away with an ass-ugly 10-7 win, inexplicably pushing their record to 8-1 overall and 5-0 in Big Ten play on the season.  And you know what?  That 8-1 record is all that matters.  It matters not how they got there or how they looked in winning eight of nine.  The only thing that really matters is where they currently stand.  And where they could end up, which is Indianapolis in early December — warts, back hair, leprosy and all — if the current trend continues.
The defense rests… literally
As we wrote on Twitter, even the French were embarrassed at the amount of ground surrendered in this Big Ten game.  Northwestern and Indiana combined for 59 points and 681 yards of offense — in the first half alone.  For the game, the two teams combined for 97 points — 59 for the Wildcats — and 1,104 yards of offense — the Wildcats had 616 of those — in NU's first Big Ten win of the season.  There's no truth to the rumor that the Big 12 immediately offered invitations for membership to both schools following the game.  Or that there was any unusual underground activity at or around the grave sites of Woody Hayes and Bo Schembechler.
Douche of the Weak
This video of Arkansas' Marquel Wade taking a cheap on and then celebrating over Vandy's Jonathan Krause is pretty much self-explanatory, except for the fact that Wade was rightly ejected from the contest following the bush-league play:
ODDS & ENDS
— Joe Paterno broke Eddie Robinson's record for victories by a Division I head coach with Penn State's win over Illinois.  JoePa now has 409 career wins; at his current pace of nine wins a season, the coaching legend would claim No. 500 sometime late in the 2021 season or early in the 2022 season at the ripe old age of 94/95.  Hey, I ain't betting against the man.
— Quarterback controversy brewing in Eugene?  That could very well be the case as, with Washington State trailing just 15-10 at the half, No. 7 Oregon pulled starter Darron Thomas in favor of Bryan Bennett; the redshirt freshman then proceeded to lead the Ducks on three second-half touchdown drives in the 43-28 win.  Head coach Chip Kelly said the pulling of Thomas, who missed last weekend's game due to injury, was "performance/injury based."  This will definitely be something to keep an eye on throughout the upcoming week.
— One of the most devastating and heartbreaking injuries of the weekend goes to Oklahoma's Dominique Whaley, who will miss the remainder of the season after breaking his ankle in the win over Kansas State.  It's not just the fact that Whaley is the Sooners' leading rusher that makes it devastating and heartbreaking; the fact that Whaley is a walk-on and a heartwarming story makes it worse than what it might've been anyway.
— In the past 30 years, Kansas State sports a 156-81-1 record (.658) during the 20 years Bill Snyder has been the head coach, a 32-80-3 mark (.291) when Snyder's not.  The Wildcats began playing football 99 years ago and have compiled 33 seasons with  better-than-.500 records; Snyder-coached teams have accounted for 13 of those.  So, yes, a head coach can make a helluva difference, especially at the collegiate level.
— What the hell is wrong with Blair Walsh?  Georgia's All-American kicker missed five field goals the last two seasons combined; this year, Walsh has missed 10, including two in the win over Florida.
— On the WTF front, No. 19 Texas Tech beat previously unbeaten Oklahoma last weekend in Norman, handing the Sooners their first home loss since 2005 and their first conference loss at home since 2001.  Exactly a week later, the Red Raiders lost to Iowa State, previously 3-4, in Lubbock.  Again, how the hell does that happen?
— The over/under of 82 for the Oklahoma State-Baylor game was the largest college football total in recorded point spread history.  Incidentally, the two teams combined for 83 points, with the Bears scoring a meaningless touchdown with 1:06 left to push the total above the over.  Funny how that whole gambling thing works out sometimes.
– The last three years, TCU has finished No. 1 in total defense; this season, they were sitting at No. 37 prior to their win over BYU Friday night.  Additionally, the Horned Frogs have lost two games this season; they lost three games in the previous three season combined.  Coincidence?
— A high-ankle sprain kept Army quarterback Trent Steelman from starting Saturday against Fordham, which would've extended his academy-best streak to 33 games.  It was the first game of Steelman's Black Knights career that he didn't start let alone play in.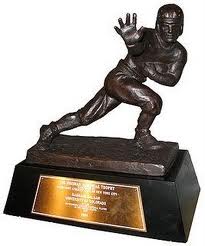 HEISMAN RACE, BY THE NUMBERS
A statistical look at how some — stressing the word "some" — of the top contenders for this year's stiff-arm trophy fared this weekend, listed in alphabetical order so as not to offend any of the delicate sensibilities readers in the audience may possess or get their unmentionables all wadded up over "their" player being excluded:
Case Keenum, QB, Houston (8-0, No. 18)
Thursday: 24-of-37 (64.9 percent), 534 yards, nine touchdowns, one interception; zero rushing touchdowns
Season: 218-of-303 (71.9 percent), 3,219 yards, 32 touchdowns, three interceptions; zero rushing touchdowns
Andrew Luck, QB, Stanford (7-0, No. 7)
Saturday: 29-of-40 (70.3 percent), 325 yards, three touchdowns, one interception; one rushing touchdown
Season: 174-of-242 (71.8 percent), 2,213 yards, 23 touchdowns, four interceptions; two rushing touchdown
Kellen Moore, QB, Boise State (7-0, No. 5)
Saturday: bye weekend
Season: 174-of-228 (76.3 percent), 2,010 yards, 24 touchdowns, five interceptions; three rushing touchdowns
Trent Richardson, RB, Alabama (8-0, No. 2)
Saturday: bye weekend
Season: 149 carries for 989 yards (6.6 yards per carry), 17 touchdowns; 18 receptions for 212 yards, one receiving touchdown
Brandon Weeden, QB, Oklahoma State (8-0, No. 3)
Saturday: 24-of-36 (66.7 percent), 274 yards, three touchdowns, zero interceptions; zero rushing touchdowns
Season: 246-of-345 (71.3 percent), 2,710 yards, 22 touchdowns, seven interceptions; zero rushing touchdowns
FOR STATISTICAL PURPOSES ONLY
— In 291 pass attempts in 2010, Michigan's Denard Robinson threw 11 interceptions.  In 142 pass attempts in 2011, Robinson has thrown, you guessed it, 11 interceptions.
— Landry Jones set an Oklahoma record with 505 yards passing in OU's beatdown of Kansas State.  Jones also passed Sam Bradford for the most touchdown passes in OU history and now has 90 for his career.
— Baylor has not beaten Oklahoma State in Stillwater since 1939.
— In a performance that only a mother, or a fan of the 2011 Ohio State Buckeyes, could truly appreciate, Nebraska passed for zero net yards in the first half of their win over Michigan State.
— At one point during the Georgia-Florida game, quarterbacks Aaron Murray and John Brantley had combined to complete just 1-of 21 passes.
— With the loss to Georgia, Florida has lost four in a row for the first time since the 1988 season, and four in a row in SEC play since 1979.
— Keeping with the Cocktail Party theme, UGA linebacker Jarvis Jones recorded for sacks against the Gators.
— Michigan's Fritz Touissant rushed for a career-high 170 yards — on just 20 carries — and two touchdowns in the Wolverines' win over Purdue.
– The nine touchdown passes Case Keenum threw in less than four quarters of work in No. 18 Houston's win against Rice Thursday night was more than 31 teams had thrown all season entering the Week 9 slate of games, including BcS conference schools such as Florida, Texas, Nebraska, Penn State and Pittsburgh.
— Clint Moseley threw the first four touchdown passes of his collegiate career in Auburn's 41-23 win over Mississippi.
— In their upset of Texas Tech, Iowa State rushed for a season-high 368 yards.  The Cyclones came into the game averaging just under 147 yards per game.
— Yale's Mordecai Cargill ran for a career-high 230 yards and two TDs in a 16-13 win over Columbia.  And, yes, I included this just so I could both type the name "Mordecai" and say that I pay attention to Ivy League football.
— Notre Dame's seven rushing touchdowns in the win over Navy was the Irish's most in a single game since 1992.
— Boston College's Rolandan Finch rushed for 243 yards in the win over Maryland; he came in having rushed for 260 yards in the first seven games of the season.  Karma, I tell ya.  Karma.
— Syracuse was called for five personal fouls in their loss to Louisville — three in the first quarter, two in the fourth.
— New Mexico, which was the first team to fire their head coach this season, has been outscored 160-7 the past three games.
NEXT ON THE DOCKET
A snapshot look at next weekend's top games.  Or, more specifically, next weekend's only game that really matters:
No. 1 LSU at No. 2 Alabama
Technically, this is one of a handful of big games next weekend.  Realistically, it's the one and only game on the slate for a good portion of the country.  Not much at stake in Tuscaloosa in the first-ever regular season No. 1 vs. No. 2 in the SEC, if you consider a clear path to one of the two spots in the BcS title game "not much".  Defense will be the overriding theme leading into the latest Game of the Week/Century/Millennium,  with the Tide ranking first in total and scoring defense and the Tigers right behind at No. 3 in both categories.  A more consistent offense plus and playing at home could give the Tide a slight edge, but bet against the Tigers anywhere at your own peril.  The only dog I have in this hunt?  A great game that comes close to living up the hype that has been and will be heaped upon it.