As is the case each and every week — except for the past two; the happenings in Happy Valley kind of got us sidetracked — any omission below is not on purpose, it's merely intentional.
WINNERS
Lee (expletive deleted) Corso
My dad has always been a deeply devout and religious man, and I had never heard him swear until I was about 17 or 18 and he accidentally described a pile of dog poop in a non-religious way.  That feeling of utter giddiness I for some reason felt upon hearing my dad utter an expletive?  It was revisited while watching ESPN's College GameDay show Saturday.  As he was preparing to don the headgear in making his prediction for the Houston-SMU game, and apparently growing weary in his attempts to whip the UH crowd into a frenzy, Lee Corso said, and I quote: "Aw, f— it" as he donned the head of the Cougars' mascot.  The schoolyard-esque reactions by Chris Fowler and Kirk Herbstreit, particularly the latter as shown in the photo to the right (via), were priceless, and at the extreme opposite end of Corso's subsequent apology.  It was an unnecessary mea culpa for one of the most epic moments in the show's history.  For that, Mr. Corso is more than worthy and well-deserving of the top slot in this week's Winners section.  And, as it turns out, his prescient words were the appropriate attitude for one of the wildest weeks of the season…
SEC Best
(See what I did there?) Prior to the slate of Week 12 games, LSU, Alabama and Arkansas were ranked first, third and sixth, respectively, in the set of BcS rankings released last week.  Thanks to upset losses suffered by Oklahoma State (then-No. 2 in the BcS), Oregon (No. 4) and Oklahoma (No. 5) in this up-is-down weekend, the SEC West is now officially 1-2-3 in the latest BcS rankings revealed Sunday evening.  It's also officially ridiculous, unprecedented and unheard of in the BcS era for that to happen with three teams from the same division let alone the same conference.  The biggest winner, though, in all of this tumult?  Potentially, the Razorbacks.  If the Hogs can beat LSU in Death Valley next week to make it a three-way tie in the West… and if — admittedly as big an if as beating LSU on the road — Arkansas and LSU are rated ahead of Alabama in the final regular season BcS rankings… if those two things were to occur, then it would be Arkansas representing the division in the conference championship game.  After what's transpired over the past few weeks, that would hardly register as a surprise.  Something else that wouldn't be surprising?  The Razorbacks making it to and losing the SEC championship game, and two teams from the same conference that didn't even win their division — LSU and Alabama — playing for the BcS title.  Then again, the Tigers doing the expected and taking care of the Razorbacks next Saturday makes all of this a moot point and an exercise in ain't-gonna-happens.
Chaos? You want chaos?
No. 3 Arkansas has to play No. 1 LSU.  No. 4 Stanford still has No. 22 Notre Dame with which to deal.  No. 2 Alabama still has the Iron Bowl rivalry with Auburn to navigate, while No. 5 Oklahoma State has their annual Bedlam showdown with No. 12 Oklahoma.  And lest we forget No. 6 Virginia Tech's in-state matchup with No. 24 Virginia.  Given those games involving one-loss teams, and as we noted last night, the following scenario is entirely plausible: LSU and No. 8 Houston finish undefeated; No. 7 Boise State ends with one loss; and every other team in the country has at least two losses.  What happens then?  A playoff is what should happen then, but that's another story for another day.
Hoos the boss?
It could very well be Virginia at this time next weekend.  Thanks to their nail-biting win over Florida State — the Seminoles' final drive was kept alive by a fourth-down facemask penalty and a replay reversal, but ended with a game-winning field-goal attempt that sailed wide left — all the Cavaliers have to do is beat Virginia Tech at home and, unbelievably, they will represent the ACC Coastal and face Clemson in the conference title game.  Regardless of what happens next weekend, however, the job Mike London is doing at Virginia cannot be applauded loudly enough.  With the Hoos currently at 8-3 after many predicted the cellar in the preseason, is it any surprise London's name is being attached to jobs like Penn State?  Speaking of underrated coaches doing a tremendous job in college football's version of a back 40 outpost…
All Rhoads lead to an upset
Paul Rhoads has become a YouTube sensation during his two-plus seasons at Iowa State thanks to his exuberant and impassioned postgame locker room speeches.  Of course, big wins are necessary to trigger such joy, and, boy, did Rhoads' Cyclones ever deliver one of those Friday night.  Thanks to their monumental upset of then-No. 2 Oklahoma State, the Cowboys will face a significantly more challenging row to hoe in order to remain in contention for a spot in the BcS title game.  It was hands down the biggest win in Rhoades' brief tenure, and arguably the biggest win in school history.  ISU is far from the most talented team in the Big 12 let alone the country, but, as Ben and I were Skyping — it's OK; we're consenting adults — during game, he wrings every last bit out of what he has, and his players will run through walls for their head coach.  I don't know how long Rhoads will stay in Ames, but I would suggest Cyclone fans enjoy him while they can because he will be in demand regardless of what the won-loss record reads.
If Matt Barkley returns…
There have been many impressive single-game performances this season — LSU thumping Oregon being one of them — but you could count on one hand and probably have some spare fingers left the number that were more impressive than what No. 10 USC did to the No. 9 Ducks in Eugene Saturday night.  It's hard to say what was more eye-opening: opening up third-quarter leads of 17 and 24 points in Autzen Stadium, or withstanding a furious fourth-quarter rally by a Ducks team trying to stay in the BcS title mix.  Lane Kiffin gets a lot of grief, and I've never been shy about taking any and all shots at the man, but Monte's son can recruit with the best of them — Marquise Lee?  Wow — and is underrated game-day coach, as proven Saturday in outcoaching Chip Kelly on his own turf.  USC currently stands atop the Pac-12 South standings but, because of the NCAA sanctions and the conference's subsequent decision, the Trojans will not be permitted to play in the inaugural title game.  That won't be the case next year and, if Matt Barkley decides to return — slim as that chance may be at the moment — not only will the Trojans be the prohibitive divisional favorite, but they would have the kind of returning that screams for placement deep inside the Top Ten of the preseason polls.
My limited brain matter
Thanks to wins by No. 11 Michigan State and No. 15 Wisconsin, and a loss by No. 22 Nebraska, the races in the two Big Ten divisions have become very, very simple: Michigan State will represent the Legends division in the inaugural conference championship game the first weekend of December, while the winner of the No. 20 Penn State-Wisconsin game will represent the Legends.  After a couple of weeks attempting to divine what would happen if there were a three-way tie that got down the the 245th tiebreaker, this clarification is a welcome relief.
Illini Nation
Wait, didn't Illinois just lose their fifth straight game — 28-17 to No. 15 Wisconsin — after beginning the season with six consecutive wins?  That they did, but this just means the Illini faithful are one more regular season game plus whatever lower-tier bowl game their team may stumble and stagger into from the official end of the Ron Zook Era.  Unofficially, it's already over; the new athletic director will move in another direction, although he will wait (probably) until after next weekend before pulling the trigger.  For that, Illini Nation should rejoice, then immediately demand the following:  hire Eastern Michigan's Ron English.  You'll thank me later.
Houston, you might still have a problem
Lost amid all of the talk of undefeated Houston getting snubbed for a shot at a BcS title is the fact that the Cougars still have at least one big game remaining.  This weekend, UH will take on Tulsa, which is tied with the Cougars atop the Conference USA West division standings at 7-0.  The game will be played in Tulsa, and marks the first real test of the season for the Cougars — and, yes, that includes the season opener against Pac-12 South front-runner UCLA.    Should UH successfully navigate that road trip, they would face Southern Miss in the conference championship game if the Golden Eagles can rebound from an upset loss to UAB and beat lowly Memphis.  A loss by Southern Miss and a win by Marshall would put the Herd into the title game as the East's representative.
It's the defense, stupid
To say No. 17 Michigan struggled on defense during the Rich Rodriguez Era would be like saying RichRod's kind of unpopular in West Virginia.  To say that the Wolverines' have greatly improved on that side of the ball under Brady Hoke would be understating reality as well.  How much has UM's defense improved?  Let us count the ways, beginning with RichRod's final season in Ann Arbor:
Rushing, 95th (188.9 ypg); passing, 112th (261.9 ypg); total, 110th (450.8 ypg); scoring, 108th (35.2 ppg)
And now, after ridding themselves of one Greg (Robinson) in favor of another (Mattison), the stats from thus far this year illustrates the stunning transformation in less than on full season:
Rushing, 41st (130.9); passing, 22nd (191.3); total, 17th (322.2); scoring, 7th (16.1)
Those were the stats entering Saturday's game against Nebraska.  By limiting the Cornhuskers to just 17 points and 260 total yards, the Wolverines did little to hurt themselves statistically.  And, with the win, showed the stench from the previous regime is quickly being washed away, possibly revealing an at-large BcS berth at season's end.
LOSERS
Shoulda Ducked, Sooner
The upset loss Oklahoma State suffered Friday night simultaneously knocked the Cowboys from the ranks of the unbeaten and pulled both Oregon and Oklahoma right back into the BcS title mix.   So, what do both teams go and do less than 24 hours later?  Slap the gift horse in the mouth.  Hard.  Instead of remaining one of the gaggle of one-loss teams hoping for additional carnage that could land them in New Orleans in January, the Ducks and Sooners now find themselves with two losses and zero chance of even being on the periphery of the title talk.  Probably.
Boise's state of despair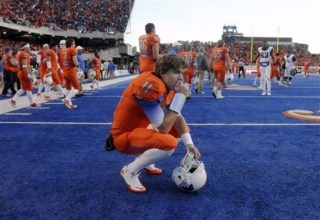 One stinking missed field goal, a 39-yard attempt that sailed wide right two weeks ago and ended their perfect season.  Make that and, with all of the tumult that's gone down since, BSU is right in the thick of the title talk.  Instead, the Broncos are kicking themselves for late-game kicking woes that have plagued them for two years running.  Out of all the teams that suffered on-field losses Friday and Saturday, the Broncos may have lost the most based on what happened the week before.
SEC Least
(See what I did there?)  It's not exactly a state secret that the SEC East is in a down cycle this season.  Never was that on fuller display than this weekend.  At various points throughout the day Saturday, Florida was down 22-7 to Furman in the second quarter; No. 14 South Carolina was ahead of The Citadel 20-13 at the half; and No. 13 Georgia, the winner of the East, had unexpected trouble with Kentucky, trailing the Wildcats 10-6 midway through the second quarter before going on to a 19-10 win between the hedges.  Those are three struggles to varying degrees against two Div. 1-AA schools and another that's played like one this season.  Yes, we understand that these things run in cycles, but there's some fair-to-middlin' football being played in that division.  On the other hand, Mark Richt's backside certainly appreciates the 2011 breather — and reprieve.
There are no winners here
Well, technically there will be, but c'mon.  When a UCLA team that's lost by 29 at home to 6-4 Texas… by 36 to 3-8 Arizona… by 25 to Utah, which opened conference play with four straight losses, is in control of its own destiny in the Pac-12 South, well, there's just something inherently wrong with the situation.  Regardless, that's where it stands.  If the Bruins beat USC next week in the annual crosstown rivalry game, they will represent the South in the title game and (probably) face Oregon.  However, if the Bruins lose to the Trojans, Arizona State beats Cal and Utah beats Colorado, the Sun Devils would win that three-way tie based on a better record in the division than the Bruins and a head-to-head win over the Utes.  ASU would lose a two-way tie with UCLA due to a loss earlier this month.  In other words, the Sun Devils will be big USC and Utah fans this weekend.  Oh, one more thing: Utah can be the South champs if they win and the other two lose.  Simple, right?
We have a cleanup in aisle three… and four… and five…
OK Clemson, we get it.  You wrapped up the ACC Atlantic title last week and are merely playing out the string and trying to get/stay healthy until you get to the conference championship game in a couple of weeks.  But, a 37-13 loss to North Carolina State?  Really?  Have a little pride, be a man.  Then again, after getting castrated by a team likely playing under the direction of a lame-duck coach, the latter might be hard to accomplish.  Surely Sammy Watkins, who dressed for the game but didn't play because of a shoulder injury, isn't that important against a team like the Wolfpack, is he?  And, hell, given all the carnage that took place ahead of them, the Tigers cost themselves any shot, remote as it may have been, of a spot in the BcS title game.  But, hey, they have that divisional crown going for them, which is nice.
One big clusterfudge
Or, as Lee Corso would refer to… ah, never mind.  That clarification I noted earlier when it comes to the Big Ten?  It's exactly the same in the Big East, only completely opposite and totally different.  Ben deftly broke the situation down right HERE — two teams at 4-2, three at 3-2 — but it appears that, if West Virginia wins their final two games, they would probably be in the best position to win the conference — unless they end up in a three-way tie with Louisville and Rutgers.  In such a scenario, the Cardinals would represent the Big East in the BcS.  I think.  The only thing I know for sure about the Big East is that Ben will be riding this nag down the homestretch and into the barn.  Or the glue factory.  One of the two.
A kneel to the groin
What type of new, all-time low did the Rebels football program reach Saturday?  With a little over five minutes remaining, they were trailing LSU 52-3 — and the Tigers, out of mercy and/or pity, began taking a knee on offense instead of running plays inside Ole Miss' five-yard line.  Personally, if it were my team, I would rather have the opposition throwing every down or pounding it down my throat trying to run up the score than throwing a kneeling pity party on my home turf.  Honestly, it doesn't get much worse than that.  If you don't believe me, just ask the Rebels. "A lot of guys felt like it was embarrassing," quarterback Barry Brunetti said. "… It made a lot of us mad, just furious, that you could kneel it with five minutes left."  Ladies and gentlemen, your 2011 Ole Miss Rebels…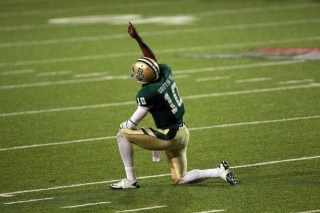 ODDS & ENDS
— Just thinking out loud here: who the hell does Bob Stoops think he is calling timeout with 51 seconds left, Bret Bielema?  In and of itself that decision didn't cost the Sooners the win, but it did allow Baylor quarterback Robert Griffin III to run for 30 yards on consecutive plays and put himself in position to throw the game-winning touchdown seconds later.  At minimum, though, that decision cost OU a shot at overtime as the No. 21 Bears were content to run out the clock prior to the TO.
— USC and Oregon are both 9-2.  Saturday night, the Trojans beat the Ducks in Eugene, and yet the Associated Press has the loser of that game one spot ahead of the winner in their latest rankings.  Excellent logic and solid work fellas.  Excellent.  Solid.
— UMass played its final game as a Div. 1-AA (FCS) member Saturday, losing to James Madison 34-17 and finishing the year at 5-6.  The Minutemen will join the MAC beginning in 2012.
— There are rumblings emanating from the southern part of the country which suggest the Gator Bowl is looking to secure a postseason matchup between Ohio State and Florida.  Imagine the storylines heading into that one, especially if Urban Meyer takes the Buckeyes job as has been heavily rumored.
— After a tumultuous offseason, Jordan Jefferson made his first start of the 2011 season for LSU against Ole Miss.  And, based on the fact that it was the Rebels, it wouldn't have mattered if it were George Jefferson making his first start of the season as the No. 1 Tigers scored 28 seconds into the game and ended up on the right side of a 49-point win.
— "One more year!  One more year!" South Carolina fans chanted following an Alshon Jeffery catch. "Nah, I don't have no thoughts on that," the wide receiver said when asked after the win over The Citadel if Gamecock fans will get their wish and he'll return for another season, eschewing a shot at the April NFL draft.
— You want to make the case, so to speak, for Houston as this year's Boise State and are deserving of consideration for the BcS title game if they go undefeated?  Note that the Cougars have beaten their last six opponents by an average of 42.6 points.  You want to counterattack and show there's no way they deserve it?  Note that those six teams have a combined record of 23-41, including just a 3-11 mark against teams from BcS conferences.
— Oklahoma defensive end Ronnell Lewis will likely miss the regular-season finale due to a sprained MCL.  He should be able to return for the Sooners' bowl game.
— Texas A&M lost leading rusher Christine Michael to a season-ending knee injury earlier this month, and now his running mate has some injury question marks as well.  After topping 1,000 yards for the second straight season, Cyrus Gray was sidelined for the remainder of a 61-7 throttling of Kansas with a shoulder injury.  The severity of the injury is not known at this time, with head coach Mike Sherman saying only that Gray would be evaluated further in the coming days.
— In attendance for the USC-Oregon game and sporting Trojans colors, LeBron James was told to take his talents somewhere other than the Autzen Stadium field by security prior to kickoff.  Unfortunately, no gun play was involved in getting Benedict LeArnold off the playing surface.
— A U-haul truck carrying kegs of beer struck and killed a 30-year-old woman who was tailgating prior to the annual Harvard-Yale game.  Two other women were injured, and the driver of the van is currently in police custody.  As if it matters after such a tragedy, Harvard beat Yale 45-7.  It was the Crimson's 10th win in 11 games in the third-longest rivalry in the country.
— Jon Woods, who has spent the past 28 years as the director of The Best Damn Band in the Land, was given the honor of dotting the "i" in Script Ohio as he's stepping down after the end of this season.  Woods joins other honorary dotters that includes Bob Hope, Woody Hayes, Jack Nicklaus and John Glenn.
— Out of some of the most horrendous allegations imaginable, some good has come: Penn State alumni have raised more than $430,000 that will be donated to The Rape, Abuse, and Incest National Network (RAINN), a national organization charged with helping the victims of sexual abuse.
HEISMAN RACE, BY THE NUMBERS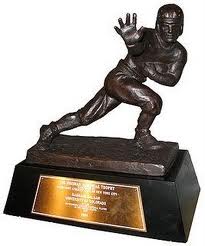 A statistical look at how some — and I simply can't stress the word "some" enough — of the top contenders for this year's stiff-arm trophy fared over the weekend, listed in alphabetical order so as not to offend any of the delicate sensibilities readers in the audience may possess or get their unmentionables all wadded up over "their" player being excluded and/or snubbed:
Montee Ball, RB, Wisconsin (9-2, No. 15)
Saturday: 338 carries for 224 yards (5.9 yards per carry), two touchdowns; two receptions for (-1) yards, one touchdown
Season: 223 carries for 1,466 yards (6.6 yards per carry), 25 touchdowns; 16 receptions for 233 yards, five touchdowns
Matt Barkley, QB, USC (9-2, No. 10)
Saturday: 26-of-34 (76.5 percent), 323 yards, four touchdowns, one interception; three carries for (-2) yards, zero rushing touchdowns
Season: 273-of-404 (67.6 percent), 3,105 yards, 33 touchdowns, seven interceptions; 27 carries for 20 yards, two touchdowns
Robert Griffin III, QB, Baylor (7-3, No. 21)
Saturday: 21-of-34 (61.8 percent), 479 yards, four touchdowns, zero interceptions; 18 carries for 72 yards, zero touchdowns
Season: 245-of-336 (72.9 percent), 3,572 yards, 33 touchdowns, five interceptions; 135 carries for 550 yards, five touchdowns
Case Keenum, QB, Houston (11-0, No. 18)
Saturday: 30-of-45 (66.7 percent), 318 yards, one touchdown, zero interceptions; four carries for 19 yards, one touchdown
Season: 309-of-421 (73.4 percent), 4,269 yards, 38 touchdowns, three interceptions; 41 carries for 54 yards, three touchdowns
Collin Klein, QB, Kansas State (9-2, No. 16)
Saturday: 9-of-17 (52.9 percent), 83 yards, one touchdown, zero interceptions; 26 carries for four yards, one touchdown
Season: 138-of-236 (58.5 percent), 11 touchdowns, five interceptions; 241 carries for 1,009 yards, 24 touchdowns
Andrew Luck, QB, Stanford (10-1, No. 4)
Saturday: 20-of-30 (66.7 percent), 257 yards, two touchdowns, one interception; five carries for (-1) yards, zero touchdowns
Season: 241-of-343 (70.3 percent), 2,937 yards, 31 touchdowns, eight interceptions; 39 carries for 133 yards, two touchdowns
Kellen Moore, QB, Boise State (9-1, No. 7)
Saturday: 28-of-40 (70 percent), four touchdowns, one interception; two carries for (-10) yards, zero touchdowns
Season: 248-of-337 (73.6 percent), 2,915 yards, 35 touchdowns, six interceptions; 16 carries for (-50 yards), zero touchdowns
Trent Richardson, RB, Alabama (10-1, No. 2)
Saturday: bye weekend 32 carries for 175 yards (5.5 yards per carry), two touchdowns; one reception for four yards, one touchdown
Season: 236 carries for 1,380 yards (5.8 yards per carry), 20 touchdowns; 26 receptions for 322 yards, two touchdowns
Brandon Weeden, QB, Oklahoma State (10-1, No. 5)
Friday: 42-of-58 (72.4 percent), 476 yards, three touchdowns, three interceptions; no rushing statistics
Season: 355of-486 (73 percent), 34 touchdowns, 12 interceptions; 15 carries for (-95) yards, zero touchdowns
FOR STATISTICAL PURPOSES ONLY
— With 14 tackles in a loss to Notre Dame, Boston College linebacker Luke Kuechly set the ACC record for most career tackles.  Kuechly broke the old mark of 515 set by Clemson's Bubba Brown (1976-79).  Kuechly also extended his streak of games with double-digit tackles to 33.
— Baylor quarterback Robert Griffin III accounted for 551 yards of total offense — 479 passing, 72 rushing — and four touchdown passes in the Bears' 45-38 win over Oklahoma.
— Michigan State's 20 wins in 2010 and 2011  the highest two-season total in school history.  It's the first time the Spartans have won at least nine games in back-to-back seasons since 1965-66.
— South Carolina also reached the nine-win mark for the second-straight season, marking the first time in school history they've accomplished that feat.
— This note is straight from the school's media relations department: TCU's seniors won their 45th game over the last four years, making them the winningest class in school history. They break the mark of 44 victories set by last year's senior class. It's the fourth straight season TCU's seniors have set an all-time win record.
— With a 22-yard completion just past the midway point of the first quarter, Houston's Case Keenum set a Div. 1-A record for career completions, breaking the old mark of 1,403 set by former Texas Tech quarterback Graham Harrell.  Earlier this year, Keenum broke Harrell's record for career touchdown passes.  The sixth-year senior also tied Timmy Chang's record for most career 300-yard passing games with 36.  All told, Keenum has broken or tied six major career passing marks this season.  Here they are:
Passing Yards: 17,855
Total Offense: 18,771
Touchdown Passes: 145
Career Touchdowns: 168
Career Completions: 1,527
Career 300-Yard Games: 36
Career 4,000-Yard Seasons: 3
— Prior to a two-yard touchdown pass in the fourth quarter from Tyler Bray to Da'Rick Rogers, Tennessee had not scored a second-half point since Oct. 8 against Georgia.  That's a span of 175 minutes, 18 seconds over 11 quarters and six games.
— Alabama came into the Georgia Southern game having allowed 29 total points in their past four games; the 1-AA Eagles scored 21 points in what was a rather lackluster effort for the Tide.
— Alabama running back Trent Richardson now has 20 rushing touchdowns on the season, breaking the single-season school record of 19 set by Shaun Alexander in 1999.
— With three more Saturday, Wisconsin's Montee Ball now has 30 touchdowns — 25 rushing, 5 receiving — in 11 games this season.
— Georgia linebacker Jarvis Jones had another 2.5 sacks in the East-clinching win over Kentucky, pushing his total on the season to 12.5.  Not only does he lead the SEC in that country, but he's tied for second in the country behind Illinois' Whitney Mercilus (13.5).
— In their 20-3 win over Cincinnati, Rutgers had a 23-play drive — that ended in a field goal.  "Big East football: it's offensive!"
— Iowa State came into Friday night's game against Oklahoma State giving up an average 203.1 yards per game on the ground.  The Cyclones left the game with a stunning upset of the second-ranked Cowboys having given up just 60 yards rushing, the second-lowest total of the season for OSU — 46 in a one-point win over Texas A&M.
— One more ISU note: the Cyclones lost their first four Big 12 games by an average of 24 points.  They've now won their last three and are bowl eligible for the second time in three years under Paul Rhoads.
— OK, I lied; one more: Since 1936, ISU had been 0-56-2 against teams ranked in the sixth or higher before their monumental upset.
— Houston had scored at least 49 points in their last seven games, but failed to reach that mark in their 37-7 win over SMU.  That means Harvard's streak of eight straight games scoring at least that 49 points back –set back in 1887 — will remain the all-level record.  (Tip O' the Cap: Chris Fowler)
— Colorado has lost 23 straight games on the road.  Their last win away from Folsom Field?  Oct. 27, 2007, against Texas Tech in Lubbock.
— From the fine folks at WKU's media relations department: For the first time since becoming a full-fledged Football Bowl Subdivision member in 2009, the Western Kentucky University football team is bowl eligible after a 31-21 win at North Texas on Saturday night.
HE SAID IT
"This is a screwed up night," Texas Tech head coach Tommy Tuberville, technically describing a 31-27 loss to Missouri but serve as more-than-appropriate summation of what was a gloriously upsetting weekend in the wild and wonderful world of college football.