Well, that certainly explains the rumors of him turning down the Tulane job.
FootballScoop.com has reported that former West Virginia and Michigan head coach Rich Rodriguez is expected to be named Arizona's new head coach this evening. Football Scoop  adds that UA athletic director Greg Byrne should make the announcement tonight via Twitter.
CBS' Bruce Feldman has also reported the same information, and a source close to Rodriguez confirmed to our own John Taylor that while they know nothing of a Twitter announcement tonight, an official press conference is tentatively set for tomorrow and that Rich is on his way to Arizona now.
Rodriguez would be replacing the fired Mike Stoops, who was released early last month after a 1-5 start to the season.
We said earlier that RichRod could do better than Tulane, and this would indeed be a step up. The Pac-12 is an offensive-minded league and Arizona has the potential to build on what Stoops was able to accomplish in seven-plus seasons in Tuscon.
Honestly, this is a great hire for Arizona, and a great job for RichRod.
First order of business, though: hire a good defensive coordinator.
UPDATED 7:41 p.m. ET: Arizona athletic director Greg Byrne did indeed confirm the identity of his new head coach via Twitter, and he did it with a photo of the coach and his family: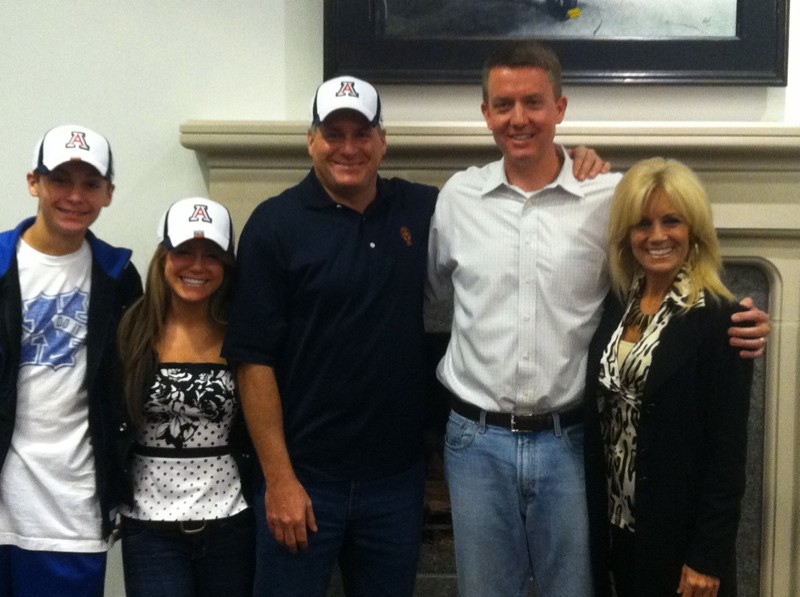 Rodriguez will be introduced as Arizona's 30th head coach tomorrow at 2 p.m. ET in the McKale Center.