After weeks of venom-laced diatribes that included questioning both the strength of schedule and ancestral lineage of (insert name of school here), the much-discussed inevitable has become an official reality. We have ourselves a rematch for the BcS title!
No. 1 LSU.  No. 2 Alabama.  The Southern Fried Sequel, in New Orleans no less.
(Cue party favor noises, confetti drop… now)
Regardless of which side of the rematch aisle you call home, no amount of vehement disagreement over one of the participants not even winning its division or the flawed system that put them there will change the fact that the two best teams from the best football conference the previous five years will square off — again — Jan. 9, aiming for the right to become the sixth straight team from the SEC to stake its claim to the crystal football.
With the off-field focus on computer algorithms and coaches who haven't seen five percent of the teams "they" vote on play shifting to what will happen on it, the question becomes, well, what the hell will happen on that patch of synthetic grass 37 days from today?
Based on precedence, we would have an idea.  Based on the reality of a rematch where precedence apparently matters not at all, we're simply left with statistics.  Stats.  Numbers, if you prefer.
Statistics mean almost nothing when it comes to this type of one-off game, to be fair, but it's all we have to go on at this point in time.  So, based on a handful of statistics some deem important, who would/should have the edge in the month-plus heading into the title game?  Read the Tale of the Statistical Tape below, and be the judge.  Or critic.  One of the two.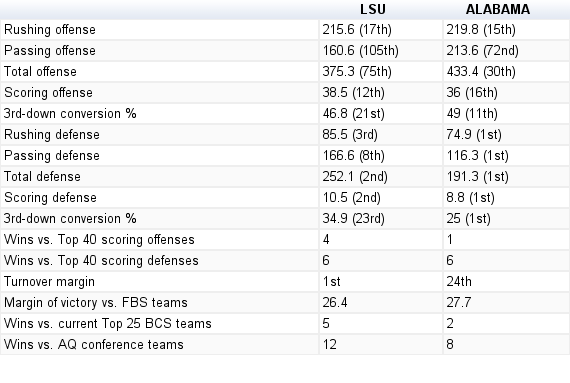 There's another stat that didn't appear above that also bears noting below:
LSU — 9
Alabama — 6
Out of all of the stats, that one, curiously enough, appears to be the most meaningless.  The BcS has an "Every Game Counts" mantra, with a Facebook page and Twitter feed and everything, so you'd think a statistic such as a final score in a game actually played on the field and counted would matter above all else.  Guess that's just one of those charming statistical quirks the BcS has come to be known for.
Of course, there are variables not listed in black and white that can't be quantified statistically.  Will Alabama's 44 days between games played affect them more than LSU's 37?  How will the fact that LSU has already been there, beat that this season versus Alabama affect the players, who will no doubt be peppered with some iteration of that question leading up to the title game?  Playing in a venue that's practically their own backyard, how big of a home-field advantage will it be for the Bayou Bengals?
And then, obviously, you have the storyline to end all storylines: Nick Saban facing a team with which he won a national championship and is now led by the man who replaced him, Les Miles, with each coach looking to win his second title at his current school.  The, ahem, "contrasting personalities" of the two coaches doesn't exactly hurt, either.
In the end, I really don't have too much of a problem with Alabama getting another shot at LSU — there's an issue on my end with the system, not the schools involved.  It should be one helluva game with a knockdown, drag-out defensive lean; as an old school football soul, I can truly appreciate that in a rematch.  I just wish with every fiber of my BcS-despising being it would've come as a result of a playoff instead of the flawed, BS system currently in place.
Then again, I loathe mulligans being a part of the casual round of golf, so your mileage may vary.