And by "slightly miffed" I mean "vehemently opposed", of course.
If you haven't heard by now, reports surfaced Thursday night that Bill O'Brien has been offered and accepted the Penn State head-coaching position.  The current offensive coordinator of the New England Patriots is expected to be officially introduced as the new coach as early as today, but more than likely tomorrow.
O'Brien's name didn't come into the mix publicly until this past weekend, and his hiring has not gone over well with some members of Nittany Lions Nation.  One of the more vocal members has been LaVar Arrington, the former PSU All-American and current Washington D.C. radio host.
Arrington took to Twitter Friday morning and ripped his alma mater, emotionally venting the feelings that, based on my emails and Twitter timeline, is certainly shared by others: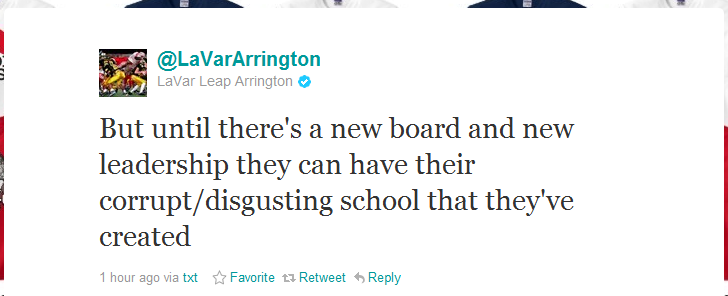 Arrington went even further in an interview with BlueWhiteIllustrated.com, making it perfectly clear that a big reason for his reaction is that his allegiances lie with the interim head coach of the Nittany Lions.
"I will put my Butkus (Award) in storage. I will put my Alamo Bowl MVP trophy in storage," Arrington told the website this morning. "Jerseys, anything Penn State, in storage. Wherever Tom Bradley goes, that's the school I will start to put memorabilia up in my home. I'm done. I'm done with Penn State. If they're done with us, I'm done with them. …
"By these people making the decisions the way that they are making them, basically coinciding with everything that's being written about our university, if they get rid of Tom Bradley, that means they in essence have accepted the fact that we are all guilty. You might as well call it all the same thing."
Arrington wasn't the only former Nittany Lion who feels the O'Brien hiring shafts the man who they feel truly deserves the job — Bradley.
"I don't want to be affiliated with the university," former All-American linebacker Brandon Short said, "if they don't choose a Penn State guy because of our standards, our graduation, all the things that have been important… it's no longer Penn State, so we might as well be in the SEC. They are intent on turning it into a booster culture. Ira Lubert went out and purchased a national title with wrestling and he's under the illusion that he can do that in football. Well, ask (Redskins owner) Dan Snyder about that."
"Penn State is a family and it is real and if they choose to get rid of Bradley and not hire a Penn State coach, then they've turned their backs on our entire family.
Look, I have no idea whether this will be a good, bad or indifferent hire, but could people at least give O'Brien a game or two to screw up and/or lose before vilifying him?  It's understandable why some connected to the school see the job of head football coach as "better" than an O'Brien hire, but the scandal that's rocked Happy Valley has obviously dictated otherwise.
Certainly the university is culpable on multiple levels when it comes to the Jerry Sandusky child-sex abuse scandal, but, as it specifically relates to the search for Joe Paterno's replacement, it's hard to find fault with them identifying an individual with no connection to the past who's actually willing to step into the quagmire that is currently Penn State football.