Signing day.
It's the day recruiting freaks point to all year long, and treat as if it's a second Christmas.  Or the birth of their first child.  Or the birth of their first child on Christmas.
Yes, National Signing Day is Wednesday.  And, thankfully, most of the announcements are expcted to come earlier rather than later in the day.
Ahead of the bizarro college version of the NFL draft and free agency all rolled into one, here are but a few of the storylines that we will be following on signing day:
Tide still rollin' on recruiting trail
Three times in the past four years, Alabama has come out of signing day with the top-ranked recruiting class according to Rivals.com.  Coming off their second national title in three seasons, the Tide is poised to land the top recruiting class in the land yet again.
As of Tuesday afternoon, two of the three major recruiting services — Rivals and 247Sports; Scout had them at No. 2 behind Texas — have Alabama ranked as the No. 1 class in the nation.  The Tide has verbal commitments from three five-star recruits — tied with Florida State for the most in this class — as well as 12 four-star recruits.
In fact, perhaps the only drama when it comes to the "team competition" is whether the Tide came climb past the Longhorns in the Scout rankings and make it a consensus No. 1 class.  OK, maybe not the only drama; there's a chance that Texas or even Ohio State could vault into the top spot in one or more of the rankings, so the chase for No. 1 does indeed bear watching throughout the day as the various official commits roll in.
Check here for the latest team and player rankings from some of the top recruiting sites:
UPDATE: Alabama topped the Rivals.com and 247Sports.com rankings, while Texas landed the No. 1 team according to Scout.com.
Battle of Landon: Nick Saban vs. mom
Above we mentioned that Alabama has already received verbal commitments from three five-star recruits.  One of those is Louisiana high school safety Landon Collins, whose mother's off-field actions and issues with Nick Saban have arguably made him more (in)famous than have any of his on-field exploits.
Despite mom wanting son to stay in-state and head to LSU, Collins has remained steadfast in his determination to follow through on his verbal commitment to Alabama.  While it appears highly unlikely he would flip back to the Tigers, his signature on a National Letter of Intent bears watching throughout the day, if for nothing more than mom's reaction to his Tuscaloosa signing becoming official.
UPDATE: Collins did indeed sign his Letter of Intent with Alabama, although he did make the Tide coaching staff sweat a little bit.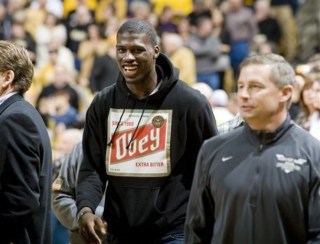 Infiltrating the secretive DGB
According to Rivals and Scout, Missouri high school wide receiver Dorial Green-Beckham is the No. 1 player at any position in the country.  247Sports has him ranked as "just" the No. 2 player, behind Texas high school defensive tackle Mario Edwards.  Regardless, he's far and away the highest-rated recruit who has yet to give a verbal commitment.
That will change Wednesday, when Green-Beckham is expected to choose between in-state Missouri and Mizzou's future SEC rival Arkansas, with Oklahoma and Texas still hanging around the periphery.  The buzz of late has been all over the recruiting map as to where the receiver will land, with Mizzou seemingly the guess — and that's all it is at this point, a guess — of some/most recruiting observers coming out of his final official visit to the Columbia school this past weekend.
At 6-6, 220 pounds, Green-Beckham would be a huge get for any school.  For Mizzou to be able to keep the in-state talent at home as they head into the rough and tumble SEC?  That would be beyond huge for Gary Pinkel's program.
UPDATE: Consider it a huge day for Pinkel's program as Green-Beckham did indeed sign with Mizzou.
Where will the other five-stars shine?
Along with Green-Beckham, there are five other five-star players in 247Sports ranking system who have yet to give a verbal commitment.  Those players are listed below, along with the schools still in the running to land their services:
Stefon Diggs, wide receiver, Olney (Md.) Good Counsel High School — the No. 10 player overall and No. 2 receiver behind Green-Beckham, Diggs is believed to still be considering Auburn, Florida and Ohio State.  A weekend visit to the Buckeyes has many thinking Urban Meyer can land the third five-star recruit in this class, although the home-state Gators are still considered the prohibitive favorite.  The wait for Diggs' decision will extend beyond signing day, however; at this point, the receiver is expected to announce his future football home Feb. 10.
Kyle Murphy, offensive tackle, San Clemente (Cal.) High School — rated right behind Diggs overall and the No. 2 tackle in the nation.  While he's still "officially" considering Florida and Oregon, Stanford and USC are believed to be the two prime contenders for his services.
UPDATE: Murphy decided to take his considerable line talents to the Cardinal.
Eddie Goldman, defensive tackle, Washington DC Friendship Collegiate Academy — the No. 3 player at his position and the No. 14 recruit overall, Goldman is involved in an off-field Iron Bowl as Alabama and Auburn are reportedly the leaders (?) headed into signing day, although Florida State has long been considered the favorite and could end up with the 6-5, 305-pounder.  A pair of ACC schools — Clemson and Miami — have also been in the running.
UPDATE: The Seminoles parlayed their front-runner status into Goldman's signature on a Letter of Intent on signing day.
Ronald Darby, cornerback, Potomac (Md.) Oxon Hill High School — the top-rated corner according to 247Sports and the recruiting service's No. 16 player at any position, Darby is being heavily pursued by Clemson, Florida State and Notre Dame.  Don't sleep on Auburn when it comes to Darby, however.
UPDATE: Darby was one of the many huge signing day gets for Jimbo Fisher's Seminoles..
Darius Hamilton, defensive end, Ramsey (NJ) Don Bosco Prep — prior to Greg Schiano's departure, Hamilton (No. 23) was considered a near-lock to stay home and sign with Rutgers.  Now that Schiano is gone, Miami and Florida have suddenly emerged as front-runners, although RU hiring from within and tabbing Kyle Flood as its new coach could keep Hamilton in the fold.
(UPDATED Jan. 31 @ 8:41 p.m. ET: During a televised announcement, Hamilton confirmed that he's sticking with Rutgers and gave his verbal commitment to the Scarlet Knights.)
Look beyond the most visible numbers
If you looked at where USC stood in the overall rankings on Tuesday afternoon, it's a rather fair-to-middlin' class by Trojans standards: from No. 11 (Rivals) through No. 25 (Scout) and all the way down to No. 28 (247Sports).  The recruiting devil, though, is in the details when it comes to USC's standing.
Thanks to NCAA sanctions stemming from the Reggie Bush "situation", USC won't be armed with the full complement of scholarships that normally would be at its disposal.  Of course, the recruiting services reward quantity as much as quality, so USC suffers in the overall rankings.  Average out the stars, however, and Lane Kiffin's class stacks up with any other program in the nation — their 3.77 star-per-verbal according to Scout's rankings are second only to Texas (3.86) and Ohio State (3.78).
The size of Kiffin's class leaves the program less margin for error when it comes to whiffing on a signee, but, when it comes to the 2012 rankings, an asterisk is needed as the final number won't tell USC's entire recruiting story.  Or the kind of job Kiffin & Company did on the recruiting trail if they can close out this small but formidable class.
UPDATE: Despite the small quantity, the Trojans ranked as the No. 8 recruiting class according to Rivals.com, No. 11 by 247Sports.com and No. 19 by Scout.com.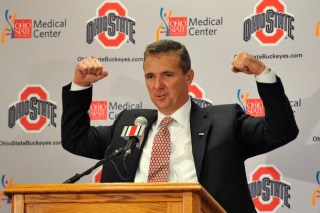 Urban development in full effect
Back in October, Ohio State was looking at a rather ho-hum recruiting class in the wake of Jim Tressel's departure from the Buckeyes.  Four months later, we're seeing exactly why "hire Urban Meyer" was first, second and third on tOSU's head coaching to-do list.
In a matter of months, Meyer has taken a middle-of-the-pack class and turned it into a consensus top-five group, with all three recruiting services placing the Buckeyes at No. 3 heading into signing day.  If Meyer can close as he has in the past and seal the deal on a top-five class, it will be yet another warning shot to the rest of the Big Ten: keep up, or be left in Meyer's recruiting rear-view.  Michigan's doing it's part, pulling in a class that's currently ranked between fourth and sixth; it's up to the rest of the conference to ensure that it doesn't turn into the Big Two & Little Ten yet again.
UPDATE: In addition to pissing off at least a couple of coaches in the Big Ten, Meyer's two-month recruiting push resulted in a class ranked No. 3 by Scout.com, No. 4 by Rivals.com and No. 5 by 247Sports.com.
SEC, where the recruiting crown rests in perpetuity
If college football in the South is king, recruiting is the royal bloodline that sustains the various gridiron kingdoms littering the area.  And, coming off a sixth straight BcS title, the recruiting sustenance is continuing to flow unabated.
The three major recruiting services have each placed nine teams that will play in the SEC in 2012 inside of its pre-signing day Top 25.  All told, a total of 11 of the 14 SEC schools appear in some form in the Top 25 of those three sites.  Hell, erstwhile conference cellar dweller Vanderbilt comes in at No. 23 in the Rival rankings.
The only conferences within shouting distance of the SEC?  The Pac-12 with five teams in Rivals' and Scout's Top 25, and the ACC with the same number according to 247Sports.  Barring a dramatic and unexpected shift, however, teams from the SEC will dominate the top quarter of the final 2012 rankings.  Again.
UPDATE: The final Top-25 tally for the SEC among the various recruiting services are eight conference members in the Rivals.com and 247Sports.com rankings and nine in the Scout.com rankings.