University of Minnesota head football coach Jerry Kill has announced the addition of 31 student-athletes to the Golden Gopher football program.
Of the 31 student-athletes announced by Kill Wednesday, eight were already enrolled in classes at the University of Minnesota. Nineteen signed their National Letters of Intent Wednesday, while four others signed Acceptance of Admission forms.
Twenty-five members of Minnesota's recruiting class will be true freshmen for the 2012 season, while six join the Gophers from the junior college ranks.
"The most important thing for us was to make sure we got kids that fit in here at the University of Minnesota with our system and what we expect," Kill said. "I think we did that. And then of course we needed to improve the athleticism and speed in our football program and I think we did that too."
A wide net was cast to land the 2012 Gopher recruiting class. Thirteen states are represented in the hometowns of the newest Gopher class. Ten of the newest Gophers hail from the State of Minnesota. Texas is next on the list with four, while three come from Florida. Two each are joining the Gopher program from Wisconsin and Ohio, while there was one each from California, Delaware, Louisiana, North Carolina, South Carolina, Missouri, Illinois and Alabama.
The 2012 Minnesota recruiting class is a little heavier on the defensive side of the ball, with 16 listed in defensive positions. Eleven of the signees are slated to play on the offensive side of the ball, while four are currently listed as athletes and could play on either side.
Defensive back was the most heavily-targeted position. Eight of the student-athletes announced Wednesday are penciled in for the secondary. The defensive line saw the next-biggest influx of talent with six of the new Gophers expected to play on the line of scrimmage. Minnesota signed two linebackers. On offense, three student-athletes each are listed as wide receivers and offensive linemen. The Gophers added two quarterbacks, two running backs and one tight end.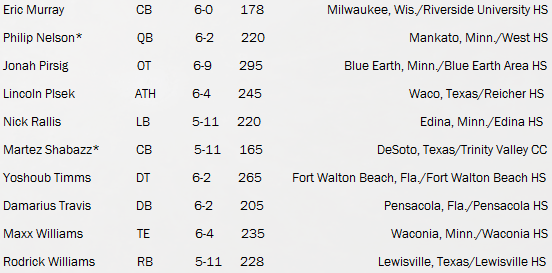 * = Currently enrolled
** = Signed Acceptance of Admission Form