Columbia, Mo. – Nineteen standout student-athletes have signed a National Letter of Intent (NLI) to attend the University of Missouri and play football for Head Coach Gary Pinkel, as announced today.
As of early afternoon, the class of newest Tigers has been rated as the 20th-best in the country, according to ESPN, and as the nation's No. 32 class by Rivals.
The consistent success of the Tiger program under Head Coach Gary Pinkel undoubtedly helped attract such a talented group of student-athletes. Mizzou is one of only six schools in the nation among BCS automatic-qualifying conferences to post a minimum of eight wins in each of the last six seasons (LSU, Oklahoma, USC, Virginia Tech and West Virginia are the others). Mizzou's 48 wins over the past five seasons (2007-11) also ranks 9th-best in the nation among BCS-AQ schools. In addition, Mizzou continues to excel in the classroom, as it has graduated 96 percent of its seniors since 2007.
Mizzou's coaching staff was successful in attracting not only some of the top in-state talent, but some of the top players in the nation, headlined by wide receiver Dorial Green-Beckham, who Rivals rates as the No. 1-ranked player in the entire country. He was joined by fellow in-state standout OL Evan Boehm, who is the No. 2-rated guard in the country according to Rivals.
Included with this recruiting class is junior WR Darius White, who transferred to Mizzou in January from the University of Texas, where he played for the previous two seasons. White will redshirt in 2012 due to NCAA transfer rules, and have two years of eligibility remaining beginning in 2013.
In all, six of the state of Missouri's top football talents signed to play for their home state school. At the same time, the coaching staff also continued its outstanding work mining the pipelines of Texas, as seven Lone Star State standouts became Tigers today.
Mizzou's previous eight classes rated, according to Rivals: 29th in 2002, 28th in 2003, 29th in 2004, 39th in 2005, 47th in 2006, 33rd in 2007, 24th in 2008, 35th in 2009, 21st in 2010 and 48th in 2011.
"I'd like to congratulate all of these outstanding young men and to thank them and their families for putting their trust and belief in our program, and the University of Missouri," said Head Coach Gary Pinkel. "We do have a lot to offer here, and the first thing is that they will get their degree. Our success on the field also speaks for itself, and is always an important selling point. We feel like this is a really well-rounded class that meets our needs everywhere, and they're also a bunch of high-character guys who will represent Mizzou the right way," he said.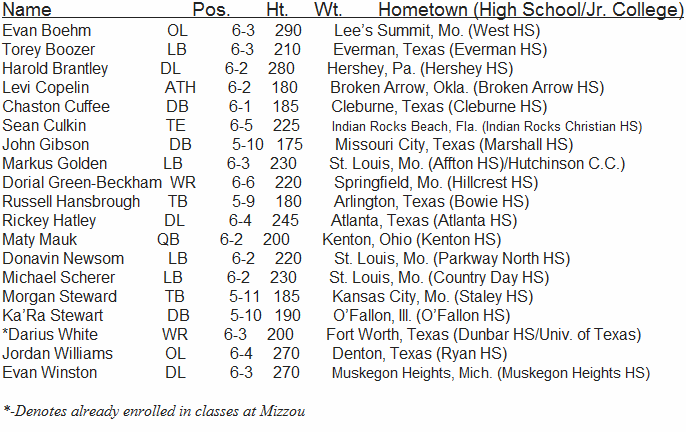 BREAKDOWN BY STATE
Texas (7) – Boozer (Everman), Cuffee (Cleburne), Gibson (Missouri City), Hansbrough (Arlington), Hatley (Atlanta), White (Fort Worth), Williams (Denton)
Missouri (6) – Boehm (Lee's Summit), Golden (St. Louis), Green-Beckham (Springfield), Newsom (St. Louis), Scherer (St. Louis), Steward (Kansas City)
Florida (1) – Culkin (Indian Rocks Beach)
Illinois (1) – Stewart (O'Fallon)
Michigan (1) – Winston (Muskegon Heights)
Ohio (1) – Mauk (Kenton)
Oklahoma (1) – Copelin (Broken Arrow)
Pennsylvania (1) – Brantley (Hershey)