EA Sports announced back in late February that Robert Griffin III would grace the cover its NCAA Football 13 game, and that fans would vote on a former Heisman winner to share the cover with the ex-Baylor quarterback.
After a month of voting, the results are in and, as it turns out, a fellow Big 12/Big Eight legend will join RGIII on the cover.
In a release, EA Sports announced that former Oklahoma State standout running back Barry Sanders has taken the fan vote and will be featured alongside the reigning Heisman winner on the cover of the game, which is scheduled to be launched July 10.  Below is a rendering of what the new cover will look like: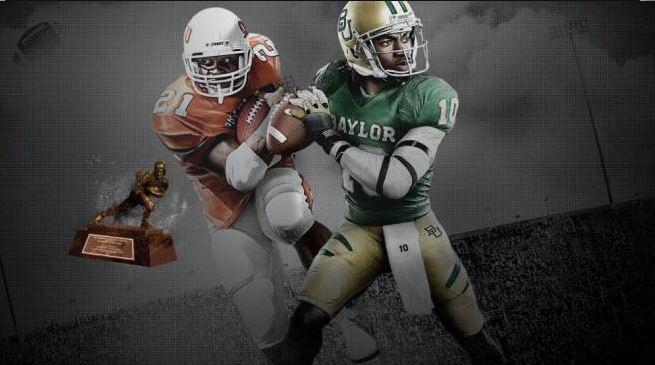 Along with Sanders, whose son was a highly-touted member of the 2012 recruiting class and ultimately signed with Stanford over, among others, his dad's alma mater, seven other winners of the Heisman were in the voting to join RGIII on the game's cover: former USC running back Marcus Allen, former Boston College quarterback Doug Flutie, former Ohio State running back Eddie George, former Michigan wide receiver Desmond Howard, former Georgia running back Herschel Walker, former Florida State quarterback Charlie Ward and former Houston quarterback Andre Ware.
In its release, EA Sports noted that "Sanders pulled ahead of…  Walker in the final round to earn the coveted honor of becoming the NCAA Football 13 cover athlete."