You know what those words mean, right?  Yep, a new college football season is right around the corner.
Annually the most anticipated preview magazine thanks to both its in-depth analysis and accuracy, the release date for Phil Steele's preseason dead-tree offering is viewed in most corners of the college football world as Christmas in June.
Ahead of its release June 7, however, Steele has released his annual All-American teams that are, as always, four teams deep.
The list contains the expected cast of characters on the first team, from USC quarterback and preseason Heisman favorite Matt Barkley to his teammate and wide receiver Robert Woods to South Carolina running back Marcus Lattimore — coming off a torn ACL — to linebackers Jarvis Jones (Georgia) and Manti Te'o (Notre Dame).
As is ofttimes the case, even for Nostrsteelemus, there are at least a couple of head-scratchers.
Chief among them, at least from this vantage point, is the absence of Marquise Lee — on any of the four teams.  As a true freshman at USC last season, Lee caught 73 passes for 1,143 yards and 11 touchdowns, all second on the Trojans to first-team Steele All-American Woods.  Granted, there are a ton of talented players at his position in the country, but there's no way you can justify Lee not being one of the top 12 receivers — Steele placed three receivers on each of the four teams — in the collegiate game.
Also, somewhat surprisingly, Steele placed Oklahoma's Landry Jones as his second-team QB, ahead of Arkansas' Tyler Wilson (third-team) and West Virginia's Geno Smith (fourth-team).  Not only did Jones see his production dip drastically following the emergence of true freshman Blake Bell — Jones had just one touchdown pass the last four games, while Bell rushed for 10 touchdowns in that same span — but there's also the little issue of what receiver will be available, at least for the early part of the season.
A total of 51 schools are represented, with last year's title game contestants, with Alabama and LSU*, pacing the four teams with eight and seven players, respectively.  The Tide had the most players (three) named to the first team, with all three of those being offensive linemen.
Two other SEC or soon-to-be SEC schools had five apiece — Texas A&M and Arkansas — as did USC.  Wisconsin, Florida State, Oklahoma, West Virginia and Oklahoma State all placed four players each on Steele's teams.
Conference-wise, seven of the 11 conferences in Div. 1-A (FBS) are represented — The Big Six, plus Conference USA.  As expected, the SEC far and away leads all conferences with 38 selections; no other league had more than 18.  Of the 14 teams that will play in the conference this season, 11 had at least one player on one of Steele's four teams, the lone exceptions being Missouri, Ole Miss and Vanderbilt.
The Big 12 (including WVU) and Pac-12 were next with 18 players each, followed by the ACC with 18, the Big Ten with 14 and the Big East and Conference USA tied at two apiece.
Independent football programs Notre Dame and BYU had two and one players selected, respectively.
Below is a screen snap of Steele's four All-American teams: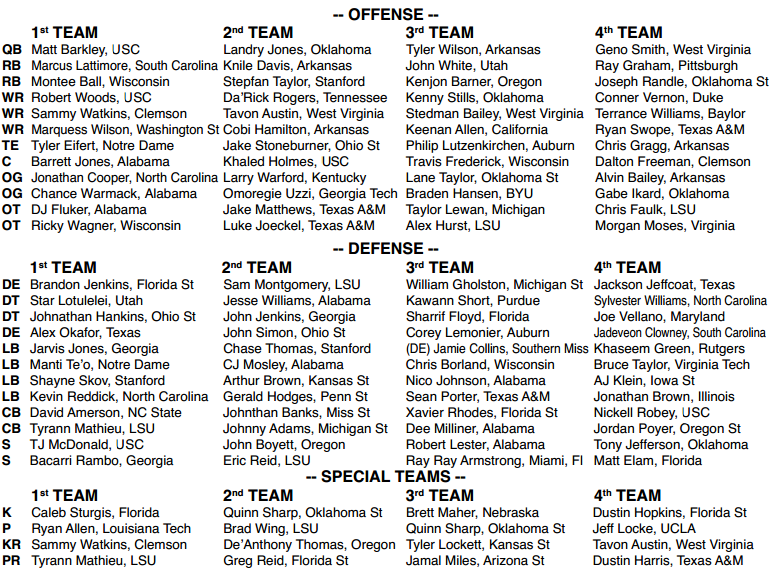 (*Tyrann Mathieu was named to the first-team as both a cornerback and punt returner.)