As is the case each and every season, each and every week, any omission below is not on purpose, it's merely intentional.
WINNERS
The fans
After one of the worst — check that, the worst — offseasons in the history of the game, a full day of the glorious entity called college football was back at a campus or on a television near you.  Certainly, what happened the past few months, particularly at Penn State, wasn't washed away completely by the start of a new season, but it did allow fans all across the country get back to doing what they love to do — irrationally rooting for a school they may or may not have a direct connection to and obsessing over any and every call that may or may not have gone their way.  Welcome back, college football.  Oh how we've missed your on-field glory.
Should Tide rise over USC to No. 1?
We asked this question in our poll tonight, but will expound on it here.  In every way imaginable, in every single phase of the game, No. 2 Alabama was the better team in the defending BcS champion's 41-14 woodshedding of No. 8 Michigan.  And it wasn't even really that close.  Ben did an excellent job recapping the carnage in Arlington Texas, so I'll tackle this the question posed in this note.  And, if you're a fan of marquee nonconference matchups, you'd answer the same way I would: hell yes.  Teams that schedule these types of games should be rewarded for playing top-ranked programs, and bumping them a spot or two or three or whatever would/should have an impact on athletic directors looking for more of those types of early-season games.  Besides that, it's rather obvious even as it's awful early: the Tide will once again be a major factor on the national stage yet again.  That was a textbook evisceration by Nick Saban's charges of what's a very talented Michigan team.  The good thing for the Wolverines?  They have 11 more regular season games to make up the spots they will tumble in the polls when they come out early this week.  And, they can take solace in the fact that they won't face a better team the remainder of the regular season.
"Wait, what about us?" No. 1 USC says
Yes, yes, yes Trojans.  We're well aware of your 49-10 throttling of Hawaii.  Yes, you have one of the top teams in the country and, if you can remain healthy, you will be a title contender.  Unfortunately, taking apart an unranked team at home simply doesn't compare with humiliating a Top 10 team on a neutral field.  Sorry, that's just the way it is.  Or the way it should be, at least.  If voters have a lick of common sense, of course.
That's just offensive
In wins over Savannah State and Arkansas State, No. 19 Oklahoma State and No. 5 Oregon, respectively, combined to score a total of 141 points; rushed for 677 yards; passed for 610 yards; and totaled 1,287 yards of offense.  And punted three times — combined.  And that's with the Ducks scoring 50 in the first half and calling off the dogs the last two quarters.  Those were the final, gory offensive stats — unless they added to them in the postgame, which is entirely possible based on how the two "contests" went.  The 84 points the Cowboys put up, by the way, were the most since 1991 when Fresno State hung 94 on New Mexico.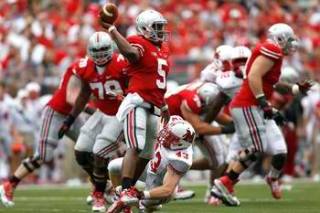 Urban renewal commences in earnest in Columbus
Bad pun aside, Ohio State couldn't have scripted a better start to the 2012 season.  Not only did No. 18 Ohio State romp over Miami of Ohio 56-10 — after a sluggish first quarter — in Urban Meyer's first game as Buckeyes' head coach, but sophomore quarterback Braxton Miller showed flashes of brilliance more consistently than he did at all last season, combining for nearly 360 yards of total offense and three touchdowns in less than three quarters of work.  It hardly portends great things for the Buckeyes generally or Miller specifically in 2012; the RedHawks won just four games in 2011.  It does give some reason to hope, however, in a season where there's no hope of reaching the postseason thanks to NCAA sanctions.
The defense rests… after dominating
Against a good BcS football team, No. 3 LSU will have a really good defense.  Against the likes of North Texas?  They had a really good defense.  While the Mean Green totaled 219 yards of offense — 40 yards per game less than they averaged giving up last year — they averaged just 2.2 yards per carry and were limited to an 80-yard pitch-and-catch touchdown that was the result of a mix-up in the secondary and a meaningless touchdown pass late in the fourth quarter.  The No. 3 team in the country did what it was supposed to: easily hold serve at home against a vastly inferior opponent with a 41-14 win.  And, based on the way LSU's defense played in the opener, we're guessing that, just like SEC West rival Alabama, the Tigers will be in the thick of the BcS mix deep into the 2012 season.
Coaches with new teams
Putting this under the winners heading may have been a bit of a stretch.  When the last spinning of the coaching carousel came to a stop, 27 FBS football programs had new head coaches.  These past three days, those 26 coaches (Kevin Sumlin's debut as Texas A&M's coach was postponed) went 13-13.  Two of those 12 losses came at the hands of FCS schools: Pittsburgh's Paul Chryst and Memphis' Justin Fuente.
Holgorsen has this offensive thing down pat
In the past two games, No. 11 West Virginia's offense has totaled the following: 1,250 yards of total offense, 748 yards passing and a staggering 139 points.  To put that into perspective, last season New Mexico scored 144 for points the entire 12-game season.  Yeah, the Mountaineers will fit right in in the high-octane Big 12.  About that defense, though; WVU allowed the Herd 545 yards of offense, including 413 yards passing.  Then again, defense is optional in the Big 12, so that side of the ball might not be as big a deal after all.
Perfect Wes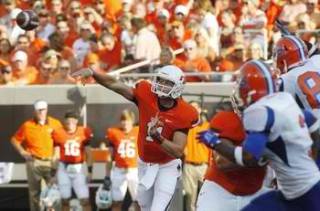 For the first half, at least.  Making his first start at the collegiate level, quarterback Wes Lunt completed all 11 of his first-half passes in what would ultimately become an 84-0 win over Savannah State.  Those would actually be the only throws Lunt made in the blowout win as he gave way to J.W. Walsh and Clint Chelf for the rest of the first half and through the end of the "game."
Lattimore's return a boon for 'Cocks
If No. 9 South Carolina entertains any thoughts of getting past defending SEC East champ Georgia, Marcus Lattimore returning to — and remaining at — 100-percent health will be of utmost importance.  Based on one game, that's the direction the running back, who suffered a season-ending ACL tear last year, is headed.  In South Carolina's season-opening conference win over Vanderbilt on Thursday, Lattimore rushed for 110 yards and scored the Gamecocks' only two touchdowns in the 17-13 decision.  While Lattimore wasn't worked as hard as he's been the past two seasons, the fact that he came out healthy against a stout 'Dores defense portends — all available appendages crossed — good things for the player and the team in 2012.
Youth romps in uncle vs. nephew tilt
In his first game as head coach at Richmond, Danny Rocco had the misfortune of taking his FCS program into Virginia and going up against an underrated Cavaliers squad.  And, as if a 43-19 pasting wasn't bad enough, a player very close to the coach helped in the torching.  Michael Rocco, the head coach's nephew, threw for 311 yards and a touchdown in the 24-point win.  Suffice to say, Thanksgiving/Christmas gifts should be interesting in the Rocco households this year.
LOSERS
Floyd Mayweather
The boxer bet a total of $2.9 million on Michigan to cover the spread against Alabama.  The spread was anywhere between 12 and 14 points.  The Wolverines lost by 27.  That will leave a mark on the ol' bank account, regardless of how big the purse was for your last fight.
Sooner forgetting this, the better
Forget the final score as it's more than deceiving.  At halftime, No. 4 (for now) Oklahoma was tied with UTEP at 7-7.  And it stayed that way until the 10-minute mark of the third quarter, with a field goal giving the Sooners a lead they wouldn't relinquish.  And it stayed that way until 10:32 was left in the game, with Landry Jones tossing an 18-yard touchdown pass. Final score?  24-7.  Yes, it's just one game.  But it was one game against a vastly inferior opponent that's simply not acceptable for a team with BcS-title aspirations.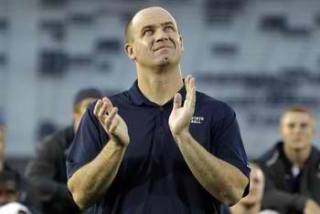 Post-JoePa toe stub
For the first time in more than six decades, Joe Paterno was not on the Penn State sidelines as either an assistant or head coach.  Instead, Bill O' Brien was patrolling Beaver Stadium… and overseeing an embarrassing start to his collegiate coaching career.  How embarrassing?  "Overheard: Ohio fan laughing 'It isn't even a big win for us,'" one tweet from a Penn State fan read.  After taking a 14-3 lead into the half, the Nittany Lions were outscored 21-0 the rest of the way as Ohio came away with the nonconference road win.  And that would be the Mid-American Conference's Ohio University, not Brady Hoke's Ohio, incidentally.  Certainly with all of the tumult and turmoil the football program has been through over the past nine months, and with the roster attrition courtesy of NCAA sanctions, a rough start to O' Brien's tenure may have been expected.  However, losing by double digits at home to a MAC team that outgained them by nearly 150 yards (499-352) certainly wasn't a part of the new coach's plan for rebuilding all that's been torn down in less than a year.
Gator chomp goes limp
Entering the second season under Will Muschamp, hopes were high that the No. 23 Florida Gators would begin taking the steps that would lead to a return to national prominence for the football program.  While that still may happen, eventually, this season, UF's performance Saturday gave no sign whatsoever that 2012 will be anything other than yet another rebuilding year.  At home against Bowling Green — they of the five-win MAC Bowling Greens — the Gators slogged its way to a too-close-for comfort 27-14 win over the Falcons. Continuing a theme that's entering its third year, the Gators were in large part ineffective on the offensive side of the ball.  While they rushed for over 200 yards, they passed for just 145 among two quarterbacks as the struggles through the air continues.
'12 Edsall similar to '11 model
Sitting atop one of the hottest coaching seats in the country entering just his second season at Maryland, Randy Edsall needed a solid start to the season in order to, at minimum, keep the Terp wolves howling for his dismissal at bay following a disastrous two-win debut.  Uh, whoops?  Against William & Mary Saturday, and at home no less, Edsall's Terps managed to eke out a 7-6 win over the FCS-level school in a game that was a loss for anyone who witnessed any part of it.  And that win came after W&M dropped what could have been the game-winning touchdown pass late in the fourth quarter.  Yes, the Terps' lost their starting quarterback and a dozen other players to injuries, but a one-point win against that level of competition isn't — and shouldn't — be acceptable.  Edsall has asked for patience from the fan base; more performances like this one, and there'll be none in reserve.  If there's even any left at this point.
Tedford: Latin for "damn that seat's hot!"
And speaking of coaching seats that have gone beyond warm, well hello Jeff Tedford.  Playing for the first time in its refurbished stadium, Cal couldn't keep Nevada's pistol holstered in a 31-24 loss.  In and of itself, dropping a season opener wouldn't impact things one way or the other, even as it represented the first home loss to Nevada in 109 years..  Coming off the past two seasons that saw a combined total of 12 wins?  Seat will be sizzling soon, I think that [/yoda].  Additionally, and after a home game vs. Southern Utah, the Bears travel to Ohio State and USC in back-to-back weekends.  Yep, good luck with that buzz saw Coach Tedford.
Houston had big problem with newly-minted FBS school
And the big problem was a loss.  Tony Levine's first game as Houston's replacement for Kevin Sumlin figured to be a relatively easy one: at home against first-year FBS program Texas State.  A 30-13 loss later, and the Cougars realize how much they'll miss Sumlin (Texas A&M) as well as quarterback Case Keenum (NFL).  It's a long season; unfortunately for Houston, this loss will make it that much longer.
Franco Harris
Staunch in his very public support for Joe Paterno after the now-deceased head coach's controversial ouster at Penn State last November, Franco Harris took that support to a whole other level Saturday afternoon.  In his suite Saturday witnessing the first game of the O' Brien Era, Harris did, well, this with a cardboard cutout, courtesy of mocksession.com: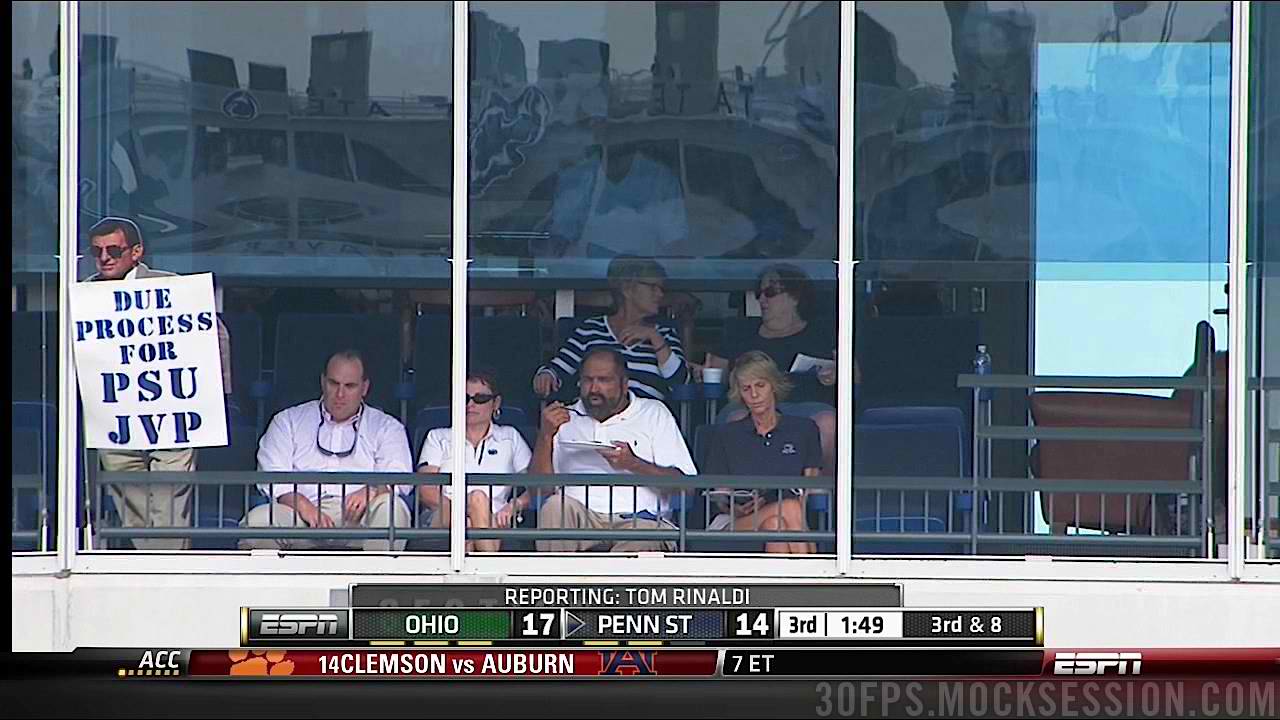 Way to keep it about the current coaches and players inside the stadium, Franco.  Excellent work.
Ball State "fans"
Coming off a six-win season in 2011, Ball State opened 2012 with a 37-26 win over Eastern Michigan that was witnessed by less than 13,000 individuals.  That number caught the attention of Fort Wayne News-Sentinel columnist Tom Davis, who skewered Ball State's supporters — or lack thereof —  for their seeming indifference toward the football program.  "But I'll tell you who hasn't delivered? The Ball State students, the Cardinal alumni, and the community of Muncie, who continue to demonstrate year after year … that they simply don't care whether they have a good football team or not."  Davis went on to write that he wishes second-year head coach Pete Lembo well "when he eventually bolts for a more supportive environment."  Ouch.
TOP 25 TOO-CLOSE-COMFORT
How ranked teams endured close shaves vs. unranked opponents
–No. 9 South Carolina 17, Vanderbilt 14: Unlike most of the other schools that litter this list, the Gamecocks actually opened the season against a quality conference foe.  While it wasn't pretty — particularly in the passing game — a win is a win is a win, especially when it involves an SEC game.
— No. 12 Wisconsin 26, Northern Iowa 20: Ahead 26-7 with just over 12 minutes left in the game, the Badgers' defense allowed allowed the Panthers to score two touchdowns in less than five minutes to close the gap to five points with seven minutes to play.  A failed fourth-down attempt with 2:46 left erased any hopes the FCS school had entertained of pulling off one of the biggest upsets in recent memory.
— No. 14 Clemson 26, Auburn 19: As was the case with South Carolina, the Tigers differed from others on this list as they actually faced a BcS opponent, albeit one of the nonconference variety.  And they pulled out the win with their top receiver, Sammy Watkins, serving the first of a two-game suspension, which certainly bodes well for the Tigers.
— No. 21 Stanford 20, San Jose State 17: In the first game of the post-Andrew Luck era on Friday, the Cardinal eked out a three-point win over a team that was 27(ish)-point road underdogs.
— No. 23 Florida 27, Bowling Green 14: Tied at 14-all midway through the third quarter, the Gators managed to score 13 unanswered points to squeak by with a win in the opener.
CFT TOP FIVE
A snapshot look at how our ballot would look Monday if we, ya know, had a real vote instead of a measly preseason poll.
1. Alabama — A school should be rewarded for a quality neutral-field win over a Top-10 team, and we do just that with a two-spot jump. (Last: No. 3)
2. USC — "It wasn't anything you did honey.  Honest.  It's just me." (Last: No. 1)
3. Oregon — Oregon might've scored a touchdown or two on Clemson in its obliteration of Arkansas State.  My goodness, that was a mesmerizing first-half offensive display by the Ducks. (Last: No. 7)
4. LSU — With that defense, and continued improvement at the quarterback position, the Tigers are positioned for yet another run at an SEC title.  And more. (Last: No. 4)
5. (blank) — Oklahoma, Georgia and South Carolina all underwhelming in wins. Michigan lost.  Florida State and Arkansas stuffed their collective faces on tasty pastries.  Yep, blank it is.
HE SAID IT
"Tape will say we were fortunate to beat Vandy… they don't have a bunch of slow dudes like they used to." — South Carolina head coach Steve Spurrier following the No. 9 Gamecocks' four-point win over Vanderbilt.
HE SAID IT, THE SEQUEL
"I would think we're on the short end of the measuring stick." — Brady Hoke, following Michigan's 27-point loss to Alabama when asked about the game being a measuring stick for his team.
VIDEO OF THE WEEK
Despite it being the opening weekend of the 2012 season, the video clip of the week has nothing to do with football.  Sure, we easily could've gone with Hundley's cherry-popping TD or Devin Smith's ridiculous TD reception or Kent State's Andre Parker's wrong-way muff run or myriad others.  Instead, it has everything to do with my six-year-old daughter doing her best impersonation of Evil Knievel.  And don't worry, it's OK to LOL; with the exception of a bloody nose and a coupla scratches, she's fine:
[youtube=http://www.youtube.com/watch?v=CaJbs9ACtLs&feature=player_detailpage]
REALLY?
From the "Whoda thunk it?" department, by way of Nebraska sports information: Taylor Martinez (no relation) accounted for 249 yards of total offense in the first half of today's game to push his career total to 5,808 total offensive yards. In the first half he passed Zac Taylor (5,777 yards) (no relation) to move into second place on the career total offense list.
FOR STATISTICAL PURPOSES ONLY
— Of the 74 games (Texas A&M-Louisiana Tech, Oregon State-Nicholls State postponed due to Hurricane Isaac) involving FBS programs the past three days, 35 of them featured opponents from the FCS level.  FBS schools, incidentally, were 32-3 in those games.  The three losses?  Pittsburgh to Youngstown State (ROTFL!!!), Memphis to Tennessee-Martin and Middle Tennessee State to McNeese State.
— Official attendance for Alabama-Michigan: 90,413, a record crowd for a college football game at Cowboys Stadium in Arlington.
— From Jon Solomon of the Birmingham News: the Big Ten has lost 10 straight nonconference games vs. Top-Five teams by an average of 15.9 points.  Ouch.
— Alabama's T.J. Yeldon became the first Alabama player ever to top the 100-yard plateau in his first game, rushing for 111 yards on just 11 carries.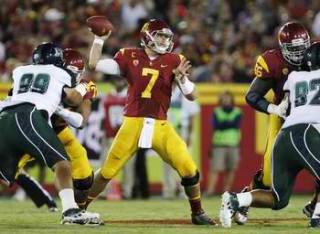 — In just over three quarters of work, preseason Heisman favorite Matt Barkley passed for 344 yards and four touchdowns in USC's romp over Hawaii.  Barkley's top target was wide receiver Marquise Lee, who caught 10 passes for 190 yards and a touchdown.
— Oregon's electrifying running back, DeAnthony Thomas, touched the football seven times in the win over Arkansas State — and scored three touchdowns.
— Nebraska's Martinez set a career high in passing yards (354) and tied his career mark in passing touchdowns (five) in Nebraska's 49-20 win over Southern Miss.
— Clemson running back Andre Ellington rushed for 231 yards in the Tigers' 26-19 win over Auburn, while wide receiver DeAndre Hopkins set a school record (Sammy who?) with 13 receptions.
– In West Virginia's 69-34 thrashing of in-state rival Marshall, Heisman contender Geno Smith threw for 323 yards on 33-of-36 passing and four touchdowns.
— Syracuse's Ryan Nassib passed for a career-high 470 yards and four touchdowns in the Orange's 42-41 loss to Northwestern.  He also obliterated the school record for completions with 44; the previous record was 29.
— Boston College's Chase Rettig completed 32-of-51 passes for 441 yards and two TDs in a 41-32 loss to Miami
— On the fourth offensive snap of Nebraska's win, running back Rex Burkhead ran 57 yards to open the scoring for the Cornhuskers.  That run represented the longest run of Burkhead's career.
— In their 62-0 whitewashing of Elon, North Carolina had 14 different receivers catch a pass in the win and no one caught more than three balls.
— From ESPN's Stats & Info Thursday night: "Cameron Nwosu of Rice blocked 3 PAT attempts tonight vs UCLA, setting an FBS single-game record and tying the overall Division I record."
— Tulsa running back Trey Watts rushed for 125 yards on 10 carries — with no touchdowns — in a 38-23 loss to Iowa State.
— Florida has won 23 straight season openers, which represents the second-longest current streak in the nation.  The longest?  Nebraska's 27.
— Last season, New Mexico was dead last in FBS in scoring, averaging just a hair over 12 points per game.  In their opener against Southern, the Lobos scored 38 — in the second quarter.  For the game, the Lobos totaled 66 in a 45-point win over the FCS program.
— For the first time in UT-San Antonio's history, the Roadrunners have won a road game, dropping South Alabama 33-31 on a 51-yard field goal with 15 seconds left in a game originally scheduled for Thursday.  Of course, UTSA's history consists of one season and one game, but still.
— Carson-Newman College's Ken Sparks won the 300th game of his career Thursday, becoming the 11th head coach in college football history to hit that milestone.
— Sam Durley of Division III Eureka (Ill.) College set an NCAA all-division record with 736 yards passing.  He broke the old mark of 731 set back in 2000.