Texas A&M kicks off its first official SEC football game — its first game of the season, actually — tomorrow when the Aggies host Florida, and A&M is apparently going all out make an awesome first impression.
Including buffing up its record books.
A&M has already (unofficially) trolled Florida by placing a billboard in Gainesville boasting the best academics and cleanest program (LULZ!!!1!) in the SEC. It was only a matter of time before the Aggies began posturing themselves by adding national and conference titles their resume.
Courtesy of RantSports.com, here are two pictures from outside Kyle Field. The first is reportedly from 2011. Note the single claimed national championship (1939).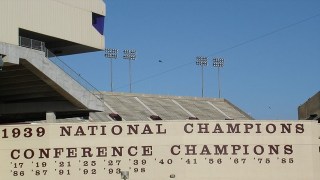 Now take a look at the second photo, apparently from this year. National champoinships from 1919 and 1927 have been added, as well as two Big 12 conference championships in 1997 and 2010.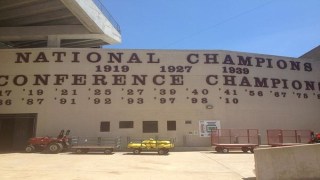 It should be noted the 2011 Big 12 media guide does include three national championships for Aggie football because the College Station Rotary Club did vote on a champion those years, dammit!
The real head scratchers are the conference titles. In 1997, A&M made it to the Big 12 title game before getting slaughtered by Nebraska by a score of 54-15. In 2010, the Aggies finished tied for the Big 12 south title, but did not represent the division in the Big 12 championship game.
By my math — and by no means should you use this as a source — that equates to [/carries the five] roughly zero conference championships in '97 and '10. More or less.
It's useless to attempt to try to understand why the championships were added to the exterior of Kyle Field because a lot of schools claim ownership to things that may or may not have ever existed (Roll Tide, y'all!), but it seems with each passing week that A&M's move to the SEC was the most appropriate of all the realignment shuffling.