(Writer's note: before anyone asks or comments, yes, today is a slow news day. We recognize this. As you were.) 
The term "student-athlete" is scoffed at plenty these days. College football is operated as a business — the core purpose of a business is to make a profit —  at the expense of athletes who, by and large, don't care about getting an education… or, at least not as much as the NCAA would have you believe.
Backup Ohio State quarterback Cardale Jones didn't help the perception that college football players care about one thing and one thing only when he tweeted Friday morning that going to class — practically the only academic-related item athletes have to physically do on their own — should be, to put it delicately, optional.
Below is Jones' tweet, which has since been deleted.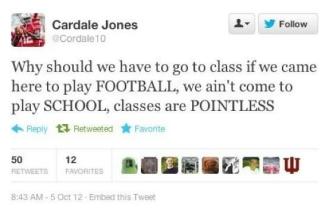 Believe it or not, this little number actually shocked people. Awfulannouncing.com, which we'll credit for this screengrab, asked rhetorically "Is this the most regretful sports tweet of  2012?"
The answer is a clear "no", but it might be one of the more honest sports tweets of 2012. So, athletes don't like going to class. Big shocker, huh? You know what else? I hated going to class when I was in college too, and I skipped more than my fair share of 'em (sorry, mom and dad). There are only so many similarities athletes and the average college student share when it comes to the college experience. Loathing your 9:30 physics lab is one of them.
That, and not all students know what they want in life.
About the only thing Jones' tweet is evidence of is that college kids say stupid things on social media, and that's forgivable too since I say more stupid things on a daily basis than most people I know.
Jones has an incredible opportunity in front of him. He gets to play for a national championship-winning coach, and he can further his education at a fine academic institution in Ohio State. Maybe he'll understand that in time, but whether he wants to take advantage of the educational gift in front of him or not is his prerogative only.