As is the case each and every season, each and every week, any omission below is not on purpose, it's merely intentional.
WINNERS
Barner emphatically states his trophy case
Matt Barkley begat Geno Smith, who begat Collin Klein in the progression of Heisman front-runners from the preseason through Week 9.  In Week 10, an Oregon running back not named DeAnthony Thomas made his Heisman presence felt.  And what a presence it was.  In the Ducks' 62-51 win over USC, Kenjon Barner rushed for 321 yards and five touchdowns, the former shattering a school record in the process.  Barner's 143.9 yards rushing per game are second nationally, as are his 19 touchdowns; both of those totals would be exponentially higher if the Ducks didn't perform a first-half evisceration of their opponents on a weekly basis, as evidenced by his full-game performance against the Trojans.  While some voters might hold the "product of the system" argument against Barner, there's little doubt that, bare minimum, the back has earned a mid-December trip to New York City.
Not your father's Bruins
In its first year under Jim Mora, and in just nine games, 7-2 UCLA has already won more games than it has since 2009 and is on pace for its best season since 2005.  Hell, if they win out they could break the school record (10, multiple times) for wins in a single season.  The latest example of the Bruins being "back" came Saturday, with UCLA putting a 66-10 woodshedding on then-No. 24 Arizona.  As a result, and for the first time since the 2001 season, UCLA holds a higher ranking than its crosstown rival USC (Obligatory pause for our NBCSports.com editor to throw up a little bit in his mouth) (Still pausing)  (And he's good)  (For now).  Just as it is for the Trojans, the remainder of the season is really very simple for the Bruins: win out and represent the South — for the second straight season, mind you — in the Pac-12 championship game.  And anyone who says they saw this early-November development coming in the offseason?  Yeah, OK.  Liar.
Huskers slightly tighten Legends stranglehold
On the strength of its win over Michigan last weekend, Nebraska had one simple task: win out and claim its first-ever spot in the Big Ten championship game.  Consider the first of four tests passed.  Barely.  Thanks to yet another conference comeback courtesy of a Taylor Martinez touchdown pass with six seconds left, the Huskers claimed a 28-24 win over free-falling Michigan State to push its conference mark to 4-1.  Three tests remain, however, with home games the next two weeks against Penn State and Minnesota, and then the regular-season finale on the road against Iowa.  Pass all three — or hope for a loss by both Michigan and Northwestern if the Huskers stumble once —  and it's an early-December road trip to Indianapolis for Husker Nation.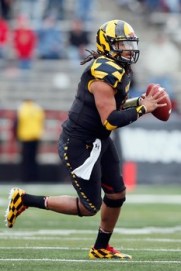 And he won't… back… down
It's not too often that a quarterback who barely hits the century mark in passing yards in a 20-point loss lands in the winners section of the Fifth Quarter.  Shawn Petty, though, is no ordinary quarterback.  Hell, he's not even a quarterback —  literally.  Thanks to an incomprehensible four season-ending injuries at the position in about two months, Petty was moved from linebacker to quarterback and started Maryland's game against Georgia Tech.  And, much to his credit, the true freshman was serviceable.  Petty, in his first collegiate snaps from under center, completed 50 percent of his passes for 115 yards and two touchdowns.  Perhaps most impressively, Petty tossed just one interception.  Yes, the Terps dropped a 33-13 decision to the Yellow Jackets, but, in the loss, Petty showed the type of team player that he is in shouldering the offensive burden under less-than-ideal circumstances.
The Gardner did it
After stating all week that Denard Robinson was probable for the Little Brown Jug matchup with Minnesota, the Michigan quarterback wasn't mere moments before kickoff as the school announced the senior would be a no-go. Enter Devin Gardner, the quarterback-turned-wide receiver who flipped back to his former position in the week leading up to the Gopher game… and turned in an electric performance in a game that kept the Wolverines in the thick of the Big Ten Legends division race.  In the 35-13 win over Minnesota, Gardner threw for 234 yards and accounted for three touchdowns — two passing, one rushing — in his first action under center since last season.  The good news for UM is that Robinson should be healthy enough to take the field against Northwestern next weekend.  Even better news?  Even if he's not, or if he's injured down the road, the Wolverines seem to have found a very viable backup alternative going forward.
Ohio: the heart of it (footb)all
While the eyes of a nation will be focused on the great state of Ohio this Tuesday — an election or something? — there's something happening on the weekends that deserves some attention as well.  There are eight FBS football teams that hail from the Buckeye State, and five of them — Ohio State, Cincinnati, Toledo, Kent State and Ohio University — are a combined 40-5 in 2012.  Two of them are ranked in the latest Associated Press poll — No. 18 Buckeyes and No. 23 Rockets — while the Bobcats were ranked in the Top 25 for the first time in over four decades prior to suffering its first loss to… Miami of Ohio.  When it comes to recruiting, Florida and Texas and California are still the go-to states for mass quantities of high-quality football players.  This season, though, has shown that there's still some pretty damn good football being played in the Midwest generally and the great state of Ohio specifically.
[/PSA]
[/send me my money Ohio Tourism Board]
College football fans
Les Miles furiously dug a finger deep into his ear canal following the failed fake field goal in the loss to Alabama, with a look that screamed "what the hell was I thinking?  There is a GIF of said digging.  It is the Greatest GIF of All-Time.  This GGOAT can be viewed in all its glory by clicking HERE.
LOSERS
Not-So-Optimal Klein

Simply put, there's one blow Kansas State can't absorb: losing star quarterback Collin Klein for one game let alone an extended period of time.  And yet that might be where the Wildcats find themselves as early as this coming week.  Early in the third quarter of the Wildcats' win over Oklahoma State, Klein left the game with what appeared to be some type of injury to his wrist and did not return.  After being evaluated by the K-State medical staff, and in a preemptive attempt to keep him from returning to the game, Klein's helmet was taken from him, an ominous sign in so much as the ongoing speculation is that the senior suffered some type of a head injury during the course of the game and didn't remember scoring his lone touchdown.  As is Bill Snyder's policy and prerogative, no specific information related to the nature of Klein's injury is being released, which will of course fuel speculation and send the rumor mill spinning wildly out of control.  The reality as it pertains to Klein's health will likely lie somewhere between the wafts of smoke.  The truth as it pertains to Klein's health will have a significant impact on how the BcS shakes out in the coming weeks, regardless of whether Snyder wants to discuss it publicly or not.
O-ver-ra-ted (clap clap clapclapclap)
Even as Mississippi State came charging out of the 2012 gates at 7-0, more than a handful of observers questioned whether Mississippi State was as good as their record would otherwise indicate.  The last two weeks, the Bulldogs have answered that questioning with a resounding and emphatic "nope, we're not!"  Last week, MSU took a 38-7 beating at the hands of No. 1 Alabama.  A week later, it wasn't much better in a worse-than-it-looked 38-13 trampling at the feet of Texas A&M.  Thanks to their membership in the SEC, MSU was gifted a loftier ranking than what they deserved.  Thanks to the past two weeks, they should no longer be gifted any type of ranking, lofty or otherwise.
Clock ticking on Rocky Top
Yes, Tennessee improved to 4-5 on the season.  And, yes, Derek Dooley's tenuous grip on his job slipped even further despite the win.  Playing in front of a sparse Neyland Stadium crowd, and with Jon Gruden-to-UT rumors growing louder in and around Knoxville, Dooley's Vols defense imploded and added further credence to the speculation that the coach is not long for Rocky Top.  In the 55-48 win over SBC member Troy, the Vols totaled a whopping 718 yards of offense — and gave up 721, the most ever given up by the Vols in the history of the storied program.  Were it not for two touchdowns in the final 2:54, Dooley could've been out as UT's coach as early as Sunday.  The win, as limp as it was, keeps the Vols on the path to bowl eligibility, although even that will likely be too little, too late for the third-year coach.  In fact, if you listen to at least one former Vol, it already is too little, too late.
Winless drumbeat goes on
It's one thing to be winless through eight games.  It's another matter entirely to hold a 16-0 lead in the first half… a 19-14 lead in the fourth quarter… only to lose your ninth game of the season.  Yet that's the position in which Southern Miss finds itself as the Golden Eagles dropped a 27-19 decision to UAB to fall to 0-9.  It's also a position in which Ellis Johnson has found himself on the hot seat as the speculation goes that, despite it being his first year on the job, USM could be in search of a new head coach if the year ends with the worst season in school history; the school has won just two games twice in a season previously, the most recent being 1993.  Major college football is a results-driven business, and posting the worst showing in program history coming off a 12-win season is not exactly optimal when it comes to job security.
Bobby Hebert
Geaux Bobby!  No, seriously, just Geaux away already.  Jackass.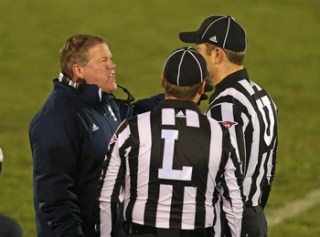 TOP 25 TOO-CLOSE-FOR-COMFORT
How ranked teams endured close shaves vs. unranked opponents
— No. 4 Notre Dame 29, Pittsburgh 26 (3OT): Why anyone is surprised by the closeness of this game is beyond me.  Of the Irish's nine wins this season, five have come by single digits, with two of those games extended to overtime.  For better or worse, that's the modus operandi of the 2012 Domers.
— No. 8 Florida 14, Missouri 7: Just call this the mother of all World's Largest Outdoor Cocktail Party hangovers, with the Gators' offense kneeling before the porcelain throne for a full 60 minutes against the Tigers.  An at-large BcS bid is still possible, even as the offense makes it appear improbable.
— No. 13 Oregon State 36, Arizona State 26: After falling behind 19-10 early in the second quarter, the Beavers scored the next 26 points to pull away and bounce back from its first loss of the season.
— No. 14 Oklahoma 34, Iowa State 20: Going into the Ames giant slayer's den and coming out with a win is impressive, especially when it comes a week after losing a heavily-hyped matchup with a Top 10 team.
CFT TOP FIVE
A snapshot look at how my ballot would look Monday if I, ya know, had a real vote instead of a measly and meaningless preseason poll.
1. Alabama — A 13-game winning streak dating back to last November, with the latest coming in one of the toughest night environments in all of sports?  Yeah, the Tide is an easy selection for the top spot in our little poll. (Last week: No. 1)
Up next: vs. Texas A&M
2. Oregon — In its first real test of the 2012 season, the Ducks passed with 62-point flying colors.  How would they match up against the likes of Alabama or Kansas State?  I have no clue, but either would have the potential for equal parts viewing intrigue and hellacious fun. (Last week: No. 2)
Up next: at Cal
3. Kansas State — Outside of Alabama, there's not a more complete or better-coached team in the country in all three phases of game than the Wildcats.  The answer to the injury question when it comes to their Heisman front-runner, however, will make or break K-State's season. (Last week: No. 3)
Up next: at TCU
4. Notre Dame — The pluck of the Irish indeed.  Sixty minutes and three overtimes later, Notre Dame continues to cling to its unbeaten record after surviving yet another close call. (Last week: No. 4)
Up next: at Boston College
5. Ohio State — Single-minded and shortsighted arrogance will keep the Buckeyes out of any postseason play this year, but Meyer's charges are improving on a week-to-week basis.  Which is good, as the only tangible thing left to play for is a win over their hated rivals at That School Up North. (Last week: unranked)
Up next: at Wisconsin (Nov. 17)
COACHING HOT SEAT
A weekly look at some of the current head coaches who could most likely be an ex-head coaches by season's end — if not sooner.
— [space left empty] [pouring one out for Joker]
— Auburn's Gene Chizik: Yes, the Tigers secured its largest margin of victory of the season (35 points).  Yes, the Tigers snapped a five-game losing streak.  Yes, Chizik is still on the hottest of hot seats as the win came against one-win New Mexico State, an Aggies team that was tied with the Tigers 0-0 at the end of the first quarter and had outgained the home team 131-29 the first 15 minutes.  At the end of the first half, the Tigers held just a 7-0 lead.  Even worse?  When getting over on a one-win WAC team is described as "something that you can build on" in the coach's postgame.  That, dear readers, is the current state of Auburn football.
HE SAID IT
"I actually had a talk with coach. We were talking about what we wanted to run, me and Coach Stout. I said screens have been there all night. He called it, and it was great." — current Alabama offensive lineman and future offensive coordinator Barrett Jones, talking about the screen pass-turned-touchdown that kept the Tide's hope for a third BcS title in four years alive.
HELMETS OF THE DAY
In honor of the 10th anniversary of the Snow Bowl, adidas outfitted Texas A&M and Mississippi State in some new duds for Saturday's game.  While the uniforms were tastefully understated compared to some of the nauseating fashion statements being made on a weekly basis in college football, the helmets used in the game were utterly spectacular, particularly as it relates to the Aggies:
YOU DON'T SAY?
With the win over Iowa State, Oklahoma head coach Bob Stoops now has 145 career victories, tying Hall of Famer Bud Wilkinson for second on the all-time OU win list behind Barry Switzer's 157.
FOR STATISTICAL PURPOSES ONLY
— Tajh Boyd tied a Clemson record with six touchdowns — five passing, one rushing — then sat out the entire second half.  The Tigers had a school-record 487 yards of total offense, then went out and played the last two quarters.  That's the kind of day it was for Duke in the 56-20 loss to Clemson.
— In Week 9, USC wide receiver Marqise Lee set a single-game Pac-12 record with 345 yards receiving.  A week later, Lee set another conference standard: his 251 kick return yards were the most in league history.
— Kenjon Barner's Oregon single-game rushing record of 321 yards is more than Washington State has rushed for (264) in nine games this season.
— Utah's Reggie Dunn set what's believed to be an NCAA record with the fourth 100-yard kickoff return of his career for a touchdown.  It was also Dunn's third such return in the past two weeks.  Here's a free tip for future Utes opponents: SQUIB IT!!!
— Tyler Bray's 530 yards passing set a single-game Tennessee record and was the second-most in SEC history.
— With a 33-yard second-quarter completion, quarterback Taylor Martinez (no relation) surpassed Eric Crouch's Nebraska record of 7,915 career yards of total offense set between 1998-2001.
— Nebraska rushed for 313 yards in the win over Michigan State.  The Spartans came into the game allowing just 91.2 yards per game, which lead the Big Ten and No. 7 nationally.
— Johnathan Franklin became UCLA's all-time leading rusher, surpassing the record of 3,731 yards set by Gaston Green between 1984-87.
— Thanks to Alabama snapping LSU's nation's best 22-game home winning streak, that honor now belongs to Northern Illinois, who have won 20 in a row at Huskies Stadium.
— SID Note of the Week: Ohio State is 274-0-1 all-time when it scores at least 35 points, as it did in the win over Illinois. The tie was 35-35 against SMU in 1978.
— Notre Dame and Louisville each have won five games this season by seven points or less, tied for the most at the FBS level.
— In the win over Minnesota, Michigan had back-to-back 90-yard-plus touchdown drives in a single game for the first time in school history.
— In a 48-0 win, Stanford limited Colorado to minus-21 yards rushing.  The one-win Buffs had just 76 yards of total offense for the game.
— Louisville's 45-17 win over Temple pushed the Cardinals to 9-0 on the season, the first time in school history that's occurred.  The biggest reason behind that historic start is quarterback Teddy Bridgewater, who passed for a career-high five touchdowns in the win over the Owls.
— Kent State's 35-24 win over Akron was the Golden Flashes' seventh straight, the first time that has happened since Franklin Delano Roosevelt was in the White House (1940).
— UMass, in its first season at the FBS level, has lost all nine of its games by an average score of 44-10.  The Minutemen have been shut out in three of those games and have scored in double digits just four times.
SIGN OF THE APOCALYPSE
If Indiana wins its last three games — vs. Wisconsin, at Penn State and at Purdue — the Hoosiers will finish 5-3 in Big Ten play… and represent the Leaders division in the conference championship game.  Those Mayans may have been on to something.