As is the case each and every season, each and every week, any omission below is not on purpose, it's merely intentional.
BChaoS
Somewhere, Mike Slive is dancing on a couch.  Butt-nekkid.
Just one week ago, it appeared the SEC's streak of six straight BcS championships was all but over.  Alabama's loss left the heavyweight conference with no undefeated teams and seemingly on the outside of the crystal window looking in at three eligible unbeatens remaining.
Seven days later?  They're right back in one of the two title-game driver's seats.
No. 1 Oregon?  Dropped 17-14 by Stanford in overtime, in Eugene no less.
No. 2 Kansas State?  Humiliated 52-24 by a below-.500 Baylor squad.
Of course, the biggest winners of them all coming out of the stunning twin developments come from the SEC.  Provided Alabama, No. 4 in the last set of BcS rankings, handles business against lowly Auburn and Georgia, BcS No. 5, takes care of Georgia Tech, the winner of the SEC championship game will — rightly, I might add, given the turn of events in Week 12 — fill one of the two spots in the BcS title game.
The other spot?  On one level, it's very simple.  If Notre Dame, comfortable winners over Wake Forest Saturday, beats a reeling USC squad next weekend, it will be the Irish charged with the task of knocking the SEC off its crystal perch.
If the Trojans pull off an upset for the ages?  It's BcS chaos all over again.  Such a development would bring several teams back into the mix, including the two losers from tonight as well as Florida State and Florida, which will play each other in the regular-season finale to add yet another layer to what's fast devolving into unchartered waters.
Hell, Oregon could even pull off an Alabama circa 2011: not play in its conference championship game — Stanford will represent the Pac-12 North if it beats UCLA next week — and still backdoor its way into the BcS title game depending on how things play out in front of them.
Undeniably, though, there's one huge loser in all of this glorious late-season chaos: the Ohio State Buckeyes.  Along with Notre Dame, the Ohio State University is the last of the unbeatens and would be in position for its fourth title-game appearance in the BcS era were it not for NCAA sanctions that include a postseason ban for the 2012 season.  Hopefully, that 2012 Gator Bowl berth was worth it to Gene Smith & Company.
A close second to tOSU?  One line: North Carolina State 17, Florida State 16.  Oh, 'Noles…
DAY OF CLINCHINGS
On the lighter side of college football news, and entering Week 12 of the 2012 season, just one conference or division champion — Georgia, SEC East — had officially been determined.  This weekend, a total of six division or conference champions were officially decided.  Below is a snapshot look at the teams that will be adding some hardware to their respective trophy cases in the coming days:
ACC Atlantic
After beating Clemson back in September, there was very little doubt No. 10 Florida State — even with an inexplicable loss to North Carolina State — would represent the Atlantic in the ACC championship game.  The Seminoles made it official Saturday as they overwhelmed undermanned Maryland 41-14.FSU will be appearing in their third ACC title game in the eight years the event has existed.  Just who the 'Noles will play in that title game remains uncertain as Duke, Georgia Tech and Miami all remain in varying degrees of contention for the Coastal crown.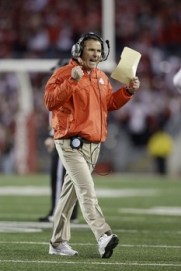 Big Ten Leaders
Ineligible for the postseason courtesy of NCAA sanctions, No. 6 Ohio State nonetheless claimed the Big Ten Leaders trophy on the strength of its overtime over Wisconsin.  The Badgers may have lost the battle but will end up winning the war, though; because of the Buckeyes' sanctions, the Badgers will represent the division in the conference championship game in early December.
Conference USA West
With a two-game lead entering Week 12, Tulsa would've needed to lose its last three games to lose its stranglehold on the divisional lead.  The Golden Hurricane took that remote possibility out of play straight away thanks to a 23-21 win over UCF in a battle of Conference USA divisional leaders.  It marks the fifth time since Conference USA went to a two-division setup in 2005 that Tulsa has won or shared the West title.
MAC East
Thanks to its win over Bowling Green, which came into the game one game behind Kent State, the No. 25 Golden Flashes claimed the first MAC East title in the history of the football program.  Coupled with Northern Illinois' win earlier in the week, the MAC becomes the first conference with its championship game slots officially filled: KSU-NIU Nov. 30 at Detroit's Ford Field.
Pac-12 South
For the second consecutive season, a college football team from the city of Los Angeles will represent the South in the Pac-12 championship game.  Unbelievably, that team is again No. 17 UCLA and not No. 21 USC as the Bruins dropped their rivals for the first time since 2005 to the tune of 38-28.  Even sweeter, the win clinched the division title for the Bruins in their first season under Jim Mora Jr.  And, in an odd turn of events, the Bruins will go a long way in determining just who they will face in that championship game as they face Stanford next weekend.  If UCLA wins, they will face Oregon.  If UCLA loses, they will face… Stanford in a rematch six days later.  And the game would very likely be played on the Cardinal's home turf.
WAC
In what will be the final season of the conference, the Utah State Aggies have staked its claim as the last champion of the soon-to-be-defunct conference.  And, in an odd twist, could very well have cost the remaining members a significant chunk of change.  In a matchup of the lone remaining WAC teams with unbeaten league marks, the Aggies outlasted No. 19 Louisiana Tech 48-41 in overtime.  The only problem with that?  LaTech was the lone hope for a BcS buster in 2012, meaning the loss has the potential to cost interested parties millions of dollars.  For some reason, we don't think the Aggies give two spits right about now.
WINNERS
Les Miles
There are times in a man's life when you just have to bow to another man's greatness.  This press conference performance by LSU's head coach is one of those times.  It's an instant classic and must-see YouTube TV:
[youtube=http://www.youtube.com/watch?feature=player_detailpage&v=LRXP5Bf8KFs]
"THERE'S NO SUCH THING AS A FLOP THAT TAKES THE FIELD FOR OUR FOOTBALL TEAM… just so you know."  Out-freaking-standing, Coach Grass-Eating Hat.  Out-freaking-standing.
Heismanziel
Given the level of competition, Johnny Manziel was almost pedestrian in No. 9 Texas A&M's 47-28 cruise over FCS-level Sam Houston State, throwing for 267 yards and three touchdowns while running for another 100 and two scores on the ground in under three quarters worth of work.  So, how exactly did the redshirt freshman likely vault to Heisman front-runner status?  Three words: Collin Klein imploded.  While the senior threw for nearly 300 yards in the upset loss to Baylor, Klein also threw three picks and was largely held in check by a defense that came into the game ranked 118th in scoring defense.  It has all set the stage for something that's never happened in the 78-year history of the Heisman a freshman, redshirt or otherwise, taking home the most prestigious award in the sport.  And, if the voting were held today, that's very likely exactly what would happen.
Boy oh Boyd
Speaking of the Heisman, if this performance doesn't push Tajh Boyd deep into the discussion, nothing will.  All the Clemson quarterback did Saturday was set a school and ACC record for touchdowns in a single game with eight — five passing, three rushing — as the No. 11 Tigers outlasted North Carolina State 62-48.  Boyd also set the single-game school record for yards of total offense with 529 yards, 426 passing and a career-high 103 rushing.  Coming into the game second in passing efficiency, Boyd did nothing to hurt that standing, and has earned the right to be thrown in with the Collin Kleins and Johnny Footballs when it comes to the race for the 2012 stiff-armed trophy.
Nearly Scarlet Knighted
While Rutgers didn't join in on the day of clinchings, they continue to control their own conference destiny.  Thanks to a rough-on-the-eyes 10-3 win over Cincinnati, the No. 22 Scarlet Knights inched closer to clinching the football program's first-ever Big East crown.  Two wins over the next two weeks will clinch the conference and a BcS berth, as would just a single win when coupled with a Louisville loss in one of the Cardinals' last two games.  Of course, Rutgers' task is made a bit more difficult as they will face Louisville in the final game of the regular season in what will very likely serve as a de facto Big East championship game.  After losing their head coach to the NFL in the offseason, however, Rutgers is sitting prettier than most thought they would this soon.
Damn good Gardner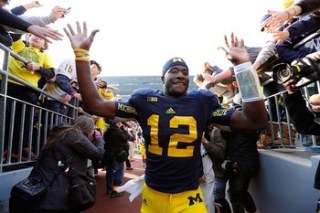 Denard who?  Yes, the pregame Senior Day festivities were all about Denard Robinson, but the 60 minutes of game time afterwards belonged to and were owned by Devin Gardner.  Making his third straight start in place of an injured Robinson, Gardner accounted for six touchdowns — three rushing, three passing  — as the Wolverines steamrolled hapless Iowa 42-17.  It was No. 23 Michigan's third consecutive win with Gardner under center and sets up a very intriguing regular-season finale against undefeated Ohio State, with the subplot being a pair of dynamic young dual-threat quarterbacks — Gardner and the Buckeyes' Heisman candidate Braxton Miller — squaring off in The Game.
This is how we do it
Following an unceremonious exit from Boston College, Montel Harris, the leading rusher in that school's history, landed at Temple to finish out his collegiate days.  After a relatively quiet start to his one-year Owls career — 597 yards, five touchdowns — Harris literally exploded Saturday afternoon.  In Temple's 63-32 obliteration of Army, Harris rushed for a school- and Big East-record 351 yards and seven touchdowns.  The latter total was just one off the single-game FBS record.  And it wasn't just Harris slicing an Army defense that came in ranked 105th nationally against the run, either, as the Owls rushed for 534 yards on 57 carries.
LOSERS
College football fans
After the ACC had approved a $50 million exit fee for any team seeking to leave his conference, commissioner John Swofford was supremely confident that the door had slammed shut on expansion.  A few months later, Swofford was wrong — and the game's worse off for it.  To review, multiple media outlets reported Saturday afternoon that Maryland was in serious negotiations with the Big Ten about a move from the ACC, and that Rutgers would likely leave the Big East for the Midwest conference as well.  Of course, that will have a trickle-down effect as the ACC will likely pilfer the Big East for a replacement, with the Big East looking elsewhere to fill that hole and so on and so on and so on.  While the Big Ten looks to further fill its financial coffers by adding significant television footprints to the Big Ten Network, it's the fans that once again come out on the short end.  The game has been a lot about the money in recent years; these moves, if they come to fruition, proves beyond a shadow of a doubt that it's all about the money in big-time college football.  To hell with rivalries and geography and everything else that had made this the greatest sport in the country.  The bottom line is all that matters to the movers and shakers anymore, and it will prove to be the downfall of this once-great game.
HorSECrap slate
Exactly a week ago, the SEC (momentarily) saw its hopes for a seventh consecutive BcS championship severely diminished with Alabama's upset loss to Texas A&M.  In honor of that near-death experience, nearly the entire conference decided to take Week 12 off.  Of the 11 games involving SEC teams this weekend, seven of them came against opponents from the FCS level.  Just three games were conference matchups — Arkansas-Mississippi State, Ole Miss-LSU, Tennessee-Vanderbilt — while just one team went outside the conference against a BcS-level school — Missouri hosting Syracuse.  Yes, the pastries that make up this week's SEC menu are not much different from other conferences earlier in this season.  The fact that the snacking comes this late in the year, though, just leaves a bad taste all around.
Fall of the Spartans
When the 2012 season began, Michigan State was ranked 13th in the country and widely viewed, along with in-state rival Michigan, as the favorites to claim the Big Ten Legends division title.  After 12 weeks?  A postseason bowling trip is in doubt as the Spartans are just 5-6 overall and a lowly 2-5 in conference play.  In order to become bowl eligible, MSU will need next week to beat Minnesota, with whom they are tied in the divisional cellar.  As it stands now, this would serve as the worst season the Spartans have endured in Mark Dantonio's six seasons in East Lansing.  Even more head-scratching is the fact that such a subpar season comes on the heels of back-to-back 11-win years.
Re-Buff'd yet again
Entering this weekend, Colorado ranked 115th or worse — there are 124 teams at the FBS level — in total offense/defense and scoring offense/defense.  Saturday's outcome will do little to help statistically what is arguably the worst member of a BcS conference as the one-win Buffaloes were pounded 38-3 by Washington, with the Buffs allowing 476 yards of offense while mustering just 141 of their own.  Eight of their 10 losses have come by 25 or more points — four by 44 or more — and their average margin of defeat is just over 33 points per game.  In just his second year, it's hard to say if Jon Embree and his 4-20 record are on the hot seat or not.  If he is, and based solely on the on-field results, it would be far from a surprising development.
UC… what the F?
With a shot at clinching a division title, UCF instead decided to spit its bit as they Knights fell to Tulsa 23-21.  On the other hand, the Golden Hurricane wrapped up its division and a spot in the Conference USA championship game with the win.  The good news for UCF?  All it needs is to upend three-win UAB next weekend in order to secure a rematch with Tulsa.
TOP 25 TOO-CLOSE-FOR-COMFORT
How ranked teams endured close shaves vs. unranked opponents
— No. 8 LSU 41, Ole Miss 35: To be honest, I could care less about what happened during this game.  After the game was where all the necessary action was, as you can see by scrolling up several inches if you missed it.
— No. 12 South Carolina 24, Wofford 7: The Gamecocks were tied with the FCS-level school at seven-all early in the fourth quarter before pulling away with a 17-point mini explosion.  The combination of playing down to the level of competition and looking ahead to next weekend's game against in-state rival Clemson were likely factors in this being a hell of a lot closer than what it should've been.
— No. 13 Oklahoma 50, West Virginia 49:  The Sooner's last-minute win coupled with Kansas State's stunning loss leaves OU just a K-State loss to Texas plus a Bedlam win over Oklahoma State from claiming the Big 12 championship and a BcS bowl berth.
— No. 23 Rutgers 10, Cincinnati 3: It was far from pretty, but the tight win over the Bearcats brought the Scarlet Knights one step closer to its first-ever Big East championship.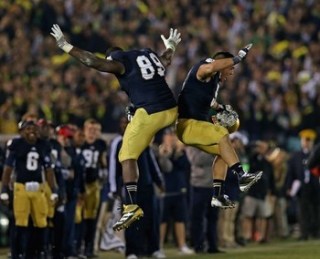 CFT TOP FIVE
A snapshot look at how my ballot would look Monday if I, ya know, had a real vote instead of a measly and meaningless preseason poll.
1. Notre Dame — As the only eligible unbeaten team left, they are the only option for the top spot.  Say what you want about their less-than-impressive resume' and numerous close calls, but the Irish have done the one thing that no other team with a postseason shot has been able to do: avoid stubbing its toe.  Pretty or not, that's all that matters. (Last week: No. 3)
Up next: at No. 21 USC
2. Alabama — Their pre-Thanksgiving nap, brought on by its FCS tryptophan feast, was rudely interrupted by the pair of upsets ahead of them that put the Tide right back on track for a second consecutive BcS title and third in four years.  After mauling Auburn in the Iron Bowl, trips to Atlanta and, possibly, Miami await. (Last week: No. 4)
Up next: vs. Auburn
3. Oregon — Let's be clear on two fronts when it comes to the team from Eugene.  One, they lost to a really, really good Stanford team that took Notre Dame to overtime earlier in the year.  And, two, the Ducks are still a damn good team and would still be worthy of a title-game appearance, backdoor or not. (Last week: No. 1)
Up next: at No. 15 Oregon State
4. Ohio State — Ineligible or not, being one of the two remaining undefeated teams counts for something, even as arrogance on the part of university officials could cost Urban Meyer and the Buckeyes a shot at the crystal. (Last week: No. 5)
Up next: vs. No. 23 Michigan
5. Florida State — Since its inexplicable loss to North Carolina State Oct. 6, the Seminoles have steamrolled its next five opponents by an average of 25.6 points per game. (Last week: unranked)
Up next: vs. No. 7 Florida
COACHING HOT SEAT
A weekly look at some of the current head coaches who could most likely be an ex-head coaches by season's end — if not sooner.
— USC's Lane Kiffin: A little peacock birdie informed me last week that, if the Trojans did not beat cross-town rival UCLA and national rival Notre Dame, Kiffin would very likely be shown the door.  Saturday, the Trojans were embarrassed 38-28 by the little brother Bruins, becoming the first team since Auburn in 1984 to lose four games after being named the preseason No. 1.  Additionally, USC is in danger of becoming the first team since 1964 to end the season unranked after beginning at No. 1.  Following the loss to UCLA, Kiffin maintained that athletic director Pat Haden assured him he would return in 2013.  While that may very well end up being the case, there's at least one Kiffin who will face the ax as defensive coordinator and Lane's father Monte Kiffin is all but out.  Based on the preseason expectations, someone will have to fall on the sword, and who better than a 72-year-old assistant well on the downside of his career.
— Tennessee's Derek Dooley: "The one thing Tennessee always does is kick the sh*t out of Vandy!"  Those were Dooley's words in the locker room after the Volunteers beat the Commodores last season.  James Franklin's words (not really) to his team a year later?  "The one thing Vandy does is get Dooley's sh*t kicked out the door!"  Or something like that as, with Vandy's win over UT, the 'Dores likely sealed Dooley's fate in Knoxville.  Dooley was on the ropes prior to the game; Franklin and crew likely delivered the knockout punch.
HE SAID IT
"In other words, the bottom of the SAC." — ESPN GameDay host Chris Fowler in describing Alabama's Week 12 "competition," Southern Athletic Conference member Western Carolina.
HELMET OF THE DAY
And by "Helmet of the Day" I mean "what in the name of common decency were you thinking/drinking/smoking, Virginia Tech?"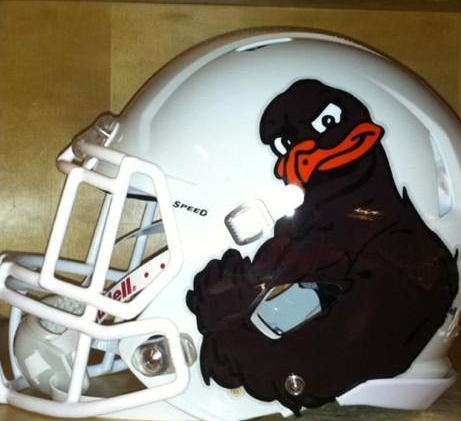 Holy Hokie helmet from hell…
YOU DON'T SAY?
USC's Matt Barkley is first in the nation with 35 touchdown passes… and second in interceptions with 15.
FOR STATISTICAL PURPOSES ONLY
— In West Virginia's one-point loss to Oklahoma, wide receiver Tavon Austin rushed for 344 yards.  With 146 on kick returns and 82 receiving, the receiver accounted for a staggering 572 yards for the game.
— With a field goal early in the second quarter of Florida State's division-clinching win over Maryland, Dustin Hopkins broke Boise State's Kyle Brotzman's career record of 439 points by an FBS kicker.
— A first-half touchdown gave Wisconsin's Montee Ball 78 for his career, tying former Miami of Ohio running back Travis Prentice for the most in FBS history.  The Badgers running back will have three games to break the mark.
— John Simon totaled four sacks in Ohio State's win over Wisconsin, a performance that likely locks up Big Ten Defensive Player of the Week honors for the senior.
— North Carolina State wide receiver Tobias Palmer set an ACC record for all-purpose yards with 496 — 277 on kickoff returns and 219 receiving — in the high-scoring loss to Clemson.
— Texas A&M's Johnny Manziel became the first freshman, and the fifth player overall, in FBS history to pass for more than 3,000 yards and rush for more than 1,000 in a single season.
— After entering Saturday's action with just 11 touchdown passes in 10 games, Keith Price tossed a career-high five in the win over Colorado.  As the game came against the Buffaloes, however, we're uncertain if that's an official personal mark or not.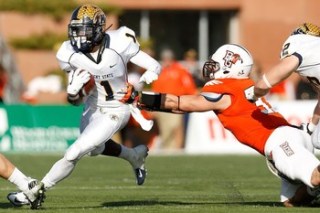 — Kent State's Dri Archer rushed for 241 yards on 17 carries as the Golden Flashes clinched their first-ever MAC divisional title.  The junior scored on touchdown runs of 79 and 74 yards.
— Louisiana Tech's Colby Cameron saw his single-season NCAA record of consecutive pass attempts without an interception come to an end at 444 with an interception late in the second quarter against Utah State.
— Steve Spurrier has 64 career wins as South Carolina's head coach, tying him with Rex Enright for most in school history.
— Northern Illinois quarterback Jordan Lynch totaled 569 yards of offense (407 passing, 162 rushing) in the Huskies' win over Toledo Wednesday night that clinched the MAC West.  It marked the second time this season that Lynch, fifth in the country in rushing yards per game entering the weekend (134.2), had passed for more than 300 yards and rushed for more than a 100 in a single game.
— Army has a pair of 1,000-yard rushers in a single season — quarterback Trent Steelman and running back Raymond Maples — for the first time since 1984.  Steelman also has 44 career touchdowns, breaking the school record set by Glenn Davis back in the mid-40s.
— A 42-16 win over North Texas (sorry Ben) secured Louisiana-Monroe's first winning season since moving to the FBS level in 1994.  The Warhawks had twice finished seasons at 6-6 (2007, 2009).
— Harvard has beaten Yale five straight times, the first time the Crimson have achieved that feat in a rivalry that dates back to 1875.
— Yulee (Fla.) High School running back and 2013 Alabama verbal commitment Derrick Henry rushed for 482 yards and six touchdowns — on an astounding 58 carries — in a playoff win Friday night, pushing his career rushing total to 11,254 yards.  That broke the national high school record of 11,232 yards set by Ken Hull of Sugarland (Tex.) way back in 1953.  Henry, who has rushed for over 100 yards in every single game of his high school career and has run for at least 200 yards every game this season, will have at least one more game to add to his record total.
SID NOTE OF THE WEEK
Alabama quarterback AJ McCarron claimed sole possession of the school's single-season passing touchdown record as he connected with Christion Jones on a 29-yard touchdown in the second quarter for his 21st on the year. He entered the game tied with Greg McElroy (2010) on the single season list.
SIGN OF THE APOCALYPSE
UCLA is the only team to represent the Pac-12 South in the conference championship game.  Granted, it's just two years into the event, but still…