An electrifying start to his Michigan career may not have led to a Heisman as some had predicted, but Denard Robinson has still proven popular when it comes to a top-selling video game.
EA Sports announced Tuesday that the ex-Wolverine quarterback has won the fan vote and will grace the cover of the NCAA Football 14 game.  Robinson edged out Texas A&M's Ryan Swope for the honor.
While the exact number of votes cast was not given, EA Sports stated that over 250,000 were received.
"It's my goal to make somebody's day every day, but today the Michigan fan base and family made my day," Robinson, who will not be compensated for appearing on the cover, wrote on Twitter after the results were announced. "It's a blessing. Thank you all! Love!"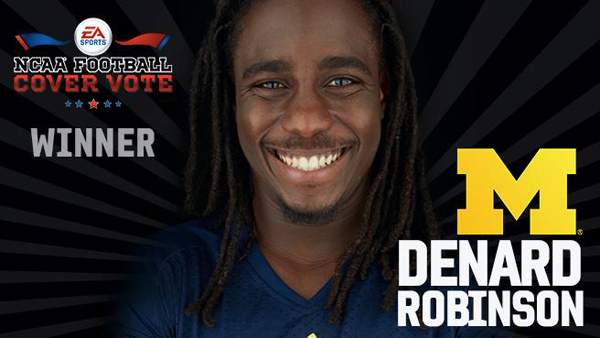 Robinson becomes the third UM player to appear on the cover, joining Desmond Howard (NCAA Football 2006) and Charles Woodson (NCAA Football 1999).  Both of those players were Heisman winners.
Last year's cover boy was Baylor's Robert Griffin III.