With its move to the SEC qualifying as an overwhelming success thus far, Texas A&M is set to move into the rarefied air of stadium capacity as well.
Following up on reports that surfaced earlier in the week, A&M officially announced Wednesday that seating for Kyle Field will be increased to more than 102,000.  That would be an increase in the neighborhood of 20,000 above the current capacity of 82,000.
"We are very excited about the upcoming redevelopment at Kyle Field," head coach Kevin Sumlin said in a statement. "When I returned to Aggieland, I said that the atmosphere at Kyle Field is second to none. This redevelopment makes a statement about the commitment of all Aggie fans to our football program. With the 12th Man standing ready, the Spirit of Aggieland is real, and the fans really make a difference to our current players as well as our future recruits."
Construction is slated to begin this November, shortly after the final regular season home game, and is expected to be completed in August of 2015.  The cost of the project, described by the school as "one of the largest college football stadium redevelopments in history," is estimated at $450 million and will also include "changes to both the stadium and the outside areas surrounding the stadium, including tributes to the Aggies' all-important traditions and past, while adding creature comforts and with the idea of enhancing the atmosphere and noise."
The release noted that "[f]unding will come from donations and seat licenses through the 12th Man Foundation, student fees/ ticket revenue and a preferred facilities access agreement between the Bryan-College Station Convention and Visitors Bureau (BCSCVB) and Texas A&M. The agreement will utilize hotel tax revenue for the next 30 years with payments of $1 million from years 1 through 3, $1.2 million in years 4 through 6, and $1.225 million in years 7 through 30. In return, the BCSCVB will be able to use certain Texas A&M facilities at preferred rates for promoting tourism in Brazos County."
Below is a rendering, courtesy of A&M athletics, of what refurbished Kyle Field will look like: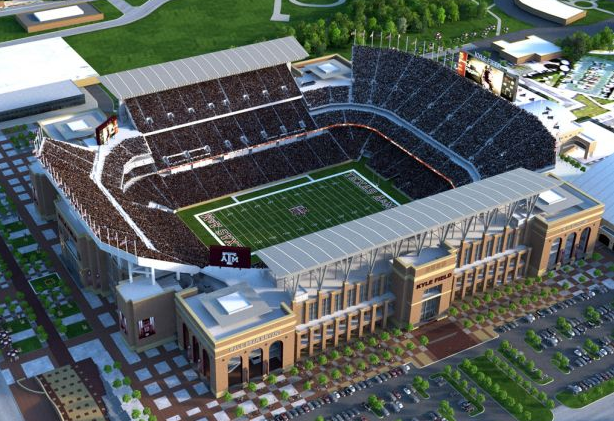 A&M would become just the seventh FBS football program and the third in the SEC with an official seating capacity in excess of 100,000, joining Michigan (109.901), Penn State (106,572), Tennessee (102,455), Ohio State (102,329), Alabama (101,821) and Texas (100,119).
So, yes, that means A&M will possess the biggest college football stadium in the state of Texas by a little over 2,000, and we're quite certain that had nothing at all to do with the final number reached by the university's administration.