Fortunately, there's some good news coming out of Georgia regarding the condition of Kentucky football Ashely Lowery.
Lowery was hospitalized in "critical but stable" condition following a one-vehicle accident early Saturday morning in his home state.  Reports stated that Lowery's vehicle overturned and the player, who was reportedly not wearing a seat belt, was ejected.
A sports editor from the White County News in Cleveland, Ga., however, told the Lexington Courier-Journal that the Lowery's prognosis is a positive one.
"Things are looking pretty good," County News editor and family friend/spokesman Doug Stutsman told the Courier-Journal. "They took the breathing tube out this morning and woke him up. He recognized his family and was answering the doctors' questions correctly."
Former UK defensive back Martavius Neloms tweeted that he had spoken to Lowery on the phone "and the first thing he does is crack a joke lol He a strong person man. Love you lil bro. We gone make it."  Based on the photographic evidence below from the Lexington paper, it's a miracle Lowery is alive let alone cracking jokes: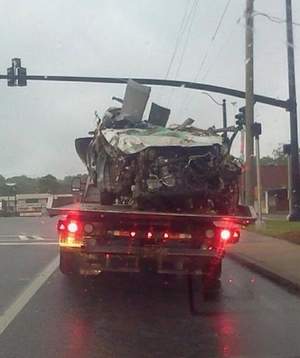 As was the case yesterday, there's no word yet on the specific nature or extent of injuries Lowery incurred.