And before you ask, no, we have no clue where Harvey Updyke was involved.
Earlier today, Twitter chatter began to surface that the famed Howard's Rock at Clemson's Memorial Stadium was vandalized at some point of late by an unknown number of perpetrators.  In a press release Wednesday evening, the school confirmed that The Rock , named in honor of legendary Tigers head coach and College Football Hall of Famer Frank Howard, "was vandalized sometime  June 2nd or June 3rd."
"We take vandalism, especially of such an important part of our history, very seriously," said athletic director Dan Radakovich in a statement. "Police are investigating."
The release from the school added that "[a] small portion of The Rock was broken off of its pedestal after vandals broke the casing that protects the artifact."
Thanks to one of CFT's Twitter followers — thank you, @trentacker for the heads up — we have what's believed to be photographic evidence of the damage done to The Rock: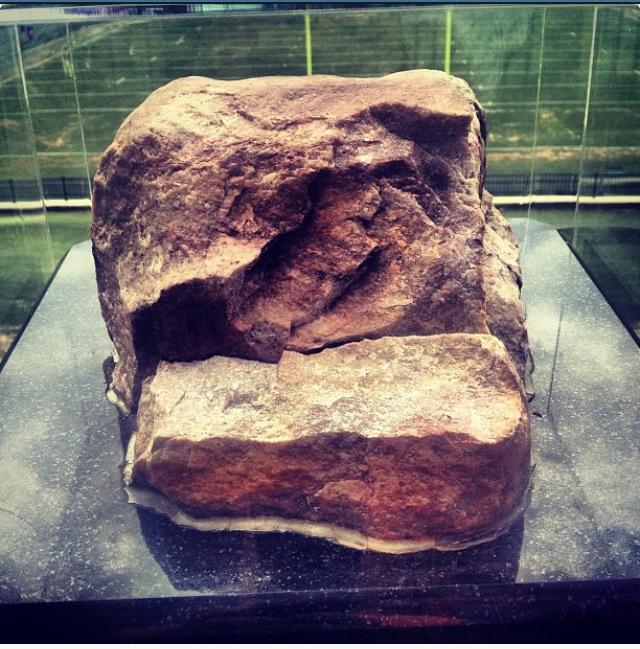 And, for those unfamiliar with Howard's Rock, here's a video clip of as well as the Wiki description of the hallowed tradition:
In the early 1960s, the rock was given to then head coach Frank Howard by a friend, Samuel Columbus Jones (Clemson Class of 1919). It was presented to Howard by Jones, saying "Here's a rock from Death Valley, California, to Death Valley, South Carolina." Howard didn't think anything else about the rock and it was used as a door stop in his office for several years. In September 1966, while cleaning out his office, Howard noticed the rock and told IPTAY executive director Gene Willimon, "Take this rock and throw it over the fence or out in the ditch…do something with it, but get it out of my office." Willimon had the rock placed on a pedestal at the top of the east endzone hill that the team ran down to enter the field for games. On September 24, 1966, the first time Clemson players ran by the rock, they beat conference rival Virginia, 40-35. Howard, seizing on the motivational potential of "The Rock", told his players, "Give me 110% or keep your filthy hands off of my rock." The team started rubbing the Rock for the first game of 1967, which was a 23-6 waxing of ACC foe Wake Forest.

It is now a tradition for the Clemson Army ROTC to "protect" the Rock for the 24 hours prior to the Clemson-South Carolina game when held in Death Valley. ROTC cadets keep a steady drum cadence around the rock prior to the game, which can be heard across the campus. Part of the tradition comes after unknown parties vandalized the Rock prior to the 1992 Carolina-Clemson game.