One of the most talked about new rules implemented for the 2013 season is the "new" targeting rule.  Specifically, new penalties for targeting: if a player is flagged 15 yards for targeting, the player is either ejected for the rest of the game if the penalty occurs in the first half, or is suspended for the first half of the next game if it occurs in the second half.
Saturday afternoon, both ends of the new punitive measures hit a pair of Top-10 teams.
In the Texas A&M-Rice game, Aggies defensive back Deshazor Everett was flagged for targeting the son of Gary Kubiak, Owls wide receiver Klein Kubiak.  Because the penalty came late in the fourth quarter, Everett will be suspended for the first half of next weekend's game against Sam Houston State.
Interestingly, Everett was suspended for the first half of the opener in punishment meted out by head coach Kevin Sumlin for an offseason incident.
Courtesy of SBNation, here's a clip of the hit in question; you can also click HERE for another angle of it: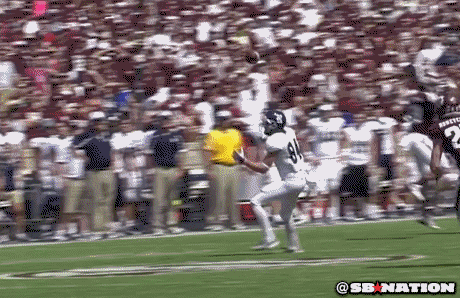 A short time later,  Oregon's Terrance Mitchell was on the receiving end of a 15-yard penalty following a brutal helmet-to-helmet hit on a sliding Nicholls State quarterback, Beaux Hebert.  As that hit came in the first quarter, Mitchell will miss the remainder of the game.
While there is some serious — and rightful — concern over how the rule will be interpreted by different officiating crews, in these two cases — we haven't come across any video for the Duck hit — it appears that the zebras were spot on in ejecting the players based on the way the rule is written.