USC coach Lane Kiffin has finally picked a starting quarterback for his team.
It's just that we won't actually know who he is until next Saturday, when the Trojans host Washington State in their home opener.
"You guys will see on Saturday who he is," said Kiffin on his Sunday night media conference call.
But we think we know right now who it's going to be.
To recap, Cody Kessler and Max Wittek — both redshirt sophomores — were listed as USC's co-starters headed into the Hawaii game. Kessler took the first snap and played the entire first half and the first series of the third quarter. He finished 10 of 19 for just 95 yards with one touchdown and one interception. Wittek took over from Kessler and ended up 5 of 10 for 77 yards. USC's offense put up just 364 yards overall in a sluggish 30-13 win.
Close observers of USC have noted that the playcalling for Kessler and Wittek against Hawaii was markedly different, particularly in the passing game. Here are the passing charts* for each quarterback versus the Rainbow Warriors: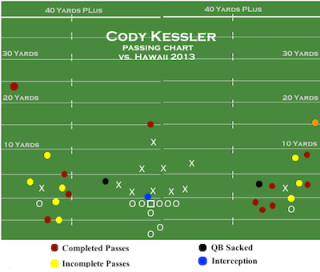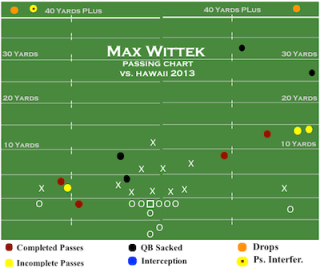 As you can see, most of Kessler's throws were safe throws to the flats. Only three passes went longer than 10 yards. Meanwhile, most of Wittek's pass attempts were over 10 yards.
These charts probably betray Kiffin's confidence in Wittek's markedly stronger arm and, if we had to venture a guess, it tips his hand on which quarterback he plans on starting next Saturday. After all, a pro style system usually demands a pro style arm.
It wouldn't be Wittek's first start, though. He started the final two games of last season after Matt Barkley got hurt against UCLA. The results? Decidedly mixed. But Kiffin needs to go with the quarterback who he feels best fits his system if he is actually going to allow that quarterback to throw the ball downfield.
For now, all those signs point to that quarterback being Wittek.
* — Thanks to USC fan Chase Vergari for sending me these charts.