As is the case each and every season, each and every week, any omission below is not on purpose, it's merely intentional.
WINNERS
One rolled, one to go
When it came to Alabama's season, most outside observers felt their season would come down to a pair of games against highly-ranked teams.  Mission No. 1?  Accomplished, courtesy of a wildly entertaining shootout win over Texas A&M on the road that aged an old defensive soul like Nick Saban.  Thanks to a schedule that includes Colorado State, Georgia State and Kentucky — Ole Miss might have a puncher's chance — the two-time defending BCS champions will be heavily favored in every game leading up to Mission No. 2:  Nov. 9 in Tuscaloosa against LSU.  Certainly you never count your wins before they're hatched, but the schedule couldn't set up any better for Alabama prior to the game against the Bayou Bengals,  The path to Pasadena was cleared; now the Tide just has to traverse and avoid the little obstacles — and one big one — along the way.
Super Mariota
Thanks to the fact that Oregon plays on the West Coast and a sizable chunk of their games end after most of the country has fallen asleep and/or passed out, not a lot of people know — or even care to know — about Marcus Mariota.  Thanks to a certain game in College Station, a rare mid-afternoon start for the Ducks did little to raise the quarterback's national profile.  Still, it should be raised and people should take notice.  In UO's woodshedding of Tennessee, Mariota passed for 350 first-half yards, finished with a career-high 456 yards and accounted for five touchdowns — four passing, one rushing — in just three quarters of work.  Mariota's one of the top players at his position in the country, and it's a shame some fail to recognize it based on location and time zones.
The Manziel & Evans Show
It may have come in a losing cause, but Johnny Manziel and Mike Evans were about as good as it gets on the offensive side of the football.  The reigning Heisman winner — who should still be at the forefront of the discussion for this year's award — threw for 464 yards and ran for another 98 for a total of 562 yards; the Aggies as a team had 628 yards.  Manziel also tossed five touchdown passes, one of which went to Evans, who caught seven balls for a staggering 279 yards.  The defense may have let A&M down, but the offense, headed by Manziel and Evans, certainly didn't.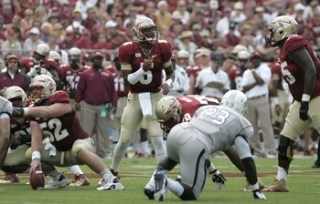 Famous Jameis
With just one game on his résumé, many people scoffed at the mere notion that Jameis Winston might already be part of the Heisman discussion.  While that may be the case, the redshirt freshman is making an awfully good case that those individuals are wrong.  In limited action thanks to Florida State's 62-7 blowout of Nevada, Winston completed 12-of-15 passes — after misfiring on three of his first five passes — for 214 yards and two touchdowns.  On the season, Winston has completed 40-of-45 passes, meaning he has thrown more touchdown passes (six) than he has incompletions (five).  The fact that Winston has such a firm grasp of the offense and can deliver the ball accurately bodes well for FSU's future at the position, regardless of if he's part of any stiff-armed discussion or not.
Gentlemen, start… your… Belldozer
When Trevor Knight was announced as Oklahoma's starting quarterback before the opener, there were more than a few eyebrows raised as Blake Bell, aka the Belldozer, had been viewed by some (most?) as the likely successor to Landry Jones.  Part of the reasoning behind pulling the trigger on Knight, the theory went, was that he was the more polished passer.  In the game against Tulsa, Bell said, essentially, "polish this."  Against the Golden Hurricane, Bell passed for 281 yards… in the first half.  He finished the 51-20 win with 413 yards passing and four touchdowns, further solidifying his hold on the starting job in place of the injured Knight.
It can only be Jared
If Jared Goff were a fifth-year senior, the video game-like numbers would be impressive.  The fact that he's doing it as a true freshman?  Off the charts unbelievable.  The Cal quarterback came into the game against Ohio State leading the nation with 935 yards passing through the first two games of the 2013 season.  Against the No. 4 Buckeyes, Goff continued making a mockery of opposing defenses by throwing for 371 yards in the loss.  If Goff continues at this pace — he likely won't — the first-year player would throw for a freshman record of 5,224 yards in the regular season alone.  Again, it's not very likely Goff can keep up this breakneck pace, but if he even sniffs that rarefied statistical air, it will be one of the more impressive accomplishments of the 2013 season that gets little or no notice due to Cal's record.
LOSERS
WTF was that?
This is what I know about the bizarre ending in the Wisconsin-Arizona State game: yes, the officials jobbed the Badgers, but the Badgers put themselves in a position to be jobbed thanks to whatever the hell that was Joel Stave was attempting to accomplish at the end of the game and with the seconds ticking away.  Why in the name of, well, pretty much anything, did Stave not simply spike it?  Or why didn't the Badgers, down 32-30 and sitting at the 13-yard line, just simply kick a game-winning field goal with :18 left?  I've been on this earth for 45 years, and have been watching college football for as far back as I can remember, and I simply can't recall anything like what happened in those final 15 or so ticks of the clock in the desert.  We'll have more on this later, once that game sobers up and gets some coffee in it.
Trojan Nation speaking loud and clear
The question is, will Pat Haden listen?  Yes, USC cruised to an easy 28-point win over Boston College, bouncing back from last Saturday's debacle against Washington State.  In that loss to Wazzu, chants of "Fire Kiffin!" rang out across the Coliseum.  The collective anger at Lane Kiffin, however, has apparently turned to apathy toward the Trojans.  Check out the scene eight minutes before USC's home game against BC, courtesy of @uscpsycho: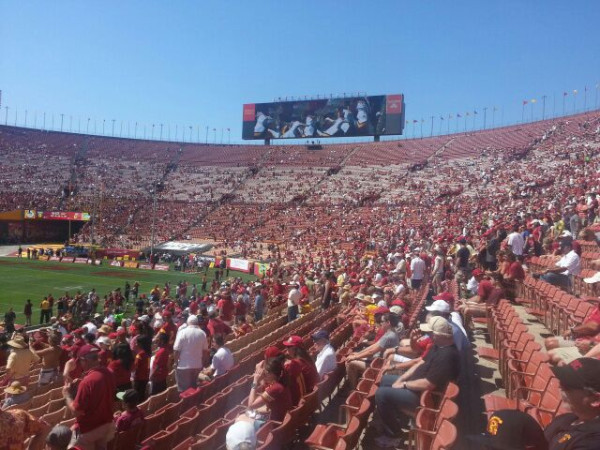 On some level anger's good as it shows the fan base still cares.  Apathy manifesting itself in the form of empty seats?  That's never good for the future of a head coach anywhere.
So Manny more problems
If Longhorn Nation thought dumping Manny Diaz in favor of Greg Robinson would magically cure all that ails their beloved Texas football team, the disappointment should be kicking in… right about now.  While the Longhorns offered a glimmer of hope in their loss to Ole Miss — they led 23-14 late in the first half — the defense again could do next to nothing to stop the other side of the ball.  The Rebels scored the final 30 points in the 44-23 win in Austin, thanks in large part due to a running game that produced 272 yards on the ground.  Yes, that's half the total UT gave up to BYU in another home loss (to BYU) last weekend, but its' still an embarrassing total for a defense that can't do something as simple as wrap up on a tackle.  Understandably, the fan base is frustrated.  How frustrated?  They booed Mack Brown when he appeared on the stadium's Jumbotron to deliver a PSA on helping at-risk students.  How many more opportunities the UT faithful will get to boo Brown remains to be seen, although a continued downward trajectory could make it sooner rather than later.
Starkville needs to be Mullen a change
For some reason or another, just about anyone who discusses Mississippi State football over the past couple of years speaks highly of the job Dan Mullen has done with the Bulldogs.  The stark reality, though, is that he hasn't.  During his first four-plus seasons at MSU, Mullen has guided the Bulldogs to a 17-4 record in non-conference games as well as bowls.  In SEC play?  Mullen is an abysmal 13-20.  Included in that latter total is a 24-20 loss to Auburn this weekend.  At least as far as the conference goes, the Bulldogs have made little or no progress under Mullen.  If MSU hopes to fight its way from conference also-rans to contenders, a change at the top may be in order.  Unless they're happy with seven- or eight-win seasons and Music City Bowl victories, of course.
Unhappy Valley
A 2-0 start to the 2013 season had the denizens of Happy Valley feeling that the Penn State football program had turned yet another corner in its climb from the Sandusky abyss.  While that's still the case, the ascent took a bit of a detour Saturday night.  A 31-17 deficit early in the fourth quarter turned into an insurmountable one as the Nittany Lions dropped a 34-31 decision to UCF.  While there's no shame in losing to the Knights, an underrated squad that's now 3-0, it says a lot about the current state of the PSU program that hanging close to a team that was in Conference USA just a year ago is considered a type of moral victory.  Bill O'Brien is the right man for the job; patience, though, will be at a premium over the next couple of years,
The Big (Near-Flop) House
Make no mistake: Michigan averted a disaster Saturday that would've trumped even the infamous loss to Appalachian State six years ago.  Saturday's opponent in the Big House, Akron, had lost 27 straight road games… hadn't beaten an FBS team since 2010… and totaled just four wins the past three-plus seasons.  The Zips are pictured next to "football ineptness" in many a dictionary, and yet the Wolverines allowed the MAC school to come within a failed fourth-and-goal attempt of stunning them in their own house.  Offensive tackle Taylor Lewan (no relation) called the win "embarrassing" afterwards; he's not far off, even as his team appears to be a long ways away from challenging the likes of hated rival Ohio State for Big Ten supremacy.
Taggart's bus ripe for repo
In a promotional campaign utilized by USF in an attempt to drive up ticket sales, the athletic department urged fans to "get on the bus" with new head coach Willie Taggart.  That bus, unfortunately, has dropped its transmission and is in danger of blowing its motor just three games into Taggart's tenure.  Including Saturday's loss to FAU (previously winless), the Bulls have dropped all three games of the 2013 season by a combined score of 102-37.  Included in that was a season-opening loss to FCS-level McNeese State by 32 points at home.  Taggart did an outstanding job at his previous stop at Western Kentucky; how long he'll get to rectify and undo the damage caused by the horrific recruiting of his predecessor, Skip Holtz, remains to be seen.
TOP 25 TOO-CLOSE-FOR-COMFORT
How ranked teams endured close shaves vs. unranked opponents
— No. 5 Stanford 34, Army 20: Thanks to what was by all appearances a nasty case of jet lag, the Cardinal fell behind the Black Knights 6-0 on the road — and led just 20-13 at the half — before righting the ship and pulling away.
— No. 13 South Carolina 35, Vanderbilt 23: A comfortable 25-point lead at the end of the third quarter for the Gamecocks was sliced to 10 after just a minute was played in the fourth.   That was as close as Vandy would get, however, as USC rebounded from its emotional loss last weekend.
— No. 19 Washington 34, Illinois 24:  The Illini made it interesting after falling behind 31-10 at Soldier Field, but the Huskies made enough plays on the defensive side of the ball to push their record to 2-0 on the young season.
— No. 21 Notre Dame 31, Purdue 27: Trailing 17-10 on the road entering the fourth quarter, the Irish ripped off 21 straight points to stave off the Boilermakers upset bid.
CFT TOP FIVE
A snapshot look at how my ballot would look Monday if I, ya know, had a real vote instead of a measly and meaningless preseason poll.
1. Alabama — Coming back from 14 down on the road against the No. 6 team in the country?  Yeah, that'll keep you slotted comfortably in the top spot. (Last week: No. 1)
Next up: vs. Colorado State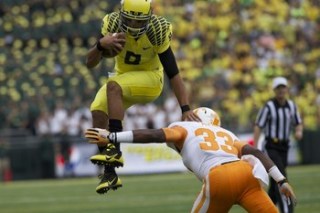 2. Oregon — You eviscerate an SEC team, even a (being kind here) mid-level one like Tennessee, by 45 points, you deserve to move up a couple of spots. (Last week: No. 4)
Next up: bye weekend
3. Clemson — With one of their two byes out of the way, the Tigers were able to get in a little extra prep work for the ACC opener this Thursday. (Last week: No. 2)
Next up: at North Carolina State
4. Ohio State — The Buckeyes won by 18 or more points for the third time in three games this season against Cal, but the perceived weakness of their schedule will keep them from moving back closer to where they began the season in the polls at this point in time.
Next up: vs. Florida A&M
5. Louisville — The Cardinals looked lethargic and/or positively uninterested in leading in-state rival Kentucky just 10-3 at the half.  A 17-point second half, however, righted what had been a previously listing ship.  Even at a perfect 3-0, the UofL must tighten some things up or risk tumbling in the polls that really matter. (Last week: No. 5)
Up next: vs. FIU
HE SAID IT
"I am really proud of those kids. You can't believe how tough it was on them. You just can't. Unless you were at practice, in those meeting rooms, in that locker room, you just can't. He had such an impact on our team." — UCLA head coach Jim Mora, following his Bruins' first game after the tragic death of wide receiver Nick Pasquale.
HE SAID IT, THE SEQUEL
"Look, it's all gonna be about what we do on this little 53-yard by 100-yard triangle out here." — Nick Saban, defying the laws of geometry prior to Alabama's win.
HE SAID IT, THE THREEQUEL
"I'm just sick for my players on how hard, how well and how long they played and not to come away with the W, a victory to stamp on the end of what I consider a great football game that they played. I've been fortunate in my lifetime to get some big wins and that would have been the biggest." — Head coach Terry Bowden, following Akron's near-upset of Michigan.
HE SAID IT, BONUS EDITION
"We'll get all of this righted with a Big 12 championship." — Mack Brown, presumably with a straight face and everything.
GAMEDAY SIGN OF THE DAY
This beauty comes courtesy of BustedCoverage.com and, as is normally is the case, needs no explanation:
SAY WHAT?
How negative is the perception of next week's slate of games?  ESPN's GameDay show will originate from Fargo for the Delaware State-North Dakota State FCS matchup.  Curious choice, though, given games such as Michigan State-Notre Dame, Tennessee-Florida and Arizona State-Stanford are among those on the admittedly weak Week 4 FBS schedule.
TRUE STORY
Oklahoma City Thunder great Kevin Durant served as the honorary captain for Texas' game against Ole Miss and no Mack Brown didn't recruit the NBA superstar as a safety.
FOR STATISTICAL PURPOSES ONLY
— Arkansas' Alec Collins became the first player in SEC history, including the great Herschel Walker, to rush for 100-plus yards in the first three games of his career.  The last player to accomplish that feat at the FBS level was Oklahoma's Adrian Peterson in 2004.
— Utah State quarterback Chuckie Keaton threw five first-half touchdowns in the 70-6 evisceration of Weber State.  The five scoring tosses ties the school record, which Keaton equaled last week as well.
— Cementing his hold on the starting job, Connor Cook passed for four first-half touchdowns as Michigan State easily got past Youngstown State 55-17.
— In his collegiate debut, Ford Childress (if that is his real name) threw for 359 yards in West Virginia's 41-7 win over Georgia State.
— The 42 points given up by Alabama in the win over Texas A&M was the most under Nick Saban.  The 628 yards of total offense by the Aggies is the most the storied football program has ever allowed in a single game.
— Speaking of Saban, Purdue's Drew Brees remains the last quarterback to beat the coach in back-to-back games at the collegiate level, performing that feat when the current Tide coach held the same job at Michigan State in the late nineties.
— Colorado State's Shaq Barrett blocked a pair of field goals to help the Rams upend Cal Poly 34-17.
— Running back Jay Ajayi ran for four touchdowns in Boise State's 42-20 win over Air Force Friday night.
— Nebraska coughing up a 21-3 lead to UCLA was the Cornhuskers' largest since Washington came back from a 20-point deficit… in 1920.
— With a 32-21 win over UConn, Maryland has started a season 3-0 for the first time since 2001.
— In Indiana's 42-10 win over Bowling Green, the Hoosiers punted once… and it was blocked and returned for the Falcons' only touchdown of the game.
— The 92 points Navy has scored in its first two games this season are the service academy's most since 1975.
— It took five overtimes, but Buffalo was able to secure its first win of the season by the score of 26-23 over FCS-level Stoney Brook.
— Thursday night, Louisiana Tech forced four turnovers, had 11 tackles and tallied five sacks — and still lost 24-15 to Tulane.  Of course, when you muster just 289 yards of offense, that tends to happen.
IN CLOSING…
Nebraska showed its class as a football program in the first game after the Jerry Sandusky scandal shattered the serenity in Happy Valley.  Today, the 'Huskers did it again.  Prior to the game against UCLA, over 90,000 fans in attendance at Memorial Stadium stood and paid their respects with a moment of silence for Nick Pasquale, the Bruins wide receiver who was tragically killed last weekend after being struck by a vehicle.  When the Cornhuskers took the field, their helmets were adorned with Pasquale's jersey number.  Pure class, Lincoln.  Pure class.