As is the case each and every season, each and every week, any omission below is not on purpose, it's merely intentional.
WINNERS
Mack's back?
At least for the time being, the Longhorn Nation mob can put away its pitchforks and torches.  After a week that saw even more speculation about his job and the confirmation of rumors that Texas was indeed very interested in Nick Saban, Mack Brown was staring square in the face of Texas' first 1-3 start since 1954.  Instead, the Longhorn players stepped above the ineptness of the past couple of weeks and moved to 2-2 with a 31-21 win over Kansas State.  Whether it was the increased heat on their coach or just the fact that the Wildcats aren't that good, the players seemed to play with a spark, an enthusiasm, a sense of urgency that hasn't been seen at all in 2013  Certainly one win doesn't change all that's gone wrong over the past three-plus years, and K-State 2013 is not the K-State of recent years, but it's definitely a baby step in the right direction.
Hilluva football player
Forget about whether or not Jeremy Hill should even be on a football field; that's another argument for another day.  When he is on the playing surface, the LSU running back is one helluva football player.  Hill rushed for a career-high 151 yards… and then headed back onto the field for the start of the third quarter.  Hill finished with 183 yards and three touchdowns in the Tigers' 35-21 win over previously unbeaten Auburn.  The Bayou Bengals certainly have a stable full of high-quality runners, but Hill is clearly the class of the backfield and will continue to serve as an important piece of the offensive puzzle as LSU continues its run toward what should be another epic showdown with Alabama.
Johnny be good at football
If someone other than Johnny Manziel is going to win the 2013 Heisman, they're going to have to rip it from his cold, dead hands.  Or something.  In less than three-and-a-half quarters of playing time against SMU, Manziel passed for 244 yards and a touchdown while rushing for another 102 and two more scores.  Through four games this season, Manziel has accounted for 1,483 yards of total offense (1,228 passing, 255 rushing) and 15 touchdowns; in the first four games of the 2012 season, the numbers were 1,460 (1,094 passing, 466 rushing) and 16 touchdowns.  Whether or not voters, given the Texas A&M's rocky offseason, give him serious consideration again this December remains to be seen.  Based on his play on the field this year, though, he damn well should be given just that.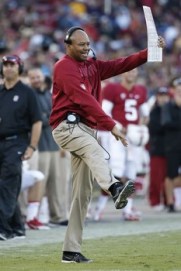 Cardinal rules
Stanford got off to a rather ho-hum start to the 2013 season, beating San Jose State by 21 in the opener and then getting by Army by 14 in Week 2.  In its first true test of the year, however, Stanford got back to real Cardinal football in building up a 29-0 halftime lead before pushing it to 39-7 and ultimately cruising, relatively speaking, to a 42-28 win over No. 23 Arizona State.  As is ofttimes the case, the Cardinal did most of their damage on the ground in rushing for a season-high 238 yards, with three of their touchdowns on the day coming on the ground.  Stanford is nothing if not consistent as they've rushed for 197, 205 and now 238 yards in their first three games.  We're still six weeks away from their colossal showdown with Oregon down on The Farm, and yes Stanford allowed ASU to make it closer than what it could've/should've been, but it appears the trajectory of both the Cardinal and the Ducks is pointing straight toward an instant classic.
Plow on, Badgers
If anyone thought Wisconsin would turn its back on its running ways under Gary Andersen, you couldn't have been more wrong.  In the Badgers' 41-10 win over Purdue in their Big Ten opener, UW ran for 388 yards and averaged 8.1 yards per carry.  UW came into the game fifth in the country averaging 337 yards per game, rushing for 393 and 387 yards in the first two games under Andersen; their low-water mark for the season has been 210 in the controversial loss to Arizona State last weekend.  The Badgers are now averaging eight yards per carry, a figure that's third in the country behind a pair of teams that are in an offensive league of their own: Oregon (9.3) and Baylor (9.2).
Non-offensive fireworks
Iowa put up a season-high 59 points on the board in a romp over Western Michigan, and the offense was responsible for just 31 of them.  B.J. Lowery returned two interceptions for a touchdown, becoming the first player in Hawkeye history to perform that feat.  Not to be outdone, Kevonte Martin-Manley became the first Iowa player ever to return two punts for a touchdown in a single game.  Martin-Manley is just the third player in the long history of the Big Ten to do that.  Iowa is now 3-1 on the year, the fifth time in the last six seasons it has started a season at 3-1 or better.
Spunky punter
We here at CFT don't normally refer to punters as "real" football players.  San Jose State's Harrison Waid, though, might consider such a label fightin' words… literally.  Waid took exception to being blocked by a Minnesota player following one of his punts and, in very non-punter-like fashion, went after the Gopher that laid him out.  While the SJSU coaching staff likely appreciated the fire shown by Waid, they probably didn't like the fact that he was ejected from the game as a result of what was closer to a cat fight than actual fisticuffs.
BCS buster still alive
Thanks to losses through the first three weeks of the 2013 season by, among others, Boise State and Utah State, Fresno State was looking like the lone non-AQ school left that could crash the BCS' postseason party.  The hopes of BCS busters across the country were looking even more dire Friday night as the Bulldogs sat at their own 13-yard line with just over seven minutes left and trailing the Broncos by six.  Five minutes and 87 yards later, Fresno State put a game-winning touchdown on the board that kept their perfect record — and BCS hopes — intact.  While there are still potential stumbling blocks along the way, such as back-to-back games against San Diego State and Nevada in a month as well as a possible conference championship game appearance — rematch with Boise? — Fresno State is looking like as good a bet as any of the non-AQ schools to finish the season unbeaten and put themselves in a position for a BCS bowl bid.
LOSERS
The Devin's in the details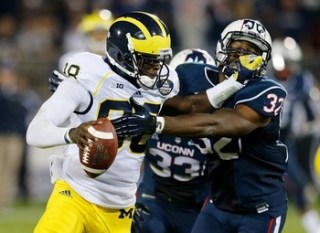 Devin Gardner has been in a very giving mood of late for Michigan.  Off the field, that's a positive; on it, it's a decidedly negative trait.  Through four games this season, the Wolverines' starting quarterback has thrown eight interceptions in 92 attempts, including two more against UConn.  Last season, in his first year as a starter, Gardner tossed five picks in 126 attempts.  Gardner also coughed up a fumble early in the third quarter, one that was returned for a touchdown in the too-close-for-comfort win over the winless Huskies.  A bye week could be coming at the perfect time for UM in general and Gardner specifically.  As a team, the Wolverines must clean-up whatever has gone wrong in two very unimpressive and uninspiring wins the past two weeks.  As a player, Gardner needs to some how, some way extract his cranium from his rectum and start playing smart football, especially with the start of Big Ten play on the horizon.
This could leave a mark
Miami had little problem in dispatching heavy underdog Savannah State, but the cupcake win could have come at a steep cost.  In the middle of the first quarter, starting quarterback Stephen Morris suffered what was initially described as a lower-leg injury.  Morris did not return to the game, and it was later revealed that the initial diagnosis is a sprained ankle.  It' unclear if that would be the dreaded high-ankle type of sprain, although head coach Al Golden sounded decidedly optimistic in his postgame talk.  What's also unclear is whether Morris will be available for the USF game next week or, more importantly, the ACC opener against Georgia Tech the week after.  The only good news for the 'Canes if Morris were to miss any playing time is that they have an experienced backup in Ryan Williams.
DOH!gorsen
What in the name of Red Bull shooters is going on in Morgantown?  While the Mountaineers started 2013 2-1, their two wins came against FCS programs, while they scored just seven points in a loss to Oklahoma.  That downward offensive trend spiraled further out of control after WVU was shutout in an embarrassing 37-point road loss to Maryland.  It was the first time a Mountaineers team had been shutout since 2001, Rich Rodriguez's first season at WVU.  The Mountaineers recorded the same number of turnovers (six) as first downs, and they completed a grand total of one pass to a wide receiver.  Yes, replacing a quarterback like Geno Smith and a playmaker like Tavon Austin is a tall task, but there's no excuse for a Dana Holgorsen-coached team to get shut out.  It may not be on the national radar quite yet, but the howls from the locals around me here in the middle of WV calling for Holgorsen's head are growing in frequency and intensity.  Holgorsen's built his reputation on offense; his players had better start playing up to that résumé.
Marshall, Marshall, Marshall
Staying in God's Country, what could have been for Doc Holliday's football program.  A pass that could've went the other way for a pick-six instead slipped through the hands of a Marshall defender and into the arms of a Virginia Tech receiver, tying the game at 21-all with just over three minutes left in the fourth quarter.  After Tech missed a pair of field goal attempts in the first two overtimes — and after the Herd had one of its FGs blocked in the second overtime — the Herd was in position to tie the game in the third overtime — the Hokies had scored a touchdown and a two-point conversion on their third possession of extra time — only to watch a blatant pass interference in the end zone go uncalled.  Add it all up and it was a heartbreaking 29-21, triple-overtime loss for the 2-2 Herd… and a huge escape for a very average Hokies football team.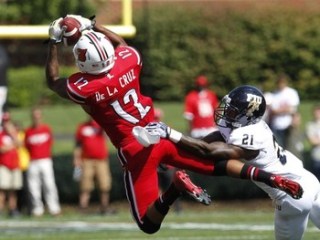 FIUBAR
In December of this year, FIU stunned most college football observers by firing head coach Mario Cristobal.  At the time, athletic director Pete Garcia defended the indefensible by claiming the program had "gone backwards over the last year and a half."  So, how have the Panthers fared in their first season under new head coach Ron Turner?  FIU has lost their first four games by a combined score of 187-23, including the 72-0 whipping Saturday at the hands of Louisville.  Even more embarrassing for the Panthers is the fact that the officiating crew ordered a running clock in the second half in an effort to speed up the embarrassment.  Excellent work, Mr. Garcia.  You've turned around this FBS football program in much the same way you and Butch Davis turned around my Cleveland Browns early last decade.  You should be proud.
$avannah $tate
Over the past two seasons, Savannah State has been 60-point-plus underdogs to three FBS teams: Miami (Sept. 21, 2013), Oklahoma State (Sept. 1, 2012) and Florida State (Sept. 8, 2012).  The FCS program lost those three games by a combined score of 216-7… and that was with the FSU game featuring a running clock in the second half and weather ending the game in the third quarter as well as the Miami game Saturday having the fourth quarter shortened to 12 minutes.  For that trio of eviscerations, Savannah State added $1.235 million to its athletic department's coffers; in 2010-11, the department's total athletic budget across all sports was $5.1 million.  Sometimes when you lose, get a beatdown even, you win and win big.
TOP 25 TOO-CLOSE-FOR-COMFORT
How ranked teams endured close shaves vs. unranked opponents
— No. 3 Clemson 26, North Carolina State: Thanks to some very questionable officiating, the Tigers were able to get out of Raleigh with its fourth consecutive win to start the 2013 season.
— No. 9 Georgia 45, North Texas 21: The Bulldogs may have won going away thanks to ripping off 24 unanswered points, but they were actually tied with the Conference USA program at 21-all midway through the third quarter.
— No. 15 Michigan 24, UConn 21 — For the second straight week, the Wolverines not only allowed an inferior opponent hang with them, they were actually outplay for the better part of 60 minutes.  UM may be unbeaten at 4-0, but it's as wobbly a 4-0 that you'll ever see.
— No. 19 Northwestern 35, Maine 21: You beat an FCS team, even a previously unbeaten one like the Black Bears, by a mere two touchdowns when you're ranked inside the Top 25, you deserve a mention for escaping.
— No. 22 Notre Dame 17, Michigan State 13: Were it not for an inexplicable trick play late in the third quarter by the Spartans, the Irish could've very easily been on the receiving end of its second loss of the season.
CFT TOP FIVE
A snapshot look at how my ballot would look Monday if I, ya know, had a real vote instead of a measly and meaningless preseason poll.
1. Alabama — Call it a letdown coming off a huge win last week or having some pity on a former coordinator, but the Tide looked rather meh-ish in the 25-point win over Colorado State in their home opener.  Expect a much different Tide team as it faces a ranked SEC foe. (Last week: No. 1)
Next up: vs. No. 21 Ole Miss
2. Oregon — Despite a bye week, I believe the Ducks still somehow managed to put up 56 points with just 15 minutes of time of possession. (Last week: No. 2)
Next up:  vs. Cal
3. Clemson — You could feel and almost see the Clemsoning hanging in the Raleigh air Thursday night, but it never transpired.  Is this year different for the Tigers?  It's certainly looking that way and holy hell I just jinxed it. (Last week: No. 3)
Next up: vs. Wake Forest
4. Ohio State — After four wins over creampuffs by an average score of 52-15, the Buckeyes have seen the preseason officially come to an end and will face its first real test of the regular season by opening up Big Ten play at home next Saturday. (Last week: No. 4)
Next up: vs. No. 24 Wisconsin
5. Stanford — I was very tempted to put LSU here following their win over previously-unbeaten Auburn, but the Cardinal's win over an unbeaten and ranked Arizona State was enough to trump that in my mind. (Last week: unranked)
Next up: at Washington State
(Dropped out: No. 5 Louisville)
HE SAID IT
"I can talk about our crowd today for probably an hour in terms of the energy that they brought to the game, getting in there at an earlier time I think than we usually do; staying even when the game seemed very hard at times, and as disruptive a crowd as we've had here probably since the 2006 Louisville game. It was deafening loud." — Kyle Flood, following Rutgers' come-from-behind win over Arkansas.
HE SAID IT, THE SEQUEL
"Obviously, I appreciate our fans. I've said it and I'll say it again. We have great fans. I think everybody involved knows that what came out is not indicative of how I felt or how I feel about them. I think our fans understand that. They're great fans. They've been around me for five years. I think they know who I am as a person." — Bo Pelini, following a rather rough week for him and his Nebraska football program.
HE SAID IT, THE THREEQUEL
"That was a bizarre game." — David Cutcliffe, after watching his Duke team lose a 58-55 first-round ACC hoops tourney game to Pittsburgh.
HE SAID IT, BONUS EDITION
"We exposed them at times." — Earnest Wilson III, after watching his Savannah State team get shellacked 77-7 by Miami.
HE SAID IT, LES MILES EDITION
"If not, a stiff dew was out there." — The LSU head coach's response to someone who asked him if it rained in Tiger Stadium.
PHOTO OF THE WEEK
As a loyal follower of everything and anything Duck Dynasty, I'm fascinated by how far the reach of that family-centric show has grown over the past year.  The latest example?  In the run-up to their game against Louisiana-Monroe — Duck Dynasty's Robertson clan hails from West Monroe La., with the elder statesman Phil a former starting quarterback at Louisiana Tech — Baylor posted the following photo on their Twitter account earlier this week: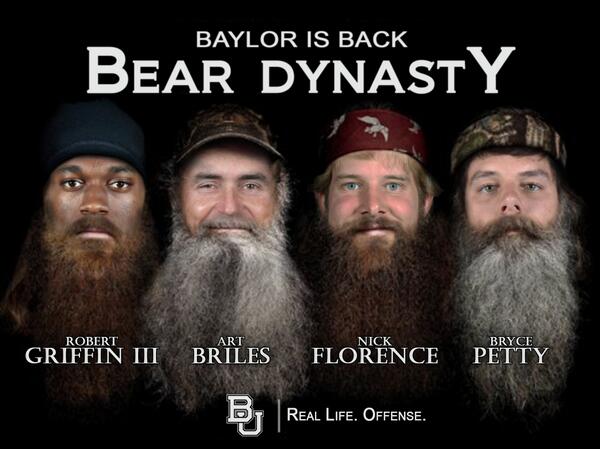 RGIII and Art Briles — looking eerily and creepily similar to Uncle Si sans eyeglasses, incidentally — sporting a flowing and glorious redneck face mullet?  Outstanding work, Baylor.  Outstanding.
SAY WHAT?
College football teams one-upping each other when it comes to helmet designs has officially jumped the shark.  Here's a photo (via the Roanoke Times' Andy Bitter) of a future Virginia Tech helmet that's currently in the design stage: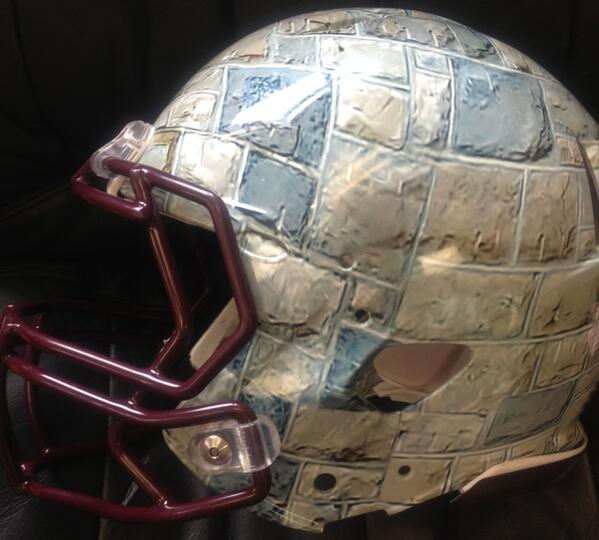 There's no word yet on if the Flintstones and/or the Rubbles will serve as the honorary captains when/if those things debut.
TRUE STORY
Ohio State's 76 points in the Week 4 scrimmage against FAMU were the most for the Buckeyes since an 83-21 win over Iowa in 1950.  The 76-point margin of victory was the largest for an OSU since downing Drake, 85-7, in 1935.
FOR STATISTICAL PURPOSES ONLY
— Through four weeks, there are 29 teams at the FBS level with perfect records, with six of them coming from the Pac-12 and four each from the ACC, Big 12, Big Ten and SEC.  Missouri, incidentally, is the lone SEC East team with no losses.  On the opposite end, 14 teams have yet to win a game.  Three of those hail from the American Athletic Conference: Temple, UConn and USF.  Iowa State is the only team from the so-called Big Five conferences that's yet to win a game.
— Tom Savage's six touchdown passes in Pittsburgh's wild 58-55 win over Duke was the most for a Panthers' quarterback since Tyler Palko tossed five way back in 2004 and tied an ACC record.  It was also the most since Pete Gonzalez set a school record with seven in 1997.  The 113 points scored by both teams was the highest total ever in a game involving Pitt.
— The 98-yard touchdown pass from Aaron Murray to Reggie Davis in the win over North Texas was not only the 100th of Murray's career, but it was also the longest pass play in Georgia history.  It's also tied for the third-longest passing touchdown in SEC history.  Murray's 445 yards of offense — 408 passing, 37 rushing — moved the senior to No. 3 on the all-time SEC list for total offense with 11,352 yards.
— Kenny Guiton set a single-game Ohio State record with six touchdown passes, and the senior did that in just the first two quarters.  It was the first time an OSU quarterback had thrown at least five scoring passes in a single game since Bobby Hoying in 1995.  Guiton has now tossed 10 touchdown passes the past two weeks; he had five career touchdown passes prior to his first career start against Cal last Saturday.
— Derek Carr's 460 yards passing in Fresno State's 41-40 win over Boise State Friday night was the fifth 400-yard-plus performance of his career, setting both the school and Mountain West records in the process.
— Nebraska's Stanley-Jean Baptiste has intercepted a pass in four straight games, becoming the first Cornhusker player since Josh Bullocks in 2003 to accomplish that feat.  Baptiste's 140 return yards on his picks are 47 shy of NU's single-season record.
— In a losing effort to Minnesota, San Jose State's David Fales threw for 439 yards and three TDs.  He had 296 in the first half alone.
–BYU quarterback Taysom Hill is completing just 35.1 percent (40-114) of his passes this season.   An 18-of-48 performance in the loss to Utah actually upped his completion percentage by nearly two percent.
— This is just weird: Alabama did not convert its first third-down try until there were three minutes left in the fourth quarter of their 31-6 win over Colorado State.  Up to that point, the Tide had been 0-8 on third down.
— Baylor is the first FBS team since Ohio State in 1996 to score 70-plus points in back-to-back games.  Baylor has scored 209 points through three games, the most to start a season at this level in the past 10 years.  They are also the first FBS/Div. 1-A team to score at least 60 points the first three games of the season since LSU in 1930.
— Unbelievably, Texas' win over Kansas State was its first over the Wildcats since Oct. 3 of 2003.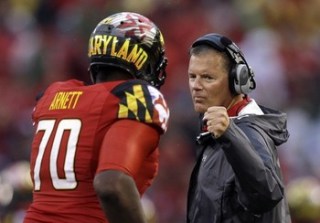 — Maryland has started a season 4-0 for the first time since 2001.  The Terps had won a total of six games in Randy Edsall's first two seasons at the school.
— Including the 17-14 loss to USC Saturday, Utah State's last five losses have been by a combined total of 13 points.
— UCLA's 692 yards of total offense in the 59-13 win over New Mexico State was a new school record.
— Kansas' 13-10 home win over Louisiana Tech on a field goal as time expired was the Jayhawks' first over an FBS team since Sept. 10, 2011, a streak of 21 straight games.  KU has not beaten a member of an AQ conference since dropping Colorado in November of 2010.  That was also the Jayhawks' last Big 12 win; they haven't beaten a current member of the Big 12, however, since defeating Iowa State in October of 2009.
— In its 35-point win over Tulane, Syracuse's special teams blocked three kicks — two punts and a field goal attempt — and recovered a fumbled punt.
— In the first half of their pasting of Florida A&M, Ohio State ran 47 plays and scored 55 points; FAMU had fewer yards of total offense (54) than the Buckeyes had points, and was able to manage just a single first down in the first two quarters.  OSU was leading the FCS Rattlers 48-0 before FAMU was able to muster its initial first down.
— Minnesota totaled 14 rushing touchdowns in 12 games last season; after six in the 43-17 win over San Jose State, the Gophers have 16 rushing touchdowns in four games this season.
— Prior to their loss to Clemson Thursday night, North Carolina State had beaten the last three teams ranked inside the Top 20 that had ventured into Carter-Finley Stadium: No. 3 Florida State (17-16 on Oct. 6, 2012), No. 7 Clemson (37-13 on Nov. 19, 2011) and No. 16 FSU (28-24 on Oct. 28, 2010).
— The game against Rutgers in Piscataway Saturday was Arkansas' first in the Northeast since 1940, a 27-7 loss to Fordham.
— Cincinnati and Miami (OH) were scoreless through more than 55 minutes of clock time before the Bearcats scored two touchdowns in the last 4:55 to claim the non-conference win.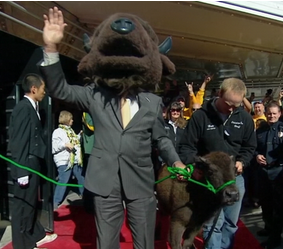 IN CLOSING…
Yes, it spoke volumes about the level of games across the country, but kudos to not only ESPN for taking their College GameDay show on the road to Fargo, but to the thousands of Fargoites in attendance who created such a tremendous atmosphere for a national television audience.  It was a great scene and great exposure for an FCS program like North Dakota State, which remains unbeaten and is coming off back-to-back national championships.  Well done by everyone involved.  Hopefully it won't take another five years to get back to a lower-level campus.