As is the case each and every season, each and every week, any omission below is not on purpose, it's merely intentional.
WINNERS
Scheduling buzzsaw complete
One of the major storylines of the weekend heading into the Top-10 matchup between LSU and Georgia was current Bulldogs quarterback Aaron Murray and former Bulldogs/current Tigers quarterback Zach Mettenberger.  While neither disappointed, it was another defining team moment for the squad from Athens that's had a season's worth in the first month of the football year.  The huge 44-41 win over LSU was UGA's second win over a team ranked No. 6 in the country this season, the first coming three weeks ago against SEC East rival South Carolina.  Their lone loss?  A season-opening three-point defeat on the road at the hands of Clemson, which was No. 8 at the time but has climbed to No. 3.  Thanks in large part to the play of Murray — four touchdown passes on the day, including the game-winner with under two minutes left — the Bulldogs still control their own destiny; win out through early December, and UGA will head to Pasadena to play in the last-ever BCS championship game.  Of course, their opponents in Saturday's game can say the same thing, as can Alabama.  Still, from the heartbreak in the opener to an absolute meatgrinder two of the last three games, Mark Richt has to be beyond ecstatic with the position his football team finds itself in.
Braxton back, boon for Buckeyes
After Kenny Guiton lit up opposing defenses for 10 touchdowns in two starts, many were calling for the senior to start even after Braxton Miller was healthy enough to return from a knee injury.  Urban Meyer wouldn't hear of it, and Miller showed why.  In his first action since the first quarter of a Week 2 win over San Diego State, Miller accounted for 281 yards and four touchdowns in a 31-24 win over Wisconsin.  The win was the Buckeyes' nation's best 17th straight, and its first over a ranked team since beating Michigan to end the 2012 regular season.  Whether it was enough to impress voters, though, remains to be seen.  OSU's first four wins of the season came against three FBS teams that had won a combined two games entering Week 5 as well an FCS program.  The fact that OSU couldn't put away the Badgers after holding a 31-14 lead in the fourth quarter could give those with the power pause.  Regardless, OSU will have another chance to impress next week as they travel to Evanston to face No. 19 Northwestern.
The Camdy Man can
If the Broyles Award for the nation's top assistant coach were given out today, LSU offensive coordinator Cam Cameron would likely be an easy choice for most voters.  On the bayou, the former head coach who failed miserably at stops in Indiana and with the Miami Dolphins is like water finding its level.  While the Tigers dropped a heartbreaker to the Bulldogs Sunday, Cameron's impact on the LSU offense in general and Mettenberger specifically is undeniably obvious.  Last season, Mettenberger completed just 58.8 percent of his passes; averaged just 7.41 yards per attempt; and threw 12 touchdowns versus seven interceptions.  This season, with Cameron orchestrating the offense, Mettenberger is completing 64 percent of his passes; averaging 10.9 yards per attempt; and has thrown 13 touchdowns and, even more amazingly, a mere one interception.  Yes, the game between The Hedges was a punch to the gut, but Tiger Nation can take solace in the fact that they finally have a championship-caliber offense to go with an above-average defense.
Class of the Big 12?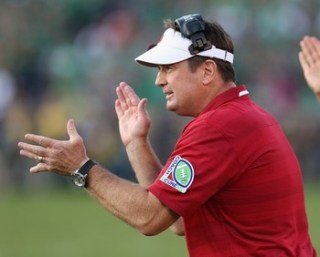 Thanks to Oklahoma State tripping over its own junk in Morgantown Saturday, it appears that Oklahoma is the class of the Big 12 and the road to the conference's BCS berth will, as it ofttimes does, go through Norman.  Maybe.  Exacting revenge for its loss to Notre Dame last season, the Sooners went into South Bend and went home with an impressive 35-21 win over the Irish.  Certainly OU was helped by three turnovers, which they turned into 21 points, but this kind of performance in a big-game atmosphere is something that's somewhat eluded the Sooners for the past several years.  Does it, though, signify they're should be sitting in the league driver's seat?  That answer will have to wait until back-to-back late October/early November games against No. 25 Texas Tech and No. 19 Baylor in Waco.
UW, short for "Unother Win"
Don't look now, but there may be another player in the race for the Pac-12 North title.  In handing Arizona its first loss of the season, Washington raised its record to a perfect 4-0 for the first time since 2001.  The Huskies have now won all four by double-digit margins, including a 32 drubbing of (soon-to-be) 3-2 Boise State and a 10-point win over  3-1 Illinois.  The good news for those in the media whose beat is the Pac-12 is that whether the Huskies are pretenders or contenders will be known in short order; next week, UW travels to No. 5 Stanford before playing host to No. 2 Oregon seven days later.  One thing is certain: two weeks from today, we'll know exactly where the Huskies stand in the Pac-12 pecking order.
A Mannion among boys
Remember that quarterback competition at Oregon State?  Yeah, it appears Mike Riley made the right call.  After throwing for 414 yards in the blowout win over previously unbeaten Colorado, Sean Mannion now has 2,018 passing yards through five games.  He came into the game leading the nation in that category, and the fact that he led by nearly 300 yards (Wyoming's Brett Smith and Ball State's Keith Wenning, 1,315 apiece) means he will enter Week 6 as the leader as well.  Last season, Mannion had 15 touchdown passes and 13 interceptions in nine games; this year, he's thrown 21 touchdowns — including a school-record six Saturday — while tossing just two picks in 235 attempts.  The best part of Mannion's torrid start is the fact that it's played a significant role in OSU's 4-1 start to the season, which could've been a perfect one were it not for the inexplicable season-opening loss to FCS-level Eastern Washington.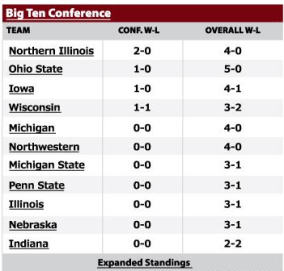 B1G MACownership
Who says the SEC has sole ownership of the Big Ten?  Northern Illinois pushed its record to 4-0 on the season with a 55-17 pasting of Purdue.  It's the first time one MAC school has beaten two B1G teams in the same regular season, with the Huskies' other coming in the season opener against Iowa.  NIU also tied a record for the largest margin of victory by a MAC member over the B1G, matching Toledo's 31-point woodshedding of Minnesota in 2001.  What it also means is that Fresno State might not be the only BCS buster still in play as the Huskies, which crashed the BCS party last season, are on an unbeaten path, although they would need to remain undefeated and get some help from some of the heavyweights in college football to make it back-to-back party crashes.
No UpHill climb this time
Taysom Hill's struggles in 2013 aren't exactly a state secret.  BYU starting quarterback entered Friday night's game against Middle Tennessee State completing an anemic 35.1 percent of his passes and ranked No. 114 in passing efficiency.  After getting a vote of confidence from his teammates and coaching staff earlier in the week, Hill went out and completed 14-of-19 passes (a career-high 73.7 completion percentage, besting his previous high of 66.7) and 177 yards in the win over the Blue Raiders.  The sophomore also rushed for 165 yards and two touchdowns.  Hill's not out of the offensive woods quite yet, but Friday night was most certainly a step in the right direction.
LOSERS
Bo don't know THAT defense
Ole Miss starting quarterback Bo Wallace raised some eyebrows earlier this week when he opined that his Rebels offense "can put points on" Alabama's stingy defense.  Yeah, that didn't work out too well for anyone with an Oxford lean.  In Alabama's Tuscaloosa whitewashing of Ole Miss, the Rebels managed just 205 yards of offense and zero points.  Ole Miss came into the game averaging 490 yards (T-26th nationally) and 38 points per game (T-37th).  Ole Miss averaged just 1.8 yards per rush attempt and a staggering 4.9 yards per pass attempt against the No. 1 team in the country.  The Tide defense actually outscored the Rebel offense, with 'Bama putting a safety on the board — at Wallace's expense, appropriately enough — in the fourth quarter.  Hint to Wallace for future reference: it's best to allow sleeping D's lie, especially one like the Tide's.
One-Lane road outta town
Thanks to our friend at YouTube, here are the final moments of USC's epic 62-41 meltdown against Arizona State Saturday night:
[youtube=http://www.youtube.com/watch?v=F54rqDh2mWA]
There's no way Lane Kiffin survives this season, right?  Right???  For the sake of a very loyal and proud Trojan fan base, he'd better not.
Not-so-OK State
Oklahoma State entered Week 5 as the highest-ranked team in the Big 12.  An inexplicable loss to a not-very-good West Virginia team, however, has cast a pall over a season that began with BCS title aspirations in Stillwater.  In two games against FBS teams this season, the Mountaineers passed for a total of 280 yards; in the loss Saturday, the Cowboys coughed up 320 yards in the air, including 309 by first-time WVU starter Clint Trickett.  OSU is certainly not out of the Big 12 race by any means, but if they're giving up that type of yardage to a team like West Virginia, what are they going to do when teams like Baylor and Oklahoma come a callin'?

VoLOLOL
Since replacing Phillip Fulmer in 2008, Tennessee has gone a non-UT-like 26-29.  Included in that total was a seven-point win at home against South Alabama, a program that was playing at the FCS level a mere two seasons ago.  The Vols were leading 31-7 early in the early quarter, but allowed three Jaguar touchdowns in less than a quarter and a half to cut the lead to seven with just under nine minutes remaining.  USA had a fourth-and-goal with under two minutes left that could've resulted in a game-tying touchdown, but the Vols intercepted the last-gasp attempt in the end zone to preserve the win.  While the Vols are 3-2, those three wins have come against a pair of Sun Belt school (USA and Western Kentucky) and an FCS program (Austin Peay).  In two games against teams from automatic-qualifying conferences, UT has lost by 45 (Oregon) and 14 (Florida).  I liked the Butch Jones hire when it happened, and still do, but he and his coaching staff have a long way to go to dig out of the hole created by previous coaches over the past few years.
What the Heel is going on in Chapel Hill?
After becoming the permanent replacement to Butch Davis, Larry Fedora raised the hopes of Tar Heel Nation by guiding North Carolina to an 8-4 record his first season at the school.  Three of those losses came by a combined total of nine points.  Then the 2013 season started.  An embarrassing 24-point loss to East Carolina Saturday, however, dropped UNC to a surprising 1-3 on the season.  The road to redemption doesn't get any easier for Fedora's charges, either, as the Tar Heels will in the next four games face an improving Virginia Tech team on the road; No. 15 Miami; and Boston College and in-state rival North Carolina State.
UConn-not be serious
Exactly one week after having Michigan on the ropes at home, UConn went on the road and were embarrassed by 1-2 (now 2-2) MAC member Buffalo 41-12.  And going inside the numbers might be even more embarrassing than the 29-point loss.  The Bulls entered the Week 5 game 122nd (out of 123) in total defense, giving up an average of 560.3 yards per game; UConn could muster just 220 yards of offense against the worst non-New Mexico State defense in the game.  The Huskies were just 7-of-18 on third down, committed four turnovers and averaged a meager .7 yards per carry.  Add it all up and it's an 0-4 start for Paul Pasqualoni, who entered the season on the coaching hot seat after winning just 10 games his first two years with the program.  If things don't turn around in a hurry, he may not make it through his third season let alone make it to a fourth.
MY EYES!!!
During ESPN's College GameDay show, veteran pot-stirrer Paul Finebaum stated that former Tennessee and current USC head coach Lane Kiffin "is the Miley Cyrus of college football."  In response to a tweet to that effect, one of CFT's followers on Twitter, well, posted this: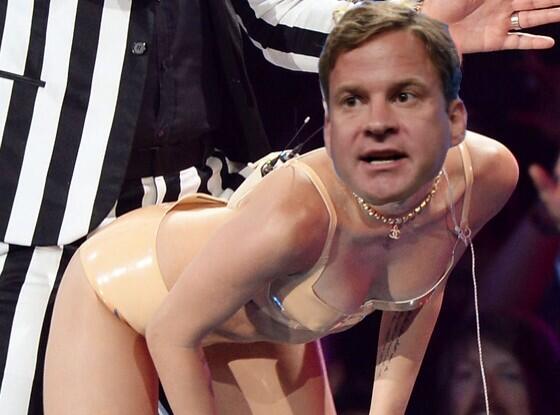 Yeah, good luck going to sleep again.  Ever.
TOP 25 TOO-CLOSE-FOR-COMFORT
How ranked teams endured close shaves vs. unranked opponents
— No. 10 Texas A&M 45, Arkansas 33: The Aggies jumped to first-half leads of 17-7 and 24-10, but allowed the Razorbacks to pull to within 24-20 heading into the locker room.  It was 38-33 early in the fourth quarter until a Ben Malena one-yard touchdown run essentially iced the game in a downpour.
— No. 12 South Carolina 28, UCF 25: Placing the Gamecocks into this category is a tad bit misleading as the Knights were 4-0 and on the verge of cracking the Top 25.  UCF led 10-0 at halftime, but a punishing ground game — and the Knights' inability to cash in on first-half turnovers — in the second half kept the Gamecocks' (slim) BCS title hopes alive.
— No. 20 Florida 24, Kentucky 7: Why would a team that won comfortably and was never in any real jeopardy be here?  The Gators did it against a team like the Wildcats, that's why.
CFT TOP FIVE
A snapshot look at how my ballot would look Monday if I, ya know, had a real vote instead of a measly and meaningless preseason poll.
1. Alabama — It wasn't pretty (again), but a win is a win is a win is a win.  The Tide's next four games come against one FCS team and three other teams (Kentucky, Arkansas and Tennessee) that have combined for five wins against FBS schools in 2013. (Last week: No. 1)
Next up: vs. Georgia State
2. Oregon —  Neither rain nor bye week can stop the Ducks as UO cruised to a 55-16 win over Cal.  UO's offense was limited to 381 yards, but that was due more to the "stiff dew" than anything else. (Last week: No. 2)
Next up: at Colorado
3. Clemson — The Tigers had absolutely no problem dispatching Wake Forest to the tune of 56-7.  A trap game coming up this weekend is the only thing standing between Clemson and a huge Week 7 showdown against the Florida State. (Last week: No. 3)
Next up: Boston College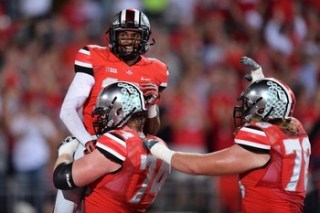 4. Ohio State — The Buckeyes turned a double-digit win that would've looked good in the eyes of pollsters into a closer-than-it-should've-been over nemesis Wisconsin.  "Redemption," though, is at hand. (Last week: No. 4)
Next up: at No. 19 Northwestern
5. Stanford — After winning their first three games by 21, 14 and 14 points, the Cardinal laid the wood to overmatched Wazzu in a 38-point win.  Stanford is rounding into shape nicely, and it comes at a most opportune time: four of their next five games are against Washington, UCLA, Oregon State and Oregon. (Last week: No. 5)
Next up: vs. No. 16 Washington
HE SAID IT
"Ole Miss has a really good team and a really good offensive team, so for us to shut them out was a great job by the defense." — Nick Saban, presumably with a non-smile on his face.
HE SAID IT, THE SEQUEL
"I'm about to pass out.  I mean, what a game.  What a game." — Georgia offensive coordinator Mike Bobo.
HE SAID IT, THE THREEQUEL
"What a great team win. We played a complete game for all four quarters. There were no lulls in our play.  We played a ton of guys and they played to our standard of excellence." — Dabo Swinney, on Clemson's 49-point waxing of Wake Forest.
HE SAID IT, BONUS EDITION
"It was like Muhammad Ali and Joe Louis." — Georgia tight end Arthur Lynch, on the back and forth between Aaron Murray and Zach Mettenberger.
HE SAID IT, LES MILES EDITION
"I hope not." — Les Miles, when asked if the SEC is entering a new era of high-powered offense.
PHOTO OF THE WEEK
ESPN's College GameDay may just go ahead and call it a career as the pregame show could never possibly top this, regardless of how long it stays on the air: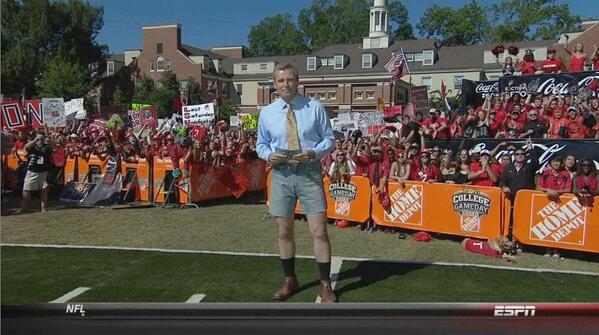 Tom Rinaldi.  In jorts and dark socks.  My life is now complete.
SAY WHAT?
Entering its game against Notre Dame, Oklahoma had three interceptions in three games; the Sooners had three in the first half in building a 21-7 halftime lead en route to avenging last year's loss.
TRUE STORY
Not only is Miami 4-0 for the first time since 2004, they are doing so in dominating fashion: according to a note from the school, the Hurricanes have not trailed in a game for the last 357 minutes dating back to last season.
FOR STATISTICAL PURPOSES ONLY
— Jameis Winston totaled five incompletions his first two games of the season; he misfired on four of his first six attempts against Boston College Saturday.  The Florida State quarterback settled down, however, by completing his last six passes of the first half and finished the 48-34 win with 330 yards passing and four touchdowns.  He also totaled 67 yards on the ground.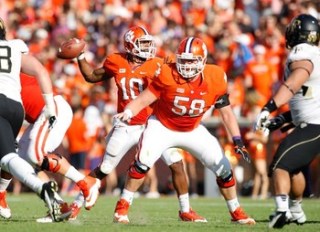 — Tajh Boyd totaled 380 yards of offense (311 passing, 69 rushing) and four touchdowns (three passing, one rushing) in Clemson's 56-7 rout of Wake Forest.  The senior also became the second player in ACC history to account for 100 or more touchdowns in his career.
— Tommy Rees had two turnovers in Notre Dame's first four games; he had three in the first half against Oklahoma, helping the Irish dig a hole from which they could never recover.
— In the first half alone, Nathan Scheelhaase passed for 256 yards (on 15-of-20 passing) and a school record-tying five touchdowns.  Playing sparingly in the second half, Scheelhaase added just 28 yards and zero touchdowns to that total in Illinois' 50-14 win over Miami of Ohio.
— Nevada quarterback Cody Fajardo went 38-for-54 for 389 yards with three touchdowns in Nevada's 45-42 win over Air Force.
— From the "One of the Best QBs You've Probably Never Heard Of" department, East Carolina's Shane Carden totaled six touchdowns — three passing, three rushing — in the Pirates' romp over North Carolina.
— Bishop Sarkey's 40 carries in Washington win over Arizona set a school record.  He rushed for 161 yards and a touchdown on those 40 carries.
— Barry Sanders — yes, the son of that Barry Sanders —  scored his first career touchdown in Stanford's win over Washington State.  His 22-yard scoring jaunt was part of a three-carry, 34-yard performance.
— Logan Thomas completed 76 percent of his passes in Virginia Tech's win over previously unbeaten Georgia Tech Thursday night; it marked the first time the quarterback has completed at least 60 percent of his passes in a single outing since Oct. 13 of last year, a stretch of 10 straight games.  The completion percentage in the win was the second-highest of his career, trailing only the 92 percent (23-of-25) he put up against Miami Oct. 8, 2011.
— Chuckie Keaton did Chuckie Keaton-like stuff in Utah State's win over San Jose State Friday night, totaling 312 yards of offense (260 passing, 52 rushing) and four touchdowns (three passing, one rushing).
— Braxton Miller's 25-yard scoring toss to Evan Spencer in the first quarter was the first touchdown pass Wisconsin had given up this season.  He would go on to toss three more in the win.
— Wisconsin came into the game against Ohio State averaging 349.8 yards per game on the ground and 7.99 yards per carry the first four games of the season; in four quarters against the Buckeyes, the Badgers totaled a season-low 104 yards and averaged just 3.9 ypc.
— USC had entered last night's game against Arizona State having given up 44 points in four games; they gave up 62 to Arizona State in a 21-point loss.  It was the most points the Trojans have ever given up in a single game.
— Every team that Washington has played this season had been without a loss entering their respective games against the Huskies.
— Florida has now won 27 straight games against Kentucky, the longest such streak in the country.
— Clemson ran its record to 66-0-1 all-time when putting up 500 or more yards of total offense.
— Southern Miss has now lost 16 straight games dating back to Week 1 of the 2012 season.  Prior to that, the Golden Eagles had gone 12-3 in their previous 15 games and prior to the departure of Larry Fedora for North Carolina.
— TCU had six sacks in the win over SMU, the Horned Frogs' most in a single game since 2009.  They also forced five turnovers (four interceptions, one fumble recovery).
— Sticking with the school in Fort Worth, TCU's 31 four-quarter points are the most scored in the fourth quarter by an FBS team this season.
— Texas A&M and Arkansas combined for 1,003 yards of total offense, 523 for the Aggies and 483 for the Razorbacks.
— Army ran for 414 yards and passed for 16 — on three attempts and one completion — in a 35-16 win over Louisiana Tech.
— In their stunning 24-point win over North Carolina, East Carolina rolled up 603 yards of total offense (376 passing, 227 rushing).  That total, incidentally, was the most given up by UNC since 1989 against Duke… which was coached at the time by Steve Spurrier.
— The Wyoming-Texas State game was delayed for nearly four hours due to lightning.  It was the third time in five games this season that a Cowboys contest has been delayed by lightning.
— UNLV's 22-game road losing streak came to an end courtesy of a 56-42 win over New Mexico.  The Rebels last road win?  In 2009 against the Lobos, of course.
— UT-San Antonio outgained Houston 493-491… had as many first downs (27) as the Cougars… had just six penalties compared to UH's 10… and still lost 59-28.  Of course, five Roadrunner turnovers that the Cougars converted into 21 points played a significant role in the lopsided final score.
— Colorado State jumped out to a 28-7 halftime lead on UTEP, watched as the Miners tied the score at 28-all in the middle of the third quarter, then scored the next 24 points en route to a 59-42 win.
— Before a one-yard touchdown pass late in the third quarter of their loss to Illinois, Miami of Ohio had gone 193:39 without an offensive touchdown dating back to the second quarter of their season opener four weeks ago.
— Georgia Tech came into their game against Virginia Tech No. 4 in the nation with 345.3 yards per game and averaging 5.7 yards per carry; in their win Thursday, the Hokies' defense held the Yellow Jackets to season-low totals of 129 yards and 3.1 ypc.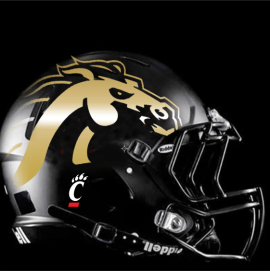 IN CLOSING…
The world of college football suffered another loss last weekend, with Cincinnati offensive lineman Ben Flick losing his life due to injuries incurred in a one-vehicle accident Saturday night.  In honor of Flick, Western Michigan, which wasn't even playing the Bearcats Saturday, wore UC's helmet logo beneath theirs for their game against Kent State.  A very classy, selfless and moving gesture by head coach P.J. Fleck and the entire football program.