As is the case each and every season, each and every week, any omission below is not on purpose, it's merely intentional.
WINNERS
Still standing tall on The Farm… barely
Washington outgained Stanford 489-279, and not-so unexpectedly doubled up the Cardinal in first downs 30-14.  Keith Price threw for 350 yards, while Kevin Hogan managed just 100.  Thanks to Ty Montgomery — and a fortuitous replay booth reversal on fourth down with just over a minute left — the Cardinal still managed to escape in spite of the statistical disadvantage with a hard-fought 31-28 win.  Montgomery totaled 204 yards on four kick returns, including a 99-yarder for a touchdown on the opening kickoff.  The junior wide receiver also caught a touchdown pass, and totaled 290 all-purpose yards on the night.  It was far from pretty, but it was a quality win over an above-average and undefeated opponent that should do nothing but strengthen the Cardinal's résumé in the eyes of the national media.  Speaking of which…
Buckeye beat goes on… barely
You can almost hear the voters licking their chops from here.  Yes, Ohio State pushed its nation's-best winning streak to 18 games in a row with a victory over a very good and very much unbeaten Northwestern on the road.  No, the Buckeyes didn't look their best, in large part due to the fact that they were playing a very good and very much undefeated Wildcats team on the road.  No, the game wasn't decided until the final minute, again due in large part to the fact that they were playing a very good and very much undefeated Wildcats team on the road (noticing the theme?).  Voters will very likely devalue the win because it was "just" Northwestern; they shouldn't.  Drop the Buckeyes if you must, but do it because you view schools behind them as the better team or teams, not because they eked by a squad that's not your grandfather's — hell, your father's — Wildcats.  Doing that would be a slap in the face to what Pat Fitzgerald is building in Evanston.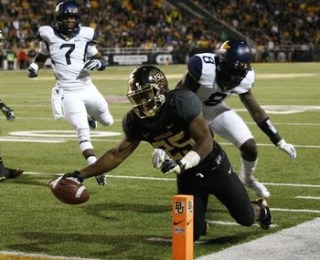 Bearly legal offense
I've been watching the game of college football for more than 30 years, and, no offense to Oregon, I'm fairly certain that I've never witnessed anything like what's going on in Waco.  The devastating speed and laser-like precision in which Baylor's offense leaves a trail of defensive carnage in its wake is awe-inspiring.  The Bears totaled 56 points and 617 yards in the first half alone against West Virginia; those totals were the fourth-most WVU has ever given up… for an entire game.  The Bears took their foot off the gas in the second half, totaling 66 points and 745 yards through three quarters and 73 points and a Big 12-record 872 yards at game's end.  Baylor now has the three highest single-game yardage marks this season with the total last night and 781 twice (Oregon has Nos. 4 and 5, incidentally) and they've played just four games.  And it's not like the Mountaineers are horrific on defense; in three games against Oklahoma, Maryland and Oklahoma State, WVU gave up an average of 24.6 points and 397 yards.  Much like with the Buckeyes, critics will sneer in the general direction of what the Bears are doing, waiting for Art Briles' crew to sputter against the likes of, well, Oklahoma mainly.  I, for one, am borderline giddy over the prospects of that Nov. 7 game in Norman.  You'd better believe BU is feeling the same, if for nothing more than the opportunity to silence the doubters as well as put themselves squarely in the conference driver's seat.
Smokin' Winston
The talent Jameis Winston possesses is unfair and should be illegal — hell, it may already be illegal in several states as it is.  His play — and the play — against Maryland further solidified the legend that continues to grow by the week: 23-of-32 for 393 yards, five touchdowns and no interceptions in just three quarters — plus one play in the fourth — of work.  For the season, his first as a starter, Winston is now completing 73.2 percent of his passes for 1,441 yards, 17 touchdowns and just two interceptions.  After just five games, Winston is already establishing himself as the future of the position for at least the next year and a half.  How he factors into this season's Heisman discussion, however, should be determined in two weeks when the Seminoles travel to Death Valley to take on Clemson in a game that will be dripping with BCS implications. Speaking of which…
Boy oh Boyd
I understand that football is the ultimate team game, but the Tajh Boyd–Jameis Winston game-within-the-game will be utterly fascinating to watch play out.  In a couple of minutes of playing time less than Winston, Boyd lit up Syracuse for 455 yards and five touchdowns, although he did throw his first two interceptions of the season.  Aside from the BCS implications, the Boyd-Winston showdown could go a long way in determining a Heisman front-runner, or at the very least who deserves to be among the front-runners with less than two months until the stiff-armed trophy is awarded.
Gutsy UGA
When you consider the injuries Georgia had coming into this game… and the myriad injuries they incurred during it… and coming off a span of four games that saw them play three teams that were ranked or are currently ranked inside the Top Six, Saturday's overtime win over Tennessee was as impressive as any they have had this season.  It was a gutsy performance in a game that, in all honesty, the Bulldogs likely deserved to lose.  They didn't, though, and because of that UGA remains in the thick of the BCS title hunt.  Those injuries, however, could come back to haunt them and hurt them more down the road than a loss Saturday would've.
Live at The Mett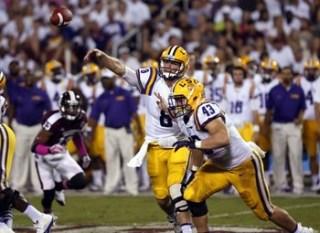 While there has been a plethora of outstanding quarterback play thus far this season, there might not be a more improved player at the position than Zach Mettenberger.  The senior came into the game sixth in the country in passing efficiency (he was 67th last season), and did nothing to hurt that standing.  In the 59-26 win over Mississippi State, Mettenberger completed 25-of-29 passes for 340 yards and a pair of touchdowns, although he did throw his second interception of the season.  While a lot of the credit for Mettenberger's astronomical rise (rightly) goes to new offensive coordinator Cam Cameron, the player deserves as a sizable chunk of it as he put in yeoman's work this offseason to get better.  Why Mettenberger's barely on the periphery of the Heisman discussion is beyond me.  A winning team plus eye-popping stats normally equates to stiff-armed talk.  Maybe one of these weeks eyes will open to what's going on down on the Bayou.
What's this "running the football" you speak of?
For anyone who's a fan of passing the football, Saturday's Washington State-Cal game was like Christmas in early October.  With strippers and booze.  In the Cougars' 44-22 win, the two teams combined for an astounding 1,027 yards in the air, with Wazzu's Connor Halliday accounting for 521 and Cal's Jared Goff 489 more.  Of the 179 plays that were run in the game, 129 of them were pass attempts.  On the carries that were few and far between, relatively speaking, Cal totaled 79 yards rushing while Wazzu mustered just 49.  And, yes, somewhere Woody Hayes is rolling over in his grave at what the game has become.  And punching an angel.  Probably.
Hope on The Plains
To say that the Gus Malzahn era at Auburn has gotten off to a rousing start would be a massive understatement.  With the 30-22 win over No. 24 (for now) Ole Miss, the Tigers improved to 4-1 on the season; in the last year under Gene Chizik, AU won just three games.  Malzahn's charges have already won two SEC games after going 0-8 in the conference in 2012.  With Texas A&M, Georgia and Alabama left on the schedule, any shot at a return to the SEC championship game would appear to be nothing more than a pipe dream.  However, with four very winnable games outside of that, the Tigers should slide comfortably into bowl eligibility, which would be a helluva just — and unexpected — reward for Malzahn and his players.
No quit in SMU
June Jones may be on the losing end of a battle for his job, but if the head coach ends up on the unemployment line it won't be because his players gave up on him.  SMU came back from not one but two 21-point deficits in their game against Rutgers to force overtime… and another… and another before finally succumbing to the Scarlet Knights 55-52 in three extra sessions.  The wild affair included an absolutely unbelievable two-point conversion with just over a minute to go in the fourth quarter to send the contest into its first overtime.
LOSERS
Not-so-merryland
Heading into an unexpected matchup of unbeatens, Maryland had lost all 11 games it had played in Tallahassee and was 2-21 all-time against Florida State, with the last win coming in October of 2006.  Suffice to say, that history doesn't look any better for the Terps exiting Week 6.  The 63 points the Terps allowed to the Seminoles were the most since they coughed up 70 to Penn State way back in 1993.  The loss was the most lopsided by a ranked team since No. 11 Texas was taken to a 66-3 woodshed by UCLA in 1997.  Maryland's defense entered the game having allowed four touchdowns in four games; FSU scored touchdowns on eight consecutive possessions at one point and nine total.  After winning just six games total the first two seasons of the Randy Edsall era, the Terps certainly appear to be on the right track.  After today's derailment, however, they undoubtedly have a long way to go ahead of its move to the Big Ten in 2014.
Still Mullen change
I hate beating a deceased equine (not really), but the situation in Starkvegas bears watching.  In four-plus seasons at Mississippi State, Dan Mullen is 18-4 in non-conference games.  Counting the 33-point beatdown at the hands of LSU Saturday, Mullen is now 13-21 in SEC play, including an 0-2 mark this season.  Hey, if MSU officials are fine with 7-9 wins every season and Music City/Gator Bowl berths, have at it.  If settling for mediocrity is not what they want for their football program, they need to think long and hard about whether Mullen is the coach that can push the Bulldogs to the level of the Alabama's and Georgia's and LSU's of the SEC.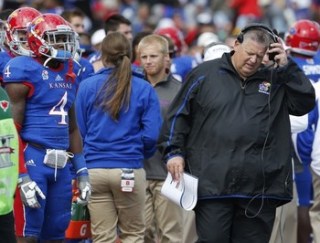 Sorry Charlie… literally
After taking a surprising 10-0 lead on Texas Tech, Kansas allowed the Red Raiders to come back and tie the game at 10-apiece.  Facing a fourth and 13 from his own 16-yard line, Charlie Weis did what any coach with a clear head and sound mind would do in a tie game in the middle of the second quarter: he called for a fake punt.  Of course, the try came up shy as they turned the ball back over to the Red Raiders, which converted the play-calling gaffe into a touchdown as part of a 44-point run in their 54-16 romp.  If there were ever a sequence that sums up Weis' tenure as a college coach — head, coordinator and otherwise — that was it. Just embarrassing.
Southern aMiss
Or "Southern Missery," you pick the pun.  Anyway, we now come to the gut-punch part of the program.  Southern Miss entered its home game against winless FIU sporting a nation's worst 16-game losing streak.  On the final play of the game, a 44-yard field goal attempt that would've won it for the Golden Eagles was no good, extending Southern Miss' misery to 17 consecutive games.  Todd Monken is a good football coach, and it's hard to see the university doing a one-and-done at the head-coaching position in back-to-back years, but it has to be awfully tempting for the administration to blow it up yet again.  Of course, that would be the absolute worst tack to take, but you never know in this win-now-or-else era.
Grounded Air Force
Apparently, a sizable chunk of the Air Force football program was furloughed even prior to the official government shutdown implemented earlier this week.  How else can you explain what's happened to the Falcons?  In the first four seasons under Troy Calhoun, Air Force bookended a pair of eight-win seasons with nine-win years.  In 2011 and 2012, however, the Falcons combined to win just 13 games, dovetailing into the tailspin that the 2013 season has become: with the 28-10 loss to Navy, Air Force is now 1-5 on the season, its worst start since a 1-5 start in 1993.  The Falcons' only win came against FCS-level Colgate, and they've lost their five FBS games by a combined total of 108 points.  Calhoun is so well-respected by officials at the academy in Colorado Springs that it's doubtful his job is in jeopardy.  However, the program had better begin turning itself around in a hurry as, if it doesn't, you might not keep Calhoun off the hot seat in 2014.
Hoosier non-hysteria
You want to know how I know the college basketball season is fast approaching?  I saw this picture of Indiana's home "crowd" taken 10 minutes or so before the start of the game against Penn State: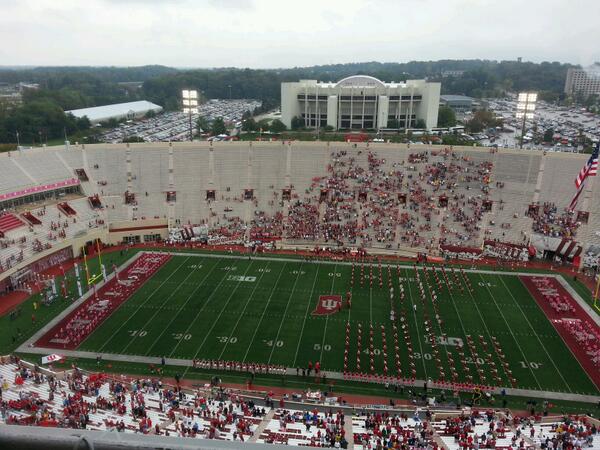 Yes, I understand that the weather was not exactly optimal.  However, you live in the Midwest; the weather in that area of the country is rarely ever optimal, especially in October and beyond.  Just a bad look, Hoosiers.  A bad, bad look, especially in light of the fact that the Hoosiers went out and scored its first-ever win over the Nittany Lions a couple of hours later.
Picky beater
If there were ever an opportunity to point to an individual player in a team game and say he singlehandedly lost the contest, it would've been Thursday night's UCLA-Utah matchup.  In the Utes' loss, quarterback Travis Wilson threw a staggering total of six interceptions.  As if that weren't bad enough, the Bruins turned those six picks into 24 of their 34 points, which included, appropriately enough, a pick-six.  Five of Wilson's interceptions came in a second half that saw the Utes tied with the Bruins early in the fourth quarter. "Minus-five in the turnover margin pretty much says it all when you play a team the caliber of UCLA. You turn it over six times and gain one, you're not going to win," head coach Kyle Whittingham succinctly stated after the loss.
TOP 25 TOO-CLOSE-FOR-COMFORT
How ranked teams endured close shaves vs. unranked opponents
— No. 1 Alabama 45, Georgia State 3: Yes, the Tide won by 42, but they were favored by 54.5 or so.  And they allowed a newly-minted FBS program to not only cross midfield but score.  So there.
— No. 11 Oklahoma 20, TCU 17: The Horned Frogs have one of the toughest defenses in the Big 12, and it showed as the Sooners mustered a season-low 355 yards of offense.  A 76-yard touchdown run by Brennan Clay late in the fourth quarter, however, proved to be almost all of the offense needed.
— No. 12 UCLA 34, Utah 27: As noted above, nothing good happens when you commit six turnovers… unless you're the beneficiaries of said turnovers as the Bruins were.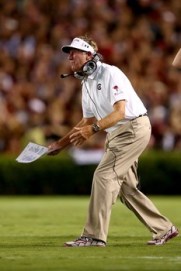 — No. 13 South Carolina 35, Kentucky 28: The Gamecocks were cruising along with a 27-7 lead in the fourth quarter before the Wildcats exploded for 21 points to make the game closer than it should've been.  I'll just chalk this one up to The Ol' Ball Coach being bored in the fourth quarter or something.
— No. 14 Miami 45, Georgia Tech 30: This is one of those games where the final score doesn't tell the whole story as the Yellow Jackets had pulled to within one at 24-23 with 10:38 to go in the game.  The Hurricanes, however, scored the next 21 points in a six-minute stretch to ice the game and remain unbeaten.
— No. 21 Oklahoma State 33, Kansas State 29: The Cowboys needed a touchdown with just over for four minutes remaining, and a field goal with just over two minutes left, to finally overcome four deficits in a back-and-forth affair and avoid losing its second straight game.
CFT TOP FIVE
A snapshot look at how my ballot would look Monday if I, ya know, had a real vote instead of a measly and meaningless preseason poll.
1. Alabama — The two-time defending BCS champs scrimmaged this weekend.  The outcome was expected.  Not much to see or say here, other than thank goodness that part of the Tide's schedule has come to an end… ah crap; Chattanooga the week before the Iron Bowl. Oh well, at least a game against LSU is in the offing. (Last week: No. 1)
Next up: at Kentucky
2. Oregon — Another week, another 55-plus points on the scoreboard.  This coming weekend, though, will be where we begin to learn exactly where the Ducks stand nationally as three of their next four games are against teams currently ranked in the Top 15, including a Nov. 7 trip to The Farm. (Last week: No. 2)
Next up: at No. 15 Washington
3. Clemson — After a three-point win over then-No. 5 Georgia, the Tigers have won their last four by an average of 33.7 points.  Clemson has its own date with BCS destiny in two weeks, but must avoid, well, ya know this weekend. (Last week: No. 3)
Next up: vs. Boston College
4. Ohio State — The coaches and media may downgrade the Buckeyes' win over Northwestern, but I won't.  That was a quality W in my book, especially coming off a solid win over Wisconsin the week before. (Last week: No. 4)
Next up: vs. Iowa
5. Stanford — The big win over No. 15 Washington is part of five-week stretch that includes home games against No. 12 UCLA and No. 2 Oregon, as well as a road trip to Corvallis against 4-1 Oregon State.  If The Cardinal comes through that stretch unscathed, they will vault up the rankings. (Last week: No. 5)
Next up: at Utah
HE SAID IT
"Well first of all, I want to thank our great fan base. Electric atmosphere, they definitely created a home field advantage. That's why they're the best in the country. I want to thank our student body. Over 12,000 students came out. I think what we learned is we need that environment. We're going to need that. I need to challenge everyone. I need you to come to the South Carolina game. We're on winter break and our team needs it." — Tennessee's Butch Jones.
HE SAID IT, THE SEQUEL
"[Guys] are doing their own crap." — Steve Spurrier, a bit perturbed at how his freelancing South Carolina defense performed in the win over Kentucky.
SAY WHAT?
In Week Six of the 2013 season, three teams fell from the ranks of the unbeaten, and all three losses came against fellow unbeatens: Maryland (to Florida State), Northwestern (to Ohio State) and Washington (to Stanford).  There are now 17 teams at the FBS level that have yet to lose a game.  The ACC, Big 12 and Pac-12 each have three undefeated teams apiece, while the AAC, Big Ten and SEC have two each.  The other two unbeatens come from the MAC (Northern Illinois) and MWC (Fresno State).
On the flip side, both FIU and USF picked up their first wins of the year, dropping the total of winless teams from 11 to nine.  UConn (0-4) and Temple (0-5) are the only winless teams from an automatic qualifying conference, and both of those are from the AAC.
TRUE STORY
The last 12 games Wisconsin has lost, going back more than three years, have been by a combined total of 53 points, none by more than seven points.  Included in that total are a pair of two-point losses and four more by a field goal.  A full quarter of those 12 losses came in overtime.  The last loss by more than a touchdown?  A 34-21 defeat at the hands of Michigan State Oct. 2, 2010, in East Lansing.
FOR STATISTICAL PURPOSES ONLY
— With a 24-yard pass in the second quarter, Georgia's Aaron Murray became the SEC's all-time leader in career passing yards with 11,548.  He surpassed the previous record of 11,528 set by former Bulldog David Greene.
— Marcus Mariota totaled 398 yards of offense (355 passing, 43 rushing) and seven touchdowns (five passing, two rushing) in Oregon's 57-16 win over Colorado.  Mariota is a big reason why the Ducks have scored at least 55 points in all five games this season.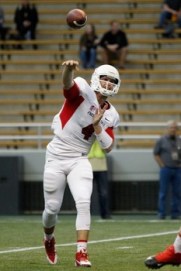 — Fresno State's Derek Carr passed for 390 yards and five touchdowns… in the first half.  The Bulldogs as a team put up 557 yards of total offense in jumping out to a 47-0 halftime lead.  Carr finished with 419 yards and the same five touchdowns in the 61-14 win over Idaho.
— Garrett Gilbert accounted for five touchdowns passing and another two on the ground in SMU's triple-overtime loss to Rutgers.
— In the 38-24 win over Kent State, and on his birthday, Northern Illinois running back Cameron Stingily ran 37 times for 269 yards.
— Logan Thomas threw for 293 yards in Virginia Tech's 10-point win over North Carolina; it was the quarterback's highest total in a winning effort since he threw for 310 yards in an Oct. 8, 2011, game against Miami.  He also tied a career-high with three touchdown passes, which he also did twice in 2011.
— Ameer Abdullah ran for a career-high 225 yards on just 20 carries in Nebraska's easy 39-19 romp over Illinois.
— In 26 minutes of play in Alabama's scrimmage against Georgia State, AJ McCarron tied a career-high with four first-half touchdown passes.  He also completed 12 straight passes at one point, which is tied for the third-longest such streak in school history.  All told, Tide quarterbacks completed passes to a whopping 15 different players.
— In Iowa State's controversial loss to Texas, wide receiver Quenton Bundrage caught five passes for 137 yards and a touchdown.  Bundrage's score was a 97-yard touchdown catch late in the third quarter.  And, before you ask, yes, I included this note just so I could type the name "Bundrage" a couple of times.
— Ohio State has now won 29 of its last 30 games against Northwestern, with the Wildcats' last win coming in 2004.  It's also been 54 years since NU has beaten a Top-Five team (Iowa, 1959), a streak of 37 straight losses.
— The state of Florida was 7-0 in FBS play Saturday, with FIU and USF picking up its first wins of the season.  The prefect record for the Sunshine State squads is the first time that's ever happened on the same weekend.
— Thanks to a pair of interceptions each by Clemson and Oregon, New Mexico is the only team at the FBS level that has not thrown a pick this season.
— Colorado (four games) and Southern Miss (five) are the only two teams at the FBS level that has not scored a rushing touchdown this season.
— West Virginia wide receivers caught one pass in a loss a couple of weeks ago; Syracuse went one better as its receivers had zero catches in the blowout loss to Clemson.
— Temple is the only FBS team that has not intercepted a pass this season.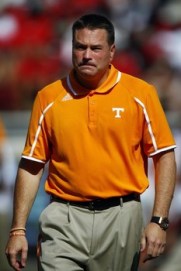 — With the heartbreaking, punch-in-the-gut loss to Georgia, the Vols have now lost 19 straight games against teams that were ranked in the Associated Press Top 25 poll.  Their last win against a Top-25 team came Oct. 31, 2009, against No. 22 South Carolina.
— It's been 1,065 days since Kansas' last Big 12 win (Nov. 6, 2010 vs. Colorado) and 1,456 days since the Jayhawks' last conference win over a team still in the league (Oct. 10, 2009 against Iowa State).
— Speaking of conference losing streaks, Illinois' blowout loss at the hands of Nebraska was the Illini's 15th straight in Big Ten play.  Their last league victory came against Indiana Oct. 8, 2011.
— TCU was unable to earn a first down until there was 8:35 left in the third quarter of its loss to Oklahoma.
— Navy's win over Air Force bodes well for the Midshipmen as the last 13 winners of the Navy-Air Force games has gone on to claim the Commander-In-Chief Trophy.
— Boston College's eight penalties through four game was the lowest total in the country entering Week 6.  In the 48-27 win over Army, the Eagles were flagged six times.
— Miami of Ohio came into their game with Central Michigan with just five third-down conversions in four games; in their 21-9 loss, they converted 5-of-15.
— Wake Forest and North Carolina played for the 104th straight year Saturday, the fourth-longest such streak in college football.
— In their overtime game Friday night, Nevada and San Diego State combined for 95 points, 1,111 yards and 55 first downs.  The Aztecs were able to escape with a 51-44 win thanks to a 13-yard touchdown pass from Quinn Kaehler in the first overtime.