As is the case each and every season, each and every week, any omission below is not on purpose, it's merely intentional.
WINNERS
Missouri: The Showed You State
Everybody who thought that, after Week 7 of the season, Missouri would be unbeaten and all alone in first place in the SEC East raise your hands.  Now, put 'em down as all y'all are lying.  Yet that's exactly where Gary Pinkel's Tigers find themselves Sunday morning, sporting a spotless 6-0 record overall and an East-best 2-0 mark in SEC play thanks to their win over Georgia coupled with Florida's loss to LSU.  Yes, Mizzou's win came at the expense of the injury-ravaged Bulldogs, but it was huge for the Tigers regardless of the circumstances and how it's couched as the win over No. 7 UGA was the program's first against a Top-10 team on the road since dropping No. 9 Mississippi State in October of 1981.  Let's not pop any SEC East champagne for Mizzou quite yet, however.  The next two weeks — without starting quarterback James Franklin — the Tigers will host Florida and South Carolina in back-to-back games that could very well determine the division's representative in the SEC championship game.  And, no, I never thought I'd be typing that sentence in relation to Mizzou, especially after a debut season in the SEC that saw the Tigers win just two conference games (Kentucky, Tennessee).
Super Mariota… again
I'm fully aware of the fact that the Heisman is not handed out in the middle of October, but, dayum.  In six games this season, Marcus Mariota has thrown for 17 touchdowns, ran for another eight… and has thrown zero interceptions in 165 attempts.  And, as if tossing down the stiff-armed gauntlet, Mariota went out Saturday and had his finest performance of the season, all things considered.  Against a Washington defense that came into the game with Oregon ranked No. 3 nationally in passing efficiency defense, Mariota carved said defense to the tune of 24-of-31 passing for 366 yards and three touchdowns.  For good measure, he added 88 yards rushing and another score.  Again, they don't hand out the Heisman at this time of the year.  The award does, though, have a front-runner and Mariota is decidedly that.
Texas-sized Big 12 leader
It goes without saying that Texas' 16-point beatdown of Oklahoma in the Red River Shootout qualifies as a stunner, what with the Longhorns having lost the last two rivalry games by a combined total of 80 points… and how they've been mired in mediocrity the past few years… and how Mack Brown's tenure is seemingly coming to a close.  It's when you step back and look at the bigger picture, though, that you get the biggest jolt.  The Longhorns are currently one of three Big 12 teams with no losses in conference play, and are tied atop the standings at 3-0 with Texas Tech.  Baylor, which looked unstoppable against the lightweights on its schedule, was positively beatable on the road against Kansas State in its first real test of the season, although the Bears survived to remain that third unbeaten Big 12 team at 2-0.  Did the Longhorns save their season — and Brown's job — Saturday?  It's still too early to tell, especially with games against Oklahoma State, Texas Tech and Baylor to close out the regular season still looming.  For now, though, the Golden Hat — and control of its own destiny in the Big 12's race to the BCS — resides in Austin.
A Mannion's man
Were it not for a three-point season-opening loss to Eastern Washington, Oregon State would very likely be a Twp-20 team at the moment.  And Sean Mannion might be getting the respect nationally he deserves.  Entering the game against Washington State Saturday night, the Beavers quarterback led the nation in passing yards per game (403.6) and passing touchdowns (21) through five games.  In his sixth game, Mannion did nothing but elevate his standing in both of those categories.  In helping OSU push its record to 5-1, Mannion passed for a season-high 493 yards and added four more touchdown passes as the Beavers cruised to a 52-24 win over Wazzu.  OSU, and thus Mannion, have yet to face a high-profile opponent, which has in large part led to the lack of recognition outside of Corvallis.  With games against Stanford (Oct. 26), Washington (Nov. 23) and the Civil War with Oregon (Nov. 29), Mannion will have plenty of opportunity to state his case nationally.  Provided he can rise to that level of competition, of course.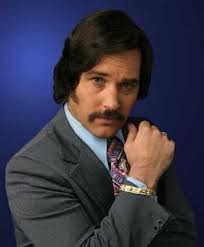 BOB's Big Ones
Bill O'Brien had already seen four missed field goals from the end of regulation through the first three overtimes against Michigan, including one off the foot of his own kicker.  Down by three and facing a fourth and one, O'Brien eschewed the field goal attempt that would've sent the game into a fifth overtime and instead grabbed his James Westfall and Doctor Kenneth Noisewater.  A Bill Belton three-yard run got the first down and, four plays later, Belton scooted across from two yards out to knock the Wolverines from the ranks of the unbeatens.  O'Brien should be applauded for both having the guts to make that call at that juncture and for his awareness of the energy that had been expended by his Nittany Lions creating a need to not extend the game.
Rebounding with a vengeance
Just 10 days ago, Travis Wilson had a six-pack of picks that was largely responsible for Utah's seven-point loss to No. 11 UCLA.  Against No. 5 Stanford, the Utes quarterback went out and totally redeemed himself.  While he threw another interception, Wilson was otherwise outstanding, completing 23-of-34 passes for 234 yards and a pair of critical first-quarter touchdowns that put the unbeaten Cardinal on notice… and helped drop them from undefeated and controlling their own destiny to one of the myriad one-loss teams that will need help getting back in the national title hunt.  Redemption is an awe-inspiring thing, especially when it's a college kid on the receiving end one game later against one of the best teams in the country.
Riding the Green Wave
Coming off a disastrous two-win 2012 season, there were some calling for the head of head coach Curtis Johnson after just one year at Tulane.  Nearly a year later, those same people are very likely singing Johnson's praises.  You see, the Green Wave has won five of its first seven games this season, including a thrilling triple-overtime win over East Carolina Saturday evening.  It's the first time since 2004 that Tulane has won more than four games in a single season, and the Green Wave still has five games remaining to win one game and become bowl eligible for the first time since 2002.  On top of all of that, Tulane is tied for the Conference USA West lead with Rice.  The individuals wanting Johnson gone last year may get their wish 12 months late; thanks to Tulane's play, Johnson's name will likely come up for various vacancies across the country in the coming months.
Army strong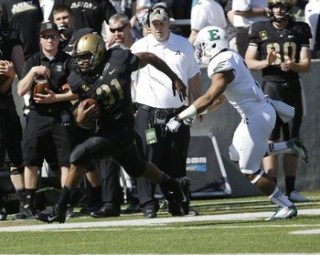 Yeah, I'll go ahead and say it: Terry Baggett does more before 3 p.m. than most running backs do all season.  Or something like that.  In the Black Knights' 50-25 win over Eastern Michigan, the junior rushed for 304 yards on just 18 carries and added four scores on the ground for good measure.  Baggett came into the matchup with 440 yards and two touchdowns in the first six games of the season.  The 304 yards are an academy record, part of which came on a 96-yard touchdown run.  In closing, go Baggett and go 'Merica…
LOSERS
Nov. 7
That day on the football calendar was shaping up to be arguably the best and most important Thursday in college football history.  Oregon at Stanford and Oklahoma at Baylor had most prognosticators pointing to it during the preseason as the day where the chase for the BCS would really begin to take shape.  Now?  Not so much thanks to Oklahoma's blowout loss to Texas and Stanford's stunning loss on the road to Utah.  Those games will still be important, especially as it pertains to the respective conference races, but it has certainly lost a lot of luster as far as the national stage is concerned because of Saturday's events.
Bears are human after all
Through the first four games of its season, Baylor was the darling of the national media.  Averaging a nation's best 781 yards per game (Oregon was next at 630) and scoring 70-plus points a contest, the Bears were the shiny thing dangled in front of a giddy toddler.  Of course, those gaudy stats came against Wofford, Buffalo, Louisiana-Monroe and West Virginia.  In their first real test of the season against Kansas State?  The gaudy numbers dissipated, but the winning didn't.  The Bears were held to season-lows in total offense (445 yards), rushing (114) and points (35), but still managed to go into always-tough Manhattan and escape back to Waco with a 10-point conference win over the Wildcats.  The Bears may have been exposed, and K-State may have provided a blueprint for future Big 12 opponents to at least slow down the high-powered attack, but they showed a resiliency they haven't needed all season long.  And that might be more impressive than any of the video game-like numbers they had put up through the first one-third of the regular season.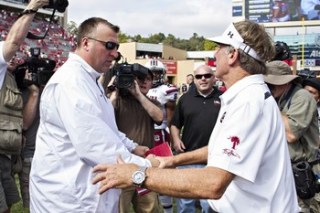 Karma indeed
Very shortly after Wisconsin's controversial loss to Arizona State in mid-September, Jen Bielema, the wife of former UW and current Arkansas head coach Bret Bielema, tweeted "#karma" in the general direction of the Badgers and their fans.  While I'm certain it's merely coincidence — or the "k" word — the Razorbacks, after winning their first three games pre-tweet, have now lost four straight since Mrs. Bielema typed out the five-letter word and sent it hurtling out into the Twittersphere.  Punctuating the losing streak was Saturday's humbling 45-point loss to South Carolina, the third straight SEC loss for Bielema by a combined total of 77 points.  Strong with this one, the karma is.
The Lane Kiffin Error Era
If you wanted to sum up Lane Kiffin's time at USC, these five words would just about do it: "The players have hope now."  Those were the words of USC athletic director Pat Haden, and they came shortly after the Trojans upended Arizona in the USC interim debut of Ed Orgeron.  It was far from pretty, but there was an exuberance, an excitement that had been lacking for years under Kiffin and, to be honest, under the weight of NCAA sanctions.  Pulling the plug on Kiffin's tenure as head coach was seen as a necessary move.  And, as it turns out, it was a refreshing one for the entire program as well. "You should have been in the locker room before the game, I've never seen anything like it. Guys were having a blast," Haden, again, said afterwards.  The win was one thing; the words coming from those in and around the football program were a damning indictment of everything that's gone in in the Land of Troy the past three-plus seasons, even if it did humble the Arrogant One.
Airror Force
The Air Force football program has officially hit rock bottom.  Leading San Diego State by 14 with 11 minutes left in the fourth quarter Thursday night, the Falcons gave up 21 straight points in a 10-minute span to snatch defeat from the jaws of defeat.  The service academy is now 1-6, its worst start since going 1-6 to begin the 1993 season.  With an Oct. 26 game against Notre Dame on the horizon, the Falcons could very well be staring in the face of their worst start to a season since going 1-6-1 in 1980.
TOP 25 TOO-CLOSE-FOR-COMFORT
How ranked teams endured close shaves vs. unranked opponents
— No. 3 Clemson 24, Boston College 14: The Tigers needed 14 fourth-quarter points to avoid an infamous Clemsoning.  We'll just chalk this up to looking ahead to the titanic matchup with Florida State next weekend and move on.
— No. 8 Louisville 24, Rutgers 10: Thanks to a pillowy soft schedule, the Cardinals need to take its opponents to the woodshed each and every time they step on the field.  That didn't happen Thursday night, which has caused some to already write off the UofL's BCS title game hopes.  While that's debatable, the Cardinals will likely see themselves lose ground in the polls again this week.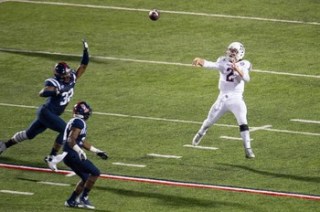 — No. 9 Texas A&M 41, Ole Miss 38: In a wildly entertaining game, the Aggies needed a field goal as time expired to stay unbeaten on the road under Kevin Sumlin.  Of course, the win was due in large part to Johnny Football, who totaled 470 yards of total offense (346 passing, 124 rushing) in a performance that will keep him in the Heisman repeat mix.  That defense, though, is still an area of major concern and will likely bite the Aggies again at some point before the regular season ends.
— No. 15 Baylor 35, Kansas State 25: The Bears needed a real test and, after a hiccup up or two that nearly cost them an unblemished record.  the Waco Kids earned a passing grade.
— No. 20 Texas Tech 42, Iowa State 35:  The Red Raiders muddled through the first three quarters against the one-win Cyclones, tied at halftime and leading by just a touchdown entering the fourth.  Tech did, though, become the first bowl-eligible team in the Big 12 so they have that going for them, which is good.
— No. 23 Northern Illinois 27, Akron 20:  Hey, the one-win Zips nearly knocked off Michigan in the Big House earlier this year.  It happens.
— No. 24 Virginia Tech 19, Pittsburgh 9: I'm putting this game here solely to highlight the Hokies' defense as Tech allowed the Panthers just 23 yards rushing on 26 carries.  All told, Pitt was only able to must 210 yards of offense against a team that's quietly ripped off six straight wins since its 25-point loss to Alabama to open the season.
CFT TOP FIVE
A snapshot look at how my ballot would look Monday if I, ya know, had a real vote instead of a measly and meaningless preseason poll.
1. Alabama — After a scoreless first quarter against Kentucky, I very nearly dropped the Tide below Oregon.  Then the second quarter and on happened and my goodness did the Tide roll, putting up 668 yards of offense and 48 points in a 41-point throttling of the Wildcats. (Last week: No. 1)
Next up: vs. Arkansas
2. Oregon — Even with Alabama rolling (eventually) against a below-average Kentucky team, I was still (very) tempted to allow the Ducks to leapfrog the consensus No. 1 team in the country thanks to the virtuoso performance against arguably the best two-loss team in the country in Washington.  I couldn't pull the trigger this week, but can't promise a repeat if the Ducks continue mowing down the competition. (Last week: No. 2)
Next up: vs. Washington State
3. Clemson — Despite eking by a very average Boston College team in Clemson's version of Death Valley, the Tigers are still a very good football team.  Get a huge win over you-know-how Saturday, and they'll elbow themselves right into the Alabama-Oregon mix. (Last week: No. 3)
Next up: vs. No. 6 Florida State
4. Ohio State — The Buckeyes were on a bye, and may benefit somewhat in the polls thanks to Clemson's sleepwalk against BC.  Northwestern getting throttled by Wisconsin and Michigan losing to Penn State, however, is very bad long-term for OSU. (Last week: No. 4)
Next up: vs. Iowa
5. Florida State — The Cardinal's loss is the Seminoles' gain.  A bye week for FSU allowed them to heal up for its Game of the Century against you-know-who Saturday. (Last week: unranked)
Next up: at No. 3 Clemson
(Dropped from the rankings: No. 5 Stanford)
HE SAID IT
"I do feel badly for Arkansas. That's no fun getting your butt beat at home, homecoming and all that." — Steve Spurrier, after South Carolina went into Fayetteville and spanked the Razorbacks 52-7.
HE SAID IT, THE SEQUEL
"We sit back and let y'all bash us and bash our coaches. … There comes a time when you put a chip on your shoulder." — Texas quarterback Case McCoy.
HE SAID IT, THE THREEQUEL
"I'm looking forward to the next 30 minutes, because the first 30 minutes sucked." — Pat Fitzgerald, after watching Northwestern fall behind Wisconsin 21-6 in the first half.  The next 30 minutes weren't much better for the Wildcats as the final score ended up 35-6.
HE SAID IT, BONUS EDITION
"Yeah, playing your ass off." — Texas co-offensive coordinator/quarterbacks coach Major Applewhite, when asked if an offensive identity had emerged for the Longhorns.
HE SAID IT, LES MILES EDITION
[See extended version below]
PHOTO OF THE WEEK
As a huge fan of NASCAR, count me among those who were absolutely thrilled with the reports that a future Tennessee-Virginia Tech game will be played at Bristol Motor Speedway.  Having been to that short track — the August night race should be on any sports fan's bucket list — I can see exactly how and why both the track and the schools would want to play in the modern-day motorized Colosseum.  Have you wondered, though, what it will look like?  Thanks to @NeylandStadium, we have a little perspective: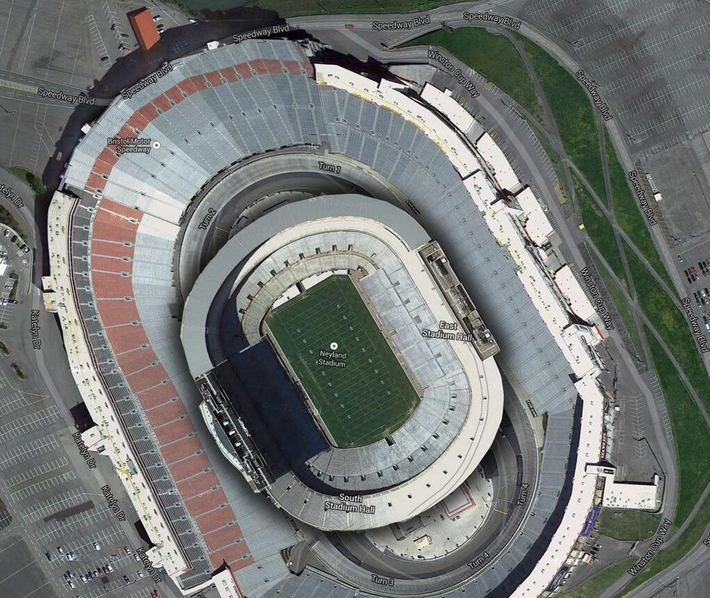 That, folks, is Neyland Stadium sitting inside the .533-mile Bristol Motor Speedway.  And that, folks, is freaking spectacular, even as I understand that some/most of the sight lines and vantage points won't be optimal compared to playing in a stadium designed for football.
That said, I absolutely cannot wait to see — and possibly be a part of — that atmosphere.
Oh, and before you ask, no, ball carriers won't be allowed to only make cuts to the left in that game.
SAY WHAT?
For the first time in the football program's storied history, Alabama had a 300-yard passer (AJ McCarron's career-high 359 yards) and two 100-yard rushers (T.J. Yeldon, 16-124-2; Kenyan Drake, 14-106-2) in the same game.
TRUE STORY
From the Clemson Sports Information Department: Clemson's defense held the nation's leading rusher in Andre Williams to just 70 yards rushing and a 2.9 yards-per-carry average. He had entered the game averaging 153.6 rushing yards per game and 5.8 yards per carry.
FOR STATISTICAL PURPOSES ONLY
— Thanks to losses by Michigan, Oklahoma and Stanford, there are now 14 teams at the FBS level with no losses this season.  The ACC has the most unbeatens at this juncture with three (Clemson, Florida State and Miami), while the Big 12, Pac-12 and SEC have two apiece.  On the flip side, and with UMass dropping still winless Miami (Ohio), there are eight teams remaining who have yet to win a game in 2013.  Two of the Unfortunate Octet reside in the American Athletic Conference.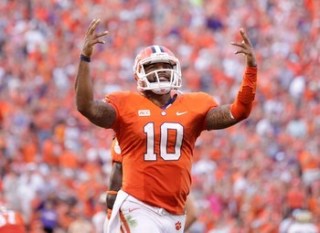 — Clemson's Tajh Boyd threw for 334 yards in the close win over Boston College to become the all-time leader in passing yards in Clemson history with 9,836 yards. He also moved in to fourth place in ACC history in the same category and into second place in carer 300-yard passing games (14).
— Brett Hundley passed for 409 yards and three touchdowns to help unbeaten UCLA to a 37-10 win over Cal.
— Stanford wide receiver Ty Montgomery accounted for 296 all-purpose yards: 160 on kickoff returns, 131 receiving and five rushing.
— Jonathan Gray rushed for 123 yards and Malcolm Brown for 120 in Texas' win over Oklahoma; it marked the first time UT has seen two players go over the century mark against OU.
— Washington's Bishop Sankey, who entered the game fourth nationally in rushing yards per game at 146.4, rushed for 164 yards and two touchdowns in the loss to Oregon.
— Louisiana Monroe's Isaiah Newsome became just the second player in Sun Belt Conference history to return two interceptions for touchdowns in the same game. The senior also broke the SBC record for interception return yardage in a single game with 146.
— Playing in place of the injured Baker Mayfield, Davis Webb threw for 415 yards and three TDs in leading Texas Tech over Iowa State 42-35.
— David Fales passed for 431 yards and three touchdowns in San Jose State's 34-27 win over Colorado State.
— Coming off a concussion, Pittsburgh's Tom Savage was sacked eight times in the loss to Virginia Tech.
— Utah's win over No. 5 Stanford was the Utes' first-ever over a team that entered the game ranked in the Top Five.  It was also the program's first win over a team in the Top 10 since 1973.
— Florida extended its streak of holding SEC opponents under 20 points to 13 straight games against LSU, the longest in the conference.  Unfortunately, while the Gators held the Tigers to 17, they were held to six in the loss.
— Very enlightening stat from Jon Solomon of al.com: the past 14 games, Auburn has started five different quarterbacks.  Alabama has started three different quarterbacks the past 80 games.  Speaking of the Tigers…
— Auburn rolled up a school-record 712 yards of total offense in the Tigers' 62-3 win over FCS-level Western Carolina.  Included in that total was 511 yards rushing on 43 carries, with nine different players credited with carries.
— Michigan State came into its game against Indiana as the No. 1 rush defense in the country, giving up an average of 51.2 yards per game; on the fourth play from scrimmage, the Hoosiers' Tevin Coleman raced 64 yards right up the gut for a touchdown.  The rest of the game, however, the Spartans allowed just 28 yards on 26 carries in the 42-28 win.
— USF hasn't scored an offensive touchdown the last two games… and have won both of those contests.  They are the first team ever at the FBS level to pull that trick in back-to-back weeks.
— Northern Illinois has now won 23 straight games at home, the longest such streak in the country.
— In a shout-out to the FCS, Fordham is 6-0 for the first time in a staggering 83 years.
IN CLOSING…
Les Miles has, how shall we say it, a very unique and special relationship with the English language.  As the latest — and one of the best — example of that relationship, we leave you with the following transcript courtesy of CoachingSearch.com — the video's HERE — in which Miles responds to a reporter stating that Florida was the hammer and LSU was the nail last season, with the roles being reversed this year.  Enjoy, and good night y'all:
"I've got a question for you. It was a 14-6 game. We played our asses off. How anybody could pick the hammer and the nail, when in fact, that hammer or nail, we catch a ball down there, we're fixing to take the lead, and we turn it over. Explain to me how Kevin Minter, who set the damn near career tackle record in that game, how anybody could say hammer and nail?

"I can tell you right now, here's what happens: Two very quality teams take the field and compete like a son of a bitch for victory. You know what? It's not a hammer and a nail relationship. It's an opportunity for an opponent to be equal and to raise their level of play in such a fashion that they win. That's how this thing works. In fact, you respect the opponent. He's not the hammer and he's not the frickin' nail, OK? He's the opponent. You understand?

"I'm just letting you know, I resent that. I resent the fact that suddenly, we were nail, you got it? Honest to Pete. We were a pretty good team last year. I thought we played like a son of a bitch in that stadium. I'm just letting you know, I felt differently than the nail, so you know."