As is the case each and every season, each and every week, any omission below is not on purpose, it's merely intentional.
WINNERS
BChaoS
For those looking for a slate of games that would really shake the hell out of things, Week 8 would certainly be a good start.  No. 3 Clemson falls from the ranks of the unbeaten.  No. 6 LSU, No. 7 Texas A&M, No. 8 Louisville and No. 9 UCLA stumbled mightily, the latter two suffering their first losses of the season.  And that's without even mentioning the utter chaos from the preseason favorites in the SEC East.  When the polls are released later today, there should be an entirely new and utterly strange feel to the middle to the latter half of the Top 10.  Alabama and Oregon, of course, will remain 1-2.  Florida State will likely take over Clemson's spot in the No. 3 hole, leapfrogging No. 4 Ohio State.  After that?  How about No. 10 Miami or No. 12 Baylor or No. 14 Missouri climbing into the Top Five?  Or Fresno State and Texas Tech moving into the Top 10?  Of course, all of this chaos occurs on the eve of the first release of the BCS standings… and with still seven weeks until the final rankings set the two teams that will play in the title game.  This is going to be one helluva ride over the next month and a half.  Color me giddy over the prospects.
No stage too big, no light too bright
If you saw Jameis Winston walking into the Tigers' den known as Death Valley, you never would've guessed he's in his first year as a starter and about to play in the biggest game of his life.  If you saw him in the pregame locker room video clip shown on the broadcast, you never would've guessed he had just five starts under his belt.  If you saw him on the field against the Tigers?  You knew you were looking at a redshirt freshman who was the most talented player on a field full of them and one who could very well be the Heisman front-runner when it's all said and done.  The 444 yards and three touchdowns he put on Clemson in the 51-14 waxing only told part of the story; at no point during the game, even after his lone interception, did you get the sense Winston was not in complete and total control of both himself and his team.  The coolness he displays, the grip he has on whatever the situation may be, would be stunning for a 10-year NFL vet let alone a "kid" a year and a half removed from high school.  If there's such a thing as "it," Winston has it.
Manziel Malzahn'd
What a turnaround they have going on down on The Plains.  Exactly one year ago today, Auburn was sitting at 1-6 and was a week away from a 42-point woodshedding at the hands of Texas A&M and Johnny Manziel.  Fast forward 365 days, and the Tigers are sitting at 6-1… with a huge revenge win over Texas A&M stuffed firmly into its résumé.  The difference between last year and this one, and between Gene Chizik and Gus Malzahn, is stunning in its starkness.  In 2012, AU was winless in SEC play; this year, the Tigers are alone at 3-1 and behind only in-state rival Alabama in the SEC West.  If you're looking for one of the midseason front-runners for Coach of the Year, look no further than Malzahn.  Not only has he brought hope for a bright future to the Tigers, he's brought results in the here and now.  Just absolutely brilliant, what Malzahn is doing with what's essentially Chizik's players.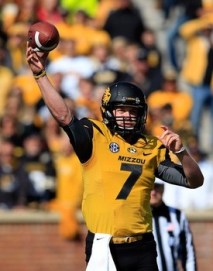 Mizzou? Who knew?
As we've gotten just past the midway point of October, the SEC East's representative in the conference championship game has been all but locked down.  And, no, it's not Florida or Georgia or South Carolina; those three preseason favorites each have two league losses, with every member of that trio falling in Week 8.  Instead, it's Missouri that stands alone atop the SEC East with a 3-0 record.  Not only that, but the Tigers own the head-to-head tiebreakers with both the Gators and Bulldogs should they trip coming down the stretch.  Mizzou's win over UF Saturday was part of a three-game stretch that began with UGA and will be bookended with the Gamecocks this coming Saturday in Columbia.  Perhaps, though, I should hold off on crowning Mizzou; after USC, the Tigers still have to host games against Tennessee — which knocked off the Gamecocks — and Texas A&M, while also traveling to Ole Miss in between.  That said, who would've thought that, after eight weeks of the season, we'd be talking about Mizzou needing to simply not trip over itself over the last month and a half in order to secure an early-December date in Atlanta?  Not me, that's for sure.
Rebound on The Farm
A week later, and with all due respect to the Utes, I still have nary an idea how Stanford fell to Utah.  The Cardinal didn't have much time to shake off the inexplicable, however, as unbeaten UCLA came to town.  60 minutes later, the Cardinal had indeed shaken it off by pounding the previously unbeaten Bruins into submission.  In the 24-10 win, the Cardinal defense held the potent Bruins offense to a season-low 266 yards and just a lone fourth-quarter touchdown.  UCLA had averaged nearly 46 points per game entering the contest,  with their previous low-water mark being 34 in a win over Utah.  While the loss a week ago will (likely) continue to sting nationally, the road to the Pac-12 championship game is still crystal clear: win out, including the titanic Nov. 7 showdown with Oregon, the Cardinal would likely be headed to a conference title game appearance — and perhaps a rematch with the Bruins.
Jordamn Lynch
It was one for the record books for one of the most unheralded players in the country Saturday.  In Northern Illinois' win Central Michigan, Jordan Lynch rushed for a staggering 316 yards.  While that number is impressive enough in and of itself, the fact that Lynch is a quarterback takes the total to a whole other level.  The 316 yards is an FBS record for a quarterback, breaking Stacey Robinson's 308 set way back in 1990.  Robinson, incidentally, played for NIU.
55-Gallon drums of yards
To borrow from myself from yesterday, normally, the words "Michigan" and "receiving records" aren't seen in the same sentence, unless the words "not" and "setting" are included.  For at least one game, that all changed in a big way.  Wolverines wide receiver Jeremy Gallon absolutely lit up an admittedly bad Indiana defense, totaling 369 receiving yards in UM's 63-47 win over the Hoosiers.  The yardage set not only a school record but a Big Ten mark as well, with the total serving as the second-most in FBS history behind Stanford's Troy Edwards' 405 yards.  Perhaps the most staggering aspect of Gallon's for-the-ages performance is that the senior came into the game with 462 yards — total — in six games this season.
Be like Mike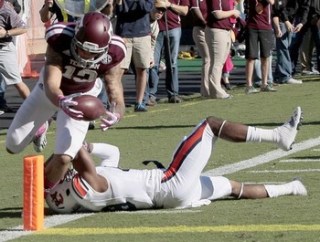 While not exactly Gallon-esque, Mike Evans wasn't too shabby himself.  In Texas A&M's loss to Auburn, the unfairly talented wide receiver caught 11 Johnny Manziel passes for 287 yards and four touchdowns.  The four scores tied Ryan Swope's school record.  Interestingly, Evans now has 19 receptions for 566 yards and five touchdowns against teams from the state of Alabama this season.  Even more interestingly, both of those performances came in losing efforts, the other being against the Crimson Tide earlier this season.
One Hill of a game
After a rough start to the season, Taysom Hill began to turn things around a couple of weeks ago.  Saturday afternoon, he really turned it around.  Sort of.  In a wild 47-46 win over Houston, Hill passed for 417 yards and rushed for another 128, becoming the first player in FBS history to throw for 400-plus and rush for 100-plus in a single game.  While the three interceptions will likely be a topic of discussion during positional meetings this week, it appears the Cougars may have indeed found its quarterback of the future in the sophomore.
BCS 4 UCF
Somewhat lost amidst No. 8 Louisville's first loss of the season, which effectively wiped out what little sliver of BCS title hope it held, is the fact that the team that knocked off the Cardinals is now sitting pretty when it comes to the BCS picture.  UCF had come into the UofL game with just one a loss, a three-point decision to No. 12 South Carolina late last month.  All of a sudden, though, the Golden Knights are in the driver's seat for the AAC's BCS berth.  With games left against one-loss Houston in two weeks and one against 4-2 Rutgers the week after, the road isn't exactly a cakewalk.  However, the fact that UCF gets both those teams at home, and the fact that the Knights are a quality football team despite the lack of respect nationally, bodes well for the program's shot at its first-ever BCS game appearance.
LOSERS
O-H!  UH-OH!!!
Ohio State may have extended its winning streak to 19 straight, but it suffered a pair of losses perception-wise on the day.  The Buckeyes were less than impressive in a win over Iowa that pushed their winning streak to 19 consecutive games.  It was hardly the kind of performance, however, that wins points with the voters.  Another damaging development for OSU?  Northwestern.  The Wildcats, viewed a couple of weeks ago as one of the few chances for a quality win for the Buckeyes, lost their third straight game Saturday, this time to Minnesota.  Again, that won't help the perception of OSU's schedule.  While it goes against what's in their blood, Buckeye fans need to root like hell for Wisconsin and, especially, Michigan to win out,  Well, that and root like hell for the Buckeyes to stretch the winning streak to a school-record 24 straight.
Boy oh Boyd
I thought Florida State would win, but I never thought they would win.  And I certainly never imagined Tajh Boyd would lay the egg he did.  Granted, the Seminoles' defense was as ferocious as advertised, but Boyd had arguably his worst game in his three years as a starter — and it couldn't have come at a worse time.  FSU rattled the veteran into a stat line that included 17-of-37 passing for a 156 yards and two costly interceptions.  The loss could very well cost Clemson a shot at a BCS title; the performance almost certainly has cost Boyd any shot he had at a Heisman.
Bad Zach's briefly back?
Through the first seven games of the season, Zach Mettenberger was one of the most improved players in the country at any position.  In the eighth week, the LSU quarterback decided to party like it's 2012.  Mettenberger entered the Ole Miss game having thrown two interceptions in 174 pass attempts; in the loss to the Rebels, Mettenberger tossed three in his first 11 attempts.  While the trio of picks led to just three points, the second one came in the red zone and cost the Tigers at least three points of their own that they really could've used in the end.  Mettenberger bounced back after that inauspicious start to throw for 274 yards and a touchdown.  Alas it wasn't enough as the Tigers simply couldn't overcome the 17-0 hole they dug themselves, suffering their second loss of the season in the 27-24, last-second defeat at the hands of the Rebels.
SEC East QB piñatas
The inexplicable wave of injuries that's slammed into teams from the SEC's East division has hit the quarterback position especially hard.  Florida lost Jeff Driskel to a season-ending injury earlier in the year, with Missouri's James Franklin and Kentucky's Jalen Whitlow sidelined for various lengths of time with injuries incurred last weekend. This weekend, another pair of East quarterbacks have joined the division's M*A*S*H unit.  South Carolina's Connor Shaw injured his knee in the loss to Tennessee and did not return, while Vanderbilt's Austyn Carta-Samuels suffered a leg injury and also didn't return.  My only suggestion to that division would be to shroud them in bubble wrap before you send your quarterbacks out there next time.  Or something as the spate of injuries at the position is unprecedented.  Well, actually, it's not…
Snakebit Terps
Last year it was quarterbacks.  This year, it's linebackers… and now wide receivers.  In the span of less than two quarters, Maryland lost its No. 1 and No. 2 receivers to what could very well be season-ending leg injuries.  Devon Long, the Terps' leader in receptions coming into the Wake Forest loss, broke the tibula and fibula in his leg.  A short time later, Stephon Diggs, tops in receiving yards, broke the fibula in his right leg.  Both injuries will require surgery to repair, and no timetable has been given for a return, if at all, during the regular season.  It's the latest blow to a Terps team that won their first four games, but have lost two of the last three by a combined 87 points.
Awash in misery
With four straight wins to start the season, Washington was one of a handful of first-month media darlings.  That early-season sheen has lost most if not all of its luster the past three weeks, however.  While the first two losses, to No. 2 Oregon and then-No. 5 Stanford, were defensible, the 53-24 loss to Arizona State Saturday wasn't.  Simply put, the Huskies were beaten up and pushed around by the Sun Devils.  No stat exemplified the bullying more so than this: 25 UW rushes for minus-five yards.  Bishop Sankey, who came into the game leading the nation in rushing yards per game at 149.8, was held to just 22 yards on 13 carries by an ASU defense that was 75th against the run (168.8 ypg) coming in.  Following the loss, head coach Steve Sarkisian called the performance "embarrassing"; who am I to argue?
Bert Derp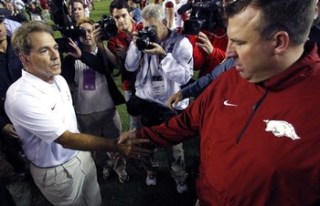 Upon his hiring at Arkansas, Bret Bielema was very frank about what his goal was in leaving the Big Ten for the SEC. "The reason the SEC is talked about all the time is one team, because of their dominance. But I didn't come here to play Alabama. I came here to beat Alabama." Yeah, about that.  Beating the two-time defending BCS champions wasn't even remotely in the cards on this night, with the Tide cruising to a 52-0 win over the Razorbacks that wasn't even as close as the final score might indicate.  The loss to the Tide is the Hogs' fourth straight in SEC play, and comes one week after they were embarrassed 52-7 by South Carolina.  The road doesn't get any easier as UA closes out the season against Auburn, Ole Miss, Mississippi State and LSU.  Yeah, good luck with that.
Things still aMiss
At some point, you'd have to think that Southern Miss would trip over a win some way or another, right?  Maybe at some point that'll be the case, but it wasn't on this Saturday as the Golden Eagles bumbled and stumbled its way to a 55-14 beatdown at the hands of East Carolina.  The loss is USM's 18th straight dating back to the 2012 opener.  They haven't tasted victory since Dec. 24, 2011, the final game before Larry Fedora took himself — and, apparently, the ability to win — to North Carolina.  In a season full of low points, the 41-point blowout wasn't even the lowest; a 43-point loss to Nebraska in Week 2 was trumped two weeks later by a 53-point pasting at the hands of Boise State.
TOP 25 TOO-CLOSE-FOR-COMFORT
How ranked teams endured close shaves vs. unranked opponents
— No. 4 Ohio State 34, Iowa 24: I already had my say on the Buckeyes above.  Button it up, Urb.  It may not be right, but style points matter if a spot in the BCS championship game is your team's ultimate goal.
— No. 10 Miami 27, North Carolina 23: The Hurricanes nearly saw their unbeaten season ripped from them Thursday night, trailing the Tar Heels by 10 early in the fourth quarter.  Two Dallas Crawford touchdown runs in the final quarter, including one with just over a minute left, as well as a costly delay-of-game penalty pushed The U over UNC and nudged its record to a perfect 6-0.
— No. 16 Texas Tech 37, West Virginia 27: The Red Raiders entered the fourth quarter down 27-24 to an improving Mountaineers team before a pair of fourth-quarter touchdowns allowed Tech to keep its record unblemished at 7-0.
— No. 18 Oklahoma 34, Kansas 19: Bob Stoops is now 15-0 all-time in the next game after the Red River Shootout, but it wasn't as easy as most expected.  The Jayhawks jumped out to a 13-0 lead before the Sooners scored the next 25 points.  KU then got back to within six early in the fourth quarter before OU pulled away late.
No. 21 Oklahoma State 24, TCU 10: It may have taken a change at quarterback, but it was enough for the Cowboys to overcome an utterly inept Horned Frogs offense.
CFT TOP FIVE
A snapshot look at how my ballot would look Monday if I, ya know, had a real vote instead of a measly and meaningless preseason poll.
1. Alabama — Since beating Texas A&M 49-42 in Week 3, the Tide has outscored its opponents 201-16.  Chew on that bit of statistical dominance for a while. (Last week: No. 1)
Next up: vs. Tennessee
2. Oregon — A close call for Oregon would be something akin to the Ducks leading Washington State just 34-24 at halftime… and then outscoring Wazzu 28-14 in the second half to win going away.  The Ducks have won five of their seven games by 38 or more points.  Their "closest" win was by 21 points over Washington last Saturday. (Last week: No. 2)
Next up: vs. No. 9 UCLA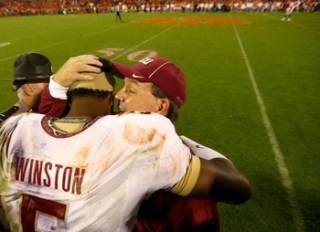 3. Florida State — When you put a 38-point beatdown on the team previously sitting in this spot, you probably deserve to climb higher.  For now, though, we'll slot the Seminoles here and see how the remainder of the season plays out. (Last week: No. 5)
Up next: vs. North Carolina State
4. Ohio State — All the Buckeyes do is win, and sometimes in ugly duckling fashion.  Then again, though, so did OSU circa 2002.  Hmmm… (Last week: No. 4)
Next up: vs. Penn State
5. Missouri/Miami/Baylor — Yes, I'm copping out on this one.  You think I'm going to attempt to figure out, after all of the carnage this weekend and at two in the morning, which team deserves to move into the No. 5 hole?  OK, sit a hefty member of the female persuasion on my chest and I'd say the Tigers' wins over Vanderbilt, Georgia and Florida trumps the Hurricanes' wins over Florida and Georgia Tech.  Add in the fact that the Tigers have won every game by at least 15 points, and they probably deserve the slot.  The Bears can make their statement the first three games of November against Oklahoma, Texas Tech and Oklahoma State. (Last week: unranked)
Next up: vs. South Carolina/vs. Wake Forest/at Kansas
HE SAID IT
"I promised myself I wouldn't say anything horrendous about the officiating today so I'm not going to do that." — Georgia head coach Mark Richt, who will likely get a call from the league office for his non-comments on the officiating during the loss to Vanderbilt.
HE SAID IT, THE SEQUEL
"We played without a lot of our guys, and everyone stepped up and raised their level. I like our team." — an understated Gus Malzahn after Auburn's biggest win since the BCS title game following the 2010 season.
HE SAID IT, THE THREEQUEL
"Obviously this is getting a little old." — Bret Bielema, after Arkansas' fifth straight loss.
HE SAID IT, BONUS EDITION
"Maybe the only guy on the team I'm taller than. I have to tell him about that every day. Hate to tell him that's why he got recruited because I've got to be taller than somebody." — Nick Saban talking about 5-9 running back Dee Hart.
HE SAID IT, LES MILES EDITION
"I did a piss-poor job preparing this football team to play in this game." — the Mad Hatter taking the loss to Ole Miss and placing it squarely on his shoulders.
PHOTO(SHOP) OF THE WEEK
There are simply no words to describe this photo that bounced across Twitter late this past week.  So, and as I duck in anticipation of the reaction, here goes nothing…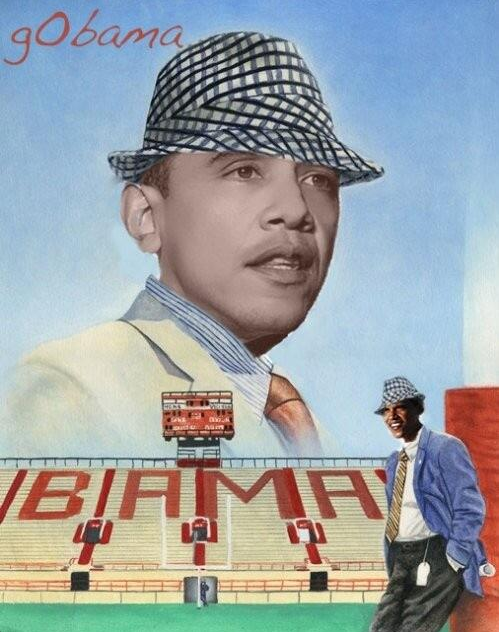 Twitter is simply one of the greatest.  Inventions.  Ever.
SAY WHAT?
Saturday's game against Missouri was the furthest north Florida has traveled for a game since a 1991 contest against Syracuse.  In a dome.  The last time they played outdoors at a more northerly locale than Columbia?  You have to go back to 1986, the year the Gators traveled to East Rutherford, New Jersey, to take on Rutgers in a mid-October non-conference matchup.
TRUE STORY
Missouri is not just winning but they are winning handily: all seven of their victories this season have been by at least 15 points.  The Tigers' "closest" calls?  A pair of 15-point wins over Toledo (38-23) and Georgia (41-26).  All told, the Tigers have exactly doubled their opponents in points this season: 310-155.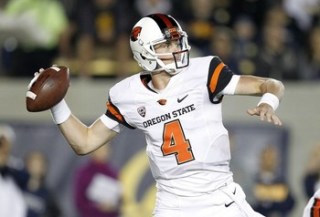 FOR STATISTICAL PURPOSES ONLY
— What Oregon State's Sean Mannion and Brandin Cooks are doing to defenses this season is borderline criminal.  The former passed for 493 yards and four touchdowns in the win over Cal, while the latter caught 13 passes for 232 yards and a touchdown.  Mannion has now passed for at least 367 yards in all seven games, and has thrown for at least 400 yards in five of them.  Coming into Week 8, Mannion was leading the nation in total offense, passing yards and passing touchdowns, while Cooks was doing the same in receptions, receiving yards and receiving touchdowns; here's to guessing that won't change much if at all when the statistics are updated later on today.
— With four teams (Clemson, Houston, Louisville, UCLA) suffering their first losses of the season Saturday (and Thursday), there are now 10 undefeated programs left at the FBS level.  The Big 12 (Baylor, Texas Tech), ACC (Florida State, Miami) and SEC (Alabama, Missouri) are the only conferences with more than one.  On the other end of the spectrum, Temple, over Army, was the only team to pick up its first win of the year in Week 8.  That leaves seven teams (Georgia State, Hawaii, Miami of Ohio, New Mexico State, Southern Miss, UConn, Western Michigan) winless through the first two months of the year.
— Jeremy Gallon wasn't the Michigan player setting records Saturday as Devin Gardner threw for a school-record 503 yards on just 21 completions and 29 attempts.  And Gardner absolutely obliterated the old standard of 389 yards set by John Navarre.  The best development for the Wolverines, though, was that the interception-prone Gardner didn't throw a pick.
— Team-wise, Michigan set a school record with 751 yards of total offense, besting the old high of 727 yards set against Delaware State in 2009.
— Connor Halliday set an FBS record with 89 pass attempts in Washington State's loss to Oregon, breaking Drew Brees' record of 83.  His 58 completions tied an FBS record.  For good measure, he threw for 557 yards and four touchdowns… and lost by 24 points.
— Oregon's Marcus Mariota has now thrown 265 consecutive passes without an interception, extending the Pac-12 record he set last week.
— In the loss to Auburn (still can't believe I'm typing that), Johnny Manziel totaled 502 yards of offense (454 passing, 48 rushing) and accounted for five touchdowns (four passing, one rushing).
— For the second game in a row, Alabama had a pair of 100-yard rushers: Derrick Henry with 111 yards and a touchdown, Kenyon Drake with 104 yards and two touchdowns.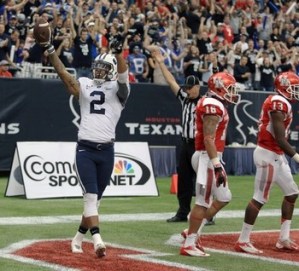 — It was a heck of a day for BYU's Cody Hoffman: the wide receiver broke the school record for career receptions he had shared with Dennis Pita (221, now 231); tied the school record for most career touchdown receptions (Austin Collie, 30); and moved to within 72 yards of breaking Collie's record for most career receiving yards.
— Both Melvin Gordon and James White accounted for three touchdowns apiece as Wisconsin whipped Illinois 56-32.
— In his first career start, Maty Mauk threw for 295 yards and a touchdown in Missouri's huge win over Florida.
— Oklahoma State's Josh Stewart caught 10 passes for 141 yards and returned two punts for another 124 in the Cowboys' win over TCU.  Stewart took one of his returns back 95 yards for a touchdown.
— A one-yard touchdown run by Ohio State's Carlos Hyde in the third quarter of Iowa's loss was the first rushing touchdown the Hawkeyes had allowed all season (six-plus games).
— Baylor passed for 423 yards and ran for another 291 in a 71-7 win over Iowa State.  The game also marked the fifth time in six games the Bears have scored at least 69 points.
— BYU ran 115 plays in its 47-46 win over previously unbeaten Houston, tying the NCAA record set by Northwestern in 2010.
— Akron's 24-17 win over Miami of Ohio snapped a streak of 28 losses to FBS teams, with the last win for the Zips against a program from that level coming in November of 2010 against Buffalo.
IN CLOSING…
The loss of any life is tragic, but the passing of someone with their whole lives ahead of them just adds to the gut-punch.  Sadly, the world of college football has seemingly dealt with more than its fair share of tragedies the past month and a half.  A Texas A&M defensive lineman burying his two-month daughter just days before the Alabama game.  The stunt pilot father of Tulane's kicker killed in an airplane crash.  A UCLA wide receiver struck and killed by a vehicle, while a Cincinnati offensive lineman was killed and another Bearcat still hospitalized with injuries incurred in a one-vehicle accident just two weeks later.  Sadly, tragedy hit the college football world yet again, with Eastern Michigan wide receiver Demarius Reed shot dead in an apparent homicide Friday morning.  Way too many, and way, way, way too young.  Hug 'em if you've got 'em, every single chance you get.