As is the case each and every season, each and every week, any omission below is not on purpose, it's merely intentional.
WINNERS
Alabama vs. Oregon: Tale of the Tape
Seeing as Alabama and Oregon play in different conferences on essentially opposite sides of the country, there's very little concrete data available to compare the No. 1 and No. 2 teams in the country.  With Tennessee on both of their schedules this season?  Yeah, the comparisons were going to be inevitable.  Back on Sept. 14 in Eugene, the Ducks led the Vols 38-7 at halftime; Oct. 26 in Tuscaloosa, the Tide led the Vols 35-0 after two quarters of play.  The final scores were 59-14 for the former, 45-10 for the latter.  The Ducks totaled 687 yards of offense while holding the Vols to 316; the Tide gave up 322 while gaining 479.
If special teams is your thing, Oregon was forced to punt three times while Alabama punted just twice.
The conclusion?  There is none, of course, other than UT was whipped six weeks apart by two very, very, very good football teams who could possibly square off in early January if they continue their winning ways.  That said, feel free to use the numbers to further whatever agenda you may be wanting to push.  Enjoy!
Brutus the Bully
With the three teams ahead of them in the BCS standings winning by a combined score of 136-41, Ohio State needed a statement game, something they've lacked throughout 2013.  Unfortunately for Penn State, that's exactly what OSU went out and did.  The Buckeyes bullied the Nittany Lions in the first half, jumping out to a 42-7 before cruising to a 63-14 win.  Winning in this fashion won't necessarily help Ohio State, though; they're not leapfrogging Alabama, Oregon or Florida State anytime soon as long as those three teams keep winning.  Rather, such an impressive performance will likely keep the likes of Baylor from passing them in the polls and, thus, the BCS standings later on tonight.  That said, it's still hard to wrap my head around the fact that Ohio State could conceivably carry a 25-game winning streak into early January… and be on the outside looking in when it comes to the BCS title game.  Again.
Bobby Bowden, spear planter
After what was nearly a three-year sabbatical following his unceremonious dismissal in 2010, the legendary Bobby Bowden returned to the stadium that in part bears his name.  It was a glorious return for the Tallahassee icon, replete with a pregame ceremony featuring one of the most storied traditions in the sport: the planting of the spear at midfield of Doak Campbell Stadium.  Instead of Osceola and Renegade, though, it was Bowden doing the planting.  And, dadgummit, it was awesome:
(Tip O' the Cap: SBNation.com)
The return of Bowden to his rightful place in college football was awesome. The spear-planting merely drove that point home, so to speak.
Connor Shaw
No pithy headlines.  Just this: Connor Shaw is a straight-up baller.  The senior did not start for South Carolina in the game against Missouri due to a combination of injury and illness.  With the Gamecocks trailing 17-0 in the fourth and in dire need of an offensive spark, Shaw slapped on his Superman cape and strapped the 'Cocks on his back and grow up already people.  In the fourth quarter and first overtime, Shaw passed for three touchdowns; the middle one tied the game with :42 left in regulation, with the third coming on fourth-and-goal from the 15 to send the game into a second overtime.  It was a gutsy performance by an underrated player, one that helped keep what was merely a flicker of SEC East hope very much alive and well for USC.
Better late than never
A weather system filled with lightning delayed Texas' game with TCU for three hours, six minutes.  As it turned out, the wait was more than worth it.  The Longhorns entered the extended break with a 17-7 lead, then extended that lead to 30-7 by game's end as UT won its fourth straight contest.  Unbelievably, given the back-to-back embarrassing losses to BYU and Ole Miss last month, the 'Horns are now 4-0 in Big 12 play, tied with Baylor for the top spot in the conference.  All the talk of Mack Brown being able to survive the season has suddenly morphed into conversations involving how UT can claim its first conference crown since 2009.  Amazing, amazing in-season turnaround going on in Austin.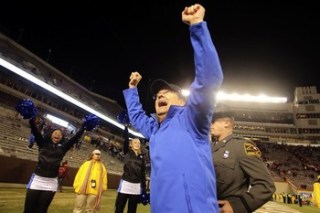 Bowling Blue Devils… again
We could very easily put Virginia Tech tripping over its own junk in the "Losers" category, but instead we'll give some love to the football nerds.  In Blacksburg Saturday afternoon, Duke upended a Hokies team that had won six straight games and had climbed inside the Top 20 of the rankings.  It was the Blue Devils' sixth win of the season, meaning the football program at a university known more for academics and basketball is bowl-eligible for the second straight season; that's the first time in school history that's ever happened.  The win over the Hokies was historic as well as it marked the first time Duke has beaten a ranked team since 1994… and the first time it's beaten a ranked team on the road since 1971.  Hats off to David Cutcliffe, his coaching staff and his players for what they're doing with that program.  The entire university and its alumni should be proud of what's going on.
Spartans: they are Legends
Missouri's not the only surprise division leader just past the halfway point of the 2013 season.  Take Michigan State, for example.  Heading into the new season, most figured Michigan and Nebraska and Northwestern would be battling for the right to represent the Legends Division in the Big Ten title game, with the Spartans leading the middle-of-the-pack teams in that division.  The Wildcats have played itself out of contention with four straight losses to start conference play.  The Wolverines and Cornhuskers have each lost one league game; the Spartans, on the other hand, sport a perfect 4-0 mark at the halfway point of their conference slate, the latest coming courtesy of a 42-3 shellacking of Illinois.  The best part for the Spartans?  They face the Wolverines and Cornhuskers the next two weeks.  Win both, and MSU would all but have the division locked up with two games remaining in the season.  And, speaking of surprising division leaders…
Tulane road, with a side of Rice
Sorry, that's the best I can do at about one in the morning.  Anyway, the past two seasons have seen Rice and Tulane combine for a woeful 14-35 record, with the Green Wave accounting for just four of those wins.  2013, however, is a different story.  At the end of Week 9, Rice and Tulane are tied atop the Conference USA West standings at a perfect 4-0.  The Owls and Green Wave, with six wins overall, are now bowl-eligible before the calendar flips to November; it's the first time the latter has hit that mark since 2002.
Your move, JFF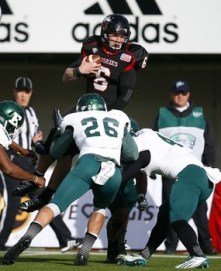 Last week, Jordan Lynch set an FBS record for rushing yards by a quarterback.  This week, the Northern Illinois senior added another notch to his statistical legend.  In NIU's cruise over Eastern Michigan, Lynch passed for three touchdowns, ran for one and caught another, and did all of that scoring damage in the first half.  Lynch became the first player at the FBS level since 2010 (Ohio's Boo Jackson) to hit the two passing/one rushing/one receiving TD trifecta in the same game.  For the game, Lynch finished with six touchdowns — four passing, one each rushing and receiving — in less than three full quarters of play as the Huskies are off to a program-best 8-0 start, one season removed from its BCS bowl appearance.
Continuing the upHill climb
The first three games of the season, and aside from a 259-yard rushing performance against Texas, Taysom Hill struggled mightily.  The BYU sophomore was completing just over 35 percent of his passes and had tossed three interceptions to just one touchdown.  Since then, it's as if someone has flipped the switch.  The last five games, Hill has completed more than 65 percent of his passes in four of them and has tossed 11 touchdowns and added another four on the ground.  Yes, he's thrown five interceptions in that span, but the number is skewed somewhat by a three-pick anomaly against Houston a week ago.  Not so coincidentally, Hill's blooming has coincided with a Cougars resurgence; after starting the season 1-2, BYU has ripped off five straight wins to become bowl-eligible for the ninth straight season.
LOSERS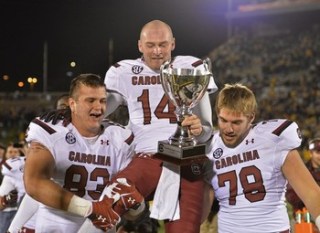 Soul-crushing
There are losses that feel like punches to the guts, then there are those that feel like kicks to what my seven-year-old (thankfully) mispronounces as "tentacles."  And, boy, did Missouri take a steel-toed boot to the old giblets.  By now, you know the story: Mizzou took a 17-0 lead into the fourth quarter, only to see South Carolina tie it late to send it into overtime.  Then, giving up a touchdown on what was essentially fourth-and-15 to send it into the second overtime.  Then, in the second overtime, well, college kickers.  And holders.  With one clank off the left upright, the Tigers saw their unbeaten season go up in smoke.  What it didn't see happen, and what's been somewhat lost in the heartbreak of a devastating home loss, is the fact that Mizzou's path to SEC title game has only become slightly cluttered.  The Tigers still hold a one-game lead over Florida, Georgia and South Carolina in the loss column, and can probably — OK, maybe — punch its ticket to the Georgia Dome as the East's representative by winning three of their last four games against Tennessee, Kentucky, Ole Miss and Texas A&M.  All is not lost for Mizzou, even though it may very well feel like it in the here and now.
This displeases Touchdown Tommie
Last month, Nebraska legend Tommie Frazier blasted his alma mater, calling for essentially the entire defensive coaching staff to be fired following an embarrassing home loss to UCLA.  Saturday, the Cornhuskers gave Frazier additional ammunition.  A week after reentering the rankings, the Cornhuskers looked listless in their 34-23 loss to Minnesota.  The Huskers could do little offensively in the return of Taylor Martinez (no relation) while the Blackshirts were gashed for 430 yards, 271 of which came on the ground. "Do I need to say anymore? … This is simply inexcusable," Frazier tweeted shortly after the loss, adding, "where do we go from here Husker Nation?"  That's a very good question, but one that won't have an answer for at least another month.
Guns down, foot shot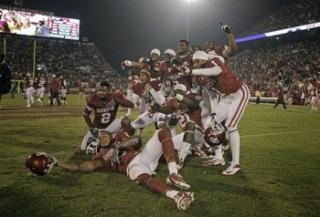 With the chance to keep pace with Baylor and Texas, Texas Tech blinked.  And flinched.  And gagged on the moment.  Not only did the Red Raiders cough up its unbeaten season against Oklahoma Saturday, it suffered its first defeat in Big 12 play, one that puts Tech a game behind the Bears and Longhorns in the loss column.  The division chase is far from over as the Red Raiders close out the regular season with back-to-back games against the teams ahead of them.  They did, though, miss out an opportunity to drop an average Sooners team in Norman and put themselves in position to continue to control their own destiny in pursuit of the conference's BCS bid.
Still Mullen
Including Thursday night's six-point win over Kentucky, Mississippi State is 14-21 in SEC play since Dan Mullen took over as head coach in 2009.  Since 2011, the Bulldogs have won seven conference games against five different teams — Ole Miss, 2011; Arkansas, Auburn and Tennessee, 2012; and Kentucky each of the past three years.  The combined league record of those schools at the end of the season/currently?  A miserable 5-47.  Mullen has yet to beat the two heavyweights in the SEC West, Alabama and LSU, since coming to Starkville, and lost to conference newcomer Texas A&M last season.  Again, if the MSU administration is comfortable with the mediocrity of Gator Bowl or Music City Bowl appearances, then so be it.  They shouldn't, though, and should instead, if they haven't already, do some soul-searching when it comes to the state of the football program and Mullen's future in it.
Double-digit danger
In each of Chris Petersen's first seven seasons as Boise State's head coach, the Broncos had won at least 10 games, winning at least 11 in six of those years and at least 12 in five of them.  That stunning string of success, however, is in serious jeopardy.  With just four games left in the regular season, Boise's record stands at 5-3 after the beatdown at the hands of BYU Friday night.  In order to reach the double-digit plateau for an eighth straight season and match Petersen's worst season at Boise — 10-3 in his second year in 2007 — the Broncos will need to sweep the final four games (Colorado State, Wyoming, San Diego State and New Mexico) as well as win their bowl game.
TOP 25 TOO-CLOSE-FOR-COMFORT
How ranked teams endured close shaves vs. unranked opponents
— No. 6 Stanford 20, Oregon State 12: This is a bit misleading as the Beavers are ranked in the coaches' poll, but, since we use the Associated Press rankings, it falls within the parameters.  While the Cardinal trailed just once (3-0 in the first quarter), they couldn't put OSU away until a fourth-and-goal pass from the seven-yard line fell incomplete with one second left on the clock.  Stanford has now won two straight after what's still an inexplicable loss to Utah and with, following a bye, what's still a huge showdown with Oregon looming on the first-Thursday-in-November horizon.
— No. 7 Miami 24, Wake Forest 21: For the third time in as many weeks, the Hurricanes fell behind by 10-plus points.  As was the case in each of those games, the 'Canes came back to keep their record perfect on the season.  That said, if The U plays the way they have during this stretch, Florida State will woodshed them next Saturday.
— No. 9 Clemson 40, Maryland 27: Perhaps suffering through the malaise of last Saturday's crushing loss to Florida State, the Tigers led the injury-ravaged Terps just 19-13 at the end of the third quarter.  Three touchdowns in the first 10 minutes of the final quarter, however, was enough to get Clemson back on the winning side of the ledger.
— No. 15 Fresno State 35, San Diego State 28: The two teams scored just 14 points total in the first 39 minutes… and then all MAC-like hell broke loose.    A total of 42 points in the final 21 minutes — and a blocked field goal at the end of regulation by Fresno — culminated in overtime, with the Bulldogs scoring a touchdown on its lone possession while keeping the Aztecs out of the end zone.  With the win, the Bulldogs keep its record unblemished and allows it to maintain its BCS-buster status for another week.
CFT TOP FIVE
A snapshot look at how my ballot would look Monday if I, ya know, had a real vote instead of a measly and meaningless preseason poll.
1. Alabama — Updating this little statistical chestnut, the Tide has outscored its opponents 246-26 in the six games since beating Texas A&M 49-42 in Week 3.  Bama has allowed just two touchdown in that stretch, with none coming in the first half when the game was in any kind of doubt.  (Last week: No. 1)
Next up: Bye (LSU Nov. 9)
2. Florida State — After a couple of weeks of contemplation, I'm finally pulling the trigger.  And this nothing to do with the team that's held this spot throughout the season; rather, it has everything to do with the fact that, over the past month, I don't know that's there's been a better team in the country than the Seminoles.  In fact, I wouldn't argue too much if someone wanted to push FSU past the Tide in the rankings. (Last week: No. 3)
Next up: vs. No. 7 Miami
3. Oregon — Again, nothing against the Ducks for the move down.  And, yes, you normally don't see a team drop after beating the No. 12 team in the country by 28 points.  It's just, damn, that team in Tallahassee.  Really, it's FSU, not you Eugene. (Last week: No. 3)
Next up: Bye (Stanford Nov. 7)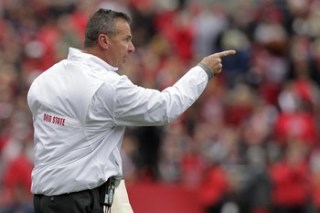 4. Ohio State — A 49-point win and 20 straight victories overall would normally mean something in the polls.  It won't thanks to the three teams above, but the Buckeyes should be satisfied knowing they easily put together their most impressive all-around performance of the season. (Last week: No. 4)
Next up: at Purdue
5. Baylor — Well hello Bears.  Good to see you in this rarefied air.  Of course, it came at the expense of Missouri, but that doesn't make it any less meaningful.  How long they stay here remains to be seen; over the next three weeks, the Bears will face three ranked foes in the form of Oklahoma and Texas Tech at home, then travel to Stillwater to square off against Oklahoma State.  They will then finish off the season against TCU and Texas. In other words, if they stay here, they'll have earned it. (Last week: unranked)
Next up: No. 15 Oklahoma
(Dropped out: No. 5 Missouri)
HE SAID IT
"We stunk it up the whole ballgame.  I don't know how it happened." — Steve Spurrier after South Carolina's improbable overtime win over previously-unbeaten Missouri.
HE SAID IT, THE SEQUEL
"We kind of felt disrespected because they called us the red team all week long and said we didn't deserve to be called Alabama." quarterback AJ McCarron after the red team beat up on the orange team in a 35-point win.
HE SAID IT, THE THREEQUEL
"Jimbo [F]isher will be hit with a bullying lawsuit tomorrow." — Notre Dame defensive lineman Louis Nix in a tweet posted to his Twitter account (@1IrishChocolate) in the midst of Florida State's evisceration of North Carolina State.  And, yes, a big part of the reason I chose this "quote" was so I could type "Irish Chocolate."
HE SAID IT, BONUS EDITION
"I was disappointed in the way we blocked, but we rushed for 394 yards." — Paul Johnson after Georgia Tech pushed its record to 5-3 with a 10-point win over Virginia.
VIDEO OF THE WEEK
If you're anything like me — and God help you if you are — you've been fascinated by the fact that Phil Robertson, patriarch of the Duck Dynasty phenomenon,  played college football at Louisiana Tech in the sixties and was the school's starting quarterback.  And not only did he start, he kept future Hall of Famer Terry Bradshaw on the bench for two seasons before quitting the game altogether.  I've always wondered what the Sage Bearded One looked like slinging a football instead of selling duck calls.  My prayers were answered earlier this week courtesy of al.com, which posted this clip of Robertson taking on Alabama in a 1966 game:
Not a bad set of skills from the younger, lankier Robertson, even as it came in a 34-0 loss to the Kenny Stabler-led Crimson Tide.
SAY WHAT?
Undefeated team, ranked No. 7 in the country.  News this week that the football program would be getting the proverbial "slap on the wrist" from the NCAA.  So, how do the Miami fans celebrate?  By not showing up at Sun Life Stadium, that's how.  From the Twitter account of the USA Today's Paul Myerberg: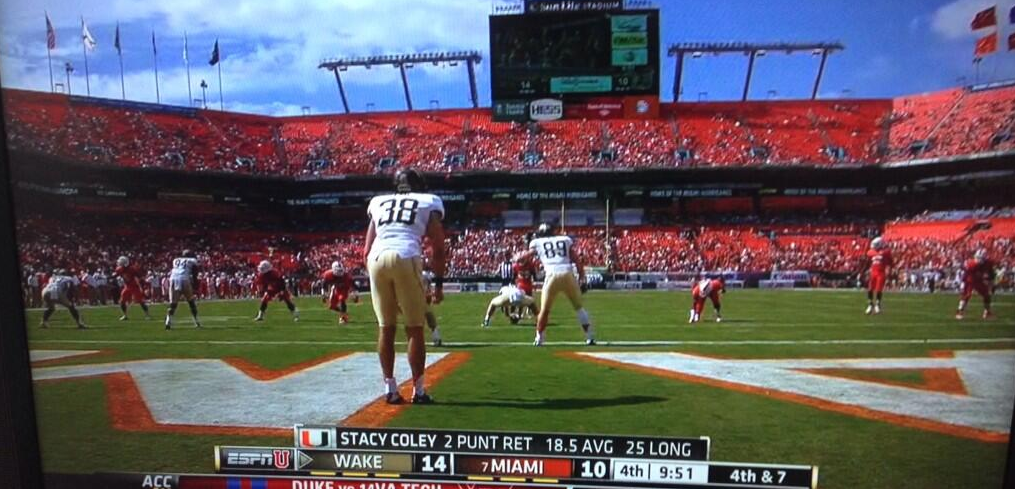 Embarrassing.  That's all you can say about that "turnout," other than Nick Saban's head would explode if he ever witnessed that kind of support.
TRUE STORY
With losses by Missouri and Texas Tech, the ranks of the unbeaten have dwindled to just eight after Week 9.  The ACC is the only conference with two undefeated teams remaining (Florida State, Miami), while six other conferences are represented: Big Ten (Ohio State), Big 12 (Baylor), MAC (Northern Illinois), MWC (Fresno State), Pac-12 (Oregon) and SEC (Alabama).  Meanwhile, two teams, Western Michigan and New Mexico State, won its first games of the season.  That leaves five programs (Georgia State, Hawaii, Miami of Ohio, Southern Miss and UConn) without a win to show for its effort this season.  Southern Miss, incidentally, has now lost 19 consecutive games.
FOR STATISTICAL PURPOSES ONLY
— Garrett Gilbert's 635 yards of offense (a school-record 538 passing, 97 rushing) in SMU's win over Temple is the seventh-most in FBS history.  The record for single-game total offense is Houston quarterback David Klingler's 732, who passed for 716 and rushed for 16 against Arizona State in December of 1990.
— Octavius McKoy of Division III Western Connecticut rushed for 455 yards on 43 carries, breaking the single-game all-division NCAA record.  Marietta's Dante Brown had set the old mark of 441 yards back in 1996.  Ladanian Tomlinson, for those curious, holds the FBS record with 406 yards.
— Stanford held Sean Mannion to just 271 yards passing and one touchdown in its win over Oregon State.  The junior came into the game leading the nation in passing yards per game at 427.4 and had thrown an FBS-best 29 touchdowns, throwing at least three in each of the first seven games of the season.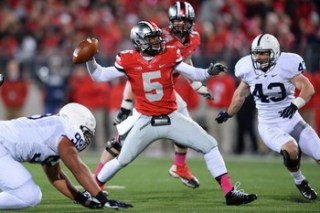 — In Ohio State's blowout of Penn State, Braxton Miller accounted for a career-high 261 yards passing and 68 yards rushing.  He also had five touchdowns: three passing, two rushing.  Meanwhile, Carlos Hyde carried the ball 16 times for 147 yards and two touchdowns as Ohio State won its 20th straight game.
— Bryce Petty passed for 430 yards, 348 of which came in the first half, as Baylor scraped past Kansas 59-14.
— Bishop Sankey, one week after rushing for a season-low 22 yards against Arizona State, rushed for a season-high 241 yards in Washington's throttling of Cal.
— In two quarters of play plus the first possession of the third quarter, Jameis Winston passed for 292 yards and three touchdowns in Florida State's romp over North Carolina State.
— Duke Johnson rushed for 168 yards and two touchdowns, including the game-winner with just under a minute left, to help Miami eke its way past Wake Forest.
— Clemson's Sammy Watkins had a school-record 14 catches in the win over Maryland.
— Connor Cook's 93.8 completion percentage (15-of-16) set a single-game Michigan State record.
— Desmond Roland ran for a career-high 219 yards and four TDs in Oklahoma State's 58-27 rout of Iowa State.
— Nebraska's Ameer Abdullah rushed for 165 yards on just 19 carries, pushing his total for the 2013 season to 981 yards.  He needs 19 yards to become just the eight player in the storied history of the football program to rush for 1,000-plus yards in back-to-back seasons.
— With a 17-yard reception late in the first half of Vanderbilt's loss to Texas A&M. Jordan Matthews set the SEC mark for most career receiving yards.  The record of 3,093 had previously been held by Georgia's Terrence Edwards.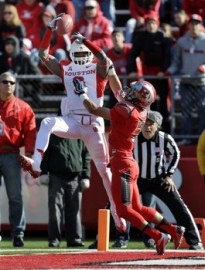 — Houston's Deontay Greenberry caught six passes for 132 yards and two touchdowns in the first half of Houston's blowout win.  The wide receiver finished with eight receptions for 168 yards and three touchdowns.
— In Louisville's easy win over inept USF, Teddy Bridgewater passed for 344 yards and three touchdowns.
— Virginia Tech's Kendall Fuller intercepted three passes in the loss to Duke, giving him five on the season.  Oregon State's Steve Nelson and Northern Illinois' Jimmie Ward entered Week 9 leading the country with five apiece.
— Rutgers quarterback Gary Nova has thrown 25 interceptions the last 14 games, including three in the loss to Houston Saturday.  In fact, seven of those interceptions have come the past two weeks.  He also tossed six picks in a late-October loss to Kent State last year.
— BYU's Cody Hoffman now has 31 career touchdown catches, breaking the old mark of 30 set by Austin Collie.
— Taysom Hill accounted for 408 yards of offense (339 passing, 69 rushing) and added three touchdowns passing and one rushing in BYU's win over Boise State.
— The past three games, Florida State has outscored its opponents, all ACC foes, 163-31.
— This is a sobering stat for my adopted home state: in 34 games under Dana Holgorsen, West Virginia has lost nine of them by 21-plus points.  In 126 games under Rich Rodriguez and Bill Stewart, which spans a 10-year period, the Mountaineers were beaten by 21 or more points a total of eight times.  Hide the couches.  And the lighters.
— Despite jumping out to a 14-3 lead, Wake Forest was unable to hang on its upset bid of Miami.  It was the Demon Deacons' 51st straight loss to a team ranked in the Top 10, with the last coming exactly 67 years ago yesterday against No. 4 Tennessee (Oct. 26, 1946).  That was also the football program's only win over a Top-Ten team ever.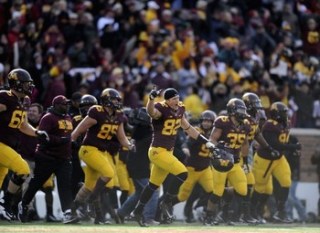 — Minnesota's 11-point win over Nebraska was the Gophers first over the Cornhuskers since September of 1960, snapping a 16-game losing streak.
— Penn State has allowed 40-plus points in three consecutive games for the first time since 1899.  The 686 yards they gave up to Ohio State was the most in the program's storied history, which dates back to 1889.
— Kansas' Big 12 losing streak has now stretched to a mind-boggling 25 straight games, with the last conference win coming on Nov. 6, 2010 against Colorado.  You have to go back to Oct. 10, 2009 (Iowa State) for the Jayhawks' last win over a current member of the conference.  Since playing in the Orange Bowl following the 2007 season, KU has gone 6-40 in Big 12 play, with four of those wins coming in 2008.
— Forget the SI cover jinx: with the overtime loss to Iowa, Northwestern has now lost four straight games since ESPN's College GameDay show set up camp in Evanston.
— Auburn ran for 422 yards on 59 carries as the Tigers moved to 7-1 with the 45-10 win over FAU.  A total of 10 different Tiger players were credited with carries in the game.
— UCF scored 45 points in the first half of its 62-17 waxing of UConn; the Knights had not scored more than 38 points in a single game at all this season entering the weekend.
IN CLOSING…
For three years, Rice's Jayson Carter has toiled through practice and summer conditioning and the like as a walk-on while never seeing the playing field on game day.  Carter's story is not unlike countless other non-scholarship players who truly play for the love of the game.  Not many, if any, of them, however, were born with a genetic disorder that leaves them standing 4-9 and weighing 130 pounds.  After three years, though, Carter finally got his Rudy moment.  Late in the fourth quarter of the Owls' blowout win over UTEP, head coach David Bailiff inserted the running back into the game.  And, not only did he get in the game, he got the carry that he's earned after toiling for years on the scout team.
"I did what I was supposed to … I didn't get negative yards," Carter said of his one-yard run.
Bravo on the perseverance and the perspective, young man.  Bravo.