With one flick of his right wrist, Ron Kellogg III may have saved Bo Pelini's job.  For now.
Trailing Northwestern most of the game, and looking miserable doing so, the Cornhuskers were facing a 24-21 deficit with four seconds remaining and sitting at Northwestern's 49-yard line.  Four seconds of game clock and 49 yards later — and nearly 60 from where Kellogg launched the Hail Mary — the Huskers had themselves an improbable win thanks to Kellogg's arm, multiple Wildcats failing to "knock it down!" and Jordan Westerkamp's fortuitous positioning behind the goal-line scrum.
Thanks to SBNation for the GIF of the stunning turn of events in Lincoln: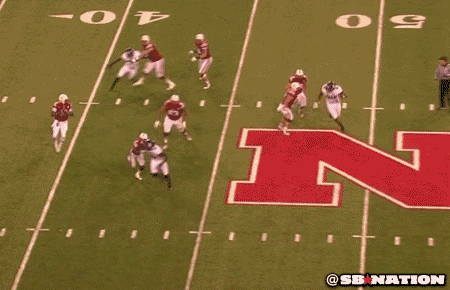 The miraculous win kept the Cornhuskers from dropping its second straight Big Ten game and kept it at least in shouting distance of Legends leader Michigan State.  It will also, at least for another week, keep the pitchforks and torches under wraps in Lincoln as Pelini lives to coach another day.  For now.
The excruciating loss, though, continues Northwestern's misery.  After starting the season 4-0 and being ranked inside the Top 20, the Wildcats have dropped five straight to put its bowl eligibility in jeopardy.