As is the case each and every season, each and every week, any omission below is not on purpose, it's merely intentional.
THUMBS UP
Vegas, baby
Many people, including a sizable bloc of Miami Nation, cried foul when oddsmakers installed third-ranked and unbeaten Florida State as a whopping 21(ish)-point favorite over the Hurricanes early last week.  It was easily the highest spread for a game involving two Top-10 teams this late in the season since such records started being kept in 1980.  At the end of the night Saturday, it looked very much like, as usual, those boys out in Las Vegas actually know what they're doing.  The Seminoles easily covered the spread — it fluctuated anywhere from 20-23 depending on the bookmaker and the day of the week — in the 41-14 win over their in-state rivals.  The runaway win not only kept FSU in the thick of the BCS title chase but also continued an impressive run of dominance.  In their eight games this season, the 'Noles have won by at least 27 in seven of them, the lone exception being a 38-24 road win over Boston College in late September.  The last four games, all coming against conference opponents, has put an exclamation point on that dominance: in those four games, with three coming against ranked teams who were undefeated at the time, the Seminoles have won by a combined score of 204-45.  I don't know if FSU is the best team in the country right now; I do know, though, that no team in the country, including the two teams ahead of them in the polls, want to face them the way they're playing right now.
Smothering Spartans
Or suffocating or stifling or whatever word you want to use to continue the alliteration, that's them.  Coming into today's game against in-state rival Michigan, Michigan State led the nation in rushing and total defense, and was third in scoring defense.  In its throttling of "Big Blue Brother," the Spartans did little to hurt that standing.  Hell, if anything, they improved it.  Unbelievably, MSU held UM to a school record-low of minus-48 yards rushing in the 29-6 win, with minus-41 of that coming in the first half.  The Wolverines were able to muster just 168 yards of total offense for the game, averaging a paltry 2.8 yards per play on the day.  Not only did the win come against a hated rival, but it kept the Spartans firmly in the driver's seat of the Big Ten's Legends division.  MSU is a perfect 5-0 in conference play, holding a game-and-a-half lead on 3-1 Nebraska — those two face each other in two weeks following a bye — and a two-game lead on 3-2 Minnesota — those two meet in the finale — entering the last month of the 2013 regular season.
The Malzahn Effect
Last season, in the final, woeful year under Gene Chizik, Auburn managed just 24 offensive touchdowns — 16 rushing, eight passing — in 12 games.  Enter offensive guru Gus Malzahn, and the difference on that side of the ball is beyond striking and utterly startling.  Through nine games, and with essentially the same cast of characters, the Tigers have 28 touchdowns… rushing.  Add in 13 touchdown passes, and Auburn has now scored 17 more touchdowns than its 2012 counterparts, and they've done it in three fewer games.  The best part of it all for The Plains boys is that the Tigers are now at 8-1 overall and 4-1 in SEC play on the season, keeping alive the hope of an improbable Iron Bowl for the ages later this month.
Eastern SEClarity
Thanks to Florida's loss today, there's a little bit of additional clarity to the wild and wacky SEC East.  Very little, but still a little.  The Gators have effectively played themselves out of contention, although technically their hopes will remain on life support as long as they win out and Missouri loses its last three conference games and Georgia loses two and a pig flies into the stadium carrying a game ball in at least one of their remaining contests.  Georgia's odds are a little better, with the Bulldogs needing to win both of its remaining games while seeing Mizzou drop at least two of theirs.  The reality, though, is that the division will very likely come down to Mizzou and South Carolina.  If the Tigers win their last three (Kentucky, Ole Miss and Texas A&M), they will represent the East in the conference championship game.  If they stumble once, the Gamecocks are in based on a head-to-head win… provided USC wins its conference finale against Florida Nov. 16.  See how much clearer that is exiting Week 10?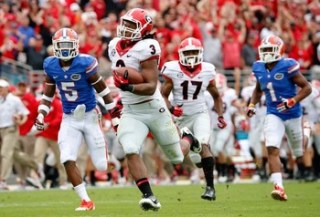 You go Gurley
Do you think Todd Gurley was missed?  The immensely talented running back missed the last three games with a high-ankle sprain; not so coincidentally, Georgia lost two of those.  The super sophomore returned for the World's Largest Outdoor Cocktail Party Saturday and, in between trips to the locker room and/or sidelines due to exhaustion, made an immediate impact.  Gurley touched the ball 20 times — 17 carries, three receptions — and totaled 187 yards and two touchdowns in the Bulldogs' bounce-back win over Florida.  Gurley was far from the only factor in the win, but he was most certainly a big enough one that it'll have a good chunk of UGA Nation playing the "what if?" game over his extended sabbatical.
Franchione rises… and raises a program
Dennis Franchione has been the head coach at Alabama and Texas A&M, but he may be in the midst of his most enjoyable experience during his 40 years as a coach.  Franchione is in his third season at Texas State, with the Bobcats in just their second season at the FBS level.  After a four-win season in their first year in big-boy football, the Bobcats now stand at 6-3 on the season and are bowl eligible for the first time in program history.  Franchione won't get the notoriety — or the stain of scandal — that he received in Tuscaloosa or College Station, but he and his staff are doing a rewarding service for the upstart TSU football program.
Strip the interim tag?
Beaten down by the weight of speculation regarding his future at USC, Lane Kiffin was fired as the Trojans' head coach Sept. 29.  At the time, USC was barely keeping its head above water at 3-2 and were coming off an embarrassing 21-point loss to Arizona State.  Since that night in the desert and after slapping the interim tag on Ed Orgeron?  The Trojans have gone 3-1, including the upset road win over Oregon State Friday night.  A spark has been lit underneath the Trojans, leading some to call for athletic director Pat Haden to make Orgeron the permanent replacement for Kiffin.  While such a suggestion may carry a little more weight now given how the players have responded to Orgeron's energy and enthusiasm, Haden needs to tread lightly on that front.  While Orgeron has provided a short-term spark, is he the long-term answer on the sidelines?  Haden made a mistake by allowing Kiffin to return for the 2013 season instead of pumping fresh coaching blood into the program; the last thing the AD needs to do is compound that mistake by getting swept away in the emotional turnaround and handing the permanent keys to someone ill-suited for the long-term future of the brand.
Dan the Man
What a job being done out in Denton, Tex., by Dan McCarney & Company.  Thursday night's win over Rice — in a battle for first place in Conference USA's West division no less — was the sixth on the season for North Texas, pushing the Mean Green to bowl eligibility for the first time since 2004.  Following that New Orleans Bowl appearance, UNT won just 13 games in six seasons; the Mean Green have now won 15 in McCarney's two-plus seasons.  Add in some very significant health issues on McCarney's part earlier this offseason, and you have one of those feel-good stories going on in the state of Texas.  And, somewhere, Big Ben Kercheval is smiling.  And likely still blind drunk.
THUMBS DOWN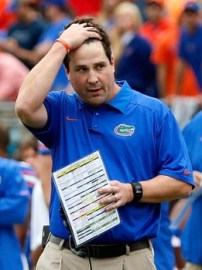 Ron Muschamp? Will Zook?
I'm just going to toss this out there, solely for the sake of discussion and with no commentary added. When Ron Zook was fired as Florida's head coach in late October of 2004 — he was allowed to finish out the season — the Gators were 20-13 overall and 14-7 in the SEC during his two-plus years in Gainesville. Zook's three-year record with the Gators was 23-14 and 16-8. On the first weekend of November this year, and in his third season at UF, Will Muschamp is 22-12 overall and 13-9 in conference play following the loss to Georgia. Go ahead and discuss that little statistical comparison amongst yourselves.
Coastal chaos
Well, not yet, but the possibility is very much there.  Despite the loss to Florida State, Miami at 3-1 remains in firm control of the ACC's Coastal division.  Behind the Hurricanes, though, are a quartet of teams just waiting to pounce.  With four Saturdays left in the regular season, the Coastal has a whopping four teams with two losses apiece: Georgia Tech (4-2), Virginia Tech (3-2), Duke (2-2) and Pittsburgh (2-2).  Of The U's last four games, three of them come from that group — at home against the Hokies (Nov. 9), on the road against the Blue Devils (Nov. 16) and the Panthers (Nov. 29).  If the 'Canes happen to trip up against any of those teams — that likelihood became more of a reality thanks to a devastating injury —  and they don't all knock each other out of contention?  All Coastal hell will break loose.  If Miami can avoid any further minefields, though, the 'Canes could still find themselves in the ACC Championship Game… and with a rematch with FSU.
Guns down, foot shot… again
Texas Tech's dream season is quickly turning into a nightmare.  In their first season under Kliff Kingsbury, the Red Raiders began the year by reeling off seven straight wins and moving into the Top 10 in both the major polls as well as the first set of BCS standings.  Since that high point two weeks ago, it's been nothing but back-to-back lows for Tech.  Coming off its first loss of the season last weekend against No. 15 Oklahoma, Tech stumbled its way to a 52-34 loss to No. 18 Oklahoma State this weekend.  The Red Raiders have now tumbled behind not only unbeaten (in conference play) Texas and Baylor in the Big 12, but they're looking up at one-loss Oklahoma and Oklahoma State as well.  Any hope Tech entertained of earning a BCS bid is all but lost.  All of that early-season hope has not completely evaporated, however, as the Red Raiders are a young team with plenty of talent and promise for the future to go along with their dynamic new head coach.
Weak 10
College football fans, you may have been the biggest non-playing losers of the week given the weak slate of games for Week 10.  While there were three matchups with both teams ranked in the Top 25, that trio of games turned into double-digit beatdowns: No. 24 Michigan State 29, Michigan 6; No. 18 Oklahoma State 52, No. 15 Texas Tech 38; and No. 3 Florida State 41, No. 7 Miami 14.  Five of the teams ranked inside the Associated Press Top Ten were idle, while just fourteen of the Top 25 weren't on a bye; the AP says that's the fewest number of ranked teams that have taken the field in a single weekend this season.  Of those 14 games, every single one of them had a margin of victory of at least 18 points.  Hopefully, this week was college football's way of allowing us all to catch our collective breath ahead of the stretch run for the final five weeks of the 2013 season.  That stretch run begins in earnest Thursday with a pair of Top-25 games, including one Top-10 matchup, that could very well cause a significant shakeup in the Week 11 release of the BCS standings.
TOP 25 TOO-CLOSE-FOR-COMFORT
How ranked teams endured close shaves vs. unranked opponents
— None.  See above.
CFT TOP FIVE
A snapshot look at how my ballot would look Monday if I, ya know, had a real vote instead of a measly and meaningless preseason poll.
1. Alabama — The first of three Top Five teams on a bye this weekend, the Tide got an extra week of work in for its second Game of the Millenium this season.  All eyes will be on Tuscaloosa next weekend as Bama looks to clear its lone remaining hurdle before what's suddenly become an Iron Bowl rife with SEC and BCS implications. (Last week: No. 1)
Next up: vs. No. 11 LSU
2. Florida State — Anytime you beat the No. 7 team in the country, you deserve to remain right where you started the weekend.  Anytime you beat three previously-unbeaten teams in a span of four games by a combined 117 points, you deserve serious consideration for the top spot.. (Last week: No. 2)
Next up: at Wake Forest
3. Oregon — Somehow, I think the Ducks managed to score 38 despite taking the weekend off.  Much like the team above them, Oregon got an extra week's worth of rest in preparation for a game that could send the Pac-12 North and BCS standings into glorious chaos depending on the outcome. (Last week: No. 3)
Next up: at No. 6 Stanford, Thursday Nov. 7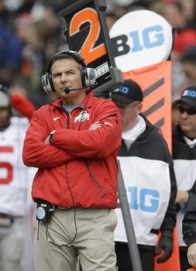 4. Ohio State — The last two weeks, the Buckeyes have beaten Penn State and Purdue by a combined score of 119-14.  OSU still finds itself in a position where they need to both keep winning and have at least two of the teams ahead of them lose in order to have any hope of playing for a BCS title. (Last week: No. 4)
Next up: at Illinois
5. Baylor — Somehow, I think the Bears managed to score 48 despite taking the weekend off.  As is the case with Alabama and Oregon, Baylor has its own season-making game on tap coming off a bye . (Last week: No. 5)
Next up: vs. No. 13 Oklahoma, Thursday Nov. 7
HE SAID IT
"It's awesome. You always say 'Every game is the same. Every game is the same.' But this one is different. There's a different feel to it. The atmosphere is different. To go out and beat these guys three years in a row, which hasn't happened in 24 years, is just an awesome feeling." — Quarterback Aaron Murray following the rivalry win over Florida.
HE SAID IT, THE SEQUEL
"There are no words to describe it, honestly." — Northwestern running Treyvon Green, when asked to describe the gut-wrenching Hail Mary loss to Nebraska.
HE SAID IT, THE THREEQUEL
"Each of our players need to look down deep inside themselves, and find out if they really love playing the game or not." — TCU quarterback Casey Pachall, following the Horned Frogs' sixth loss in nine games this season.
VIDEO OF THE WEEK
Miami may have lost its most important game in recent memory Saturday, but the Hurricanes had already picked up its biggest win in quite a while last month.  As you know, the NCAA announced its long-awaited sanctions on The U football program, with no extension of what's been a two-year bowl ban along with "just" nine total scholarships stripped over the next three years.  It was a huge boost for a team that's lived with an NCAA shadow hanging over it — and the recruiting trail — for nearly three years.  The utter exuberance in this video released by the university shows just how huge it was:
While the team and its fan base may be down after such a devastating loss to an in-state and conference rival, a loss that likely knocked them out of the BCS title picture, the future, thanks in part to the NCAA issue clearing and in large part to the presence of Al Golden, once again looks bright for The U.
PHOTO OF THE WEEK
From the "Creepy Randomness" department comes this, which can only be described as, well, a baby on a stick holding balloons. This homage to, uhhh, something comes from the Twitter feed of ESPN director of public relations Keri Potts, who snapped this "gem" while College GameDay was visiting Tallahassee:
OK then.  Let's move on…
SAY WHAT?
In its overtime loss to West Virginia, TCU attempted a 62-yard field goal… in the first overtime.  That's staggering, considering teams start each possession of overtime at the 25-yard line.  However, the Horned Frogs lost six yards on first down, then, after a one-yard pass on second down, were flagged for a personal foul and moved back 15 additional yards.  An incomplete pass on third down left TCU facing a fourth-and-30 from the 45-yard line.  Jaden Oberkrom's attempt from 62 yards out had the length but was wide.  On the Mountaineers' first possession of the extra session, Josh Lambert booted a more conventional 34-yard field goal to give WVU a much-needed 30-27 win.  While the win kept 4-5 WVU's bowl hopes alive, it all but ended TCU's as the Horned Frogs will now need to win its next three (Iowa State, Kansas State, Baylor) to become bowl-eligible for the ninth consecutive season under Gary Patterson.
TRUE STORY
Ohio State's win over Purdue was the Buckeyes' 21st straight dating back to the first game of the 2012 season.  OSU can tie the school record of 22 straight, set back in the late sixties, with a win over Illinois Nov. 23 — they have a bye next weekend — then break it at home the following Saturday against Indiana.  OSU's streak is the longest at the FBS level since Texas won 21 straight from 2004-06; oddly enough, it was the Buckeyes that snapped that Longhorn streak.  The Buckeyes still have a ways to go to break the Big Ten record, however, as the Wolverines won 29 straight in 1901-03.
Incidentally, Alabama (12), Baylor (11), Oregon (10) and Florida State (10) are the only other FBS teams with current double-digit win streaks.
FOR STATISTICAL PURPOSES ONLY
— Just one undefeated went down this weekend (Miami), leaving seven unbeatens remaining with five weeks left in the regular season: Ohio State and Northern Illinois, 9-0; Alabama, Florida State, Fresno State and Oregon, 8-0; and Baylor, 7-0.  On the other side of the W/L coin, the same five teams as last weekend exit this weekend winless: Georgia State, 0-9; Hawaii, Miami of Ohio and Southern Miss, 0-8; and UConn, 0-7.
— A 33-yard touchdown pass to Sammy Watkins gave Clemson's Tajh Boyd 113 career touchdowns, surpassing the mark of 112 set by North Carolina State's Philip Rivers. The senior now has 116 for his career, 93 passing and 23 rushing.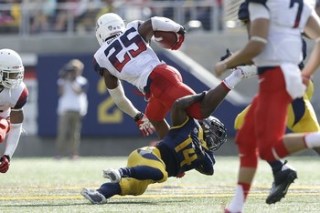 — Arizona's Ka'Deem Carey, who entered the win over Cal leading the nation in rushing yards per game at 153.3, rushed for 152 yards.  Carey has now rushed for at least 119 yards in all seven games in which he's played this year — he was suspended for the opener —  and has a streak of 11 straight 100-plus games dating back to early November of last season.
— Derek Carr passed for 487 yards and three touchdowns as Fresno State pulled away from Nevada in its 41-23 win.  It's the fifth time this season Carr has passed for 400-plus yards in a single game.
— In South Carolina's win over Mississippi State, Connor Shaw tossed four touchdown passes on just 10 attempts.
— Tre Mason ran for four touchdowns in Auburn's 35-17 win over Arkansas.
— Penn State running back Bill Belton rushed for a career-high 206 yards in the Nittany Lions' overtime win Illinois.
— Casey Pachall set career highs with 40 completions and 58 attempts in the overtime loss to West Virginia while his 394 yards passing marked the second-best total of his career, a total trumped only by 473 yards in a 2011 win over Boise State.
— In just over two quarters of work, Jordan Lynch totaled 279 yards of offense (160 rushing, 119 passing) and five touchdowns (four rushing, one passing) as Northern Illinois romped its way to a 63-19 win over UMass.
— Rakeem Cato threw five touchdown passes in the first half of Marshall's 61-13 win over Southern Miss.
— In the first quarter of Ohio State's win over Purdue, tight end Jeff Heuerman caught four passes for 98 yards and a touchdown; the junior came into the game with 15 receptions for 139 yards and a touchdown for the entire season.  Heuerman finished with 116 yards, the first 100-yard receiving game for an OSU tight end since Ricky Dudley in the 1996 Citrus Bowl and the most for one since John Frank's 123 in 1983 vs. Michigan.
— Air Force running back Anthony LaCoste rushed for 263 yards against Army, the second-most in the service academy's history.
— Darell Garrettson set a Utah State record for single-game passing by a freshman, with his 370 yards helping Utah State to a 47-10 win over Hawaii.  He became the first Aggie freshman to throw for 300-plus since 1985.
— A record Doak Campbell Stadium crowd of 84,409 witnessed Florida State's humbling of Miami Saturday night.  The previous mark was set two years ago against Oklahoma.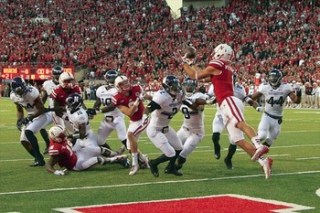 — Nebraska wrote in its postgame notes that "[s]enior quarterback Ron Kellogg III's 49-yard Hail Mary touchdown pass to redshirt freshman Jordan Westerkamp at the end of regulation is believed to be the first game-winning Hail Mary touchdown pass in Nebraska history."
— With the 27-19 win over North Carolina State, Larry Fedora became just the fourth UNC head coach to win his first two games in the rivalry, joining Ray Wolf, George Barclay and Carl Torbush.
— Southern Miss has now lost 20 straight games, tying Temple (2004-06), TCU (1974-75) and Florida State (1971-72) for the 14th-longest such streak in FBS history.  The longest losing streak at this level, of course, is Northwestern's 34 straight from 1979- 82.
— Princeton quarterback Quinn Epperly set an FCS single-game record with 29 straight completions.  Epperly also tossed six touchdowns on the day.
— Friday night, Javorius Allen ran for 133 yards — on just 16 carries — and three touchdowns in USC's 31-14 win over Oregon State.
— Quarterback Taylor Kelly (no relation) accounted for seven total touchdowns (five passing, two rushing) in Arizona State's romp over Washington State Thursday night.

— In ULM's win over Troy, and in his second game back from an early-season injury, quarterback Kolton Browning passed for 354 yards and five touchdowns.  The senior also stuffed the stat sheet with a rushing touchdown.