It's bad enough that Oregon saw its BCS title hopes all but extinguished Thursday night at Stanford Stadium.  Now, a couple of fans from the team the Ducks had been chasing all season long have decided to take a 55-gallon drum of salt and pour it all over UO's fresh, gaping wound.
Since late September, a couple of enterprising UO students have taken to selling neon green & yellow t-shirts around campus which state simply "WE WANT BAMA."  At $10 a pop, the statement shirt was all the rage on the Eugene campus as the Ducks chased No. 1 Alabama and seemed to be on an inevitable collision course with the two-time defending BCS champions.
It even prompted a fashion response from Tide Nation.
Then, Thursday night happened.
Then, of course, Alabama fans had a little fun at the Ducks' expense, reprinting an updated version of the "WE WANT BAMA" motif and shared via Twitter by Birmingham radio personality Jim Dunaway: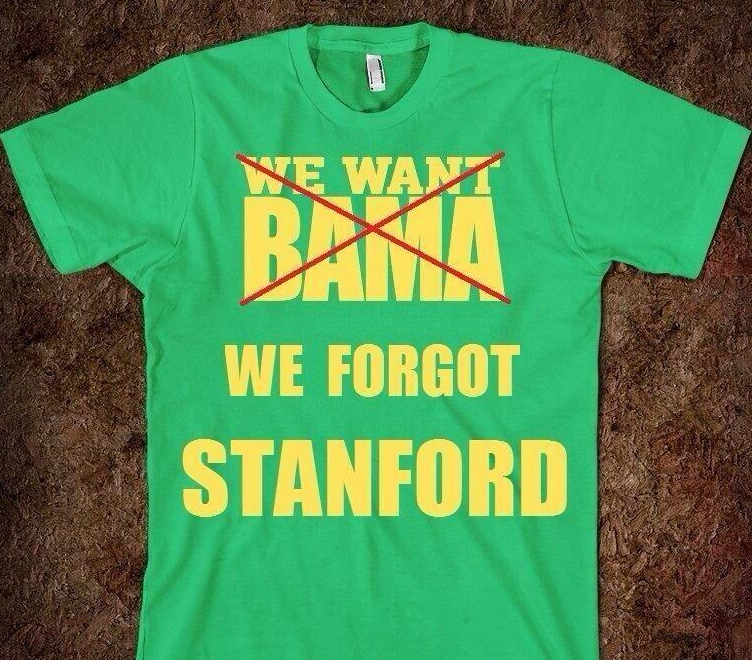 Ouch, if for nothing more than the lightning-quick turnaround less than 12 hours after the final gun sounded on the Ducks' first loss of the season.
Just a quick reminder, though: Alabama has its own stiff test this weekend, hosting No. 10 LSU in Tuscaloosa.  A loss there and the Tide's in the exact position the Ducks find themselves this morning — on the outside of the BCS window looking in.