As is the case each and every season, each and every week, any omission below is not on purpose, it's merely intentional.
THUMBS UP
SPOILER ALERT!
If you don't want to see what the Top Five BCS rankings will look like when they are released Sunday, close your eyes and scroll down for approximately three seconds starting… now.
With that out of the way, and based on intense, extensive research that involved common sense when adding dominating wins by Alabama, Florida State and Baylor to Ohio State's bye to Oregon's loss at Stanford, the BCS rankings for Week 11 of the 2013 season will fall as follows:
1. Alabama
2. Florida State
3. Ohio State
4. Stanford
5. Baylor
There's very little chance the latest rankings will look any different from what's above, which is exactly as it was a week ago.  The computers might like Baylor a little more on the strength of its win over Oklahoma, but will likely do the same for Stanford on the strength of its win over No. 2 Oregon.  The gap between those two and Ohio State is too great for either to traverse in one week; another week or two and that could very well change.
There is absolutely no chance, either, that Florida State leapfrogs Alabama.  None, zip, nada, zilch, even if there might be some validity to such a shuffling of the top-two positions on the part of the human component.
Feel-good Gophers
For the first time in 40 years, and after the 24-10 win over Penn State, Minnesota has won four consecutive Big Ten games.  At 8-2 overall, the Gophers have already recorded the most wins by the program since they went 10-3 in 2003; with one more win, they will have won more than eight games in a single season for just the second time since 1905.  At 4-2 in conference play, and with a win over 4-1 Nebraska already in their hip pockets, they still maintain an outside shot of a Legends crown with a regular-season finale against 5-0 and division leader Michigan State.  Add in the fact that their beloved head coach, Jerry Kill, continues to bravely battle epilepsy and the seizures associated with it, and the Gophers have suddenly become one of the feel-good stories of the 2013 season.  How good does that feel?  Allow Kill to demonstrate: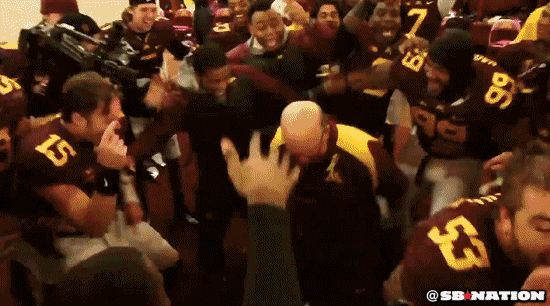 Awesome.  Simply awesome.
Johnny Finale
If this was his home swan song, it was certainly a helluva way to drop the College Station curtain on a historic two seasons.  Thanks in large part to a tumultuous offseason and even larger part to the NFL's shift to his style of quarterback play, it has long been expected Johnny Manziel would see the 2013 season be his last at the collegiate level.  As Texas A&M closed out the home portion of the year — they play at LSU after a bye next weekend and at Missouri in the regular-season finale — Manziel was his usual spectacular, stat-stuffing self the win over Mississippi State: 30-of-39 passing for 446 yards and five touchdowns.  It was the fourth time this season he passed for more than 400 yards in a game, and the second time he's thrown five touchdowns.  Entering this season, he had one of the former and none of the latter.  Maybe Marcus Mariota's stumble Thursday will get Manziel to where he was last year and belongs this season: in the thick of the Heisman discussion.
Going both ways, Jack
Much like the drop-kick and common sense when it comes to the creation of new NCAA playing rules — looking at you, targeting — two-way players have, while not extinct, become an endangered species.  At least for one night, Myles Jack breathed some life into a dying breed.  The freshman linebacker was credited with eight tackles, two passes defensed and a fumble recovery in UCLA's win over Arizona.  On top of that, Jack rushed for 120 yards on six carries, including a 66-yard touchdown run, just a couple of days after he was told to be prepared for some backfield action.  How much longer, if at all, this swinging football lifestyle will continue has yet to be determined.  Here's to hoping, though, that this isn't the last time we've seen Jack shine on both sides of the ball in the same game.
Boy, that escalated quickly
With 3:32 showing on the fourth-quarter clock, North Carolina State held a 20-17 lead over Duke.  With 3:05 left in the game, the scoreboard read Duke 38, North Carolina State 20… wait, what?  That's right, in a span of 27 seconds, the Blue Devils turned a close game into a blowout.  A five-yard touchdown run pushed the Blue Devils to a 24-20 lead.  On the first play of NCSU's next possession, Brandon Mitchell tossed an interception that was returned for a touchdown.  31-20, Duke.  On the first play of NCSU's next possession after that, Pete Thomas tossed a pick-six.  38-20, Duke and, after the final three minutes ticked off the clock, game over.  The improbable ending extends Duke's winning streak to five straight and keeps them, thanks to Miami's loss, in the thick of a chaotic ACC Coastal race.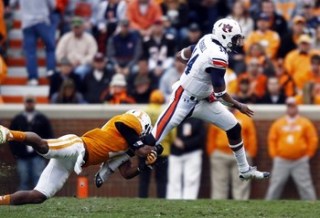 Just Plain punishing
One of the best coaching jobs this season has been turned in by Gus Malzahn at 9-1 (!) Auburn.  The biggest reason for that is also the most simple: Malzahn realizes that, at this point in time, the strength of the Tigers is running the football.  And, man, do they run the football.  In the dominating 55-23 win over Tennessee, AU passed for a miserly 35 yards… and rushed for 444 on 53 carries, a robust 8.4 yards per carry.  The Tigers have now rushed for at least 222 yards in all but one game under Malzahn (120 vs. Mississippi State) and have gone over the three hundred-yard mark in five of 10 games.  A "keep it simple, stupid" mantra seems to be working quite well for the Tigers and has put AU in a position, three weeks from yesterday, to realistically upset a hated in-state rival's title cart.
A brief respite from the storm
To say that this has been a trying season for Eastern Michigan would be a massive understatement.  Last month, wide receiver Demarius Reed was shot dead in his apartment building.  Still dealing with the pain of that loss, head coach Ron English was fired Friday for what turned out to be an expletive-laced tirade directed at the players.  So, of course, EMU went out Saturday and dropped in-state rival Western Michigan in overtime. "I think they played for all that's happened to us all year long, and to say that they didn't would be a gross understatement," interim head coach/offensive coordinator Stan Parrish said.  A single win won't assuage the pain felt by the loss of a teammate or the firing of a coach, but it at least serves as a well-deserved sliver of sunshine in what's otherwise been a dark season for the program.
THUMBS DOWN
Salt, meet wound
It was bad enough that Oregon suffered its first loss of the season to archrival Stanford Thursday night, a sting that was slightly heightened when Alabama fans put their own spin on the "WE WANT BAMA" t-shirts.  Those two worlds collided again Saturday night on the Bryant-Denny sidelines, with Oregon mega-booster and Nike chairman Phil Knight, well, ripping off the scab and pulling out an industrial-sized salt shaker: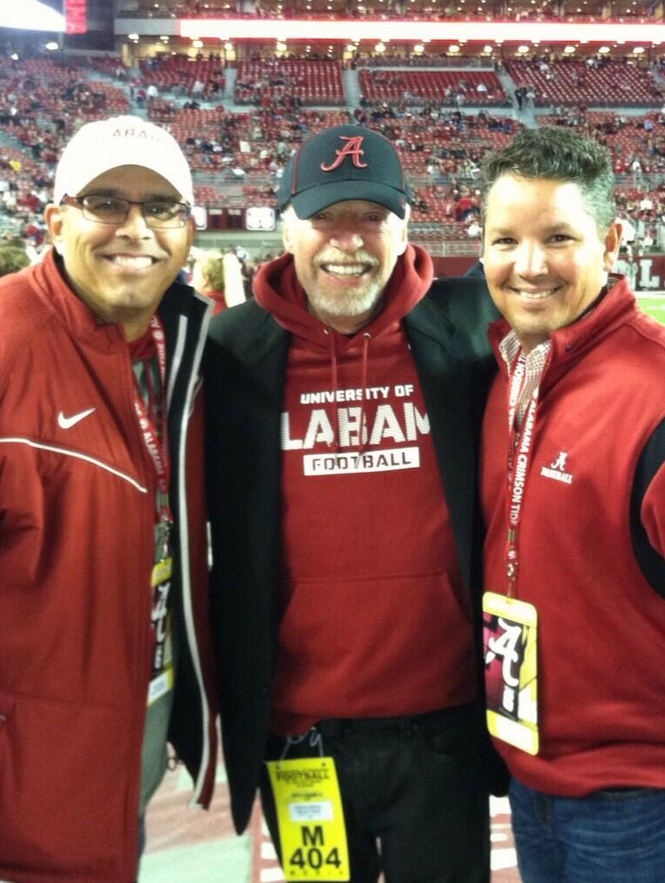 To quote the esteemed Ron Burgundy, "Knights of Columbus, that hurt!"
(Tip O' the Cap: the Twitter account of UA softball coach Patrick Murphy)
TKO of the Muschamp?
Will Muschamp's still standing, but he's wobbly.  The loss to Vanderbilt was not only the first time the Commodores had won in Gainesville since a world war was a real-world thing (1945), but it also marked the Gators' fourth straight loss.  The pressure is increasing on the head coach, as is the temperature under his seat.  Athletic director Jeremy Foley doesn't come off as the type to possess a quick trigger when it comes to decisions regarding UF athletics, especially one involving the most important sport as it relates to the financial bottom line.  A decision, one way or the other, will be in the offing at some point between now and what could be a postseason-less December/January for the Gators.  At 4-5, Florida is in danger of not qualifying for a bowl since 1986.  We know how that will play to a fan base that's by and large fed-up with Muschamp; how it plays inside the offices of the athletic department will be fascinating to watch.
The (P)U
Coming off its first loss of the season in the highly-anticipated showdown with Florida State, it was to be expected Miami would suffer from a next-game hangover for a period of time against Virginia Tech.  Unfortunately for the Hurricanes, that period of time lasted exactly 60 minutes.  It was bad enough that the 'Canes sleepwalked through a 42-24 loss to Virginia Tech that ended, appropriately enough, in a downpour; even worse is that its second straight ACC loss brought a whole gaggle of Coastal teams right back into divisional mix.  Miami at 3-2 is now actually behind two teams — 5-2 Georgia Tech and 4-2 Virginia Tech — while it's tied with Duke.  The Hurricanes own the head-to-head tiebreaker over the Yellow Jackets, but don't over the Hokies.  They'll square off with the Blue Devils next Saturday.  While there's uncertainty swirling all around the Coastal division, there is one known: Miami entered Week 11 in control of its own divisional destiny, and exited without it.  That may be the most damaging aspect of the beating it took at the hands of the Seminoles.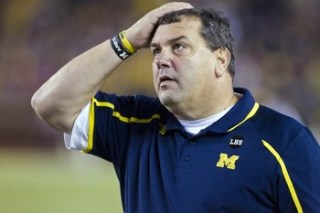 Bum rush
I don't know about you, but whenever I think about the storied history of Michigan football I think of running  the football.  And running the football successfully on a consistent basis year-in and year-out.  The past two games, though, have been the antithesis of "Michigan Men" in the trenches.  Coming off a minus-48-yard performance against Michigan State, the Wolverines more than doubled that output… to minus-21 yards.  Add it up, and that's minus-69 yards on the ground; not so coincidentally, UM has lost both games to eliminate themselves from any shot at a Legends championship.  Athletic director David Brandon said earlier this week that Brady Hoke is the right man for the job.  If the head coach doesn't start shoring up a woeful offensive line, that won't be the case for long.
Where the Buck has he been?
If you want a microcosm of the failure of Lane Kiffin's tenure at USC, look no further than Javorius "Buck" Allen.  Prior to Kiffin's late-September firing, the sophomore running back had just 14 touches in five games.  Against Cal Saturday afternoon, Allen totaled 192 yards and three touchdowns on seven touches (six rushing, one receiving); the past two games, Allen has rushed for 268 yards and five touchdowns on 22 carries, and has five catches for an additional 98 yards.  There, Trojan Nation, is your sign.  Failing to utilize what is an obviously talented skill player didn't get Kiffin canned; failing to utilize an obviously talented skill player merely served as a symptom of a shortsighted coaching tenure.
TOP 25 TOO-CLOSE-FOR-COMFORT
How ranked teams endured close shaves vs. unranked opponents
— No. 11 Texas A&M 51, Mississippi State 41: The Aggies never trailed in the win, but could never really seem to officially put the Bulldogs to sleep until a final onside kick failed.  Meh, who am I kidding.  A&M had a 24-point lead more than halfway through the fourth quarter and the outcome was never really in doubt.  The final score merely gave me the opportunity to slide the game into this portion of the proceedings.
— No. 16 UCLA 31, Arizona 26: The Wildcats pulled to within five points twice in the fourth quarter, but were never able get over that hump as the Bruins held on for the win and kept themselves in the hunt for a Pac-12 South title.
— No. 19 UCF 19, Houston 14: It took an incomplete pass on fourth-and-goal for the Knights to finally put away the one-loss Cougars, but put them away they did.  Now, all that stands between UCF and a BCS berth — and crushing Louisville's hopes for a return trip — are three wins in any of these four remaining games: 1-8 Temple, 5-3 Rutgers, 2-6 USF and 3-5 SMU.
— No. 21 Wisconsin 27, BYU 17: The Badgers could never stretch their lead beyond 17 points, while the Cougars could never get any closer than 10 after halftime.  In other words, it was the type of game that UW was never in any real danger of losing but was still one or two miscues away from losing.
— No. 23 Arizona State 20, Utah 19: Trailing 19-7 entering the fourth quarter, a pair of Taylor Kelly touchdowns (one run, one pass, no relation) early and late in the final stanza prevented the Sun Devils from both suffering an upset and sending the Pac-12 South into utter chaos.
CFT TOP FIVE
A snapshot look at how my ballot would look Sunday if I, ya know, had a real vote instead of a measly and meaningless preseason poll.
1. Alabama — It took the Tide a little over two quarters to really hit their stride against LSU but, when they did, goodness.  The Tide outscored LSU 21-3 in the second half in a win that was big enough that it caused Nick Saban to, one, jump into the arms of his starting quarterback and, two, crack what could technically be described as a smile.  Big win indeed. (Last week: No. 1)
Next up: at Mississippi State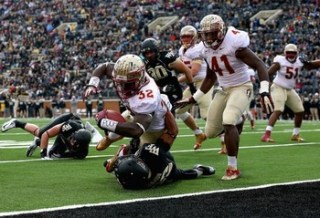 2. Florida State — The carnage of the last five games, all against ACC foes, reads as follows: Seminoles 263, opponents 48.  That equates to an average rounded-up score of 53-10.  Right now, including the squad ranked above them, there's no team playing better football than FSU.  Once again, I wouldn't argue with anyone who wanted to flip the Tide and the 'Noles on their ballots. (Last week: No. 2)
Next up: vs. Syracuse
3. Ohio State — The Buckeyes, along with continuing to win, need at least two of the three teams ranked ahead of them to fall in order to have a shot at its first BCS title in over a decade.  On the bye week, it was one down, at least one more to go for OSU. (Last week: No. 4)
Next up: at Illinois
4. Baylor — The Bears began a stretch of what would've been three straight games against ranked opponents — Texas Tech's loss put the kibosh on that — with a dominating woodshedding of No. 12 Oklahoma.  If BU continues to win, with the strength of its remaining schedule, OSU might be sweating BCS bullets by season's end. (Last week: No. 5)
Next up: vs. No. 25 (for now) Texas Tech
5. Stanford — When you dominate the No. 2 team in the country, you become the first one-less team to find its way into my little rankings world.  It's going to take a series of events to get the Cardinal into the BCS title game; based on precedent this year and in previous years, such a series of events is not farfetched. (Last week: unranked)
Up next: at USC
(Dropped out: No. 2 Oregon)
HE SAID IT
"I don't need to hear any fan from outside telling me what we need to do, I can assure you that." — Florida's Will Muschamp, whose voice was barely audible above his hammering additional nails into his coaching coffin.
HE SAID IT, THE SEQUEL
"I trust C.J. to do anything, watch my kids, take care of my house." — Nick Saban, on linebacker/nanny/maid C.J. Mosley.
HE SAID IT, THE THREEQUEL
"I will tell you this, and you can write this: We will get it done. Tennessee is too special." — Vols head coach Butch Jones following a 55-23 loss to Auburn that dropped UT to 4-6 on the season.
THEY SAID IT, BONUS EDITION
"We want Bama!" — the chant of Alabama fans in the closing minutes of their team's win over LSU.
PHOTO OF THE DAY
With the celebration of Veterans Day coming up Monday, we thought it would be wholly appropriate to highlight the scene prior to Army's game against Western Kentucky at Michie Stadium in West Point, NY: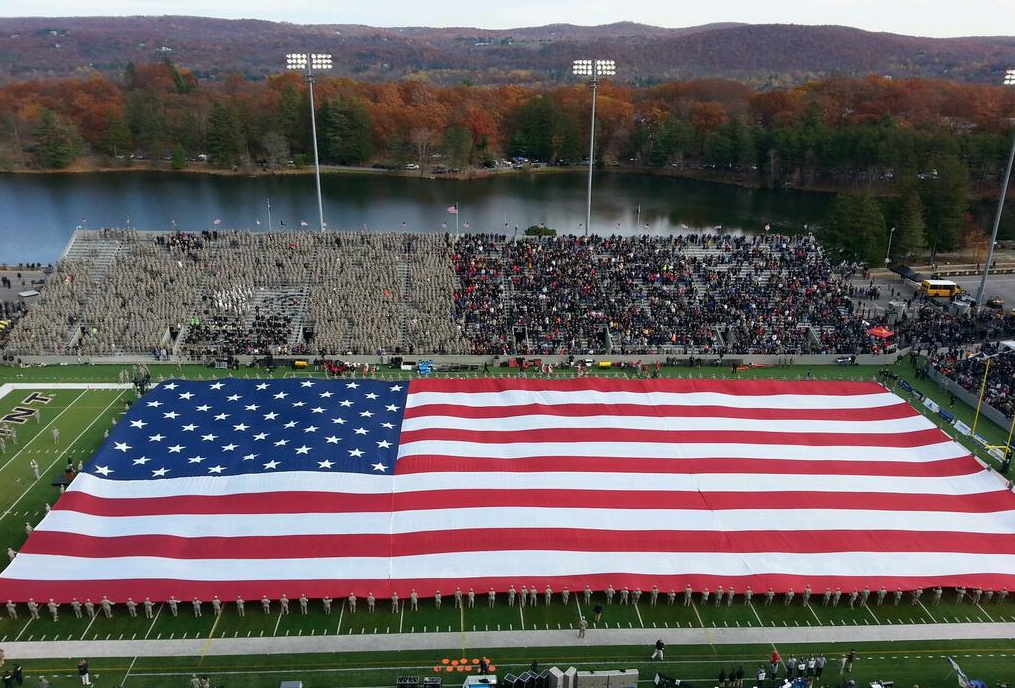 U-S-A!!! indeed.
SAY WHAT?
Jim Tressel has been heard on more than one occasion espousing the virtue of the punt being the most important play in the game of college football.  USC took that mantra and ran with it… literally.  The Trojans tied an NCAA record with three punt returns for touchdowns — two on actual returns by Nelson Agholor and one return of a blocked punt by Josh Shaw.  The only other team to pull off that single-game trifecta was Oklahoma in 2003.  Agholor's performance tied a USC and Pac-12/10/8 record set by none other than former Trojans athletic director Mike Garrett in 1965.
TRUE STORY
With Oregon's loss, there are six undefeated teams still standing exiting Week 11: Alabama, Florida State, Fresno State, Northern Illinois and Ohio State at 9-0, Baylor at 8-0.  The number of winless teams, however, remained static from a week ago: Georgia State, Hawaii, Miami of Ohio and Southern Miss at 0-9, UConn at 0-8.  Southern Miss' losing streak has now reached 21 straight, tying them with Ball State (1999-2000), South Carolina (1998-2000), Kent State (1981-83) and New Mexico (1967-69) for the 10th-longest streak in FBS/Div. 1-A history.  If the Golden Eagles were to lose their final three games, they would enter the 2014 season with the seventh-longest losing streak ever at this level.
FOR STATISTICAL PURPOSES ONLY
— True sophomore Dorial Green-Beckham set a school record with four touchdown receptions in Missouri's 48-17 thumping of Kentucky.  The wide receiver came into the game with five scoring catches in nine games.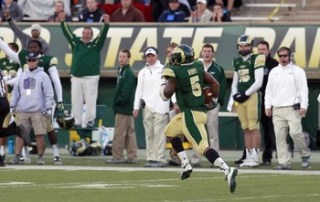 — Colorado State's Kapri Bibbs set a school record with 312 yards rushing in a win over Nevada.  It's the most yards rushing at the FBS level for a running back this season, surpassing the 304 yards by Army's Terry Baggett in the middle of last month. Northern Illinois quarterback Jordan Lynch rushed for 316 a week after Baggett's performance.
— Quarterback Shane Carden's seven touchdowns responsible for — five passing, two rushing — set an East Carolina record.
— A 23-yard touchdown pass in the second quarter of Georgia's win over Appalachian State was the 115th of Aaron Murray's career, breaking the conference record of 114 set by Florida's Danny Wuerffel from 1993-96.  It's the third career league record Murray has set this season, previously writing his name in the SEC record book for total offense and passing yards.
— With a 21-yard pass to Amari Cooper in the second quarter of the LSU game, AJ McCarron passed John Parker Wilson as Alabama's career leader in passing yards.  From 2006-08, Parker Wilson totaled 7,826 yards.
— A 34-yard catch in the third quarter of BYU's loss to Wisconsin means that Cody Hoffman is No. 1 in all three major career receiving categories at the school: 239 receptions, 3,355 receiving yards and 34 touchdown receiving touchdowns.
— Of Auburn's 444 yards rushing, 214 came from the legs of starting quarterback Nick Marshall.  That total is third in school history for a player at his position, behind Travis Tidwell (222, 1946) and Cam Newton (217, 2010).
— Logan Thomas has passed for over 300 yards in back-to-back games.  In the 27 years Frank Beamer has been Virginia Tech's head coach, that's the first time any Hokies quarterback has accomplished that feat.
— Bo Wallace passed for a career-high 407 yards — his previous high was 346 two games ago vs. LSU — in Ole Miss' 34-24 win over Arkansas.
— Allen Robinson set a single-season Penn State record for receiving yards with a 12-yard reception in the loss to Minnesota, surpassing Bobby Engram's 1,084 yards in 1995.  Robinson, who set the single-season reception mark last season with 77, needs just five catches the rest of the season to break his own school record.
— In the 59-3 waxing of Wake Forest, Florida State's defense forced seven turnovers (a school-record-tying six interceptions, one fumble); allowed 166 total yards; gave up just 2.6 yards per carry; and allowed the Demon Deacons to get past the 50-yard line on only three of 19 possessions.
— Arkansas is 0-6 in SEC play for the first time since joining the conference in 1992.  Overall, the Razorbacks have lost 10 straight league games.
— North Carolina State is 0-6 in ACC play for the first time in 54 years.
— Oregon's 62 yards rushing against Stanford was nearly 240 yards below its 2013 average of 301.6 yards per game.  The Ducks came into what would turn out to be its first loss of the season averaging 6.67 yards per carry; they were held to just 2.6 ypc against the stifling, swarming Cardinal defense.
— New Mexico attempted just three passes Friday night, completing one for 28 yards… but rushed for 451 yards on 65 carries in the Lobos' 45-37 win over Air Force.  All three of those pass attempts, incidentally, came on their first drive of the game, meaning the Lobos ran the ball a staggering 58 straight times to close out the game.  That lone pass completion was a productive one, however, as it resulted in a touchdown less than five minutes into the game.

IN CLOSING…
Dak Prescott wasn't able to lead his Mississippi State team to victory over Texas A&M Saturday, but he was able to do something I'd never be able to do: play a football game three days after burying my mother.  Peggy Prescott died last Sunday morning after a lengthy battle with colon cancer.  Before she passed away, mom told son that she would haunt him if he didn't immediately return to the playing field.  Return the Bulldogs quarterback did — two touchdown passes, 154 yards rushing in a losing effort — no doubt comforted by the fact that, somewhere, his beloved mother was proud of him for fighting past his grief and playing through his heartache.