As is the case each and every season, each and every week, any omission below is not on purpose, it's merely intentional.
THUMBS UP
A righteous salute
Daniel Rodriguez earned a Purple Heart and was awarded the Bronze Star for his military service in Afghanistan several years ago.  Rodriguez moved on to become  a wide receiver at Clemson, walking on to the Tigers football team after serving two tours of duty.  For those of you who aren't familiar with his heartwarming story, you should be.  For those who are, there's another chapter to add to it.  In the Tigers' home finale Saturday, Rodriguez caught the first touchdown of his career, a two-yarder from backup Cole Stoudt less than a minute into the fourth quarter.  The best part?  The touchdown came on a Senior Day that also doubled as Military Appreciation Day.  A bona-fide war hero scores a touchdown on a day that honors the military?  It doesn't get much better than that.  And, dammit, it got dusty in here when that highlight came across my television screen.  God bless Rodriguez for his service.  And God bless Dabo Swinney for not only giving Rodriguez the opportunity to write this story, but for allowing him to add this on-field chapter to it.
OSU wins, as does OSU
Thanks to a team with the same acronym, Ohio State can stuff the phrase "style points" back in the closet for at least another year.  With Oklahoma State's win over Baylor, the Buckeyes are now the clear-cut No. 3 team in the country, perched just outside of the Top Two and awaiting a stumble — either on the field or off — by Alabama or Florida State to clear a spot in the BCS title game — provided they remain perfect, of course.  The Bears had been poised to leapfrog the Buckeyes in the BCS rankings with a win over the No. 10 Cowboys, standing just .0013 percentage points behind OSU entering Week 13.  Now, not only has BU lost out on what most certainly would've been a No. 3 slotting in this week's BCS rankings, but they've given up control of the conference as well.  That honor, of course, now falls to the "other" OSU.  If the Cowboys can upend Oklahoma in the annual Bedlam matchup Dec. 7, they would claim the Big 12's automatic BCS bid.  If the Cowboys loses, the winner of the Texas-Baylor game the same weekend — if the Longhorns handle Texas Tech on Thanksgiving and the Bears do the same with TCU two days later — would claim the conference title and the BCS berth.  And if there were a three-way tie?  Oklahoma State, on the strength of head-to-head wins over Baylor and Texas, would win the tiebreaker and the conference title.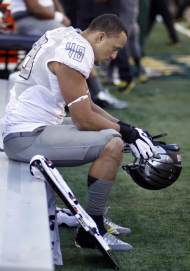 Rose Bowl hot potato
The first nine weeks of the season, Oregon appeared in charge of both the Pac-12 North and No. 2 spot in the country behind Alabama before losing to Stanford in Week 10.  In full control of the North, the Cardinal promptly handed it back to the Ducks a week later with a loss to USC.  A week later?  The hot potato's back on The Farm… and won't be leaving.  In a stunning turn of events, Oregon was beaten about the neck and head by Arizona in a 42-16 loss in the desert.  That loss coupled with Stanford's romp in the Big Game against Cal hands the North division and a spot in the Pac-12 championship game to the Cardinal.  Stanford closed out conference play at 7-2 — they close out the regular season against Notre Dame — while Oregon sits at 6-2.  Even if the Ducks win the Civil War over Oregon State and get to 7-2, the division would go to the Cardinal thanks to the head-to-head tiebreaker.  Stanford also learned its opponent in the conference title game later on in the day: Arizona State, which held off UCLA to wrap-up its first-ever Pac-12 South title.  The two teams met in Week 4, with the Cardinal claiming a 14-point home win.  The Sun Devils have subsequently won seven of eight, with the lone loss coming by three points to Notre Dame.  If ASU beats in-state rival Arizona next weekend, the Sun Devils would host the Cardinal in the Pac-12 title game by virtue of having the best conference record.
Tobacco Road magic continues
Known more for its hardwood success, Duke Saturday continued what's been a magical and magnificently unexpected season on the gridiron.  After falling behind Wake Forest by 14 early, the Blue Devils fought back for a 28-21 win that maintained their control of the ACC Coastal.  If Duke handles Tobacco Road rival North Carolina next weekend, the Blue Devils will clinch the football program's first-ever division title and a spot in the conference title game against Florida State.  Already clinched?  Duke's first nine-win season since Franklin Delano Roosevelt was president in 1941.  If the Blue Devils beat the Tar Heels in the regular-season finale, they would reach double digits in wins for the first time since the school began playing football way back in 1888.  With apologies to Art Briles and Gus Malzahn and a handful of other deserving candidates, David Cutcliffe would get my vote for Coach of the Year.  In fact, in the unnamed COTY award for which I do vote, he will get my nod.  What an outstanding job he's done.
Andre 2000
As the Heisman stage has seemingly been reset with just two weeks left in the regular/conference championship game season, it's about time another player from ACC is added to the mix.  In Boston College's last-second win over Maryland, Andre Williams rushed for 263 yards; over the past three games, Williams has rushed for 897 yards.  That's the second-best three-game stretch in FBS history, behind only the great Barry Sanders' 937 yards.  This hot streak also leaves Williams in hot pursuit of another of Sanders' records.  Williams is currently averaging 188.5 yards per game, putting him on pace for 2,450 yards on the season; Sanders holds the single-season mark with 2,628 yards, albeit in just 11 games and before stats in postseason games were officially counted by the NCAA.  While Williams would need to average a little over 275 yards in the Eagles' last two games (regular-season finale, bowl game) to break the official standard, anytime you're in the same book as Sanders let alone the same paragraph you deserve to be mentioned among the best today's game has to offer.
Tip of the iceberg?
In Navy's three-overtime win over San Jose State, Kennan Reynolds rushed for seven touchdowns, breaking by one the single-game FBS record for quarterbacks last set in 2002.  His 26 rushing touchdowns in 2013 are just one shy of the season record of 27, and the Midshipmen still have the regular-season finale against Army plus a bowl game in which Reynolds can shatter that mark.  Reynolds has now rushed for 36 touchdowns in 24 career games; the FBS career mark is 59 by Nebraska's Eric Crouch (43 games) and Nevada's Colin Kaepernick (51 games).  The best part about Reynold's meteoric rise for the service academy and the worst part for future opponents?  Reynolds is just a true sophomore.  Yeah, good luck with that.
No stiff-arm love, but…
For whatever reason — with that reason being he plays in the MAC — Jordan Lynch gets little or no run when it comes to Heisman contenders.  Suffice to say, his stats and his team's play say he should.  In helping Northern Illinois remain one of six undefeated teams at the FBS level with a division-clinching win over Toledo Wednesday night, the quarterback completed 17-of-22 passes for 202 yards while also rushing for 161 and scoring three touchdowns on the ground.  Lynch has accounted for 38 touchdowns this season — 21 rushing and 17 passing — which leaves him fifth in the country in points responsible for per game at 21.3.  The senior's also fifth in total offense.  At the very least, Lynch is deserving of a trip to New York in mid-December as he truly is one of the most outstanding players in the country.
THUMBS DOWN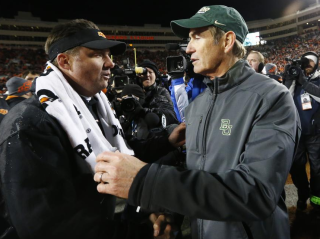 November and the Big 12
In the future, the Big 12 may want to petition to have the month of November scrubbed from the schedule.  Or, at the very least, have November road games involved their unbeatens scrubbed.  On Nov. 18, 2011, 10-0 Oklahoma State went into Ames and lost to Iowa State.  On Nov. 17, 2012, 10-0 Kansas State went into Waco and lost to Baylor.  Now, on Nov. 23 of this year, 9-0 Baylor goes into Stillwater and loses to Oklahoma State.  Three years, three road losses within a week on the calendar that took the Big 12 as a conference out of a shot at a spot in the BCS title game.  That's simply amazing.  And quite creepy, to be honest.
Lowering the Boom on Muschamp's tenure
If Will Muschamp somehow survives this, he'll be the proverbial cat hurtling toward double-digit lives.  Losing to Vanderbilt at home for the first time since 1945 is one thing.  Failing to qualify for a bowl for the first time since 1986 is another.  Posting the football program's worst record since 1979 is another, as is a six-game losing streak that's the longest since that same season.  Losing to an average FCS team in The Swamp?  That's another matter entirely, and a wholly fireable offense if athletic director Jeremy Foley can backtrack from his infamous "thousand-percent" support stance less than a week ago.  Combining everything leading up to and including the loss to Georgia Southern, it's incomprehensible that a program of UF's stature would allow whatever it is that's going on with Muschamp's Gators to continue on into the 2014 season.  Better to admit the mistake now rather than allowing it to cost you another season.  Just ask Tennessee what that does for you.
Lukewarm Hoke seat?
"Michigan is lackluster in a horrid sense."  Lather, rinse, repeat.  What's quickly becoming a lost season for the Wolverines has found a way to dig a new rock-bottom, with UM able to muster just 158 yards of offense in a 24-21 loss to Iowa — and that was with four Hawkeye turnovers attempting to aid the cause.  Averaging 2.1 yards a carry won't cut it against fair-to-middlin' Iowa, and it certainly won't cut it in The Game against Ohio State next Saturday.  I don't know what needs to be done about UM's Pop Warner offense; I do know, though, that something must be done.  Losing three of their last five games the way they have screams for coaching heads to roll, especially given the fact that the offense looks light years away from even approaching respectable.  Among the myriad coaching decisions that will be made over the next month or so, the one in Ann Arbor — head, offensive or otherwise — will be among the more fascinating to watch.
John Defense > Johnny Football
If Johnny Manziel were forced to play every game against a John Chavis-coached defense, we never would've been able to refer to the Texas A&M quarterback as "the reigning Heisman Trophy winner."  Manziel's two worst games as an Aggie read like a quarterbacking horror story: a completion percentage of just over 46 percent, with just one touchdown pass versus five interceptions.  Manziel's legs were mitigated in those two games as well, with the All-American averaging just 2.8 yards on 29 carries and being shut out of the end zone.  Both of those games came against LSU, including last night's 34-10 humbling at the hands of Chavis and the Tigers defense.  Manziel's performance — completing 39 percent of his passes and tossing two picks — in the loss likely put a dent in his hopes for back-to-back Heismans, hopes that had been buoyed by Jameis Winston's off-field situation.
Mercy rule
How bad was North Carolina's 80-20 evisceration of Old Dominion?  Here's the tweet the former sent out prior to the start of the fourth quarter, explaining how the final period would play out:
I don't care how bad you're getting beat, ODU should be embarrassed for either agreeing to a shorter quarter or suggesting it in the first place.  Either way, it was the wrong message to send to the team, regardless of how in over their head they may have been.
TOP 25 TOO-CLOSE-FOR-COMFORT
How ranked teams endured close shaves vs. unranked opponents
— No. 21 Louisville 24, Memphis 17: The Cardinals were cruising, leading the Tigers 24-7, before two fourth-quarter touchdowns turned a comfortable win into one that was closer than it should've been.
— No. 22 Oklahoma 41, Kansas State 31:  Up just 27-24 entering the fourth quarter, the Sooners used a pair of touchdowns just 1:08 apart to put enough distance between themselves and the upset-minded Wildcats to hand Bob Stoops a record-setting win.
CFT TOP FIVE
A snapshot look at how my ballot would look Sunday if I, ya know, had a real vote instead of a measly and meaningless preseason poll.
1. Florida State — The damage from the past seven games: Seminoles 402, Opponents 65.  I'd say that's borderline criminal, but that might not be the best choice of words at the moment. (Last week: No. 1)
Next up: vs. Idaho
2. Alabama — With the final scrimmage out of the way, the stage is officially set for the Mother of All Iron Bowls. All that's on the line for the Tide is the West's slot in the SEC championship game, a continued inside track to the BCS title game and state bragging rights for another year.  Nothing major.  (Last week: No. 2)
Next up: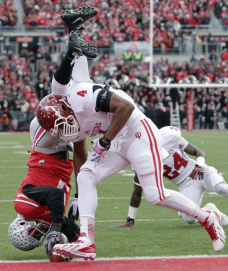 3. Ohio State — Depending on how things play out the next two weekends, there may not have been a bigger winner in Week 13 than the Buckeyes.  OSU, OSU thanks you. (Last week: No. 3)
Next up: 
4. Missouri — Of the Tigers' 10 wins, every single one of them has come by at least 14 points.  Their lone loss was by three points in double overtime to No. 12 South Carolina.  With one more win, Mizzou will achieve something fellow SEC newcomer and media darling Texas A&M hasn't: a spot in the conference championship game. (Last week: No. 5)
Next up:
5. Oklahoma State — You could stump for Auburn or Clemson or Michigan State in this spot and would hear nary a peep from me.  When a team did what the Cowboys did Saturday night, holding the most prolific offense in college football history to 17 points — Baylor came in averaging just over 61 per game — while scoring 49 of their own, that's enough for me.  Your mileage, of course, may vary. (Last week: unranked)
Next up:
(Dropped out: No. 4 Baylor)
MY HEISMAN BALLOT
If I actually had a Heisman vote, this is what my ballot would look like if it were submitted after Week 13:
1. Jameis Winston, quarterback, Florida State
2. Aaron Donald, defensive tackle, Pittsburgh
3. Andre Williams, running back, Boston College
(Writer's note: it was tough leaving off players like Northern Illinois' Jordan Lynch, Fresno State's Derek Carr and Texas A&M's Johnny Manziel, which is why I don't envy the job the actual voters have.  At all.)
HE SAID IT
"Ask me a different question." — Michigan State head coach Mark Dantonio upon being asked by an ESPN sideline reporter if his Spartans had mismanaged the clock at the end of the first half of their game against Northwestern.
HE SAID IT, THE SEQUEL
"It's embarrassing. … It's all disappointing." — Will Muschamp following Florida's laughable home loss to FCS-level Georgia Southern.
HE SAID IT, THE THREEQUEL
"We got punched in the mouth today and it wasn't fun." — Johnny Manziel following Texas A&M's 34-point loss to LSU.
HE SAID IT, BONUS EDITION
"I'm expecting That Team Up North to bring their A game, and we are certainly going to bring ours. It is going to be an exciting game, my last against them. I'm looking forward to it." — Ohio State running back Carlos Hyde, on The Game next Saturday against Michigan.
PHOTO/GIF OF THE DAY
Lee Corso.  Giant mascot head.  Firearms of multiple calibers.  Firing said firearms and nearly deafening Kirk Herbstreit.  Need I say more?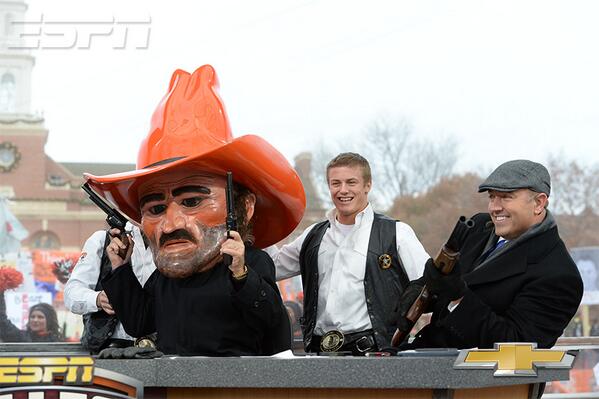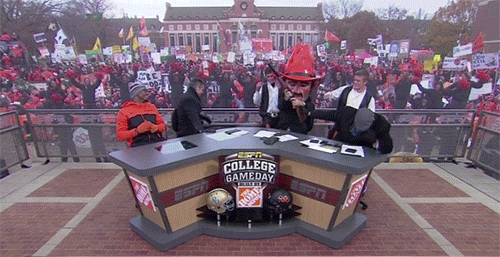 The only thing keeping this from being the ultimate headgear selection?  Corso dropping a muffled f-bomb on live TV.
SAY WHAT?
Some quick hits, Larry King-style: A pair of ACC schools, Florida State and North Carolina, set school single-game records by scoring 80 points apiece in blowout wins Saturday… Texas A&M's four SEC losses the past two seasons had come by a combined total of 19 points; the Aggies lost by 24 to LSU Saturday afternoon… Stanford's 63-13 win over Cal in the Big Game was the most lopsided Cardinal victory ever in the rivalry, surpassing the 41-0 drubbing in 1930…Three of the five double-digit win seasons Michigan State has recorded in its history have come with Mark Dantonio as head coach… Oregon's 42-16 loss to Arizona was the Ducks' worst since 2008, a 44-10 loss to USC… Vanderbilt has beaten Tennessee in back-to-back seasons for the first time since 1925-26… Baylor has not beaten Oklahoma State in Stillwater since 1939 and has not beaten a ranked team on the road since 1991 (Arkansas)… Illinois snapped its 20-game Big Ten losing streak against Purdue, picking up its first conference win since Oct. 8, 2011… Kansas, which halted its 27-game Big 12 streak last week, extended its road losing streak to 24 with the loss to Iowa State; the Jayhawks haven't won on the road since beating UTEP in 2009.
TRUE STORY
Bob Stoops recorded his 158th career win to take sole possession of the all-time Oklahoma coaching wins record, surpassing the great Barry Switzer.  The former is in his 15th season (197 games) at OU, while the latter set the original mark during his 16 seasons (190 games) in Norman.
FOR STATISTICAL PURPOSES ONLY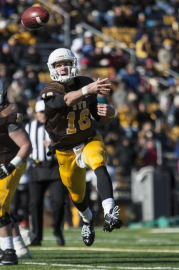 — In a weekend full of stat-stuffing performances, Brett Smith's might've been the stuffiest.  All the Wyoming quarterback did was pass for 498 yards and run for another 142 in a wild 59-56 win over Hawaii, a staggering total of 640 yards of offense.  And, for good measure, Smith accounted for eight touchdowns: seven passing, one rushing.  The offensive yards and touchdowns, suffice to say, set school records.
— Derek Carr passed for 527 yards (his high-water mark is 536, set last year) and set a career-high with seven touchdown passes as Fresno State remained unbeaten with a 41-point win over New Mexico.  It was the 18th time in his career he's topped 300 yards in a single game and the ninth time he's gone over 400.
— Three Washington running backs topped 100 yards rushing as the Huskies rushed for 530 yards in the 69-27 romp over reeling Oregon State: Bishop Sankey (23-179-3), Deontae Cooper (11-166-2) and Dwayne Washington (11-141-2).  UW averaged 9.1 yards per run on its 58 carries.
—  Washington State's Connor Halliday threw for 488 yards and four touchdowns as Wazzu beat Utah 49-37 to become bowl-eligible for the first time since 2006.
— North Carolina's Marquise Williams passed for 409 yards and ran for another 60, setting a school single-game record for most yards of total offense, as the Tar Heels dropped Old Dominion 80-20.  Williams gained just 44 of his 469 yards after the halftime.
— Clint Chelf threw for 370 yards and three touchdowns as Oklahoma State upset Baylor and grabbed control of the Big 12 race.  Chelf added a rushing touchdown for good measure as well.
— The first four times Stanford's Ty Montgomery touched the ball on a play from scrimmage, he scored: three receiving touchdowns and one rushing.  The wide receiver finished the win over Cal with five touchdowns as he added another receiving score.
— Arizona running back Ka'Deem Carey, another one I could've easily added to my Heisman list, ran for 206 yards and four touchdowns as the Wildcats shocked Oregon 42-16.
— Brennan Clay rushed for a career-high 200 yards and two touchdowns as Oklahoma pulled away from Kansas State.  The 200 yards were the most by an OU back since DeMarco Murray's 208 yards in September of 2010.  Speaking of the first two quarters of that game…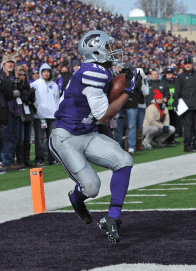 — In the first half alone, Kansas State's Tyler Lockett had six receptions for 206 yards and three touchdowns.  Those scoring receptions went for 48, 30 and 90 yards as the Sooners busted out the highly-controversial "coverage optional" defense.  Lockett finished the game with 440 all-purpose yards: 278 receiving, 162 on kickoff returns.
— Speaking of first halves, Tajh Boyd tossed five touchdown passes in the first two quarters of Clemson's scrimmage vs. Citadel.  Boyd played into the third quarter, mainly handing the ball off, of what was the senior's final home game of his prolific Tigers career.  With 102 touchdown passes for his career, Boyd became the 18th player in NCAA history to reach the century mark and the first player in ACC history to do so.
— Iowa's game against Michigan set a record for coldest kickoff temperature in the program's history: 18 degrees, according to the Des Moines Register.  The previous low-temp mark was 23 degrees for a Nov. 20, 1926, game against Northwestern.
— With 440 yards passing and five touchdowns in San Jose State's triple-overtime loss to Navy, David Fales set school career records for passing yards (Adam Tafralis, 7,548) and touchdowns (Steve Clarkson, 56).  He came into the game needing 154 yards to break the former mark and two touchdowns to break the latter.
— Blake Bortles passed for 335 yards as UCF moved one step closer to clinching both the AAC title and the conference's automatic BCS berth with the Thursday night win over Rutgers.  If the Knights beat USF next Friday, UCF will stake claim to its first BCS bowl regardless of what transpires in the regular-season finale against SMU Dec. 7.
— Tim Cornett rushed for a career-high 220 yards as UNLV became bowl-eligible for the first time since 2000 with the win over Air Force.  Cornett's previous career-high was 179 in a late-September game against New Mexico.
— Dri Archer rushed for a season-high 138 yards and three touchdowns — on just 15 carries –in Kent State's win over Ohio.
—  In winless Miami of Ohio's loss to Buffalo, Austin Gearing completed 5-of-19 passes for 65 yards, no touchdowns and an interception for a pass efficiency rating of 44.5.