Ohio State came into The Game with Michigan knowing it would be in for a fight as it looked to extend it's nation's best winning streak and remain in BCS title contention.  And a fight is exactly what the Buckeyes have gotten… literally.
Through two quarters of play, the Buckeyes and Wolverines combined for 611 yards of total offense — 308 for the former, 303 for the latter — as the bitter rivals entered halftime locked in a 21-all tie.
Braxton Miller was responsible for all three of OSU's scores, passing for one and rushing for two more.  The junior nearly hit the century mark in the first half with 82 yards rushing; teammate and leading rusher Carlos Hyde did top the century mark (115 yards on 15 carries), his second straight game with 100-plus yards.
On the other side, Devin Gardner — and a tremendous game plan from embattled coordinator Al Borges — has consistently torched a Buckeyes' defense that has spent most of the first two quarters looking dazed and confused.  Gardner passed for 238 yards on just 11 completions.  He accounted for two of UM's three first-half touchdowns.
The highlight of the first half, though, didn't involve any type of offensive fireworks.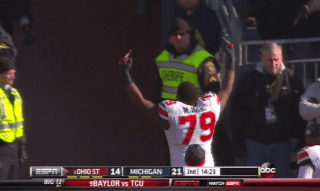 Early in the second quarter and at the end of a kick return, a fight that seemingly involved the entire populations of the states of Michigan and Ohio broke out.  Punches were thrown, helmets were ripped off as the melee seemed to last for close to a minute.  While there were offsetting penalties, the Buckeyes got the worst of it on the flag end as starting offensive lineman Marcus Hall and dynamic playmaker Dontre Wilson were ejected for throwing punches.  A reserve linebacker was the only Wolverine given the boot following the fracas.
Hall's departure did provide a PG-13 moment as the ESPN cameras caught the lineman delivering a two-handed, single-finger salute as he headed into the tunnel.